ALBATROSS
Sydney 1972-73



Peter Baron (bass)
Kim Bryant (drums)
Lindsay Bjerre (vocals, guitar)
Simone Bjerre (vocals) 1973
Richard Lockwood (sax, flute, clarinet) 1973
History
Albatross formed in September 1972, after the split of legendary Sydney band Tamam Shud. The initial lineup was a trio, comprising Bjerre and Baron (both ex-Shud) and drummer Kim Bryant (ex-Country Radio).
While bands like The Aztecs and The La De Das and were mining the rich veins of blues, boogie and heavy rock, Albatross took a different tack, exploring a mellower, acoustically-based style that was a development from the quieter side of Tamam Shud's Shud's progressive/psychedelic sound. Albatross' music incorporated elements of folk and country music, as were a number of other contemporary Australian groups like Country Radio, The Flying Circus and The Dingoes. Lyrically, the band's material continued Bjerre's concerns with sprituality, nature and environmental issues.
The band's home-base was on Sydney's northern beaches, and during the year of its existence Albatross played regularly at the Memorial Hall in the Sydney beachside suburb of Mona Vale. At New Year 1972-73 Albatross played at the ill-fated Bungool Festival near Windor, NSW, which was poorly attended due conflict with the local council, which led to teh first day of the event being cancelled.

In early 1973 the band was augmented by Lindsay's wife Simone on vocals and in April they were joined by multi-instrumentalist Richard Lockwood, formerly of Tully, who had also played with the last version of Tamam Shud. This augmented lineup recorded the group's only LP, A Breath Of Fresh Air (Warner Reprise), which also included session contributions from Gary Frederick (slide guitar), Pirana organist Keith Greig and Country Radio's Chris Blanchflower (harmonica). It's a fine album, and long overdue for reissue. Bjerre's unusual voice is perhaps an acquired taste but the album is full of excellent material, beautifully played and very well recorded. The pacy opening track "Full Moon" is a road song that opens with an innovative string arrangement, moving into a heavier style that recall Tamam Shud, and it's decorated with some very tasty "Layla"-style slide guitar from Gary Fredericks. Other highlights include the rollicking "Bouzouki Boogie" and "Nimbin Stopover", a commemmoration in song of the 1973 Aquarius Festival, which features the inimitable harmonica stylings of Blanchflower.
Another sought-after Warner album from this period, Total Union by Band Of Light, has been recently reissued by Gil Matthews' Aztec Music label, so there is some hope that the Albatross album will eventually be remastered and re-released on CD. Meanwhile, the original LP -- which presumably sold few copies -- has become highly collectible, with copies now changing hands for over $100.
Albatross gained important exposure with a prestigious support spot on Frank Zappa's his first Australian tour in July 1973, but the band did not last out the year, and had already broken up by the time the LP was released in November.
Lindsay Bjerre spent the next few years pursuing spiritual interests and travelling; he also wrote a (never-performed) rock opera and studied mime in England with theatrical legend Lindsay Kemp. He re-emerged in 1977, with a new performance persona, simply called Bjerre, and with support from Countdown he scored a surprise hit with the single "She Taught Me How To Love Again".
Discography
Album
1973
A Breath Of Fresh Air
(Warner Reprise RS 4002) gatefold sleeve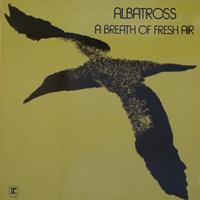 Side 1:
1."Full Moon"
2. "The Drowning Song"
3. "Escher's Door"
4. "Drop Me a Line"
5. "Bouzouki Boogie"
6. "A Breath of Fresh Air"
Side 2:
1. "The Games Cards Play"
2. "Nimbin Stopover"
3. "Mermaid"
4. "A Message to You"
5. "Seashell Secrets"
6. "The Angel & the Boy"

Peter Baron (bass)
Kim Bryant (drums)
Lindsay Bjerre (vocals, guitar, bouzouki, mandolin)
Simone Bjerre (vocals)
Richard Lockwood (sax, flute, clarinet)
Keith Greig (keyboards)
Gary Fredericks (slide guitar)
String Section leader: John Lyle
String parts written by Lindsay Bjerre, arranged by Richard Lockwood

All songs by Lindsay Bjerre
Recorded at ATA Studios, Sydney; mixed at EMI Studios, Sydney
Produced by Gus McNeil
Recording Engineers: Bruce Brown, Gerry Stevens
Mixing engineer: John Lee
Photography & design: Frank Pithers
"If my music brings you happiness, do not look up to me, but look over to me.
For without your listening my music does not exist. Your heart knows all
of my melodies. I just bring them to your ears at your request. And I also
listen as you sing to me with your eyes in perfect harmony. We are the audience
listening to life's music; we are the musicians giving music to our lives
from your hearts. We are as one. No barriers. It is our music.

"Within your depths you hold infinite melody.
We musicians are your instruments.
Play me gently and I shell deliver gentle melody to your ears.
Play me with torment and my music shall be torment to your ears.
I am the musician, you are the audience, music is our love, Love is the home of God."
References / Links
Conn, Paul
2000 Weeks: The First Thirty Years of Australian Rock (Moonlight Publishing, 1996)
McGrath, Noel
Australian Encylopedia of Rock 1979 Yearbook (Outback Press, 1979)
McFarlane, Ian
- Freedom Train (Moonlight Publishing, 1996)
- Encyclopedia of Australian Rock & Pop (Allen & Unwin, 1999)
Spencer, Chris, Zbig Nowara & Paul McHenry
Who's Who of Australian Rock (Five Mile Press, 2002)