AUTUMN
Sydney 1970-72
Tony Romeril (vocals)
Glenn Beatson (drums)
Rick Graham (bass)
Steve McMurray (guitar)
Greg Jacques (organ) 1969 - Apr 1971
Allan Magsuball (guitar) Apr. 1971- early 1972
Charlie Wright (keyboards) late 1971- early 1972
History
Like their contemporaries The Executives, The Affair, New Dream and Zoot, Sydney band Autumn has been unfairly labelled as a lightweight pop band, mainly on the basis of their early recordings. They've also been tagged as 'one-hit wonders', although in fact they had four hits. Fronted by grievously underrated lead vocalist Tony Romeril, Autumn was a superb band with a strong following in their home city of Sydney, and they could tackle pop, country-rock and heavy/progressive rock with equal ease.
Like their close contemporaries The Flying Circus, Autumn formed at a time when rapid and significant changes were taking place in the music scene and the formerly homogeneous "pop" field was diversifying into several distinct genres. The trends that were drawing 'pop' musicians towards progressive music, "heavy rock" and country rock was counterbalanced by the popularity and commercial success of so-called "bubblegum" pop. This created to a situation where, as Glennn A. Baker has observed, being identified as a pop band "drew automatic derision and critical dismissal".
Autumn's chart success with straight-ahead pop material has obscured the fact that this was a highly competent group, with tastes and abilities which went well beyond the confines of the three-minute formula pop single. Their true talents were not really showcased on record until their last few recordings for the Warner label) and as Glennn Baker notes "... nobody, save those who caught them live, came to realise what a sturdy, musically adept and diverse unit they were."
The group was during in 1969 and they were able to impress the EMI label sufficiently to be able to record their debut single, the poppy "Mr Henry's Lollipop Shoppe" / "Today", which came out on EMI's Columbia imprint late in the year. It's apparent that, like most new bands of that period, Autumn was probably not given much say in what they recorded, and EMI certainly had a track record of foisting ultra-poppy material on new bands, as evidenced by the toothache-inducing bubblegum material that their labelmates The Flying Circus was obliged to record for their first two Singles.
The single didn't chart, and EMI didn't pick up the option for further recordings. Autumn then switched to a newly-established Sydney independent label Chart, a move that proved timely for the band. In May 1970 the controversial Radio Ban came into force. This was a "pay for play" dispute in which EMI and several other major labels (including Festival) that placed a boycott on the supply of free promotional records to commercial radio, sparking a retaliatory ban by radio stations, who refused to include these companies' products in their weekly pop charts.
Taking advantage of this unprecedented window of opportunity, independent labels who refused to take part in the Ban -- like Chart in Sydney and Fable in Melbourne -- scrambled to record and release local cover versions of English hits. As a result, for this brief six-month interval, local acts like Autumn, Jigsaw and Liv Maessen were able to get significant airplay for their versions of proven UK hits, without much competition from the boycotted UK originals. Although it was undoubtedly not the major labels' intention, that fact is that the Radio Ban briefly created a de facto regime of import restriction and Australian content regulation for pop recordings, and it is noteworthy that several Australian cover versions released in this period became major national hits and rated among the biggest selling local Singles of the year -- indeed, Liv Maessen's hit version of Mary Hopkin's "Knock, Knock, Who's There?" became the first single released by an Australian female artist ever to earn a "Gold Record" award.
Autumn's first single for Chart was a cover of Christie's "Yellow River". Autumn's version was one of the earliest covers of this much-performed song, and according to the Christie website, the song has now racked up some 113 different versions. Although the original Christie recording was a UK hit it was not much played in Australia due to the Radio Ban. Autumn's version did face some local competion from Melbourne's Jigsaw (released on Fable). Who was copying whom is a moot point, but both versions fared so well that they wound up becoming the joint national #1 single in August 1970, with both versions charting for a remarkable 24 weeks. Autumn's pop success quickly made them 'heart-throbs' for the Sydney female 'teen' fans.
Autumn released three more pop Singles on Chart. "Looking Through the Eyes of a Beautiful Girl" (b/w "Song to Raymondo", Nov. 1970) was a major hit in Sydney, where it reached #3, and it made #23 nationally, although the A-side had to compete with a cover by another Fable act, renowned Melbourne group The Strangers). The original, presumably also a victim of the Radio Ban, had been recorded by Irish band The Times. It was followed by the catchy "She Works in a Woman's Way", another song that fell victim to the Radio Ban, originally recorded by Edison Lighthouse. On this track, Autumn acted as the backing band popular Sydney TV and cabaret singer Dave Allenby. It charted well in Sydney and became a minor national hit (#40) in February 1971.
Their final single for Chart was "Miracles" / "Lady Anne", issued in March 1971 and the band re-recorded both tracks on their subsequent Warner Bros album, released later in the year. It was followed by their debut LP Song to Raymondo. The album (which was reissued by the budget label Summit in 1973) is a hodge-podge of hits, makeweight covers and originals that indicates the eclectic nature of the group's repertoire. There are several interesting original songs that hint at the group's real potential -- all of the band except Tony contributed songs, and it's a shame that the group didn't have the chance to develop its collective songwritring further. Included are Steve McMurray's Stones-ish "Lady Anne", Greg Jaques' "I Often Wonder", Glenn Beatson's "I Want Her", Rick Graham's "Hello Suzy" (the b-side of the "Yellow River" single) and "Seen It All Before" by Allan Magsuball, who was soon to replace Greg Jacques. The doomy title song is an interesting piece, lying halfway between Dave Davies' "Death of a Clown" and the kind of "death ballad" songs favoured these days by artists like Nick Cave; it was sourced from a 1968 LP by American John Braden, whose album is mainly noteworthy for the presence of Ry Cooder.
The remaining tracks on the LP consist of their Chart single A-sides and an odd assortment of covers -- The Beatles' "Day Tripper", Jimmy Webb's "By The Time I Get to Phoenix" and a racuous and rather bizarre harpsichord-driven version of the Leadbelly standard "Midnight Special", also sung by Dave Allenby and arranged by Barry McAskill of Levi Smith's Clefs; this track was used as the B-side of the "She Works in a Woman's Way" single. It's a genuine curiosity of the period although the production is pretty low-fi, and it sports what must be one of the daggiest front-cover photos ever placed on an Australian pop album (which is saying something), featuring the grinning band members posing awkwardly at a local fruit stall. (There is an interesting cost-of-living difference evident in the photo -- at the time the photo was taken in 1970, grapes were 35c/lb and tomatoes are 2lb for 20c!)
Autumn were regulars at Sydney' legendary Whisky A-Go-Go nightclub in Kings Cross, and around the time the that their album came out, Autumn also featured on one side of a Chart EP shared with with Levi Smith's Clefs, called The Best of Whisky A-Go-Go. The Autumn tracks were "Day Tripper" and "Midnight Special", both of which were also included on the Autumn LP. This "super-rare" EP is now a very valuable item, and copies in top condition fetch around $200 on the collector's market!
Autumn made several appearances on the ABC's popular youth music program GTK, which screened nationally from four nights a week from Monday-Thursday. GTK featured live-in-the-studio performances by a different local band each week, with one song played on each of the four broadcast days. Because GTK was produced on a very tight budget and schedule, all the performances had to be recorded live, usually in no more than two takes (one for audio, one for video). This meant that the featured bands often had to set aside the studio-made hits -- which were often too hard to reproduce live -- so they were encouraged to play material from their live sets that they could perform competently. (The acts also had to be able to face GTK's punishing recording call -- 7.30am on Monday morning!). Because of these requirements, GTK audiences often got to see and hear a very different side of the featured bands, and Autumn was a case in point. Their surviving recording from GTK -- released in 1994 on the CD The GTK Tapes Vol.2 -- is a strong cover of "The Loner" by Neil Young (a performer then still practically unknown in Australia) which displays a much tougher sound than one would expect from this so-called bubblegum pop outfit.
In April 1971 guitarist Allan Magsuball (ex Hot Cottage) replaced Greg Jacques and soon after this, Autumn joined Tamam Shud and Band of Light as one of the first batch of local acts to be signed by Warner Music (WEA), the newly established Australian subsidiary of the famous American record company. Their first Warner single, the country-styled "Falling" (b/w "Miracles" (May 1971) became their fourth hit, reaching #10 in Sydney. To promote it, Autumn made a successful tour to Melbourne, where they had previously had difficulty getting airplay, since (as noted above) both their earlier hits had been covered by Melbourne bands. Their next single, the progressively-styled "Goblin's Gamble" / "Lady Anne" (July) and their last Warners single "Just Couldn't Believe It"/ "Bye Bye to You" (September) both failed to chart, although they remained a popular live draw.
During the second half of 1971 Autumn released an EP A Patch Of Autumn followed by their hugely underrated second album Comes Autumn. Although it is dismissed by Vernon Joyson as "unremarkable", it in fact contains some oustanding material. As Aussie music archivist "MidozTouch" has noted, Autumn's second album is so strikingly different in style and sound from their first LP that one could be forgiven for thinking they were recorded by two different groups. The included re-recordings of some of their Chart material, including Allan Magsuball's riff-tastic psych-prog nugget "Get It Down" (one of several fine tracks he contributed), a re-recorded version of "Lady Anne", and the country-styled hits "Falling" and "Miracles". This excellent LP, which has never been reissued, is one of the genuine lost treasures of early 70s Australian rock. Like all the early '70s Australian Warner recordings, the original LP is now quite rare and has become a sought-after collector's item.
Autumn added a new keyboard player and vocalist Charlie Wright (ex-Harry Young and Sabbath), at the end of the year but they broke up during an ill-fated trip to the UK in early 1972, splitting within just six weeks of their arrival. McMurray, Beatson and Magsuball formed Mecca, which moved to Canada and after that group split they joined Canadian band Wireless. That group issued three Albums of bluesy hard rock, Wireless (1976), Positively Human, Relatively Sane (1979) and No Static (1980) on the Anthem label. Tony Romeril worked in Italy for some time, recording under the pseudonym Andy Foxx. Romeril and Graham re-formed Autumn briefly in Sydney during 1976, with a new line-up filled out by Dave Hallard (guitar), James Caulfield (keyboards) and Con Westaberg (drums), but this new version, which played only new material and none of the Autumn songs, quickly fizzled out.
Note: some sources (including Magnus Holmgren's Australian Rock Database) list bass player Tony Mitchell of Sherbet fame, as a member of Autumn, although when he joined or left is not known at this stage.
Discography
Singles
1970:
"Mr Henry's Lollipop Shoppe" / "Today" (EMI Columbia DO 8907)
Aug. 1970:
"Yellow River" / "Hello Suzy" (Chart PR 200)
#1, 24 weeks
Jan. 1971:
"Looking Through The Eyes Of A Beautiful Girl" / "Song to Raymondo" (Chart CR 212)
#23, 10 weeks (#3, Sydney)
Feb. 1971:
"She Works In a Woman's Way" / "Midnight Special" (Chart CR-211)
Lead vocal by Dave Allenby; produed by Barrie McAskill
#40, 1 week
Mar 1971
"Miracles" / "Lady Anne" (Chart)
May 1971
"Falling" / "Miracles" (Warner Bros 4001)
#10, Sydney, #36 nationally, 2 weeks
Jul. 1971
"Goblin's Gamble" / "Lady Anne" (Warner)
Sep. 1971
"Just Couldn't Believe It" / "Bye Bye To You" (Warner)
EPs
1970
The Best of Whisky A-Go-Go (Chart CHX-11744)
Two tracks by Autumn ("Midnight Special" and "Day Tripper") plus two tracks by Levi Smith's Clefs
1970
Day Tripper (Chart)
1971
A Patch Of Autumn (Warner Bros)
"Live Levis" / (unknown) // (unknown) / (unknown)
Albums
1971
Song to Raymondo (Chart SCHL-934254)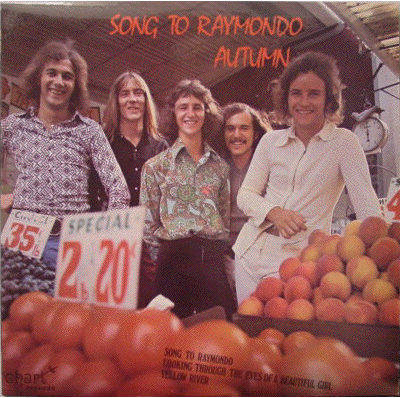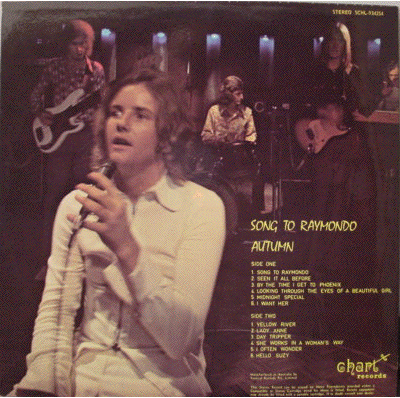 Side 1:
1. "Song to Raymondo" (John Braden)
2. "Seen It All Before" (Allan Magsuball)
3. "By The Time I Get To Phoenix" (Jimmy Webb)
4. "Looking Through The Eyes of a Beautiful Girl" (Tommy Swarbrigg)
5. "Midnight Special" (arr. B McAskill) - Dave Allenby and Autumn
6. "I Want Her" (Glenn Beatson)
Side 2:
7. "Yellow River" (G. Christy)
8. "Lady Anne" (Steve McMurray)
9. "Day Tripper" (Lennon-McCartney)
10. "She Works In A Woman's Way" (Mason-McAuley) - Dave Allenby and Autumn
11. "I Often Wonder" (Greg Jaques)
12. "Hello Suzy" (Richard Graham)

Final editing and mixing by Ron Patton and Bruce Brown at ATA Studios.
Reissued on Summit, 1973
---
1971
Comes Autumn (Warner Bros 20003)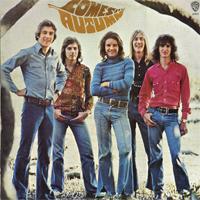 Side 1:
1. "Falling" (Glenn Beatson)
2. "Get It Down" (Allan Magsuball)
3. "It's Just A Thought" (Allan Magsuball)
4. "Miracles" (Richard Graham)
5. "Lady Anne" (Steve McMurray)
Side 2:
1. "Goblin's Gamble" (Allan Magsuball)
2. Sad Song" (Richard Graham)
3. "Lady of Magic" (Allan Magsuball)
4. "I Want Her" (Glenn Beatson)
5. "Kill My World" (Allan Magsuball)

Produced by G. Wayne Thomas
Strings and brass arranged by Richard Bowden
Photography: Allan James
Art Direction: Ken Smith
---
1994
The GTK Tapes Vol. 2 (ABC/EMI 4797412) CD
- one live track: "The Loner" (Neil Young)
---
Tracks by Autumn also appear on the following compilation albums:
1970
20 Electrifying Hits
1971?
Great Hits of Australia's Big Stars: The Best of Chart Records (Chart SCHL-100),
Compilation featuring Autumn,Harry Young and Sabbath, Jeff St John & Copperwine, Dave Allenby, Levi Smith Clefs and others.
1971
20 Chartstoppers Vol. 1
1971
Chartstoppers, Vol. 2
1987
20 Golden Greats of the 60's
References / Links
Australian Rock Database
http://hem.passagen.se/honga/aussie.html
Glennn A. Baker
liner notes for The GTK Tapes Vol. 2 (ABC Music/EMI 1994)
Ian McFarlane
Encyclopedia of Australian Rock and Pop (Allen & Unwin, 1999)
Noel McGrath
Australian Encyclopedia of Rock (Outback Press, 1978)
poparchives.com.au
http://www.poparchives.com.au
Show Band Albums
https://secure.primeinternet.com.au/vicious/ShowBandAlbums.asp?BandId=824
Rate Your Music - Autumn
http://rateyourmusic.com/artist/autumn_x