DADDY COOL
Melbourne 1970-73, 1974-75



Ross Wilson (guitar, vocals, harmonica)
Ross Hannaford (guitar, bass, vocals)
Wayne Duncan (bass, vocals)
Gary Young (drums, vocals)
Jeremy Noone (saxophone, keyboards) 1971-72
Ian "Willy" Winter (guitar) 1972
Gunther Gorman (guitar) 1975
Wayne Burt (guitar, vocals) 1975
History
Almost by accident, Daddy Cool became one of the most successful Aussie groups of the '70s and one of the icons of Australian rock. The group originated as an occasional, informal offshoot of Melbourne progressive-rock outfit Sons of The Vegetal Mother, but within twelve months it had completely eclipsed its parent band to become the most successful and popular act in the country, and the Daddy Cool story became one of the pivotal chapters in Australian rock history. Their debut single and LP were the biggest selling Australian records ever released up to that time, and they ushered in a whole new era of Australian rock. The records are perennial favourites, their signature tune, "Eagle Rock", has become one of the anthems of Australian popular music, and their recordings l have been anthologised many times in many forms, with at least twenty compilations of their songs to date.

It might have appeared to be overnight success, but of course the background to Daddy Cool's breakthrough was years of hard slog. Founders Ross "The Boss" Wilson and Ross Hannaford had played together around Melbourne since they were teenagers, first in the Pink Finks, then Party Machine. The rhythm section, drummer Gary Young and bassist Wayne Duncan, had been working consistently since the early 60s, mostly in instrumental bands backing solo singers -- notably as member of The Rondells, the backing band for pionering beat duo Bobby & Laurie.
"Good Rockin' Daddy" 1970-72
Ross Wilson's previous group The Party Machine had split up in early 1969, after Ross received a call from the UK from his friend Brian Peacock, bassist with the expatriate Australian band Sons of The Vegetal Mother, was an "esoteric special occasion progressive band" with a floating lineup based around the nucleus of Wilson and Hannaford. It was conceived to perform on the Melbourne concert circuit, at events and 'happenings' in 'head' venues like the TF Much Ballroom. Wilson also began exploring the music of the rock'n'roll era in earnest, and he came up with the idea of creating an informal group to perform it. In this he was aided by Young and Duncan -- who shared his love for the music of that period and had large rock'n'roll record collections - as well as by friends like David "Dr Pepper" Pepperell, Keith Glass and Gulliver Smith (Company Caine). In fact Keith and Gully were originally pencilled in as alternative/additional lead singers for the group, and it was Keith who suggested the song "Daddy Cool" as an addition to the repertoire. Numerous originals from the classic rock'n'roll era 1950s became staples of the set list, and these were combined with Wilson's more progressively-oriented originals.
In the beginning, Daddy Cool though was not the "main event" -- it was originally intended as"light relief" during Vegetals gigs, performing a short, snappy set of '50s rock'n'roll songs between the lengthier progressive explorations of the main group. Their first (impromptu) appearance was at a Vegetals gig at Glenelg Town Hall in November 1970 ,when they filled in for a support band who failed to show up. A few weeks later they made their 'official' debut at theTF Much Ballroom in Melbourne.
They combined great musical strength, honed by years of experience playing around the traps, with an irreverent and ebullient stage presence. In Wilson they had both a strong songwriter and one of the great frontmen of Australian rock. Gangly and rather goofy looking, Ross Hannaford's appearance belied the fact that he was -- and is -- one of the true legends of the guitar, and the perfect foil for Wilson. Another memorable feature was their stage outfits -- the Mickey Mouse ears, the foxtail which Wilson attached to the back of his pants, and of course Hannaford's trademark helicopter cap. Daddy Cool stood out against the prevailing serious progressive mood of the time. They rocked, they were danceable, immediate, accessible and, above all,fun.
Audiences responded immediately, and over the next few months SOVTM/Daddy Cool became one of the most popular live acts on the Melbourne dance/disco circuit, with regular gigs at the Much More Ballroom, Garrison, the Myer Music Bowl and the Melbourne Town Hall, as well as festival appearances at Launching Place (Melbourne) and Odyssey (Wallacia, NSW). By the time of their rapturous reception at the Myponga Festival in early 1971 (where they totally eclipsed the Vegetals) it was clear that Daddy Cool were far more popular than their parent band, and Sons of the Vegetal Mother was soon shelved for good.
The major turning point came on 7 May 1971, and from there things moved very fast. Daddy Cool played a gig at the Melbourne Town Hall with Tully, where they were spotted by Robie Porter. A child guitar prodigy, Porter was a teenage pop performer turned producer who had his own unusual but quite successful musical career in the late 50s and early '60s, performing guitar instrumentals under his stage name "Rob E.G". After a spell in the USA, Robie had returned to Australia and had recently become half-owner of the small independent Melbourne label, Sparmac. When Robie saw DC that night he signed them virtually on the spot. Within days he had them in the studio and the first single was out before the end of the month.
Porter produced the tracks for the first LP, and he also contributed piano and steel guitar to various tracks, with the help of Wilson's old palJeremy Noone on saxophone. It's a testament to the band's strength as a performing unit that they were able to cut all the tracks in a marathon two-night, 22 hour session. The album included two Ross Wilson originals which became instant classics -- "Come Back Again" and their legendary debut single. "Eagle Rock" was influenced by Delta blues (evident in the classic opening riff). The title of the song had come from a newspaper article which Wilson read while he was in London -- a Sunday Times story describing the juke joints of the Deep South in the 1930s, which included a photo of dancers at a juke joint, captioned "Some negroes do the eagle rock and the pigeon wing".
Alongside Spectrum's "I'll Be Gone", Daddy Cool's debut single became one of the keystones of the 'new wave' of Australian rock in the early Seventies. Released in late May 1971, "Eagle Rock" entered the Melbourne charts at No 20; it was immediately picked up by pop stations around the country and was the national #1 within two weeks. It became one of the biggest hits of the year and its success shot the band into the national spotlight virtually overnight. They undertook a joint nationwide tour withSpectrum, and the song gained crucial TV exposure thanks to the famous promotional clip made by director Chris Lofven , a former member of Cam-Pact who also made the clip for "I'll Be Gone" only months before. The clip, which included intercut live footage of the band's performance at Myponga, is now regarded as a classic, and has been much imitated. Certainly, The Pretenders' breakthrough 1978 clip for "Brass In Pocket" bears a remarkable resemblance to it.
"Eagle Rock" rewrote the record books for Australian popular music - it was #1 nationally for 8 weeks, #1 in Melbourne for a record-breaking 17 weeks, it charted for 25 weeks in all, and became the best-selling Australian single of 1971. Daddy Cool were voted Best Group in the 1971 Go Set Pop Poll, and Best Group in the TV Week "King of Pop" awards. "Eagle Rock" has long since taken on a life of its own; it's become one of the best-known songs of the era, and a staple of commercial radio "classic rock" programming. The story goes that Elton John was so taken with the song when he heard it on his first Australian tour later that year that he immediately penned his own riposte, "Crocodile Rock", which was an massive international hit for him. Likewise, on his 1973 tour, Marc Bolan good-naturedly ribbed Wilson about "ripping off" "Eagle Rock"'s main riff from T-Rex's "Ride A White Swan"! When it was re-released as a 12" single in 1982 it was a Top 10 hit all over again.
The debut LP Daddy Who? ... Daddy Cool! was released in July 1971. It too went to #1 and smashed all previous sales records -- it went gold within the month, sold an unprecedented 60,000 copies from its initial release, and went on to become the first Australian LP to sell more than 100,000 copies locally. The album was originally issued in a textured cover, and the cover illustration -- a cartoon rendering of the band members by Melbourne artist (and Go-Set staffer) Ian McCausland -- effectively became the group's logo. McCausland created most of the band's graphics and was responsible for much of their visual image, on which he collaborated with Ross Hannaford.
The album is still as fresh and immediate as it was back in 1971, and Porter's clean, warm production has tremendous presence and fidelity, and still sounds terrific. The majority of the original songs were by Ross Wilson (except for Bom Bom, which was co-written by Hannaford) but they sit very comfortably next to the vintage R&B covers -- "Guided Missile", "Good Rockin' Daddy", "Cherry Pie", Slay & Crewe's "Daddy Cool" and Chuck Berry's "Schooldays".
As brilliant as the group was, it also has to be said that their success was partly due to good luck and good timing. A year earlier, in May 1970, Australian commercial radio had been through an unprecedented six-month period upheaval with the infamous 1970 Radio Ban, which saw commercial radio embroiled in a six-month standoff with the major record companies, who wanted to charge a new royalty payment for songs played on air. Not wanting to pony up for what they (rightly) claimed was free promotion for the majors, the commercial radio industry refused and when talks broke down the major labels placed an embargo on the supply of promotional records to radio stations, and in response radio refused to list major-label records on theor weekly Top 40 charts. Obviously though, radio still needed material, and this gave local independent labels like Fable and Sparmac a unique chance to get their foot in the door.
In August they flew to America for a short tour, including a four-day engagement at the famous Whisky A Go Go in Los Angeles, supporting the Elvin Bishop Group. The success of the tour has been downplayed over the years, but in retrospect it's clear that Daddy Cool made a strong impression, despite the hiccup of a below-par debut performance. Wilson was reportedly also uneasy about taking American culture back to Americans, and worried about looking foolish to US audiences. The trip did result in the offer of further engagements later that year, on which they supported acts like Flash Cadillac & The Continental Kids and Captain Beefheart; it also secured the release of "Eagle Rock" on Warner Bros (why it never became an international hit remains a total mystery). Both Albums and various Singles were released in the US over the next year, but Daddy Cool remained essentially a cult attraction on the US West Coast. The other result was the track "Please Please America", a tongue-in-cheek plea for stateside fame and fortune, inspired by their experiences on the tour.
In September Jeremy Noone (Company Caine) joined on sax and keyboards. He already had a long association with the band as part of the floating lineup of the Vegetals, played on their ultra-rare EP The Garden Party, and of course he had also played sax on the first Daddy Cool album. His arrival coincided with the release of their wonderful second single, "Come Back Again", which became another huge hit for them reaching #2 nationally. It was covered by country singer Anne Kirkpatrick in 1986, and Ross Wilson today regards it as his favourite Daddy Cool song.
Daddy Cool toured the US again in October and then returned to release their 5-track D.C.E.P. in November. Divided into a "Jump" side -- "Flip", "Lollipop" and "Jerry's Jump" -- and a 'School' side --"Long After Schooldays Are Through" and "Three O'Clock Thrill" -- it came in a lavish gatefold cover, again with artwork by Ian McCausland, who created the pop-art candy-cane design for the front cover. Each of the group members got to sing a track, and it was another big success for them, reaching #11. On November 29 Daddy Cool achieved another Australian first, becoming the first local rock band to broadcast live from a recording studio when they performed in front of an invited audience of 80 people at Armstrong's Studio in Melbourne, which was broadcast nationally around Australia and also to New Zealand.
The third single, released in December, was another gold-plated Wilson original, "Hi Honey Ho" (b/w "Don't Ever Leave Me (Don't Ever Go)"), which was later issued as the group's second US single. This superb rock number, built around a variation of the "Eagle Rock" riff and featuring a blistering vocal from Wilson and scorching solos from Hanna, was lifted from their forthcoming second LP, and was also released in a rare promotional issue which featured the full-length (6'45") album version, as opposed to the edited (3'29") single version.
The new LP Sex, Dope, Rock'n'Roll - Teenage Heaven was released in mid-January 1972; its famous "lipstick kiss" cover was designed by Hannaford and realised by Ian McCausland, who also provided the irreverent comic strip which adorned the inside of the gatefold. The LP showed their repertoire expanding, mixing the familiar 50's-style rock'n'roll with more progressive material, along the lines of Wilson's earlier work in Sons of The Vegetal Mother. Some of the longer tracks indicate that they were still listening hard to Zappa (and the Hot Rats LP in particular) -- a fact especially noticeable in the arrangement for Wilson's dope anthem "Make Your Stash", which dated back to the days of The Party Machine and which Ross had already performed with Procession and the Vegetals. It had already been covered -- in a radically different arrangement -- by Spectrum. There were also unmistakeable "lipstick traces" of Zappa in the album's centrepiece, the "drive-in trilogy" "Teen Love" / "Drive-In Movie" / "Love In An F.J.".
There was some controversy after the LP was reviewed in a Melbourne newspaper, mainly because of the title, and the choice of the two '50s covers, The Penguins' rollicking boogie-woogie hit "Baby Let Me Bang Your Box", and Billy Ward & The Dominoes' "Sixty Minute Man". There was inevitable outcry from the wowser fringe, with calls to ban the LP, even though the content was only mildly suggestive, at best, not to mention the fact that both the aforementioned songs had been released in the early '50s in America and had been top-sellers at the time without apparently raising too many eyebrows over there. No doubt this all helped sales and Teenage Heaven was another Top 10 album. It was issued in the US (where the title was predictably truncated to just "Teenage Heaven") and it was promoted with a disc that has become another real collector's item, a special 10", 78rpm record, with the "Drive-In Trilogy" across the two sides.
In February '72 Jerry Noone left the band, apparently feeling that he was not fully involved in the spirit of the group. He was replaced in March by Ian "Willy" Winter (ex-Carson) who took over the rhythm guitar duties to enable Ross Wilson to concentrate on singing. The band undertook a third US tour from March-June 1972 and recorded several tracks including "Teenage Blues", "At The Rockhouse" and "Rock'n'Roll Lady" at Warner Bros studios in L.A.
The next DC single was a cover of Ruth Lowe's "I'll Never Smile Again", a song probably best known from the version recorded by Frank Sinatra on his 1959 album "No One Cares". Backed by "Daddy Rocks Off" it was released in June in the US and in July in Australia, providing DC with another Top 40 hit, peaking at #27 nationally. Ross Wilson is a man of many talents, but his singing in particular is something that can't really be praised often enough. He's a powerful and versatile rock/pop singer who can sing superbly on a very wide range of material, but for this writer he is rarely better than when he's working out in his upper registers, where his voice is especially emotive and appealing. "I'll Never Smile Again" really gave him the chance to stretch out and show what he could do, and it is without doubt one of his most sublime and beautiful vocal performances, ranking alongside Mighty Kong's "With A Smile Like That ..." and Mondo Rock's "State Of The Heart".
Daddy Cool were still packing them in around the country, but by now the inevitable stresses and strains of their success were building up and the pressures within and on the group were dividing the formerly close-knit unit. Gary and Wayne were keen to form their own band, and the two Rosses were finding the restrictions of the Daddy Cool image increasingly frustrating. By August the group realised that the phenomenon had run its course, and rather than dragging it out they wisely decided to call it a day while they were still on top. They performed their farewell show (which was recorded in its entirety) to a packed house at the Much More Ballroom in Melbourne on 13 August 1972. They released their valedictory single Teenage Blues / At The Rockhouse presumably to coincide with the concert -- although exactly when is not listed in Ian McFarlane's exhaustive Daddy Cool Discography. The rocky A-side is a strong pointer to the direction the two Rosses were heading in, which of course evolved into Migty Kong the following year. Reportedly this 'farewell' single was only issued to fulfill their immediate contractual obligations to Sparmac, and it appears that relations between the band and their label had become pretty fraught by this time -- and Sparmac were surely none too pleased at losing their biggest selling act after less than two years. The four original members pursued their own plans, and Willy Winter rejoined Carson.
"Long After Schooldays Are Through" 1973-74
In September '72 Young and Duncan formed Gary Young's Hot Dogs, who appeared at the second Sunbury in Jan. 1973, and the two Rosses began planning their next venture. The project briefly involved several prominent musicians including former Dave Miller Set bassist Harry Brus, and Tim Gaze and Nigel Macara, ex-Tamam Shud, but they soon moved on, after which singer Gulliver Smith and guitarist Russell Smith from Company Caine came in. Gulliver was only involved briefly, and he moved on to record his solo album before the new band was launched, but Russell Smith stayed on and two Smith-Smith songs made it onto the resulting album.
In May 1973 Wilson and Hannaford unveiled the new band, dubbed Mighty Kong, which comprised Wilson, Hannaford, Smith, bassist Tim Partridge and drummer Ray Arnott, from Spectrum. (Arnott's departure to join Kong in fact triggered the break-up of Spectrum, but in a neat turnaround, Gaze and Macara then linked up with Mike Rudd and co. to form the first lineup of Rudd's new band Ariel.) Unfortunately Mighty Kong was a very shortlived project adn Ross Wilson recently commented on the ABC's Talking Heads that the basic problem was that it lacked the cohesiveness and internal chemistry he had experienced in Daddy Cool. Mighty Kong had dissolved by December 1973, just after the release of their excellent and much-underrated album All I Wanna Do Is Rock.
Meanwhile, the Daddy Cool juggernaut rolled on regardless. Sparmac -- who still had a good deal of of unreleased material stockpiled -- issued the Daddy Cool's Golden Hits LP in January 1973; it combined the best tracks from the two LPs, and the original pressing came with a bonus 7" of the Hi Honey Ho / Don't Ever Leave Me single. During 1973 Porter and his American partner Steve Binder established a new label Wizard and in September 1973 they released the double album Daddy Cool Live! The Last Drive-in Movie Show, the live recording of DC's farewell gig at the Much More Ballroom in August 1972.
The track order faithfully followed the set list on the night. Record One features the original four-piece Daddy Cool, with Side One featuring the R&B covers, and Side Two devoted to Gary Young's selection of favourite country and rockabilly numbers. On Record Two, the second half of the show, they were joined by Willy Winter and this included some of the more progressive material including "Flash In My Head" and "Boy You're Paranoid". The original pressing also included a bonus one-sided 33-1/3 rpm single with the live version of "Daddy Cool". Remarkably, despite of the group's huge popularity, the live album sold less than 5000 copies from its first release, and it is now by far the rarest of their three 'original' LPs.
"Come Back Again" 1974-75
By the start of 1974 both Mighty Kong and Hot Dog had both split. Because of financial pressures (including outstanding debts to Sparmac), the members of Daddy Cool decided to reform for a one-off gig to clear the decks. The reunion took place at the third Sunbury Festival in January '74, to the great delight of the crowd. It was meant to be a "one-off" event, but the band was so heartened by their rapturous reception that they decided on a semi-permanent reformation with the four original members, and they lined up a series of shows during 1974-75. A new studio LP was planned and they began recording in April/May, but during the sessions a dispute erupted with Porter and Wizard over contracts and copyright, and the new album was soon aborted. Only the tracks "All I Wanna Do Is Rock" (Parts I & II), "Boogie Man" and "I Was A Teenage Creature" made it onto tape. These remained in the vaults for several years before finally beingreleased on the Missing Masters LP in 1980.
In June/July 1974 Ross Wilson took a month out from Daddy Cool out to produce the debut album for a new Melbourne band, whom he had first seen when they supported Mighty Kong in late 1973. Wilson was so impressed with them that he immediately signed their songwriter to a publishing contract, and he was instrumental in getting the group signed to Michael Gudinski's Mushroom Records label. It was a serious gamble for Mushroom, who were still struggling financially. The band had not been notably successful -- in fact they had been booed off the stage during their first major appearance at Sunbury earlier that year -- and adding to the uncertainty was the fact that this was also Wilson's first major production job. But the wager paid off handsomely -- the record was of course the legendary Living in the Seventies by Skyhooks, released in October 1974. It made Skyhooks stars overnight, becoming the best-selling album in Australian recording history to that time -- eclipsing Daddy Cool's own record -- and it literally saved Mushroom's skin, establishing the label and its owner Michael Gudinski as a major player in the Australian recording industry.
In January 1975, Daddy Cool appeared at the final Sunbury Festival, after which (Ian) Gunther Gorman was recruited to bolster the group's lineup, and although it was clear by this time that Daddy Cool was well and truly past its use-by date, they soldiered on for a few more months. when Wayne Duncan was sidelined after injuring his hand in a car accident in June, Hannaford switched to bass and guitaristWayne Burt (later of Jo Jo Zep & The Falcons) was brought in, creating the very last Daddy Cool lineup. In August Ross Wilson announced the group's final split, and in September 1975 they played their farewell shows at Paddington Town Hall in Sydney and the Reefer Cabaret in Melbourne, a much-loved Melbourne venue which was itself to disappear only months later.
"Daddy Rocks Off" --1975 and beyond ...
Since the second DC split in 1975, all four members have worked with one another in various combinations at various times, and each has a list of credits far too long to recite here in full:
After the split, Ross Wilson's first project was a collaboration with Gary Young, Wayne Burt and otherson the soundtrack for Chris Lofven's cult road movie Oz in 1976, and he scored a minor hit with his infectious reggae-styled solo single "Living in the Land of Oz". The soundtrack LP -- sadly long out of print -- also features "Beating Around The Bush", the first recording by Jo Jo Zep & The Falcons. Ross continued his association with Skyhooks, producing their second and third albums. After waiting out the duration of his Wizard contract, he embarked on a second round of enormous success in late 1970s and into the 1980s with Mondo Rock.
Ross Hannaford is still one of Australia's most respected guitarists, and he has done a huge amount of session work and played in many bands. His group and recording credits including The Black Sorrows, Paul Madigan & The Humans, Ian Moss, Steve Hoy, Mark Gillespie, Billy T and Goanna. In the 1990s he and his bandDiana's Kiss had a long-standing residency at the famous Esplanande Hotel in St Kilda.
Gary Young performed and recorded with a long list of prominent groups and artists over the intervening years. including Jo Jo Zep & The Falcons (1976-81), his own group Gary Young & The Rockin' Emus (1981-2), and he even subbed for the departed Steve Prestwich in Cold Chisel in 1983. He continued his association with Joe Camilleri as the original drummer in The Black Sorrows in 1984-5.
Wayne Duncan likewise has a long string of credits since Daddy Cool, which includes work with Gulliver's Travels, Jane Clifton, Phil Manning, The Black Sorrows and the Ross Hannaford Trio.
Daddy Cool have been anthologised many times, with numerous 'Best Of' collections appearing over the years. Probably the most interesting compilation to collectors is The Missing Masters, issued in 1980, which brought together the rare single b-sides like "Don't Ever Leave Me", all the previously unreleased studio material including the three tracks from the aborted third studio LP, plus a selection of live tracks.
In 1992 Mega Records issued the definitive Daddy Cool collection, Totally Cool, the definitive 3CD boxed set compiling all the tracks from the studio albums, the singles, the D.C.E.P., the live album, and the rare tracks from the Missing Masters LP. The one shortcoming with this terrific set is that it regrettably uses the abridged versions of "Come Back Again" and "Hi Honey Ho" instead of the longer album versions.
In 1995 the original Daddy Cool lineup got back together and joined Skyhooks for a final farewell tour, which was promoted with the single "The Ballad of Oz", released in tandem with Skyhooks' valedictory "Jukebox in Siberia". Over the years, the band has passed into legend as one of the icons of Australian music, and Daddy Cool has since been honoured both with a stamp in Australia Post's Rock'n'Roll collection, and with the voting of "Eagle Rock" as one of Australia's Top Ten Songs of All Time by ARIA in 2001.
In Feb. 2005, to the delight of fans young and old, the original Daddy Cool reunited for the first time in a decade to perform a rapturously received set at the Myer Music Bowl Melbourne, at the benefit concert for the victims of the catastrophic 2004 Boxing Day Tsumani.
In 2006 Gil Matthews' Aztec Music released the long-awaited The Complete Daddy Cool, a superbly packaged 2-DVD collection featuring a treasure trove of DC vision. Included in the set is the complete video of the 2005 Tsunami Benefit performance (recorded in 5.1 Surround Sound) and a new 90-minute documentary on the band. The set also features Bob Weis' 1972 documentary, a "Making Of ..." feature on Weis' film, a 13-minute feature "Hanna On Lead", and nearly 50 minutes of film clips and TV appearances, including a swag of long-lost TV appearances from the ABC's GTK, rediscovered in the ABC archives following the closure of ABC'TV's old Sydney studios at Gore Hill.
The Tsunami benefit has led to further reformation gigs, including the support slot on the 2007 Australian tour by Mike Love's Beach Boys and Christopher Cross, and DC also played a one-off performance in Geelong, sharing the stage with their old mates Spectrum for the first time in over thirty years.
Discography
(with acknowledgements to Ian McFarlane)
Singles
May 1971
"Eagle Rock" / "Bom Bom" (Sparmac SPR 008)
Sep. 1971
"Come Back Again" / "Just As Long As We're Together" (Sparmac SPR 010)
Dec. 1971
"Hi Honey Ho (long version) / Hi Honey Ho (short version) (Sparmac SPR 014) Promo only
Dec. 1971
"Hi Honey Ho (short version) / Don't Ever Leave Me (Sparmac SPR 014) Promo only
? 1972
"Teenage Blues" (mono) / "At The Rockhouse" (Sparmac SPR 018) Promo only
? 1972
"Teenage Blues" (stereo) / "At The Rockhouse" (Sparmac SPR 018)
Jul. 1972
"I'll Never Smile Again" / "Daddy Rocks Off" (Sparmac SPR 019)
Sep. 1972

"Rock'n'Roll Lady" (mono) / "Cadillacin' " (Sparmac SPR 021)
as "Gary Young with Daddy Cool"
Jul. 1973
"One Night" / "Cadillacin' " (live) (Wizard ZS-102)
Jul. 1973
"Boy, You're Paranoid" (live) / "One Night" (live) (Wizard ZS-102/103)
included as part of a four-track Wizard sampler on a blue flexi-disc
Aug. 1973
"Flash In My Head" / "Little Darlin' "/ "Boy You're Paranoid" (live) (Wizard ZS-104)
Sep. 1973
"Duke Of Earl" / "Jambalaya" (Wizard ZS-105)
1974
"All I Wanna Do Is Rock (Part I) / All I Wanna Do Is Rock (Part I) (Wizard ZS-117)
1974
"The Boogie Man" / "I Was A Teenage Creature" (Wizard ZS-121)
1974
"You Never Can Tell" / "All I Wanna Do Is Rock" (Wizard ZS-129)
Jan. 1981
"Eagle Rock" / "Cadillacin' "(live) (Wizard ZS-335)
Sep. 1982
"Come Back Again" (short vers.) / "Come Back Again" (long vers.) (Wizard ZS-586)
Oct. 1989
"Eagle Rock" / "Come Back Again" (Wizard ZS 2312)
1995
"Ballad Of Oz" / "Jukebox In Siberia" (Skyhooks) (Mushroom)
12" Singles
Jun. 1982
"Eagle Rock / Daddy Rocks Off, Bom Bom (Wizard ZS 12582)
Nov. 1982
"Hi Honey Ho (long vers.) / Come Back Again (long vers.), Baby Let Me Bang Your Box (Wizard ZS 12822)
EPs
Nov. 1971
The D.C.E.P. (Sparmac SPEP 1)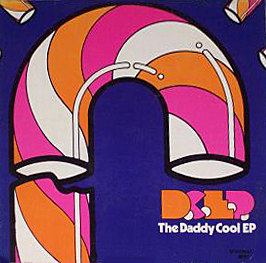 ---
1975
The D.C. Hits EP (Wizard ZEP 2)
reissued with logo cover in 1980, and with no-picture cover in 1982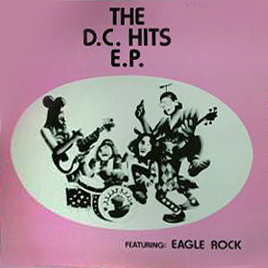 Albums
Jul. 1971
Daddy Who? Daddy Cool! (Sparmac SPL-001)
Reissued 1977 (with different sleeve) as Wizard ZL 214 and in 1982 (with original artwork but non-gatefold sleeve) as Wizard MID-160005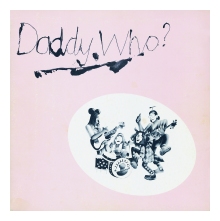 "Daddy Cool" (Slay-Crewe)
"Schooldays" (Berry)
"Come Back Again" (Wilson)
"At The Rockhouse" (Wilson)
"Guided Missile" (Gaitwood)
"Good Rockin' Daddy" (unknown)
"Eagle Rock" (Wilson)
"Zoop Bop Gold Caddillac" (Wilson)
"Blind Date" (Wilson)
"Bom Bom (Wilson-Hannaford)
"Cherry Pie" (Marvin-Johnson)

Piano, slide guitar: Robie Porter
Saxophone: Jeremy Noone
Produced by Robie Porter
Recorded at Armstrong Studios, Melbourne
Cover illustration by Ian McCausland
---
Jan. 1972
Sex, Dope, Rock'nRoll: Teenage Heaven (Sparmac SPL-002)
Reissued 1977 with "back seat" illustration as front cover (Wizard ZL-242)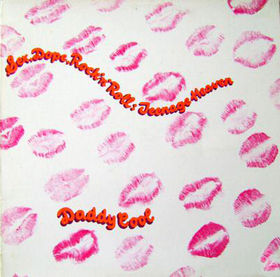 "Hi Honey Ho" (Wilson) short version
"Daddy Rocks Off" (Wilson)
"Please Please America (Hear My Plea)" (Wilson)
"Sixty Minute Man" (Ward-Marks)
"Baby Let Me Bang Your Box" (McRae-Wyche)
"Teen Love" / "Drive-In Movie" / "Love In An FJ" (Wilson)
"Donna Forgive Me" (Wilson)
"Make Your Stash" (Wilson)

Produced by Robie Porter
Recorded at Armstrong Studios, Melbourne
Cover illustrations by Ian McCausland; cover concept by Ross Hannaford and Ian McCausland
---
Jan. 1973
Daddy Cool's Golden Hits (Sparmac SPL 004)
---
Sep. 1973
Daddy Cool Live! The Last Drive-In Movie Show (Wizard ZL-202) Reissued 1982 with different cover

That'll Be The Day (Holly-Petty)
Zoom Zoom Zoom (Hayes-Jackson)
Cherry Pie (Marvin-Johnny)
Sh-Boom (Keyes-Feaster-Feaster-McRae)
Little Darlin' (Williams)
Guided Missile (Gaitwood)
Duke Of Earl (unknown)
Roll With Me Henry (James)
Momma Don't You Tear My Clothes (trad. arr. Wilson)
One Night (Bartholemew-King)
Come Back Again (Wilson)
Flash In My Head (Hannaford-Smith)
Teenage Blues (Wilson)
I'll Never Smile Again (R. Lowe)
Boy You're Paranoid (Wilson)
Shake, Rattle'n'Roll (C.Calhoun)
Daddy Cool (Slay-Crewe)
Produced by Robie Porter
Recorded live at the Much More Ballroom, Melbourne, 13 August 1972
Cover art by Ian McCausland
Ross Wilson - guitar & vocals
Ross Hannaford - guitar & vocals
Ian Winter - lead guitar
Wayne Duncan - bass
Gary Young - drums & vocals
---
1976
The Greatest Hits (Wizard ZL 219) Originally issued with 'back seat' illustration (from second LP), reissued in 1982 with red cover
---
1980
The Missing Masters (Wizard ZL 241)
rare and unreleased studio & live tracks
Studio tracks:
"Just As Long As We're Together"
"Rock-A-Billy Beatin' Boogie Band"
"Rock'n'Roll Lady"
"Cadillacin' "
"Don't Ever Leave Me"
"Teenage Blues"
"Boogie Man"
"I Was A Teenage Creature"
"All I Wanna Do Is Rock" (Parts I & II)
"I'll Never Smile Again"
Live tracks:
"Good Golly Miss Molly"
"Gee"
"Fried Chicken"
"Jambalaya"
"You Never Can Tell"
"Schooldays"
---
1982
Daddy's Coolest Volume I (Wizard WIZLP 2002)
Reissued 1992 on CD as Mega 472002-2


---
1986
Daddys' Coolest Volume II (Wizard WIZLP 2003) LP
Reissued 1992 on CD as Mega 472003-2
---
1986
Daddy's Coolest (Wizard RRLP 104-105)
Radio-only promo 2LP set
---
date unknown
The Daddy Cool Collection (Axis 260313)
---
date unknown
The Daddy Cool Story (Music For Pleasure MFP 2-398042)
2LP compilation combining all tracks from both original studio albums (resequenced)
---
date unknown
The Best Of Daddy Cool (Summit SRA 295-001)
---
1988
Retrospective (EMI EMX 748315)
Compilation LP of Daddy Cool, Mighty Kong, Ross Wilson solo and Mondo Rock tracks
---
1992
The Complete Daddy Cool (Mega 472003-2) 3-CD boxed set
DVD
The Complete Daddy Cool
References/Links
Paul Conn
2000 Weeks: The First Thirty Years of Australian Rock (Moonlight Publications, 1996)
Ian McFarlane (1999)
Encyclopedia of Australian Rock & Pop (Allen & Unwin, 1999)
Ian McFarlane with Francis Andersen
"Daddy Cool"
From The Vault, Vol. 2, No 3, 1990
Noel McGrath
Australian Encyclopedia of Rock (Outback Press, 1978)
Ed Nimmervol
"Daddy Who?"
Australian Music Directory (edited by Peter Beilby & Michael Roberts) 1981
Chris Spencer, Zbig Nowara & Paul McHenry
Who's Who of Australia Rock (Five Mile Press, 2002)
YouTube
"Eagle Rock" Chris Lofven film-clip
http://www.youtube.com/watch?v=oQfAZVsz6KM
"Hi Honey Ho" (live), 1972
http://www.youtube.com/watch?v=0PF5rU_Ho04
"Gee" (live on GTK)
http://www.youtube.com/watch?v=uW7-iN2MNLE
"Flip" (live on GTK)
http://www.youtube.com/watch?v=khIflcEbPys
"Come Back Again" (extended version) live on GTK
http://www.youtube.com/watch?v=oIG9osPPILM
"$64,000 Question" live on GTK, 1974
http://www.youtube.com/watch?v=Qc0leXVlAa4
"Rock'n'roll Lady" live on GTK
http://www.youtube.com/watch?v=orUfvI1_rQU