DOUG PARKINSON

(including The A-Sound, The Questions, Doug Parkinson In Focus and Fanny Adams)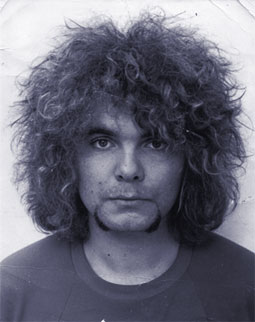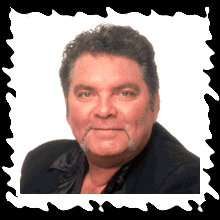 Then and now: (left) the wild and woolly Doug of the late '60s and (right) as he looks today
Doug Parkinson (vocals, guitar) with:
Strings & Things / The A Sound (1966)
Helen Barnes (bass)
Syd Barnes Jr (drums)
David Lee (guitar)

The Questions (1966-68)
Ray Burton (guitar) Jan-Feb. 1968
Bill Fleming (drums)
Billy Green (guitar) 1965-1968
Duncan McGuire (bass)
Wally Scott (?)
Rory Thomas (organ)
Les Young (bass) (Jan. Feb. 1968)

Doug Parkinson In Focus (Mk 1) Mar. 1968-Sept. 1969
Billy Green (guitar)
Doug Lavery (drums)
Duncan McGuire (bass)
Rory Thomas (organ)

Doug Parkinson In Focus (Mk 2) 1969
Johnny Dick (drums)
Billy Green (guitar)
Duncan McGuire (bass)

Doug Parkinson In Focus (Mk 3) 1969- Sept. 1970
Johnny Dick (drums)
Mick Rodgers (guitar, bass)
Les Stacpool (guitar, bass)

Fanny Adams 1970-71
Johnny Dick (drums)
Vince Melouney (guitar)
Teddy Toi (bass)
(Note: Billy Green and Duncan McGuire also reportedly had
short stints in Fanny Adams in its final days)

Doug Parkinson In Focus (Mk 4) June 1971
Billy Green (guitar)
Mark Kennedy (drums)
Duncan McGuire (bass)

Doug Parkinson Band 1973-74
Rod Coe (bass)
Bruno Lawrence (drums)
Mick Lieber (guitar)
Ray Vanderby (guitar)

Doug Parkinson's Life Organisation 1974-75
Johnny Dick (drums)
Peter Figures (drums)
Warren Ford (piano, guitar)
Peter Martin (guitar)
Graeme Morgan (drums)
Bill Motzing (brass, keys)
Teddy Toi (bass)
History
Since the mid-Sixties Doug Parkinson has been regarded as one of Australia's finest vocalists, a "singer's singer" who is one of the truly great soul/R&B vocalists of our time. His deep, resonant, smoky baritone voice is operatic in its power, yet possesses a range and subtlety that few others can match. His sound is instantly recognizable and unmistakable, yet his great versatility enables him to be equally at home in almost every popular genre including soul, R&B, pop, psychedelia, heavy rock, jazz, swing and musicals. Added to his vocal prowess is an imposing stage presence (including his trademark "Lucifer" beard) and a solid acting ability.

Doug has enjoyed a long and remarkably varied career in the Australian music industry, although like many of his contemporaries it has to be said that he has been woefully under-recorded. He is best remembered as the frontman for a fine array of top-notch groups from the mid-60s to the early '80s -- the most memorable being the redoubtable Doug Parkinson In Focus.
Doug was born in Newcastle, NSW, in 1946 and grew up on Sydney's northern beaches, where he attended Narrabeen Boys' High School. He was an above-average student, at one stage winning a school literature prize; he was elected as a prefect and (shades of John Gorton) only missed out on being elected head prefect because he voted for another candidate and lost by one vote-his own!
His family loved music-his parents were very fond of musicals and this formed a continuing thread in Doug's career-and they gave Doug his first guitar at the age of twelve. His first public performance was at a school dance, where he performed a surf song. The young Doug was an avid sportsman and represented his district in cricket, as well as being a keen footballer and surfer. Among his surfing mates was future champion Nat Young. The surfing came to an end after a brush with death, when Doug was hit by a surfboard, knocked unconscious and almost drowned. He was dragged from the water and resuscitated by a friend, but spent the next six months bed-ridden as he recovered from his injuries.
Doug matriculated in 1963 and after a few menial jobs, he was taken on as a cadet journalist with the Daily Telegraph in Sydney in 1964. He got to interview George Harrison during The Beatles' Australian tour, which resulted in his first front-page story. There is some disagreement between sources about the when Doug formed his first band. According to Ian McFarlane, it was while he was still at school, but it seems more likely that (as noted on Doug's website) it was while he was a Telegraph cadet.
Doug's first group was Strings And Things, with guitarist David Lee and brother and sister Syd and Helen Barnes, the children of test cricketer Syd Barnes. The band later changed its name to The A Sound. Notable as one of the few Sydney groups of the period with a female instrumentalist in the lineup, The A-Sound released just one single, "Talk About That" / "Tomorrow I Meet You", issued in early 1966 by Festival, before they split up.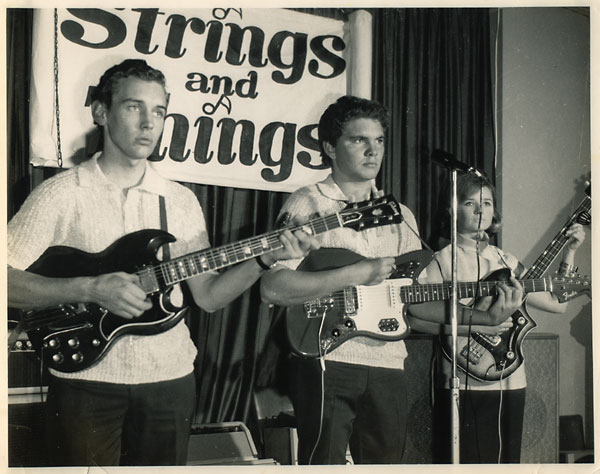 It was at this point, late in 1966, that Doug gave up his day job and became a full-time singer, joining established Sydney instrumental band The Questions. All the members of The Questions (except original drummer Bill Fleming) had previously worked in backing bands for singer Roland Storm , and although not very well remembered today, it was one of the seminal Sydney groups of the mid-60s, featuring several players who would become prominent figures in Australian music.
During Doug's tenure with the band the lineup included guitarist Ray Burton (The Executives, Innersense, Friends, Ayers Rock, Crossfire), bassist, engineer and producer Duncan McGuire (The Phantoms, The Epics, King Harvest, Friends, Ayers Rock, Windchase) and guitarist Billy Green (King Harvest, Fanny Adams, Gerry and the Joy Band, Friends). Some members later linked up in various combinations in the aforementioned bands -- McGuire and Green returned to work with Doug at several later stages in his career, Ray Burton contributed to Doug's 1973 solo album No Regrets, and McGuire and Burton reunited in the 70s in Ayers Rock, and .
The Questions had been formed as a Shadows-style instrumental band, which was typical for groups of the early-mid Sixties. They recorded one album for Festival (in the 'Herb Albert' vein, described by one critic as 'unreservedly awful') and one single, Karelia / Wheels which came out in October 1966. Although the members were musically competent and already very experienced as live performers, The Questions was a relatively undistinguished group and might well have remained so. But Doug's arrival at the end of 1966 precipitated a major change of musical direction. They went on to record a series of impressive Singles that showcased Doug's outstanding vocal talents and which Ian McFarlane describes as 'minor psychedelic pop classics'. Their new lineup and style quickly took The Questions into the first division of Australian bands. Their debut single "Sally Go Round the Roses" (backed by a cover of Donovan's "Hey Gyp (Dig the Slowness)" was a substantial hit in Sydney, reaching #14 in July 1967. It was followed by "And Things Unsaid" / "I Can't Hear You" (October) and a psych-pop interpretation of "Something Wonderful" (from Rogers & Hammerstein's The King And I) (February 1968), plus the an EP Sally Go Round the Roses.
The Questions entered the 1967 Hoadley's Battle Of The Sounds and eventually came in second behind The Groop. They almost didn't make it into the competition, because they missed the deadline for entry into the Sydney heats, and had to qualify via the Queensland country heats. However this initial oversight had the beneficial side-effect of providing them with their first interstate gigs. Their profile increased with a residency at The Can disco in Sydney and they gained invaluable national exposure with a support spot on the controversial January 1968 Australian tour by The Who and The Small Faces. Just before the tour, Green and McGuire left, and they were replaced by Ray Burton and Les Young. The solid performances by this short-lived lineup impressed audiences around the country but The Questions disbanded the following month. In March 1968 Parkinson, Green, McGuire and Thomas reunited and recruited a new drummer, Doug Lavery (ex Running Jumping Standing Still, Andy James Asylum) and took a new name that acknowledged the rapidly growing stature of their lead singer -- Doug Parkinson In Focus.
The slew of Singles released by Doug Parkinson In Focus warrants particular attention. The group (unfortunately) never made an album, but, if gathered together with their unreleased tracks (such as "Theme From 12th House"), these tracks would form a pretty solid album. Most have since been anthologised on the essential Raven compilation Doug Parkinson: In and Out of Focus.
The debut In Focus single "Advice" / "I Had A Dream" (May 1968) didn't chart, although it set out their stall in confident fashion, but the original lineup fell apart in August 1968. Organist Rory Thomas left to join The Affair and was not replaced; Doug Lavery departed to join The Valentines and was replaced by Johnny Dick (ex- Aztecs, Max Merritt & the Meteors).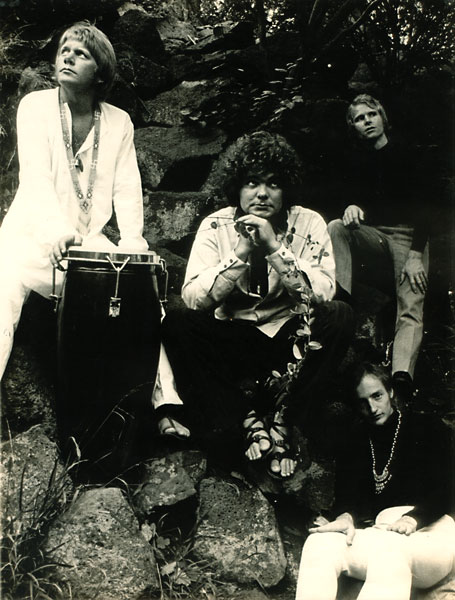 In early 1969, a friend of Doug's in the UK sent him an advance copy of The Beatles' stunning new self-titled double album (now universally known as The White Album). They were smitten and immediately recorded a superb cover of the classic John Lennon song "Dear Prudence". Doug sent the tape to Festival, hoping to have it released as the next single but, incredibly, Festival turned it down. Stunned, Doug took the recording to EMI, who loved it. A record deal was signed, and the single was released on Columbia in May 1969. It shot up the charts all over the country, earning rave reviews; it peaked at #5 in the Go-Set national singles chart in early August and stayed on the chart for a solid four months, becoming the biggest hit of Doug's career. It was a brilliant showcase for Doug, enabling him to display both his power and subtlety, and it also highlighted the tight, funky cohesion of his band. The package was reinforced by its impressive flipside, the Billy Green-composed "This Must Be The End". It became one of the biggest selling Australian singles of 1969 -- no mean feat in a year that produced classics like "Smiley", "The Real Thing" and Mr Guy Fawkes" and it remains a signature tune for Doug ... not to mention being one of the best Beatles covers ever recorded.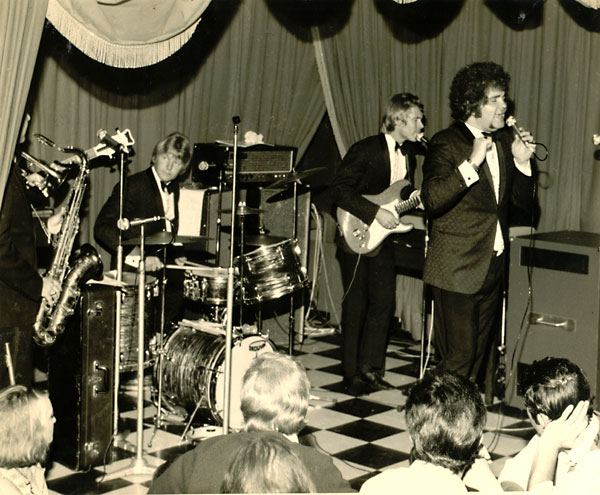 "Black tie, white noise" - the Dear Prudence single launch at Berties Disco, Melbourne, 1969.
Duncan McGuire and the horn players are obscured by the curtain at left.
In July, as "Dear Prudence" was heading up the charts, the group again competed in the annual Hoadley's Battle of the Sounds. In a nail-biting finish, Doug Parkinson In Focus was awarded equal first place with competition underdogs The Masters Apprentices, and the two bands shared the prize. The prize enabled the Masters to achieve their long-held dream of going to England, but for In Focus the glory was shortlived -- soon after the finals rumours began circulating that their prize money had had been misappropriated by their management.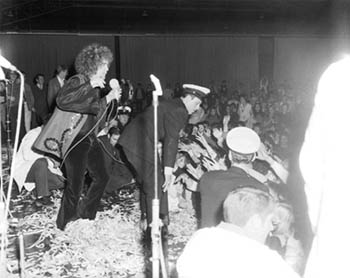 Left: the frantic scene at the Battle of the Sounds as The Questions perform at the finals in August 1969 (Laurie Richards Collection, National Film & Sound Archive)
The Hoadleys controversy was followed by another setback when their next single, "Today (I Feel No Pain)" was deemed uncommercial by EMI and was withdrawn soon after release. Fortunately, the A-side -- remarkable for its driving, slightly psychedelic backwards guitar effects -- reappeared later on the Dear Prudence EP.
They bounced back with their next single, which showcased Billy Green's brilliant pop writing skills, together with his astounding, almost orchestral (and criminally overlooked) guitar stylings on the power ballad (in the best senses of the term) "Without You" (October) which provided them with a second Top 5 hit. On its reverse side, this single featured Doug's unique take on the title song from the notorious rock musical, Hair which had recently premiered in Sydney in a blaze of publicity.
Once again on the crest of a wave, the group looked set for continued success, but in November Green and McGuire abruptly split to join the short-lived supergroup Rush with former Wild Cherries members Mal McGee and Kevin Murphy. Doug hastily recruited English guitarist Mick Rogers (ex-Playboys, Procession) and veteran guitar ace Les Stacpool and the new lineup premiered in December. By January 1970 Rush has folded and Billy Green returned in time for In Focus' appearance at Australia's first rock festival, the Pilgrimage For Pop at Ourimbah, NSW.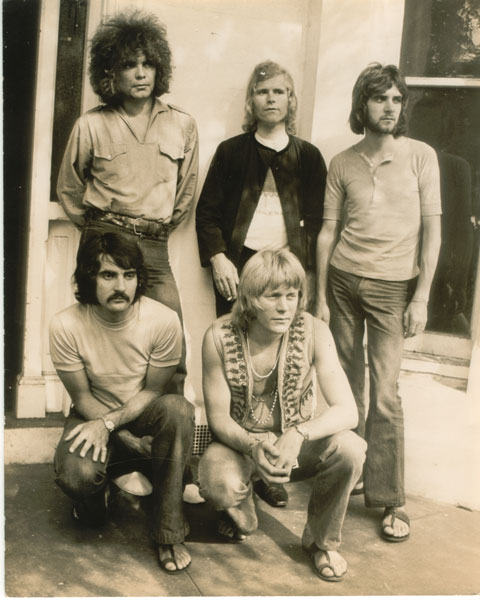 Duncan McGuire returned the next month, Stacpool and Rogers departed and In Focus returned to its classic lineup. Their final single was arguably also their supreme achievement, a fantastic 45 where it's hard to nominate an A or B side. "Baby Blue Eyes" / "Then I Run" was also a remarkably dynamic recording, and was one of the first stereophonic 7" singles recorded in this country. By turns lush, dramatic, evocative, funky and just plain hard-rocking, both of these Green-penned songs were shamefully neglected at the time, and deserve retrospective scrutiny for the hallmarks that they undoubtedly are. It performed moderately well, reaching #6 in May 1970, but the next month Doug and Johnny were invited to come to England to join a new band being put together by former Aztec Vince Melouney.
Duncan and Billy headed off to join Leo De Castro in King Harvest. Johnny and Doug left for England where they completed Vince's new group (cheekily named Fanny Adams) with bassist Teddy Toi (bass, ex-Max Merritt and the Meteors, The Aztecs, Little Sammy & The In-People) who had been working as a session player in London at the time. The new group returned to Australia in December 1970 amid a welter of hype, with Doug boasting to Go-Set that "In three weeks Fanny Adams will be the best band that ever trod this earth". But they encountered resistance from a skeptical public and their braggadocio apparently didn't translate into the earth-shattering performances audiences were led to expect, with some sources claiming that they were upstaged by their support bands.
Before leaving the UK they had availed themselves of Vince's recent solo record deal with MCA to cut their self-titled debut album. It contains some superb material and powerhouse performances and is also long overdue for an official re-release. It gained a rave review in the American Cashbox magazine, which encouraged them to plan an American visit, but the band fell apart before they could realize these plans. This has conventionally been attributed to tensions within the band, and there were four considerable egos at play there, but the major catalyst for the demise of Fanny Adams seems to have been a disastrous fire at Sydney's Caesar's Disco, which destroyed all their equipment just after they arrived home; this was no doubt also a factor that contributed to their reportedly underwhelming live performances.
Whatever the precise reasons for the split, Doug quit Fanny Adams in February 1971 (it was an acrimonious parting according to McFarlane) leaving only their self-titled LP as a signpost of what might have been. One excellent track from the LP, the scorching "Ain't No Loving Left", is included on Raven's Golden Miles anthology and the Fanny Adams album had a limited release on a German bootleg CD in 2001.
MCA were understandably unhappy about Fanny Adams' untimely demise, which left them with an expensive album to sell and no band to promote it, so they evidently enforced the conditions of the contract, a decision which resulted in Doug being effectively banned from recording for the next two years.
Doug reunited with Green and McGuire, plus ex- Spectrum and King Harvest drummer Mark Kennedy to create a new version of In Focus. Despite Doug's contractual hassles, they managed to cut one single for Fable, released in September 1971. Although this is, sadly, the only known release by this incarnation of the group, the stormingly heavy, wall-of-sound Billy Green 'ballad' "Purple Curtains" (backed with the alarming riff-fest "Pour Out All You've Got") featured the supple, powerhouse drumming of Kennedy, and distinctive contributions from the other band members. This single, too, showcased Parkinson's mastery of the foghorn bluesy vocal style he was famed for. Doug spent the next two years trying to get his solo career off the ground although he was hampered by the restrictions he faced from MCA/Fanny Adams episode. His second son Daniel was born during the year and in August 1972 he issued his first solo single on Polydor, "Lonely" / "Taking It Easy".
Solo in the Seventies
Songs from musicals have been a recurring feature of Doug's recording career, and in the early '70s he began appearing in some memorable stage musicals. i In March 1973, he made his stage debut in the Australian concert production of The Who's rock opera Tommy alongside Billy Thorpe, Daryl Braithwaite, Colleen Hewett, Broderick Smith, Jim Keays and Keith Moon. This was followed by a stint in the acclaimed Harry M. Miller/Jim Sharman production of Jesus Christ Superstar iwhere he replaced Reg Livermore, providing some unlikely "comic relief" in the cameo role of Herod.
In 1973 Doug gathered an all-star session band to record his first solo LP, the aptly-titled No Regrets, released in May on Polydor. The studio line-up was led by keyboard player John Capek (piano; ex-Carson) with Graham Morgan, Peter Figures and Russell Dunlop (drums), Tim Partridge (bass), guitarists Kevin Borich, Billy Green, Ross East and Jimmy Doyle, Roger Sellers (percussion), Don Reid (flute, sax) and Terry Hannagan (vocals). Capek co-wrote five tracks, two with Doug himself and three with Terry Hannagan; Doug contributed his first solo composition, the opening track, And Things Unsaid, and the album also featured a new version of "Dear Prudence", plus Ray Burton's "Love Gun", Kevin Borich's "Sweet Rock & Roll" and a cover of The Doors' "Light My Fire". The album was re-released in 1980 as part of Polydor's budget priced 'Rock Legends' series.
Also that year, Doug made an interesting digression with his next band Doug Parkinson's Life Organisation which played 1940s big band jazz -- pre-dating the more 80s vogue for this style with bands like Ignatius Jones' Pardon Me Boys. The line-up included his old mate Teddy Toi, with Graham Morgan, Peter Martin (guitar; ex-SCRA), Warren Ford (guitar, piano), Bill Motzing (trombone, keyboards) and, briefly, the mercurial Wendy Saddington (vocals). The Life Organisation released two singles, the first being a cover of the Glenn Miller standard "In the Mood" (Forties Style) b/w "Beyond the Blue Horizon" (June 1973) which surprisingly reached #36 in Sydney. The second single, "Boogie Woogie" / "Little Brown Jug" (November) did not repeat this success. Life Organisation also backed Parkinson on his second solo single (lifted from No Regrets), "Love Gun" / "Dear Prudence" (April 1973).
In 1974 Doug joined the recently formed WEA Records as NSW Promotions Manager, determined to learn the business from the other side and find out for himself the complexities of music marketing. He fared well in this new role and was eventually promoted to A&R Manager. During the year Doug also performed the memorable vocals on two Billy Green songs, "Cosmic Flash" and "Do Not Go Gentle" (a musical setting of the Dylan Thomas poem, and a song dating back to the In Focus days. These were Billy Green recorded for the film soundtrack to Sandy Harbutt's cult Oz biker film Stone. The recent documentary Stone Forever is well worth tracking down for the archival footage of Doug and Billy recording the number in the studio. Later in the year Doug put together a new touring band comprising Mick Liber (guitar; ex-Python Lee Jackson), Ray Vanderby (keyboards), Rod Coe (bass, ex Freshwater) and the late, great Bruno Lawrence (drums, ex-Max Merritt and the Meteors, BLERTA). Bruno of course later earned acclaim as an actor in films including The Quiet Earth, The Delinquents and the classic ABC current affairs satire Frontline.
In November 1974 Doug finally scored his first major solo hit with a cover of the Love Affair perennial "Everlasting Love" which had also been an Aussie hit for The Town Criers in 1968; Doug's version was recorded with the permission of WEA, and Doug was backed by some of his old mates, now working as Ayers Rock i. The single peaked at #22 in Sydney and #14 in Melbourne in March 1975. He released two further singles in 1975, a cover of Vanda and Young's "Love is Like a Cloudy Day", released on Atlantic in May, and "Raised on Rock" (September), which came out on Robie Porter's Wizard label, but neither record charted.
It was also during this period that Doug established a lucrative sideline belting out advertising jingles, station ID's and TV themes. Doug recorded one of the original Double Jay station IDs in 1975. During the year he was involved in a media storm over two political commercials he sang on-one was a jingle for the South Australian Liberal Party and soon after another for the federal Labor Party. A similar controversy arose around the same time when Renée Geyer performed a jingle for the federal Liberal Party. Doug couldn't see a problem with it then and he still can't now- that's just my gig", he says -- but like Renee, Doug was perhaps unaware of the deep feelings aroused by such political scene of the time and was unprepared for the negative reactions that were generated when -- as in the case of Geyer -- people mistook the performance for some kind of endorsement.
In 1976 Doug appeared in the stage musical Sgt. Peppers Lonely Hearts Club Band. During 1977 he toured with a backing which comprised a re-formed version of Sanctuary (aka The Renée Geyer Band) and which included keyboard player Mal Logan and the late great Barry "Big Goose" Sullivan.
In 1978, Doug appeared in the stage production of a new Australian musical Ned Kelly written by Reg Livermore and Patrick Flynn. It received a mixed reception -- it was highly praised by some reviewers at the time but savaged by others (including critic Shirley Stot Despoya, mother of Natasha).
In early 1978, Doug began one of the most successful phases of his rock career when he formed his acclaimed new backing group The Southern Star Band. Back in the fold were his old friends Duncan McGuire and Mark Kennedy, plus Frank Esler-Smith (keyboards; ex-Marcia Hines Band) and Englishman Jim Gannon (guitar; ex-Black Widow, Yellow Dog, Fox). Gannon was later replaced by a young prodigy who went on to become one of Australia's best known guitarists: Tommy Emmanuel.
Regarded as one of the hottest ensembles of its day, the Southern Star Band played a smooth but powerful blend of soul, funk, jazz-rock and R&B, and with so much talent involved it's hard to explain why this group failed to fully connect with the general public, other than to point the finger at radio for its continuing lack of interest in local talent. Keith Kirwin (guitar, bass, vocals; ex-Avengers) joined in September 1979and during their four-year lifespan the band released four excellent singles -- "The Hungry Years" (July 1978), the superb "I'll Be Around" (January 1979), "In My Life" (April) and "You Ain't Going Nowhere Without Me" (September).
"I'll Be Around" charted nationally (#22 in March) and remains a favourite track for many Parko fans. Their Festival album, also called I'll Be Around, was a steady seller and received good airplay (especially on Double Jay) but it didn't manage to crack the Top 40 album charts. During the year the band supported Bob Marley & The Wailers on their Australian tour.
The Eighties
During 1980, Doug continued touring, and issued two solo singles: "Arcade" (the theme to an abortive television serial of the same name) and "Under the Influence of Love" through Festival. He also scored his first TV role in the hospital soapie The Young Doctors. In 1981 he signed to CBS Records. By this time The Southern Star Band had broken up so Doug formed a new Doug Parkinson Band in March, which comprised Dave Richard (guitar), Tim Piper (guitar; ex-Chain, Blackfeather), George Limbidis (bass; ex-Highway) and Adrian Payne (drums; ex-Pantha, Broderick Smith's Hired Hands).
Between 1981 and 1983 Doug kept busy on the recording front, releasing seven singles. The first was "Small Talk" (March 1981), followed by a cover of The Walker Brothers' classic "The Sun Aint Gonna Shine Anymore" (July, #18 in September '81), "Solitaire" (November), "Better Keep Your Hands Off (My Potential New Girlfriend)" (July '82), "Dont Let Love Go" (January '83), "It's Your Move" (May) and "Let Sleeping Dogs Lie" (September '83).
In March '83 Doug released his second solo album (on CBS) Heartbeat to Heartbeat, and late in the year he took the starring role of Judas in the revived stage production of Jesus Christ Superstar. The production toured Australia for twelve months to great acclaim, before final performances in Hong Kong and Singapore.
Doug's distinctive voice kept him in strong demand for advertising work and he recorded jingles for Coke (winning an international award for Best Commercial), BHP, Toyota, Carlton United Breweries, Sanyo, Philips and many other companies. His voice could also be heard on station IDs and promotional jingles for radio stations 2SM, 3AK, 3UZ, 5AD, 4MMM, 6PM and the for the 0-10 television network.
Doug's only single that year was "Sailing" (December '84). During 1985 he continued his acting career with appearances in the telemovies The Body Business, Butterfly Island and Watch The Shadows Dance and in 1986 he began what became a two-year stint with the musical revue Soul Man, a salute to the great black performers of the modern era, which premiered at Sydney's Kinsellas. The success of the show enabled Doug to finally buy his long desired beach house at Collaroy. He also supported The Pointer Sisters on their national tour. According to Doug's website, it was ten days into the tour before the Pointers even spoke to him but he soon won them over and after the tour he was welcomed as a guest to their homes in L.A.
While on the road in 1987 Doug co-wrote the score for the surfing film Wind Warriors as well as the theme song for the Nine Network TV series Willing And Able, released as a single in May. Sadly, the gradual waning of the live music scene in Australia meant that Doug's heyday as a concert performer was passing, but he was only just hitting his stride as a theatrical performer. Over the next decade he concentrated of musical theatre, became one of the most popular, in-demand and consistently satisfying performers in Australian musical theatre.
1988 was a hectic year. Doug starred in successful Kinsellas production The Motown Story. At the World Expo '88 in Brisbane he returned to the music style he had performed in the Life Organisation days, producing and starring in Destination Moon, a tribute to the big band era. He also performed at the Fosters Grand Prix ball in Adelaide, supported Randy Crawford on her Australian tour and in December performed a return season of Soul Man at Sydney's Hilton Hotel.
In 1989 Doug won the central role of Pap Finn in the Gordon Frost musical Big River (Roger Miller's musical adaptation of Mark Twain's Huckleberry Finn), with Drew Forsythe, John Bell, Cameron Daddo, Michael Edward-Stevens and former Young Talent Team member Karen Knowles. It was a major box office success, running for almost eighteen months, and Doug featured on the Australian cast recording.
The Nineties and beyond ...
In the Nineties, Doug's career was dominated by stage shows and related tours. In late 1990 Doug appeared as "The Barrister" in a Sydney stage production of Mike Batt's musical adaptation of Lewis Carroll's The Hunting of the Snark. Batt had come to Australia to perform some concerts in January at the Melbourne Music Festival, including The Hunting of the Snark and other compositions. This led to an invitation to present the show in Sydney, and it had its world premiere here in October for a sold-out two week season at the State Theatre with The Elizabethan Theatre Orchestra and an all-star cast including Doug, Phillip Quast, Jackie Love, Daryl Somers and Cameron Daddo.
For most of 1990-93 Doug played the plum role of "The Big Bopper" in the hit musical Buddy, with his rendition of "Chantilly Lace" being the showstopper every night. In 1994 Doug capitalized on the success of Buddy, producing, directing and starring 'The Original Stars Of Buddy In Concert'. It was another major success and toured consistently through capital cities and major regional centres for the next three years, including a successful 1996 tour through New South Wales, Queensland and Victoria. Later that year he put together a new ten-piece band and performed several sold out shows in Sydney.
In 1997 Raven released a long-overdue career retrospective, Doug Parkinson In and Out of Focus, compiled and annotated by Glenn A. Baker. 1998 was another hugely successful year, with Doug playing the role of Vince Fontaine in Grease: The Arena Mega Musical. It did record-breaking box office business, with seventy shows in entertainment centres right across Australia & NZ, playing to well over half a million people. In 1999 Doug appeared in another 50s-themed musical, this time appearing as Al Delvecchio in the musical Happy Days. Although the show was not as great a success as some of his previous stage ventures, Doug still stopped the show each night with his masterful rendition of "Unchained Melody".
2001-2002 was again dominated by theatre work. 2001 saw Doug taking the role of The Cowardly Lion in the highly successful SEL/GFO production of The Wizard Of Oz, with Nikki Webster, Bert Newton, Philip Gould and Pamela Rabe. In June he was named 'Classic Rock Performer Of The Year' at the 26th annual Mo Awards. Later in the year Doug took time out for a career first, performing with his colleague in soul, the great Max Merritt, on a short club tour of the eastern states. Incredibly, despite the many connections between them, this was the first time these two legends had shared a stage and this unique and historic event was rapturously received by audiences.
In mid-2002 Doug took home his second gong as 'Classic Rock Performer Of The Year' at the 27th annual Mo Awards and a few months later he took part in the acclaimed 'Long Way To the Top' concert tour and in early 2003 he was part of the LWTTT regional tour. A new Greatest Hits album is in the pipeline and Doug is also reported to be working on his autobiography, as well as writing a stage play.
Today, Doug still sounds every bit as good as in his '60s heyday, still commands the highest respect from colleagues and his fans, and he can still hold an audience like few other performers. A peerless vocalist and an undisputed master of the soul/R&B idiom, Doug's talents have too often been underrated and overlooked by the local recording industry, which has treated so many fine performers so poorly. Happily though, Doug has always managed to add new facets to his ever-changing career.
As his website aptly puts it, Doug's career has included "a great deal of success and some failures, lots of joy and many tears, plenty of passion punctuated with regular doses of pain". Throughout, Doug Parkinson has distinguished himself as a great performer and a consummate professional, one of the true legends of the Australian music scene.
Original article by Paul Culnane. Revised 2004, 2007.
Discography
Singles (1966 to 1975)
The A Sound
1966
"Talk About That" / "Tomorrow I Meet You" (Festival FK-1340)
"Tomorrow I Meet You" was anthologised on the Festival compilation So You Want To Be A Rock 'n' Roll Star.
The Questions
Oct. 1966
"Karelia" / "Wheels" (instrumental) (Festival FK 1493)

Jul. 1967
"Sally Go Round The Roses" / "Hey Gyp (Dig The Slowness)" (Festival FK 1862)
Oct. 1967
"And Things Unsaid" / "I Can't Hear You" (Festival FK 2026)
Feb. 1968
"Something Wonderful" / "We Got Love" (Festival FK 2165)
Doug Parkinson In Focus
May 1968
"Advice" / "I Had A Dream" (Festival FK 2389)
May 1969
"Dear Prudence" / "This Must Be The End" (Columbia DO 8767)
#5, 16 weeks
Aug. 1969
"Today (I Feel No Pain)" / "Theme From 12th House" (Columbia DO 8858)
(withdrawn)
Oct. 1969
"Without You" / "Hair" (Columbia DO 8891)
Mar. 1970
"Baby Blue Eyes" / "Then I Run" (EMI Columbia DO 9076)
Fanny Adams
1970
"Gotta Get A Message To You" / "They're All Losers Honey" (MCA 1184)
Doug Parkinson In Focus
Sep. 1970
Purple Curtains / Pour Out All You've Got (Fable FB 027)
Doug Parkinson solo
1972
"Lonely" / "Takin' It Easy" (Polydor 2079 007)
1973
"Sweet Rock 'n' Rol" / "Tell Him I'll Be Alright" (Polydor 2079011)
1973
"Love Gun" / "Dear Prudence" (Polydor 2079 018)
Nov. 1974
"Everlasting Love" (Cason-Gayden) / "All I Need Is A Song" (Atlantic 100011)
May 1975
"Love Is Like A Cloudy Day" / "One Track Mind" (Atlantic 100019)
Sep. 1975
"Raised On Rock" / "I'm Gonna Get You" (Wizard ZS 135)
EPs
1966 (The Questions)
Sally Go Round The Roses (Festival FX 11381)
"Sally Go Round The Roses" / "Hey Gyp" / "Deep Purple" / "How High The Moon"
1966 (The Questions)
Something Wonderful (Festival FX 11477)
"Something Wonderful" / "We Got Love" / "I Can't Hear You" / "And Things Unsaid"
1969
Doug Parkinson In Focus (EMI Columbia SEGO 70188)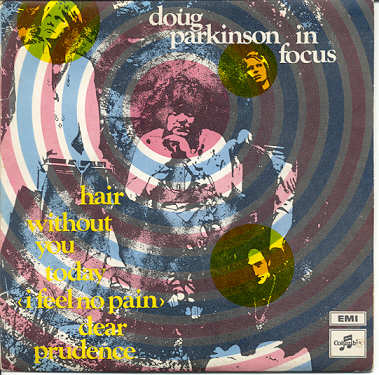 "Without You" / "Hair" // "Dear Prudence" / "Today (I Feel No Pain)"
Albums
with Fanny Adams:
1971
Fanny Adams (MCA MAP/S4069)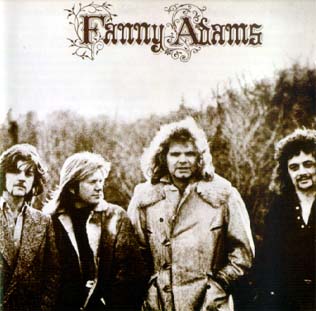 "Ain't No Loving Left"
"Gotta Get A Message To You"
"Mid Morning Madness"
"Sitting On Top Of The Room"
"They're All Losers, Honey"
"Yesterday Was Today"
"You Don't Bother Me"
Doug Parkinson solo:
1973
No Regrets (Polydor 2907004) LP

(re-released 1980 as Rock Legends (Polydor 2475657) LP)
"And Things Unsaid" (Doug Parkinson)
"Dear Prudence" (Lennon-McCartney)
"Get What You Can" (John Capek-Doug Parkinson)
"I Ain't Gonna Live That Way No More" (Terry Hannagan - John Capek)
"Light My Fire" (Robbie Krieger)
"Lonely" (Dan Kloeczki)
"Love Gun" (Ray Burton)
"No Regrets" (Terry Hannagan-John Capek)
"Sweet Rock & Roll" (Kevin Borich)
"Takin' It Easy" (John Capek-Doug Parkinson)
"Tell Him I'll Be Alright" (Terry Hannagan-John Capek)
Backing on all tracks except "Dear Prudence" and "Love Gun":
Piano - John Capek
Drums - Graham Morgan, Peter Figures, Russell Dunlop
Bass - Tim Partridige, Billy Green
Guitars - Kevin Borich, Billy Green, Ross East, Jimmy Doyle
Slide guitar - Kevin Borich
Percussion - Roger Sellers
Flute and sax - Don Reid
Vocals - Doug Parkinson, Terry Hannagan

Doug Parkinson backed by The Life Organisation on "Dear Prudence" and "Love Gun":
- Teddy Toi, bass; Graham Morgan, drums; Peter Martin, guitar; Warren Ford, guitar, piano; Bill Motzing, trombone, keyboards

"Dear Prudence" produced by Doug Parkinson; "Love Gun" produced by Ray Burton and Doug Parkinson
All other tracks produced by David Fookes and Doug Parkinson
with The Southern Star Band:
1979
I'll Be Around (Festival D19855)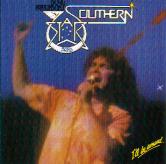 "I'll Be Around"
"In My Life"
"Now You're On Your Own"
"Rainbow In Your Eyes"
"Soon As Your Thing Is Done"
"The Hungry Years"
"Riff Raff"
"Midnite Sky"
"Lonely"
"Shuffle Up"
Produced by Duncan McGuire, Mark Kennedy & Southern Star Band
Musicals
1990
Big River (Australian Cast Recording)
1991
Buddy (Australian Cast Recording)
References / Links
Special thanks and acknowledgements to Doug Parkinson and family.
Doug Parkinson official website
http://www.dougparkinson.com
Rock Snaps: The Laurie Richards Collection
http://www.abc.net.au/arts/rocksnaps/photos/s33705.htm
Ian McFarlane
Encyclopedia of Australian Rock & Pop (Allen & Unwin, 1999)

Noel McGrath
Australian Encyclopedia of Rock (Outback Press, 1978)
Chris Spencer, Zbig Nowara and Paul McHenry
Who's Who Of Australian Rock (Five Mile Press, 2002)
Mike Batt Discographie
http://members.aon.at/friedl/mbdi/mbd_194.htm
Doug Parkinson Management:
The Neil Clugston Organisation
Fax: 61-2-9552-3713
Mobile: 0411-394-444
Email: info@nco.com.au