ESPERANTO ROCK ORCHESTRA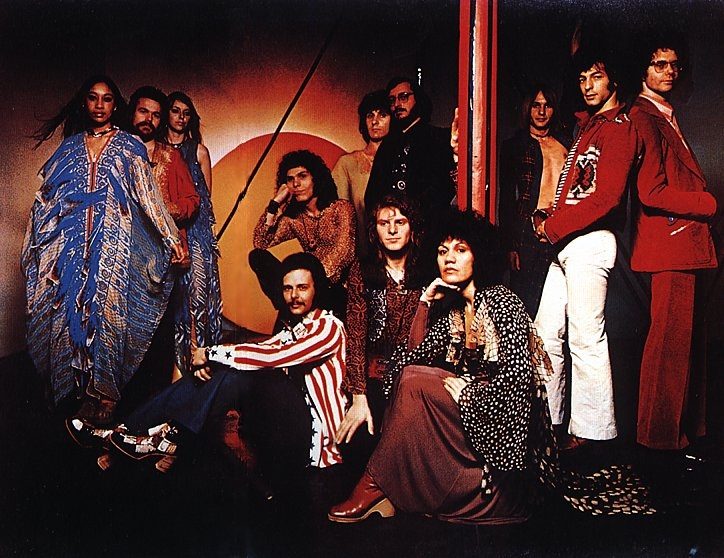 Esperanto as they appeared on their 1973 debut LP. Glenn Shorrock and Janice Slater are standing second and third from the left;
Joy Yates is seated centre right; Brian Holloway is standing behind her, third from right.
(Image courtesy of Esperanto official website)
The Esperanto Rock Orchestra, formed in London in 1972, was not properly an "Australasian" group -- the band had a multinational membegsubip and worked only in the UK and Europe -- but it is significant for several reasons. Expatriate Australian producer David Mackay played a role in its formation and helped produce the group's first LP, and the original lineup included four well-known Australian/New Zealand members then working in the UK.
Three of the group's four vocalists were Australasian. They were the legendary Glenn Shorrock (ex The Twilights, Axiom and later of Little River Band), the renowned Janice Slater and famed NZ-born jazz singer Joy Yates.
Joy's remarkable career is now in its fourth decade, and among her many outstanding achievements, she is one of Australia's most respected vocal teachers, and she leads the vocal ensemble Jubilation. Joy is married to noted jazz-rock pianist-composer-arranger Dave MacRae, and their talented and beautiful daughter Jade MacRae is one of Australia's hottest new singing stars.
The other original member was guitarist Brian Holloway, who had formerly played in Aussie bands The Dream, Somebody's Image and Aesop's Fables. After moving to the UK ca. 1970 he joined Ronnie Charles' shortlived UK-based group Captain Australia & The Honky Tonk. In later years Brian worked with top UK session musician Rafael Ravenscroft and the late and legendary British keyboard player Graham Bond, and his session credits include Kiki Dee, Neil Innes, Wayne Gillespie, Broderick Smith and Goanna.
The first Esperanto LP is also of great interest to LRB fans, since it contains the first recordings of two Glenn Shorrock songs that were later re-recorded with great success by LRB -- "Emma" and "Statue of Liberty"
Although long relegated to being a footnote in Australian rock reference works, Esperanto's story has now been documented by Swiss fan Claude Wacker, and you can read all about this intriguing band and view rare photos, including many taken by Janice Slater, on the official Esperanto website:
http://www.esperanto-rock-orchestra.com/