GALADRIEL
Sydney, 1969-72
Garry Adams (guitar, vocals)
Dave Allen (flute) 1971
Bruce Belbin (bass) 1971
Doug Bligh (drums)
Gary Lothian (lead guitar)
Mick Parker (bass, flute) 1969-71
John "Spider" Scholtens (vocals)
History
Despite their musical excellence, Sydney band Galadriel never achieved any commercial success during their short career, and they were forgotten for many years. Ironically, their eclectic and ultra-rare 1971 LP has now became one of the most collectible artefacts of Australian '70s progressive rock and they are now internationally known, thanks the burgeoning worldwide interest in Australian music of the 60s and 70s, and especially due to the efforts of rock historian Ian McFarlane, who championed them in his Freedom Train fanzine and included this long-overlooked group in his Encyclopedia of Australian Rock & Pop.
Galadriel is one of a group of Sydney bands whose histories are connected with the formation of Sherbet -- guitarist/songwriter Garry Adams and drummer Doug Bligh had come from Sydney band House of Bricks, whose other members were singer Daryl Braithwaite and bassist Bruce Worrall, who both moved on to Sherbet during 1969. Taking their name from the Elven queen of Tolkien's Lord of the Rings, Galadriel was formed in 1969 by guitarist and songwriter Garry Adams (ex House of Bricks) and drummer Doug Bligh. In the late 1960s, the repertoire of working bands like House of Bricks usually consisted of covers of local and overseas hits, but Galadriel's members wanted to write and perform their own original material.
Recruiting hotshot lead guitarist Gary Lothian from the highly regarded Sydney band Elliot Gordon Union, singer John "Spider" Sholtens and flautist Mick Parker from fellow Sydney dance band Samael Lilith, Galadriel soon made a name for themselves on the thriving Sydney dance/discotheque circuit. They often played at Sydney's "Joseph's Coat" disco -- and they shared gigs with many of the top progressive groups of the day including , Kahvas Jute, Blackfeather and Spectrum.
The band signed with Gus McNeil's Cellar Music, which was also the publishing company for Spectrum's Mike Rudd and Coutnry Radio's Greg Quill. Around October 1970 Galadriel recorded ten original songs at Sydney's United Sound Studios with American engineer-producer Tom Lubin. Their debut single "Lady Was A Thief" / "Girl of Seventeen" (February 1971) was picked up for release by Martin Erdman's independent label Du Monde, which played such an important part in the Sydney music scene in the late 1960s and early 1970s.
Galadriel shopped the recordings around for several more months without success, but eventually they were signed by the Polydor label (part of the German-based Polygram corporation) , who released the LP and their second single "Standing In The Rain" / "Working", in May 1971. These were Polydor's first local rock releases in Australia and although the recordings were remarkably good, Polydor evidently lacked the experience and clout to get it noticed and regrettably both album and single sank without trace.
Following the single's release, Mick Parker left the band and was replaced by two new members, Bruce Belbin (ex Gutbucket) and flautist Dave Allen. Late in 1971 Galadriel prepared to record their second album. Tracks slated for new LP included the epic live highlight "Song For Your Reason", "In The Night" and "Poor Boy", one of their most commercial numbers, which was earmarked as a probable single. Unfortunately, the second Galadriel LP was never recorded and it's been claimed that it was recorded but then erased. Milesago was recently contacted by Dave Allen, and he revealed the true story:
"My memory is this. The second album was to be recorded with Festival. Contracts were drawn up, the band was rehearsing, but there was some dispute between Gary Adams and Spider Sholten, the songwriters of the group, and the whole thing was broken up. The second album never existed."
After Galadriel ...
Adams and Bligh joined Mario Millo's band The Clik, and Bligh later played on Sebastian Hardie's acclaimed Symphinity LP. Gary Lothian played for over a decade with popular Sydney R&B outfit The Cyril B. Bunter Band (1973-1985) and these days he is part of the roots/boogie duo Swamphouse.
Mick Parker joined Jell Ellif for a few months after leaving Galadriel and finished up flute studies at the Sydney Conservatorium when his flute teacher Peter Richardson died. He then moved to Coffs Harbour where he formed small acoustic based bands which included Andrew Gray and former 2SM DJ John Carroll. He also toured regional NSW on a bus (equipped with wood stove and chimney) with a busking trio. In 1976 he moved to Adelaide and was partly responsible for the rise in busking and the headline-making confrontation with Adelaide Council over busking. He also recorded with No Thongs, an original rock band, and Neil Dreamer & The Nightmares, a busking band.

Mick returned to the Coffs Harbour-Bellingen area and joined The Tallowood Bush Band in 1980, which is still going. Tallowood has backed Rolf Harris, Ted Bullpit and Wendy Harmer. Tallowood have four CDs, the most recent of which features Russell Crowe on the backing vocals. Mick comments:
"Tallowood are trying to survive to their 30th annivesary at least. This is not easy as two of their fiddle players (inlcuding Ray Shleifel who played with Pixie Jenkins on the fiddler albums) and a piano player have passed away."
Mick is also an animator and DVD producer and has animated ads and Medieval DVD's circulating locally and overseas.

Discography
Singles
Feb. 1971
"Lady Was A Thief" / "Girl Of Seventeen" (Du Monde DMK-4110)
May 1971
"Standing In The Rain" / "Working" (Polydor 2079 001)
Album
May 1971
Galadriel (Polydor 2907 001)
Reissued on CD by Vicious Sloth (VCS-003)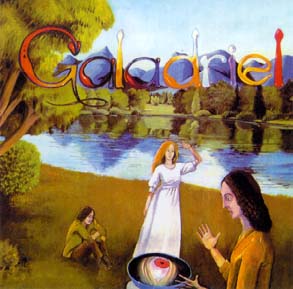 "Amble On"
"Such A Fool"
"Girl of Seventeen"
"She Left Her Love"
"Working"
"Standing In The Rain"
"Mind Games"
"Lady Was A Thief"
"One Day In Paradise"
"Things To Come"
Engineered by Tom Lubin
References / Links
Joyson, Vernon
Dreams, Fantasies & Nightmares: Australia (Borderline Books, 1999)
McFarlane, Ian
Encyclopedia of Australian Rock & Pop (Allen & Unwin, 1999)
Swamphouse official website
Gary Lothian biography
http://www.swamphouse.com.au/garybio1.htm
Vicious Sloth Collectibles
http://www.vicioussloth.com.au/vsc_label.htm
Thanks to Mick Parker and Dave Allen for additional information