CLARION RECORDS
Category: Australian independent label

Date: 1966-1978

Location: Perth, WA

Ownership: Martin Clarke, Keith McGowan

House labels: Clarion, Action

Distributor: Festival
History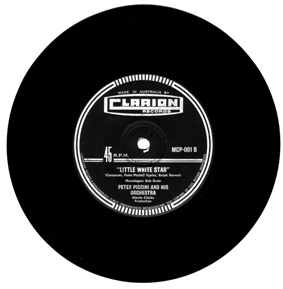 The Perth-based Clarion label, established ca. 1962, was co-owned by Martin Clarke and 6PR DJ Keith MacGowan. Like his Sydney namesake and contemporary Martin Erdman, Clarke developed a passion for music and sound recording as a youngster. His built his first recording studio in his mother's home as a teenager; he began his career working as a turntable-panel operator with Perth radio stations in the 1950s, while still at school. At the age of 21 he set up Western Australia's first purpose-built recording studio in North Fremantle; a few years later he sold that facility and purchased an old house at 272 Hay Street, East Perth, which he converted into the Martin Clarke Recording Studio.
Clarke installed the best recording equipment he could buy, including a top-of-the-line Neumann record cutting lathe imported from Germany. The ability to produce his own master discs was a crucial advantage, giving Clarke total control of the final sound -- it ensured that sub-standard masters were not being used for pressing Clarion's records, and avoiding the risks of damage or loss of master tapes in transit and production.
"No one in Australia did that, it hadn't been done before and hasn't been done since."

Just like Erdman's Du Monde label in Sydney, Clarion was dedicated to local Perth acts and it did much to support the thriving local music scene there in the Sixties and Seventies, but it had a wider national impact thanks to the national breakthrough of several of its acts, notably Johnny Young. The first single issued on Clarion was "Jag Drag" b/w "Little White Star" (right) by Peter Piccini & His Orchestra, released in 1962. The A-side was an instrumental; the b-side was a song with monologue, about the recent space flight of John Glenn, which made reference to Glen having seen the lights of Perth from orbit. Piccini was a noted accordionist, keyboard player and composer-arranger, who later became musical director for the Nine Network. He did arrangements, conducted and played on many Clarion recordings.
Clarion evidently went into abeyance for several years until 1966, when it was revived, with Clarke acting as producer, engineer, A&R manager and (in the early days) distributor. Prior to reactivating Clarion, Clarke set up the shortlived Action label, but only three singles were released on this imprint.
The first group of releases from the mid-Sixties (personally distributed by Clarke) were mostly recordings by local Perth TV personalities, and these had only limited success. When Clarke began tapping into the booming Perth pop scene sales began to rise as he recorded and released local acts such as The Times, Russ Kennedy & The Little Wheels, Roy Hoff & The Off Beats, Glen Ingram, Clem Croft, The Times, the early singles by The Valentines, and Clarion's most successful artists, Johnny & The Strangers, who became nationally known under their later name, Johnny Young & Kompany.
A distribution deal with Festival Records deal led to a national release of some of the singles that had already been successful in Western Australia, like "The Skye Boat Song" by Glen Ingram, and songs by Robby Snowden, Johnny Young and others. Over the next few years sales were strong and the label earned three gold record awards, including a Gold Album award for the Johnny Young LP Young Happening.
Clarion was one of the most productive independent labels of the period, with 120 singles, 20 EPs and 20 LPs issued between 1962 and 1978. Clarke also released about fifty singles on the Martin Clarke Recording Studios label, as well as countless one-off specialty recordings. The label's biggest national hit was Johnny Young's double-sided hit "Cara-Lynn" / "Step Back" (May 1966), which went to #1 in Perth, Melbourne and Sydney and topped the new Go-Set national Top 10, shooting Johnny to national stardom. Young's recordings featured prominently on the Clarion catalogue until mid-1969 and releases include several tracks written by the Bee Gees, with whom Johnny became good friends.
Among other notable releases was Ray Hoff & The Offbeats' "Tossin' and Turnin'" -- which must rank as one of the wildest Australian pop singles of the Sixties -- Glen Ingram, Toni Lamond, Perth's "pop prince" Robbie Snowden, folk singer, Play School host and children's entertainer Don Spencer, Perth band Fatty Lumpkin (which included ex members of Bakery) and songwriter Bill Millar. Clarke and Millar also collaborated on one of Clarion's most remarkable singles, the outrageous pyschedelic confection "Even Stevens" / "Hypnotic Suggestion", which they released under the pseudonym 'The Vegetable Garden'. Clarion also recorded the first singles by The Valentines, which featured future AC/DC frontman Bon Scott and singer and music journo Vince Lovegrove as co-vocalists.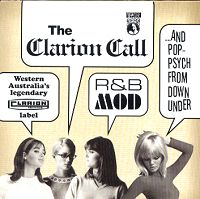 During 1970 Clarion released two singles by Perth band The Birds. According to Alec Palao's liner notes for the Clarion Call CD, this group was a trio that included a couple of English roadie-musicians who had previously worked with guitarist Ron Wood, who (with brother Art) had played in a UK band of the same name in the mid-60s. Apparently the Perth Birds simply appropriated the name and passed themselves off as the (emigrated) UK Birds in order to get a contract with Clarion, and they even recorded two tunes that the UK Birds had already covered.

Clarion's releases tapered off sharply after 1970, with only a handful of singles issued each year in 1971, 1972, 1973, and 1974. The label was briefly reactivated for one final single in February 1978, after which the label was wound up.

Martin Clarke left Perth in 1989 and moved to England, where he had family. In the early 2000s he licensed the rights to Clarion/Action catalogue to the British reissue label Cherry Red, who compiled the CD The Clarion Call. It's an excellent overview of the Clarion singles of the Sixties, mixing well-known hits with more obscure material, including the demo version of Johnny Young's breakthrough hit "Step Back", recorded in a Perth hotel room by Johnny, and accompanied by The Easybeats.

Martin Clarke was inducted into the WAM Hall of Fame in 2005 for his contributions to Western Australian music. Sadly, he died in London from a heart attack on Tuesday 28 March, 2006. Later that year the Western Australian Museum's Light and Sound Discovery Centre mounted the

Clarion Gold

exhibition, co-ordinated by Richard Rennie, which commemorated Martin's work with Clarion, and was staged to coincide with the 40th anniversary of Clarion's first national hit. The exhibition displayed a number of significant items, including Martin Clarke's first record cutting lathe, ca. 1957, a gold record he was awarded in 1966, and many rare records, photographs and documents and some magnificent 1960's record players.

Discography

Clarion used its own cataloguing system (prefixed MCP-) for its first dozen releases, (some of which are yet to be identified) but in 1966 the manufacture and distribution of its recordings was taken on by Festival Records on a national basis and all subsequent Clarion recordings were issued using the standard Festival catalogue system. From the early 1960s until early 1973 all records released and/or distributed by Festival were issued using its "K-1000" series catalogue number, which is the reason that the catalogue numbers for labels like Clarion, Sunshine and Spin do not run in numerical sequence. Each label was identified by its own prefix -- Festival's own prefix was FK, and the other labels it distributed were identified with two- or three-letter prefixes -- in the case of Clarion, its prefix was "MCK". Several singles in 1966 were issued with dual catalogue numbers, after which all Clarion releases carried Festival catalogue numbers. The Sep. 1972 single by Tex Croft was the last single issued with the "MCK" prefix and Clarion's last few releases (like all other Festival-distributed labels) used the new K-prefix catalogue system introduced in early 1973.

Singles
Cat. #
Year
Artist
Title
MCP-001
1962
Peter Piccini & His Orchestra
"Jag Drag" (inst.)
"Little White Star"
MCP-002
-
-
-
MCP-003
-
-
-
MCP-004
-
-
-
MCP-005
1966
The Times
"Glad Not Sad"
"Woman Love"
MCP-006
-
-
-
MCP-007
-
-
-
MCP-008
1966
The Times
"(That) It's Me"
"Valley Of Tears"
MCP-009
MCK-1300
1966
Russ Kennedy & The Little Wheels
"I've Got My Eyes On You" (Westlake-Shuman)
"Little Wheel"
MCP-0010
MCK-1363
1966
Russ Kennedy & The Little Wheels
"I've Been Watching You"
"Too Much Monkey Business" (Berry)
MCP-0011
MCK-1361
1966
Ray Hoff & The Offbeats
"Let's Go, Let's Go, Let's Go" (Hank Ballard)
"Bama-Lama-Bama-Loo" (Penniman)
MCP-0012
MCK-1359
May 1966
Johnny Young & Kompany
"Cara-Lyn"
"Step Back"
MCK 1361
June 1966
Ray Hoff & The Offbeats
"Bama-Lama-Bama-Loo"
"Let's Go, Let's Go, Let's Go"
MCK-1363
June 1966
Russ Kennedy & The LIttle Wheels
"I've Been Watching You"
"Too Much Monkey Business"
MCK 1419
July 1966
Glen Ingram & The Hi-Five (A)
Terry Walker & The Hi-Five (B)
"Skye Boat Song" (arr. Boulton-Lawson)
"Long Time Gone"
MCK-1468
Sep. 1966
MBR
"Things"
"Dizzy Miss Lizzy"
MCK-1491
Sep. 1966
Robbie Snowden
"The Wanderer"
"Take Your Time"
MCK-1520
Oct. 1966
Ray Hoff & The Offbeats
"Tossin' and Turnin' " (Rene-Adams)
"Looking For My Pigs"
MCK-1546
Jan. 1967
Johnny Young & Kompany
"Kiss Me Now"
"When Will I Be Loved"
MCK-1588
Dec. 1966
Maggie Hammond
"This Little Bird" (J.D.Loudermilk)
"Go Laddie" (arr. Birrell-Pridmore)
MCK-1607
Jan. 1967
Toni Lamond
"Bye-bye love"
"Ain't misbehavin' "
MCK-1627
Jan. 1967
Glen Ingram & The Clan
"That It's Me" (Terry Walker)
"Take This Hammer" (Leadbetter)
MCK-1630
Jan. 1967
Colin Cook
"Pocketful of Rainbows" (Wise-Weismann)
"Everybody's Talkin' 'Bout A Thing Called Love" (Chris Andrews)
MCK-1663
Feb. 1967
Robbie Snowden
"No One Really Loves A Clown"
"Talkin' "
MCK-1679
Feb. 1967
Kompany
"I've Been Around"
"Tell Her No"
MCK-1722
Feb. 1967
The Troupadors
"Near To Me"
"Big Boat"
MCK-1734
Apr. 1967
Glen Ingram
"I'll Be Dog Gone" (Robinson-Moore-Taplin)
"You Don't Know (What You're Heading For) (Terry Malone)"
MCK-1773
Aug. 1967
The Valentines
"I Can't Dance With You" (Marriott-Lane)
"Every Day I Have To Cry" (Arthur Alexander)
MCK-1777
Aug. 1967
Maggie Hammond
"High Flying Bird" (Billie Ed Wheeler)
"You Won't Be Leaving" (Hazzard)
MCK-1806
June 1967
The Kompany
"Little Joe The Boxer"
"The Family Way"
MCK-1821
June 1967
Robbie Snowden
"Sheila"
"What Do You Want To Make Eyes At Me For"
MCK-1857
June 1967
Johnny Young & Kompany
"Lady"
"Good Evening Girl"
MCK-1914
Aug. 1967
Colin Cook
"Cry I Do"
"You Baby"
MCK-1954
Aug. 1967
Johnny Young
"Craise Finton Kirk" (B., M. & R. Gibb)
"I Am The World" (B., M. & R. Gibb)
MCK-1975
Sep. 1967
The Valentines
"She Said" (Wright-Young)
"To Know You Is To Love You"
MCK-2006
Oct. 1967
Robbie Snowden
"Sunshine Rides On A Trolley"
"Do You Want To Dance"
MCK-2014
1967
Clem Croft & The Hi-Five
"I've Walked A Long Way"
"Mule Skinner Blues"
MCK-2024
1967
Johnny Young
"Every Christian Lion Hearted Man"
"Epitaph To Mr. Simon Sir"
MCK-2080
Aug. 1967
Johnny Young & Kompany
"Wonderful World"
"Every Christian Lion Hearted Man Will Show You"
MCK-2101
Dec. 1967
Bill Millar
"The Three Bells"
"Everybody Knows (But Her)""
MCK-2104
Jan. 1968
The Troupadors
"Come Home, Baby"
"Little Boat"
MCK 2124
Nov. 1967
Johnny Young
"Unconcientious Objector"
"Epitaph To Mr Simon Sir"
MCK-2167
1968
The Valentines
"I Can Hear The Raindrops" (Lovegrove-Ward)
"Why Me?" (Lovegrove-Ward)
MCK-2168
Feb. 1968
Robbie Snowden
"Surrounded By A Ray Of Sunshine"
"Just A Little"
MCK-2196
1968
Chris James
"I Will"
"Da Doo Ron Ron"
MCK 2261
Apr. 1968
Colin Cook
"I've had my moments" (Orbison-Melson)
"Riot In Cell Block Number 9" (Lieber-Stoller)
MCK-2344
1968
Johnny Young
(unissued)
I"Remember Me If You Please"
"Central Park"
MCK-2411
July 1968
Johnny Young
"It's A Sunny Day"
"My World"
MCK-2431
July 1968
Robbie Snowden
"Freckles"
"I Can't Stop"
MCK-2432
Aug. 1968
The Proclamation
"King Of The Mountain"
"Tea And Sympathy" / "Don't You Worry"
MCK-2441
Aug. 1968
The Valentines
"Peculiar Hole In The Sky" (Vanda-Young)
"Love Makes Sweet Music"
MCK-2443
Sep. 1968
The Clan
"Peeping Tom"
"Sunday Afternoon"
MCK-2456
Aug. 1968
Soul Purpose
featuring Russ Kennedy and George Rhodes
"Hip Huggin' Mini"
"Sitting In The Park"
MCK-2461
Aug. 1968
Clem Croft
"The Man Who Robbed The Bank at Santa Fe"
"Just A Closer Walk With Thee"
MCK-2510
Sep. 1968
Tex Croft
"I've Walked A Long Long Way"
"Round Hole Guitar"
MCK-2576
Oct. 1968
Chris James
"Going Home For The Last Time"
"Goodbye Mama"
MCK-2579
Oct. 1968
Johnny Young
"Mrs Willoughby"
"1.2.3."
MCK-2668
Nov. 1968
Clem Croft
"Jimmie's Song"
"Hey Little Star"
MCK-2680
Nov. 1968
Tex Croft
"I Won't Go Hunting With You Jake"
"Long Gone Lonesome Blues"
MCK-2763
Feb. 1969
Soul Purpose
"Boogaloo Down Broadway"
"Shake"
MCK-2792
Feb. 1969
Tex Croft
"When It's Springtime In Alaska"
"Miller's Cave"
MCK-2880
Mar. 1969
Jonne Sands
"Let The Sunshine In"
"Wish It were You"
MCK-3069
Jun. 1969
Strawberry Fair
"Come Back and Shake Me"
"Things We Said Today"
MCK-3113
1969
Johnny Young
"A Love Song"
"The Trip"
MCK-3148
July 1969
Johnny Young
"Milk and Honey Days"
"Half of a Man"
MCK-3149
July 1969
Gemini
"Sunshine River"
"12.30"
MCK-3232
Aug. 1969
Quentin Irving
"Conquering Hero"
"How Time Does Fly"
MCK 3285
1969
The Vegetable Garden
"Even Stevens"
"Hypnotic Suggestion
MCK-3233
Aug. 1969
The Kandies
"Wait For Me"
"Rainbow on the River"
MCK-3271
Sep. 1969
Wayne Pride
"It Takes All Kinds To Make A World"
"The Long Black Veil"
MCK-3284
Oct. 1969
Les Meade
"What a fool you played me for"
"Lisa Marie"
MCK-3285
Sep. 1969
The Vegatable Garden
"Even Stevens"
"Hypnotic Suggestion"
MCK-3333
1969
The Birds
"I Can't Let Maggie Go"
"No Good Without You"
MCK-3367
Nov. 1969
Swingshift
"Words"
"Here, There And Everywhere"
MCK-3398
Nov. 1969
Gemini
"Butterfly Wings"
"Nobody Knows When Youre Down And Out"
MCK-3403
Nov. 1969
Quentin Irving
"Share"
"Who Can I Love"
MCK-3433
Dec. 1969
Willpower
"Soul Finger"
"Spinning Wheel"
MCK-3451
Jan. 1970
Will Taylor
"Mr Farmer"
"The Ballad of Jack Solar's Son"
MCK 3474
Jan. 1970
The Birds
"I See The Rain"
"Rene" (Marriott-Lane)
MCK-3451
1970
The Birds
"I See The Rain"
"Rene (Marriott-Lane)
MCK 3475
Jan. 1970
Chris & John
"Sweeter than roses"
"Words"
MCK-3476
Jan. 1970
Terry Walker
"That It's Me"
"Long Time Gone"
MCK-3477
Jan. 1970
Tex Croft
"Act Naturally"
"There Was A Time"
MCK-3527
Feb. 1970
The Inner Circle
"Alladin"
"Moments of soft persuasion"
MCK-3541
Feb. 1970
Lionel Lewis
"Amy"
"Yesterday When I Was Young"
MCK-3542
Mar. 1970
The Birds
"Say Those Magic Words"
"Dust In My Pants"
MCK-3612
Mar. 1970
Don Spencer
"Ode To War"
"My Silent Friend"
MCK-4177
Apr. 1971
Terry Lawrence
"The Girl I Left Behind Me"
"Let Me Be Free"
MCK-4269
June 1971
Terry Lawrence
"It Takes Minutes"
"I Want You Again"
MCK-4437
Nov. 1971
Glen Ingram
"Let Me Be Free"
"I Want You Again"
MCK-4653
May 1972
Clare Thomas
"Let Me Be Free"
"What Went Wrong"
MCK-4654
May 1972
The Court Jesters
"Rangers Waltz"
"Day By Day"
MCK-4775
May 1972
Bruce Culver
"My Kind of Music"
"Just a drop in the ocean"
MCK-4812
Sep. 1972
Tex Croft
"A Thing Called Love"
"There never was a time"
K-5271
Oct. 1973
Fatty Lumpkin
"Don't Knock My Boogie"
"Got to get back to Nellie"
K-5452
July 1974
The Quarefellas
"Put a light in every country window"
"Bricks and Mortar"
K 5478
1974
Chalice
"In My World"
"Mister Won't You Help Me"
K-5566
Oct. 1973
Fatty Lumpkin
"Millionaire"
"Man Who Owns the Sea"
K-5626
Aug. 1974
Chalice
"Ebenezer"
"After The Gold Rush"
K-5653
1974
The Martin Clarke Orchestra
"Joey's Gone"
"Eclipse"
K-5740
Nov. 1974
Chalice
"Nine To Five Girl"
"Nearly Gone"
K-7013
Feb. 1978
Steve Thunder Band
"Lady"
"Stomp Your Feet"
EPs
| Cat. # | Year | Artist | Title |
| --- | --- | --- | --- |
| ? | ? | Lloyd Lawson | Lloyd Sings |
| MCPE-004 | 1967? | The Times | I'm Not The Marrying Kind |
| MCX 11205 | 1966 | Johnny Young | Let It Be Me |
| MCX 11226 | 1966 | Ray Hoff & The Offbeats | It's Ray Hoff & The Offbeats |
| MCX 11244 | 1966 | Glen Ingram | Skye Boat Song |
| MCX 11246 | 1966 | Johnny Young | Kiss Me Now |
| MCX 11251 | 1967 | Johnny Young | All My Loving |
| MCX 11269 | 1967 | Robbie Snowden | No-one really Loves A Clown |
| MCX 11379 | 1967 | Johnny Young | Craise Finton Kirk |
| MCX-11472 | 1967 | The Valentines | I Can Hear Raindrops |
| MCX 11725 | 1969 | The Swingshift | Words |
Albums
Cat. #
Year
Artist
Title
MCL-32116
1966
Ray Hoff & The Offbeats
Ray Hoff & The Offbeats
(also issued as Festival FL-19006)
MCL-32124
1966
Johnny Young
Johnny Young's Golden LP
MCL-32234
1966
Johnny Young
It's A Wonderful World
MCL-32268
1967
Various Artists
The Clarion Set
MCL-32752
1967
Johnny Young
Surprises
L-25164
1974
Peter Piccini

Nostalgia Accordion
References / Links
Thanks to Andy from globaldog productions for corrections and additional information.
Hank B. Facer
Museum of Indigenous Recording Labels
http://mirl.hypermart.net/mirl_page_2.htm
MIRL Discography No 27, June 1982
Clarion Gold Exhibition
Fremantle Light and Sound Discovery Centre, Western Australian Museum
http://lightandsound.net.au/ClarionCallExhibition.html
Ian McFarlane
Encyclopedia of Australia Rock & Pop (Allen & Unwin, 1999)
Globaldog Productions - Clarion 45 Discography
http://www.globaldogproductions.info/c/clarion-oz-main-festival-series.html
Vernon Joyson
Dreams, Fantasies & Nightmares - Australia (Borderline Books, 1999)
Cherry Red Records
http://www.cherryred.co.uk/rpm/bam/variousartistsclarion.htm
http://www.cherryred.co.uk/crzone/licensing/clarion.htm
http://www.cherryred.co.uk/crzone/newletters/september/1.htm
Peter Piccini wesbite
http://www.users.bigpond.com/piccini/
RPM Records - The Clarion Call
http://www.cherryred.co.uk/rpm/artists/variousartistsclarion.htm
Martin Clarke commemorative webpage
http://www.showworld.com.au/stars_files/martin_clarke.html
State Library of Western Australia
http://innopac.slwa.wa.gov.au/record=b2433489
- features several excellent photos of Martin Clarke at his Perth studio, taken in 1968