Paul Culnane
"Please allow me to introduce myself..."
Okay, well, after reading this, you may indeed have some "sympathy for the devil", but let's not worry about that just now. Suffice it to say that I'm just a guy who loves music - lives it, breathes it, eats it in my wet-dreams... possibly just like you, if you've surfed this far!
I met my good friend Duncan Kimball, who created this wonderful Milesago website, through a mutual interest in that most indescribably great English band, XTC - we got to know each other through that group's Internet mailing list, known as Chalkhills. One thing led to another, and I first had the pleasure of having Dunks as a guest in my funky Canberra house around Christmas '98. He scanned my vast CD and vinyl record collection - I think he marvelled at it - and turned to me to remark, "well, Paul, I think our tastes are pretty congruent". Congruent! What a term to select! For it has certainly turned out to be more than so...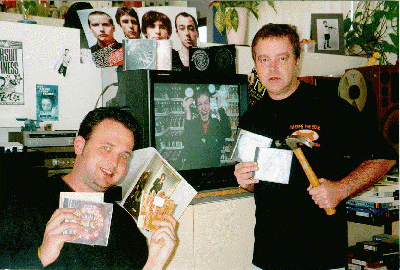 "A decidedly hungover Paul, at right, proudly displays some of his XTC treasures with another avid XTC fan (and another "congruent" collector), Dominic VanAbbe, left, in Paul's home"
And so it came to pass that Dunks invited me to contribute some pieces for his website, and I eagerly took up his offer. We both discovered a mutual affection for music from one of Australia's 'goldenest' of eras, roughly the mid-60s to the mid 70s - and a shared enthusiasm for bands of the time, like Spectrum, Ariel, Tamam Shud, The Easybeats, The Twilights, The Masters Apprentices and Company Caine (among so many others); well, "how could we go wrong with such a straight song"? And after all, we both perceived a distinct lack of adequate resource material on the Net relating to the music of that period, and Milesago represents Dunks' and my headlong plunge into a kinda 'cyber-redress'of that symptom.... "symptoms of ch-ch-ch-ch-change!"
My contributions to Milesago are numerous, and I'd like to think I know what the dickens I'm talking about! I was there! But as a writer of these things, perhaps I'd better establish my credentials, such as they are. So here goes, in point form:
Born in the mid-fifties; these days mindset is still that of a teenager
Saw The Beatles and The Rolling Stones on TV around age 11 (after having got hooked on - critically - their early music on AM radio)...promptly abandoned my boyhood hobby of designing cars and buildings...
Started to build a formidable record collection - got wise early to the superiority of imports and sussed the importance of production techniques
Met many of the protagonists of this here website first-hand (I really did!)
Produced, wrote for and kinda "managed" popular Canberra group Snibbo (two charting singles and more)
Joined, as vocalist, Ramp Speed 25 (later known as Beyond Beavers), which included on bass the young Steve Kilbey, and guitarist Peter Koppes, both of whom went on to fame with The Church. …after severe Andy Partridge-style stagefright, I retreated to behind the scenes stuff!
Real good on drums, but nobody wanted to know
Studio demo productions for prominent Canberra groups Wally & the Wombats and The Ritz, as well as early demos for Peter Blakely and James Griffin (later of The Subterraneans), both of whom achieved some considerable national 'indie' success in the mid-eighties
Nationally-broadcast production of a full album's worth of material from Canberra 'prog' outfit, Oak - pretty cool shit actually....
Front-of-house live recordings, always with permission (and held proudly in my archives), of (among others) Spectrum, The Indelible Murtceps, Ariel, Billy Thorpe & the Aztecs, Daddy Cool, Blackfeather, Pirana, Tamam Shud, Sherbet... ooh, check my files!
Demo duet album with Peter Ilyk, what I like to call "The Flyaway Sessions". I'm particularly proud of this, as it includes among quite a few of my own compositions a delicious song called You'll Get A Dance Tonight, a number one smash that never was! I really believe in that song, and others that Peter and I made. My goal is to do a kinda Free As A Bird doctoring of the mono masters to bring these (if I may say so) remarkable tapes up to scratch.... one of these days...
I've met, and spoken to (among other bigguns), Paul McCartney and Mick Jagger. And also, when I drove a cab in Melbourne in the mid-70s, my passengers included: Cliff Richard, Alice Cooper, Bryan Ferry, Jon English, Gladys Knights' Pips - who paid their cabfare with a block o' hash - and, er, Don Lane, who refused to gimme his love beads!
Production (one single) and live sound engineering for Kevin McLaughlin & the Murrumbidgee Orchestra (dontcha just love their satirical name?) and the Willie Winter Band (Willie being my dear friend, ace guitarist Ian Winter - from Carson, Daddy Cool, JPY's Allstars, Mondo Rock and many others)
Under the umbrella of Slapdash, and later, ICE Productions, proceeding with my own independent musical endeavours, unencumbered by corporate record company bastardry. ICE stands for "Insane Culnane Enterprises" - 'nuff said!
Amassing a library of over 400 quality unrecorded self-penned songs, ready to record and unleash on an unsuspecting public. Who wants to collaborate?
At my own Cottage Studios, undertook video restoration and compilation, with complete stereo remastering, of the entire Beatles' a- and b-side single catalogue (a worthy visual companion-piece to the official Anthology set). Similar video restoration projects - completed or in hand - include: The Rolling Stones, David Bowie, Prince, Icehouse, The Red Hot Chili Peppers and, excitingly enough I think, a major compilation of the very music (in video form) that Milesago extolls... watch out for that one!
More recently, my journalistic pursuits, including well-received interviews with former XTC drummer Terry Chambers and the redoubtable Andy Partridge.
Er, serial "groupie", ha hah!!! (the tales I could tell...)... Rodney Bingenheimer ain't got nothin' on me!
To suggest that my endeavours over the years, as with my contributions to Milesago now, represent a "non-profit" ethic is tantamount to laughable! NOTHING that I have ever done relating to music has ever yielded me financial gain. And I don't expect it ever will. I do all this out of the pure love for this wonderful music that you and I can share!!! ..."someday I'll have money - money isn't easy come by; by the time it comes by I'll Be Gone"

So, all I can say now is "Hi, here's me, p@ul", and I sincerely hope that you as visitors to Milesago might enjoy my contributions to the site as well as everything else that Dunks has on offer, and we'd both welcome your feedback. My email address is paul.culnane@dcita.gov.au ~ I'd love to hear from you!I'd like to thank many people, but right here, right now, I must acknowledge both Duncan Kimball and Dominic VanAbbe for their friendship, inspiration, encouragement and support, above and beyond. They are both lovely blokes and, by gum, they sure know what Rock & Roll is all about!!!!!

I really hope you enjoy this journey! ...dig the music!

~ p@ul culnane. canberra. australia. 1999

"Hi ho, hi ho, we're off to Milesago"