One of the most significant photographic voices of the Sixties, Lewis Morley is best known for his famed portraits of Sixties icons such as Christine Keeler and Joe Orton. Morley chronicled the new idols of Sixties society in a style that "captured the buoyant spirit of the times".
Morley was born in Hong Kong in 1925 to a Chinese mother and English father. He had a relatively privileged upbringing, raised as part of Hong Kong's European colonial elite, but his teenage years were dramatically interrupted by the Japanese invasion in 1941 and the Morleys spent the rest of the war in a Japanese internment camp.
"People say life in the camps was terrible. But I was lucky. I worked in the kitchen at Stanley Internment Camp and got extra food. I also had a girlfriend in the camp. And you could trade anything for a couple of cigarettes."
Morley took up photography in his teens as a hobby, using a bakeltite Brownie camera, but during his captivity his real interest was in drawing and painting in watercolours.
"I used to swap cigarettes for paints and paper. My drawings weren't very good but it was a start. I still have some of those pictures."
When the family was repatriated to England after the war, Morley joined the RAF. In 1949, after leaving the air force, he studied commercial design at Twickenham Art School between 1949 and 1952. After leaving college, his early photographic work included magazine assignments for Tatler, Go! and She. In 1957 Norman Hall, editor of the influential Photography magazine, published a six-page spread of Morley's pictures under the title "Lewis Morley, Painter/Photographer", praising him as the latest British discovery.
Much of his work in the Sixties was devoted to theatre photography and studio portraits. He became friends with satirist Peter Cook, who offered him studio space above his nightclub The Establishment, which featured comedy performances upstairs and jazz performances, including the Dudley Moore Trio, downstairs. Through Cook he was introduced to London's entertainment world. The meeting with Cook led to photographing the cast of Beyond the Fringe and contributing photographs to Cook's Private Eye ; through these connections he also became friends with Australian satirist Barry Humphries, who often performed at The Establishment in the early Sixties.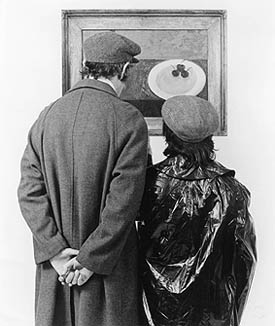 Peter Cook and Dudley Moore
Morley became world-famous in 1963 when he took what is considered by many to be one of the photographic icons of the period, his classic portrait of Christine Keeler. Then at the height of her fifteen minutes of fame as one of the protagonists of the infamous Profumo Affair, Morley photographed Ms Keeler sitting naked astride a backwards-facing Arne Jacobsen "Ant" chair, her torso tantalizingly concealed by her arms and the back of the chair.
"It was the very last shot on the roll. I was walking away and turned back. She was in a perfect position and I just snapped it. I never found her sexy, though. She reminded me too much of Vera Lynn!"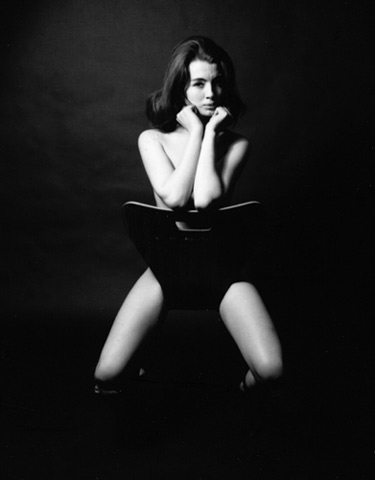 Christine Keeler (1963)
Like the infamous 1966 "Butcher" photograph of The Beatles by his contemporary Robert Whitaker (which caused a storm of controversy when used on an album cover in the USA), Morley's endlessly imitated photograph of Keeler has taken on a life of its own and has been published hundreds of times throughout the world, often without Morley's permission.
In addition to the Keeler portrait, Morley photographed many of the most famous faces of the Sixties and Swinging London, including Salvador Dali, Somerset Maugham, Joe Orton, Andre Previn, David Frost, Peter Cook, Dudley Moore, Tom Jones, Clint Eastwood, Judi Dench, Peter O'Toole, Charlotte Rampling, George Melly, Michael Caine, Barry Humphries, and celebrity couples including Felicity Kendal and Drewe Henley, Susannah York and Michael Wells, and David Bailey and Catherine Deneuve.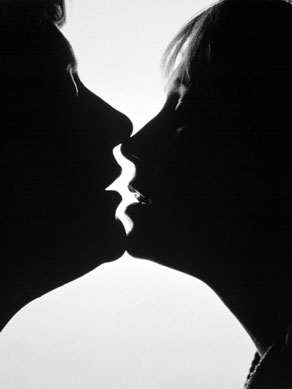 Felicity Kendal and Drewe Henley (1968)
In a career that has spanned some 40 years, Morley has worked with equal ease in theatre, fashion, portraiture and magazine photography. Besides his famous portraits Morley has made significant and substantial contributions to fashion photography, and to documentary photography through his photo-documents of New York, Paris, and of London.
Morley's work has appeared in magazines and books the world over since he was first published in 1957 and has been exhibited worldwide in both group and solo exhibitions including a 1989 retrospective at the National Portrait Gallery, London. In addition, Morley's works are included in public and private collections around the world
Morley and his family emigrated to Australia in 1971. It was then that he began working extensively in colour for the first time. One of his best-known photographs from this period is his famous nude group shot of Sherbet, which was used for a POL feature article on the band. It shows the group in revealing poses, with drummer Alan Sandow's "wedding tackle" only barely concealed by strategically-placed soapsuds!
During the '70s and into the '80s Morley worked extensively for POL (edited by Oz founder Richard Walsh), Woman's Day and the Australian design magazine Belle, winning acclaim fame for his immaculate colour photographs of home interiors. He continued his work in portraiture with studies of Australian celebrities such as John Newcombe, Juni Morosi, Marcia Hines, Brett Whiteley, Helen Glad and the young Nicole Kidman.
Some of Morley's lesser known photographs of Paris in the '60s were shown at an exhibition at Byron Mapp Gallery in 2001.
"(Morley) was entranced by Paris and, most poignantly, by the street children for whom the city was both home and playground. His photographs of these urchins are artless and evocative. Several small boys with feisty faces could have qualified as lost heirs to the estate of Jean-Paul Sartre, existential mites affecting indifference to the presence of the man with a camera." (Sydney Morning Herald)
Also included in this exhibition were two 'luminous' portraits of his wife Patricia as a young art student, both of which are now in the collection of the British National Portrait Gallery.
Morley also took a photograph which was used as the basis for the cover design for the 1971 debut album by British rock group Heads Hands & Feet (which featured guitarist Albert Lee, later of Eric Clapton's backing group).
Mr Morley now lives in inner city Sydney, concentrating on printing and archiving his work and running his photographic business, Photoantiques, in Stanmore NSW.
A major retrospective exhibition of Lewis Morley's work, entitled "Myself and Eye" is currently on show at the National Portrait Gallery of Australia in Canberra. Curated by Magda Keaney, it runs from 15 March to 29 June 2003 and should be seen in conjunction with the Gallery's POL exhibition, which is running in parallel with it.
---
A SIXTIES ICON
The Christine Keeler Photograph
Adapted from an article on the Victoria and Albert Museum website

There is a persistent urban myth that the photograph of Christine Keeler astride an Arne Jacobson chair was taken when she was a model. There are two factual errors in this statement. The chair used (now in the collection of the Victoria & Albert Museum in London) was in fact a copy, not an original Jacobsen. The hand-hold cut out of the back of the chair was a ploy to avoid the legalities of copyright. The photograph was taken, not on a modelling session, but at a specially arranged session, held at the height of the public furore over revelations of the goings- on of British War Minister John Profumo and a young female, which became known as "The Scandal" or "The Profumo Affair". The events of the Profumo Affair were eventually dramatised as the movie SCANDAL, released in 1989, starring John Hurt as Stephen Ward, Bridget Fonda as Mandy Rice-Davies, Joanne Whalley-Kilmer as Christine Keeler and Ian McKellen as Profumo.
For a recent Victoria & Albert Museum exhibition, Lewis Morley recalled the photo session which led to the creation of this iconic image:
"This photograph was one of a series of publicity shots for an intended film which never saw the light of day. It was not until 1989 that a film of the 1963 happenings was released under the title Scandal. The photographic session took place in my studio, which at that time was on the first floor of "The Establishment", a satirical night club, part-owned by Peter Cook of "Beyond The Fringe" fame. The satirical sketches took place on a small stage on the ground floor of the club. The Dudley Moore Trio played Jazz in the basement.

"During the session, three rolls of 120 film were shot. The first two rolls had Christine sitting in various positions on the chair and on the floor, dressed in a small leather jerkin. It was at this point that the film producers who were in attendance demanded she strip for some nude photos. Christine was reluctant to do so, but the producers insisted, saying that it was written in her contract. The situation became rather tense and reached an impasse. I suggested that everyone, including my assistant leave the studio. I turned my back to Christine, telling her to disrobe, sit back to front on the chair. She was now nude, fulfilling the conditions of the contract, but was at the same time hidden.

"We repeated some of the poses used on the previous two rolls of film. I rapidly exposed some fresh positions, some angled from the side and a few slightly looking down. I felt that I had had shot enough and took a couple of paces back. Looking up I saw what appeared to be a perfect positioning. I released the shutter one more time, in fact, it was the last exposure on the roll of film. Looking at the contact sheet, one can see that this image is smaller than the rest because I had stepped back. It was this pose that became the first published and most used image. The nude session had taken less than five minutes to complete. It wasn't until I developed the film that I discovered that somehow I had misfired one shot and there were only eleven images on a twelve exposure film. How this came about is a mystery to me.

"Another mystery is why the "Classic Image" has attained such a world wide exposure in all venues, newspapers, magazines, films and advertising, eclipsed perhaps only by Korda's photograph of Che ...... the difference being that Korda's photo was reproduced [without the photographer's permission] on all manner of merchandising, tee-shirts, propaganda leaflets, protest march banners and whenever the word "Revolution" appeared, but the image was used without alteration, remaining true to the original.

"In the case of The Keeler photograph, no sooner had it been published (without my permission in a Sunday tabloid) it was parodied and plagiarised. I photographed David Frost in the Keeler position on the Keeler chair for "That Was The Week That Was" The BBC's weekly satirical programme produced by Ned Sherrin and hosted by David Frost (I was the official photographer for the series run). Gerald Scarfe used one of the other positions on the roll (the side-saddle pose) to lampoon Prime Minister Harold MacMillan.

Above, Morley lampoons himself, with David Frost in the chair and below cartoonist Gerald Scarfe's Private Eye cartoon caricaturing then British PM Harold MacMillan, whose government was brought down by the Profumo scandal.

"It might be right to explain, that the use of a chair turned back to front for the purpose of posing was a device instigated at the outset of photographic portraiture. Because of the need to remain motionless for long periods of exposure that was demanded in those early days, before fast films could capture the decisive moment, the sitter had to be in a position of relative comfort whilst keeping still (post head-clamp period). As a matter of fact there were chairs with padded tops to the back rest specifically constructed for this purpose.

"I came across a self portrait on this selfsame chair in the Keeler position, taken in 1962, a full twelve months before the Keeler photograph was taken. So the parodying actually started before the parodying if you get what I mean. It has been plagiarised, lampooned, copied photographically, drawn and even painted.

"There have been good, bad and indifferent rip-offs of the Keeler images. Too many examples to mention? Yes ! But there is one exception which caught my fancy .... Flattered ? Yes. (It's like the dream of all those Hollywood stars fighting to appear on Sesame Street) ..... Homer Simpson assumes the pose..... "
Barry Humphries is an old friend of Morley's and many of Morley's photos of Barry and his various "clients", including Dame Edna Everage, can be seen in the book version of Barry Humphries' Flashbacks. Their friendship led to a more recent session in which Dame Edna reprised the famous Keeler photo. Dame Edna explains the appeal of this iconic pose:
"I've always known how to sit modestly in a chair, which is more than you can say for my colleague Sharon Stone. There is only one photographer on the planet who could have persuaded me to take off my clothes and assumed this slightly uncalled for position and that is Lewis Morley. Incidentally, I practically adopted him when he was a poor little Chinese war orphan by the name of was Lu Mor Lee. Christine Keeler was a bit before my time I'm afraid, but Lewis asked me to sit on the same chair and the result is this raunchy snap.

"Without denigrating little Christine, I think I bring a spooky dignity to this otherwise unacceptable pose. My bosom was never my strongest point and I always thought that, except as a rendezvous for thirsty babies, it was a pretty overrated part of the female anatomy, but my legs have always been my best and most envied feature (apart from my mind) and this portrait really shows them off, don't you think Possums? Eat your heart out Tina Turner!"