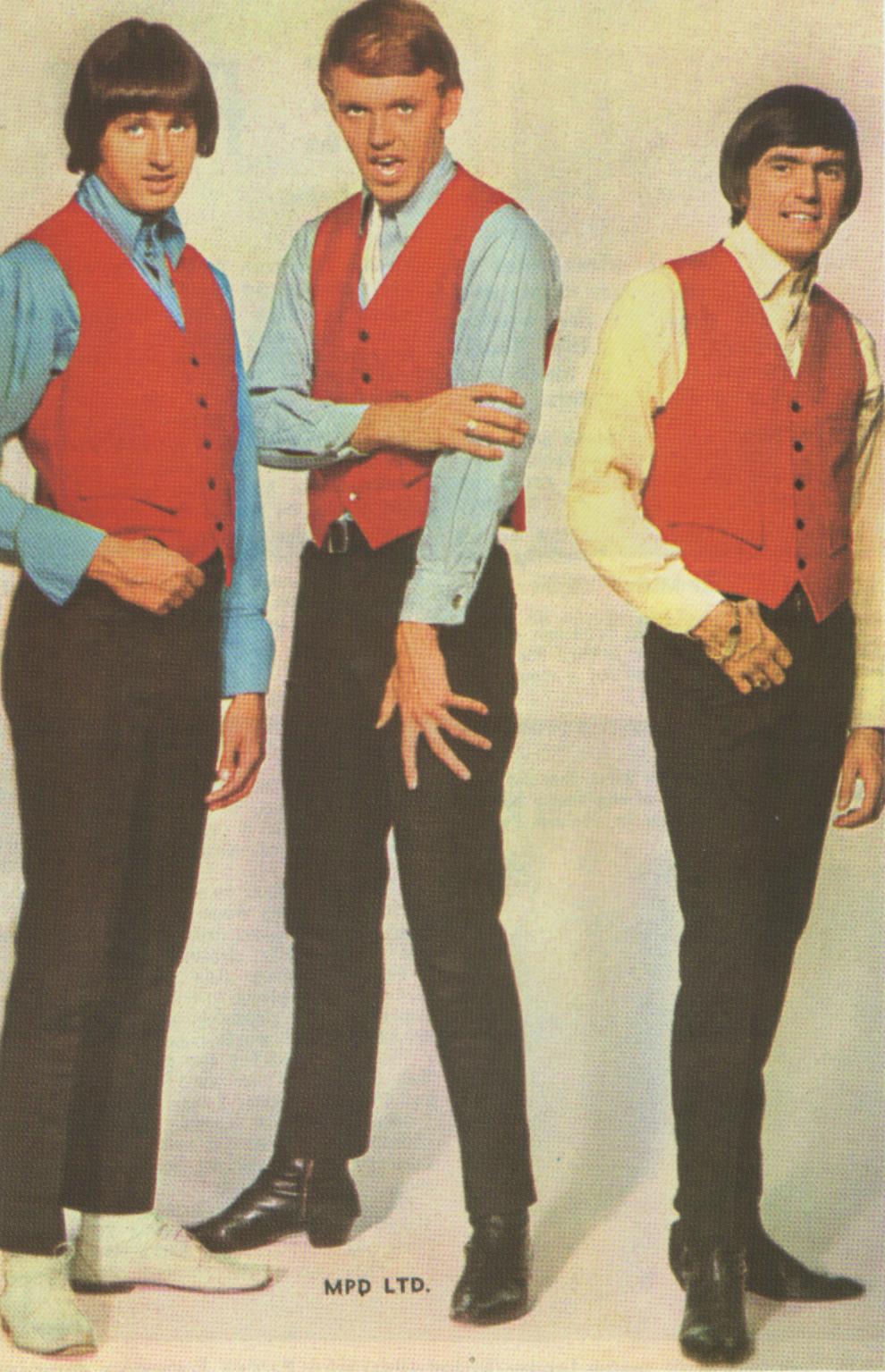 LEFT: MPD Ltd in the glory days of 60s pop-pinup stardom (Mike Brady, centre)
How's the mighty roar?
Apart from serving as a definitive, candid biography of its ultimately quite likeable subject, this entertaining book offers profound and often poignant insight into a whole slew of hitherto under-documented aspects of Australian history and popular culture from the mid-1950s onwards – the "ten pound pom" British migrant boom, the growth and social development of the southern capital, its dominance in the sixties as Aussie pop music's epicentre, the quite harrowing travails of being front-and-centre during the Vietnam war, the peculiar sporting culture (especially Australian football) endemic to Melbourne and the fiercely competitive and fickle advertising industry – it's all here; Michael Brady lived it, and then some.

With a relaxed and unpretentious approach, author Noel Delbridge (himself a former advertising creative director), takes the reader on an engaging journey through Brady's life, from beginnings in the South London suburb of Croydon, through his family's emigration to Australia in the late '50s, and onto his career as, firstly, a fully-fledged rock star and then latter-day advertising and commercial-jingle supremo.

Along the way we are treated to pithy tales of Mike's youthful rites of passage, like buying his first guitar, and his father's disdain for such a folly. Aficionados of Aussie pop music of the 60s, like me, will simply lap up the rich and cheerful anecdotes about the heady times and wild days he spent as part of the fantastic power-pop trio, MPD Ltd, alongside contemporaneous friendly rivals like The Easybeats and Normie Rowe. His drumming partner in that group, Danny Finley, is but one of many notable luminaries extensively quoted in the book, and it's during these passages that one can't help but raise a nostalgic grin (and eyebrow).

Quite differently, the bittersweet account of Brady's short time as an entertainer for troops in the wiles of Vietnam, mid-war (with future Daddy Cool bassist Wayne Duncan and future Mixtures drummer Gary Howard) is, to say the least, telling. Younger baby-boomers will be wiping their brows with relief that they weren't there.

Of course, Brady's main claim to fame is his mega-selling football anthem, Up There Cazaly!. This enduring sing-along was inspired by, of all things, a footy coach (a Catholic nun!) at his school, St Joseph's in Port Melbourne, exhorting her charges to "reach the heights" set by 1920s Australian Rules superstar Roy Cazaly. The song was originally commissioned by the Seven TV Network as a theme tune for its coverage of footy broadcasts, but when it was expanded and released as a single on Ron Tudor's Fable label, it became the biggest-selling 45 of all time in Australia. Until, that is, another single, a strange ditty called Shaddup-A You Face! ("not a bloody novelty song!" – its author Joe Dolce) came along, that Mike just happened to produce. These two records are examined in detail here, and their repercussions form the backbone for the denouement of the book, along with many other milestones, like the official Channel 7 theme tune for the network's coverage of the 2000 Sydney Olympics: Courage In Their Eyes and a strong and aptly prescient song called When I'm On My Feet Again. But we can't dismiss the quotes from E.J. "Teddy" Whitten, who appears on the classic Brady footy tune, It All Sounds Like Football To Me. This (late) revered Aussie Rules legend apparently greeted all and sundry with the dry salutation: "G'day knackers, how they hangin'?"

Mike Brady made a heap of money from those records, and his resultant high-profile career as a jingle-writer-to-order was assured. He invested his cash, perhaps unwisely at times, in all manner of wild schemes (makes for some hilarious reading at his expense) and lost most of his fortune in the backlash. He descended into a twilight period of boozing and womanising and all the rest of it, only to ascend again, with the support of what sounds like a lovely family framework, to be the jingle writer of choice these days, not to mention his own consummate solo records. All of this is in Noel Delbridge's book, and it's (as the brief states) a great read.

If anything, and despite his close relationship to his subject, Delbridge somehow fails to penetrate the real essence of what makes Mike Brady tick – maybe that's because of the subject's somewhat inscrutable and essentially reserved nature. But you end up liking Brady, for sure. And hey, initial quantities of the book come with a CD where Mike himself narrates you through a couple of MPD Ltd gems, some of his own cherry-picked songs (title track to The Mistress sounds alarmingly like Peter Gabriel at his best), along with a couple of his sporting anthems and amusing examples of those can't-get-it-out-of-your-head ads! Come on, while sweatily whacking an anvil, chant: "Hard Yakka", or sign up for "Dodo, dodo, internet that flies" …a thoroughly recommended good read (and good listen).