It's a familiar story -- aging rock singer falls on hard times, finds audience appeal to be more "selective", releases album of cover versions of "evergreen" swing-jazz numbers.  Arguably, such is the case with Jeffrey St. John, who has recently emerged from a too-long hiatus with this, his most recent release.  However, if such a scenario conjures for you images of this perennial singer raising a white flag of desperate surrender to his advancing years and fragmented career, you would be well wide of the mark.  Because …Please Stand Up represents St John's triumphant return to the recording game with a confident, polished set of tunes that seem tailor-made for his rich, evocative baritone.  Other key words to describe this album: relaxed, poised, playful, surprising, swingin', sexy, funky, and above all -– fun!

Jeffrey St. John (who nowadays favours his original, unshortened given name) spent a considerable period in creative limbo since his official retirement in 1983, during which he underwent a series of personal upheavals and debilitating health problems. He re-emerged in 2000 as the flagship act for the opening ceremony of the Sydney Paralympics, belting out the National Anthem while clad in a satin Aussie-flag shirt.  It was as though he'd never been away, and there was barely a dry eye in the house as Jeff proudly and powerfully rendered our national song before a worldwide audience of billions.  Was this a portent of fresh, exciting new things to come from one of our best-loved performers? As it happened, St. John's resurgence was assisted by some old friends (among them, prominent entrepreneur Michael Chugg and distinguished drummer and long-time mate Ace Follington) who helped re-acquaint Jeffrey with his muse ("I'd been divorced from singing for so long, I'd lost sight of the fun involved!"). 

These days based in Perth, St. John and Follington set about assembling a crack band, The Embers, to help realise Jeffrey's new musical goals, both in regular, popularly-received concert performances and with this splendid CD release. The band you hear on …Please Stand Up comprises Jeffrey on vocals, Ace on "nuthin' but the drums", Bill Blissett [ex-Screaming Lord Sutch, Marty Wilde, Blues By Five, Cam-Pact, Troupadores] playing keyboards and backing vox; Kiwi bassist Greg Thomson (since departed) and one of Oz-rock's finest guitar virtuosos Russell Smith [Company Caine, Mighty Kong, Billy T, et al].  Russell and Jeffrey were co-producers of the album.

Will The Real Jeff St. John Please Stand Up? opens with a deceptively simple, relaxed take on Rogers & Hammerstein's Some Enchanted Evening.  With its congenial, leisurely piano-led light swing, it bodes well for the remainder of the CD, and you can already hear the glee in Jeffrey's multi-tracked voice.  This joie de vivre spills over onto subsequent tracks, Lullaby Of Broadway (funky and exuberant) and the Gershwin standard, Embraceable You, which finds St. John in a smoky, seductive crooner mode that suits him well.

The ensemble and solo playing of The Embers is exemplary throughout.  Where the listener might expect to hear some generic horn arrangement or suchlike, surprises come in the form of Smith's unique and tasteful guitar stylings (sometimes utilising his beloved Roland GM70), and Blissett's command of traditional and electric piano, haunting Hammond organ motifs and outrageous synth patterns.  It's to the producers' credit that they chose over-driven guitars and subtle subversion, over the predictable route of hammy brass and over-driven backup singers.  All pinned down by the fish-arse-tight confidence of the swinging rhythm section.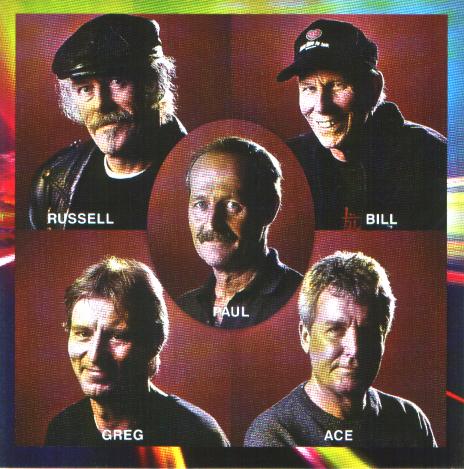 Excursions into scat jazz – I've Got My Love To Keep Me Warm, Lullaby Of Birdland showcase Jeffrey singing up a storm and obviously having a ball against such sympathetic backing.  In one of the few concessions to studio gimmickry, the latter track ends with a cutely contrived speeded-up coda, which segues neatly into the bluesy fug of Johnny Mercer's One For My Baby (One More For The Road).
A brace of cool and soulful selections follow, each demonstrating the tight cohesion between the band and St. John's commanding vocal presence.  Pieces like Misty, Fascinatin' Rhythm and People Will Say We're In Love each beg the rhetorical question: "were these songs specifically designed with JStJ in mind?"  You be the judge…
Here he comes again with a storming version of S'Wonderful.  Sublime.  But I'm just thinking, how did Billy Field escape plagiarism charges after his blatant heist of this song for Bad Habits???  This CD's unexpected inclusion, in among the Hammersteins, Gershwins and Mercers, is a riveting reading of Lennon & McCartney's You Can't Do That.  But St. John proves he damn-well can do that, imbuing this number with all the gusto and feeling he mustered for heyday hits like Big Time Operator and Hummingbird.  This penultimate track on the album has all the finger-poppin' groove of Jeffrey's earlier sides, while remaining true to the current vibe.  What fun they're all having on this slinky track!  Fittingly then, the CD concludes with a commanding, down-home honky-tonk workout of Birth Of The Blues, with the whole band firing on all cylinders!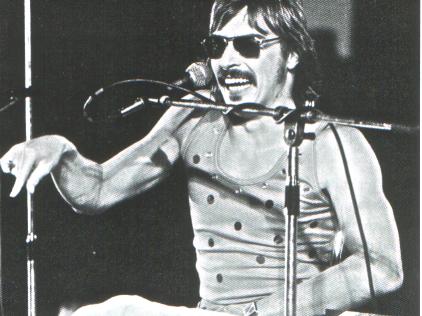 Jeff St. John testifying back in the day ...  [Picture: Bob King]
The latest Jeffrey St. John album is, in so many ways, a triumph.  It shows that old troupers don't necessarily fade away – sometimes they come back to astound and delight.  Not only has St. John delivered an album that stimulates and sends shivers-down-spine in equal measures, he has also proven what a singular voice he possesses – it's still intact and full of soul, power and feeling.  And together with the redoubtable Embers, who play some delightful tricks with our ears throughout, it's obvious that they all had mucho fun crafting this recording.  I defy any listener to not get a sense of that fun rubbing off on them when they hear this!
Paul Culnane, April 2003.
©2003 ICE Productions / MILESAGO
---
AVAILABILE FROM:
... any good record retailer, but you can also purchase the CD direct from the artists by contacting The Embers' production manager, Paul Close, at: paulcl@iinet.net.au