THE ROCKY HORROR SHOW
Original Austraian production, 1974-75

Book, Music & Lyrics by Richard O'Brien
Original Music and Arrangements by Richard Hartley

Original Australian Production:
Directed by Jim Sharman
Production Design: Brian Thomson
Costumes: Sue Blane
Executive Producer: Frederick J. Gibson
Musical Director: Roy Ritchie
Lighting: John Saltzer (courtesy NIDA)
Sound: John Morrison Sound Australia
Produced by Harry M. Miller

Principal Cast:
Dr. Frank-N-Furter: Reg Livermore
Janet Weiss: Jane Harders
Brad Majors: John Paramor / Piero von Arnim
Riff-Raff: Sal Sharah
Magenta and Usherette: Kate Fitzpatrick / Julie McGregor
Columbia: Maureen Elkner
Eddie and Dr. Scott: David Cameron
Rocky Horror: Graham Matters
The Narrator: Arthur Dignam

Chorus:
Bob Hudson, Arthur Dignam, Julie McGregor, Maureen Elkner, Graham Matters, Sal Sharah, Piero von Arnim.

The Band
Piano: Jamie McKinley
Guitar, Mellotron: Roy Ritchie
Bass: Ken Firth
Sax: Geoff Oakes
Drums: Greg Henson

History

Synopsis (adapted from the Rocky Horror Picture Show press notes, 1975):

On the way to visit an old college professor, the two clean cut kids, Brad Majors and his fiancee Janet Weiss, run into tire trouble and seek help at the site of a light down the road. It's coming from the Frankenstein place, where Dr. Frank'N'Furter, a transvestite from the planet Transsexual in the galaxy of Transylvania, is in the midst of one of his maniacal experiments - he's created the perfect man, a rippling piece of beefcake christened Rocky Horror, and intends to put him to good use (his own) in his kinky household retinue, presided over by a hunchback henchman named Riff Raff and his incestuous sister Magenta, and assisted by a tap dancing groupie-in-residence, Columbia.

Agape at this world of science fiction and fantasy, Brad and Janet don't know what to do next -- until the disastrous result of a previous experiment, an oafish biker unwed Eddie, plows through the laboratory wall, wailing on a saxophone. Frank puts a permanent end to this musical interruption without thinking twice – just as the old professor Brad and Janet had set out to visit, Dr. Everett Scott, turns up at the castle in search of his missing nephew, the juvenile delinquent Eddie. He knows that Frank'N'Furter is an alien spy form another galaxy, and sets out to turn him in, but Frank moves too fast, seducing first Janet, then Brad into his lascivious clutches. Overwhelmed by a newfound libido, Janet hotly attacks the stud Rocky Horror while Brad is under the covers with Frank.

Before Dr. Scott can bring justice and morality into this topsy-turvy Transylvanian orgy, Frank'N'Furter has turned his captives to stone, in preparation for a new 'experiment' - an all-drag revue - when Riff Raff and Magenta reappear in Transylvanian space togs to wrest control of the mission from Frank'N'Furter, whose lifestyle is too extreme even for his fellow space travelers. When his lavish histrionic claims of chauvanisrn fail to soften up Riff Raff and Magenta, Frank'N'Furter tries to escape, only to be gunned down by their power rayguns. Rocky rushes to save his creator, but he, too, is blasted by the militants.

Brad, Janet and Dr. Scott are left in a fog, incapable of readjusting to the normalcy of the life they've left behind in Denton, now that they've tasted the forbidden fruits of the Tirne Warp.

From modest beginnings as an experimental production in London, The Rocky Horror Show has taken on a life of its own, becoming one of the most successful musicals ever made, an international phenomenon that is still going strong after more than thirty years.

Rocky was the brainchild of British actor, musician and composer Richard O'Brien. O'Brien (who was raised in New Zealand) had wide experience in the performing arts in London in the Sixties and early Seventies, including roles in the films Carry On Cowboy and Casino Royale and appearances in numerous London stage productions including Robert & Elizabeth, Gulliver's Travels (1968), Hair (1970/1) and Jesus Christ Superstar (1972). More recently O'Brien had a featured role in Alex Proyas' cult sci-fi fim Dark City.

O'Brien's abiding passion was song writing, particularly Fifties rock'n'roll and soul music in the style of his idols, Buddy Holly and Otis Redding. His first major work was the musical Thunderock, written during his teens. Throughout the Sixties he co-wrote material with Liverpudlian Arthur Kelly and O'Brien has admitted that Rocky was partly "an excuse to use up some of the songs I'd written already which had never been performed."

The catalyst for the show was O'Brien's meeting with Australian Jim Sharman, who was brought to the UK to direct the London stage production of Jesus Christ Superstar, in which O'Brien was performing. Sharman was the son of famous Australian tent show promoter Jimmy Sharman. He had worked extensively in theatre in Sydney including NIDA and the Old Tote, where he began his long collaboration with designer Brian Thomson. Between 1969 and 1975 Sharman directed three of the most important stage musicals of the period, beginning with including the Sydney production of Hair (which led to an invitation to direct the Tokyo production) and the acclaimed Australian production of Jesus Christ Superstar in 1973, which led to him being invited to direct the first London production. Sharman made his first film in 1972, the low-budget sci-fi musical Shirley Thompson Versus The Aliens (also designed by Brian Thomson).

O'Brien had a role in the London production of Hair and had a short but fateful run in Jesus Christ Superstar. Although he lost the part of King Herod after just one performance, it gave O'Brien the opportunity to introduce Sharman to the prototype of his 3-chord rock musical entitled "They Came From Denton High". Sharman then sent a solo acoustic demo tape of O'Brien singing "Science Fiction, Double Feature" to independent theatre producer Michael White, one of London's most successful and experienced theatrical producers. He became fascinated with the song and story concept and agreed to sponsor a production.

O'Brien had spent countless hours in movie houses watching the movies that would later inspire him to write the show. Sharman and O'Brien workshopped the concept extensively and Sharman's contributions -- often underplayed -- were a major part of the show's success. They developed Rocky into a hip, trashy, parodic and high camp confection, which brilliantly melded Fifties retro-kitsch with the glitz and glitter of the Seventies to become:

"... an outrageous assemblage of the most stereo-typed science fiction movies, Marvel comics, Frankie Avalon/Anette Funicello outings and rock n' roll of every vintage. Running through the story is the sexual confusion of two middle American 'Ike Age' teenagers confronted by the complications of the decadent morality of the 70's, embodied in the person of the mad 'doctor' Frank'N'Furter, a transvestite from the planet Transexual in the galaxy of Transylvania".

The first London production premiered as a six-week workshop project on Tuesday 19 June 1973 at the Royal Court's 60-seat experimental Theatre Upstairs. The original cast starred Hair/Superstar alumnus Tim Curry in the leading role as Dr. Frank-N-Furter, the kinky transsexual alien scientist who creates "Rocky Horror", his personal Adonis, with O'Brien as his maniacal handyman named Riff-Raff, and and Australian singer-actress Little Nell (Laura Campbell) as Frank's maidservant Columbia. Curry originally read for the role of Rocky, but his raucous performance of Little Richard's "Tutti Frutti" made him the obvious choice for the Frank-N-Furter role.

Rocky was such a success that it was quickly moved to larger quarters in a condemned cinema in Chelsea, where Brian Thomson created the definitive look of the show, which was based on Sharman's childhood experiences in his father's tent shows. Following the cinema's demolition, the show found a permanent home at the 500-seat King's Road Theatre, where it played to packed houses for several years. The play was named 'Best Musical of 1973' in the London Evening Standard annual poll of drama critics.

Jim Sharman: "[For] The Rocky Horror Show ... Brian Thomson's blue-canvassed cinema-under-demolition set turned virtually every theatre or old cinema we played in into a tent. The transvestite hero of that musical might have owed something to German Gothic cinema, but was also derived from childhood memories of Bobby Le Brun, Sorlie's famous Panto Dame, who looked like a stevedore in drag. Tim Curry, who created Frank in my original production at the Royal Court, kept asking 'How far should I go?', and I always replied 'Just stop before you throw Fantales to the kiddies'. The audience thought they were seeing a hip, streetwise character in a rock 'n roll show; we knew it was a panto dame in mufti."

The original productions in London, Sydney and Los Angeles in 1973-74 all involved the same core production team: Australians Jim Sharman (director) and Brian Thomson (set design), and Britishers Richard O'Brien (who also played the part of Riff Raff) Sue Blane (costumes) and Richard Hartley (musical arrangements).

American entrepreneur Lou Adler (the man behind the all-star orchestral version of The Who's Tommy) snapped up the film rights and the American stage rights within two days of seeing the show in London in 1973. He produced the first American stage version at the Roxy Theatre in Los Angeles, which was a huge success. It too starred Tim Curry, with the remaining cast being Americans. Among the actors who tried out unsucesssfully for the L.A. production were John Travolta, Richard Gere, Chris Sarandon, Greg Evigan, and Jeff Conaway. In the Roxy production the parts of Eddie and Dr Scott were played by up-and-coming young singer Meatloaf, who had been in a West Coast production of Hair, and then an off-Broadway musical called More Than You Deserve, where he first teamed up with composer Jim Steinman. The pair of course became famous in 1978 when their Todd Rundgren-produced Bat Out Of Hell became a worldwide smash hit, and one of the biggest selling albums of all time.

A Roxy cast album was recorded and the backing group for this LP included Larry Knechtel, Daniel Kortchmar, Dean Parks, Tommy Tedesco, Hal Blaine and Gary Coleman (the father of Lisa Coleman, of Prince & The Revolution and Wendy & Lisa fame). All were members of L.A.'s legendary studio band "The Wrecking Crew", a group of top studio session musicians who played on many of the most famous American pop records of the 60s and 70s, including classics by Phil Spector, The Beach Boys and The Monkees. The Roxy cast was transferred to Broadway in 1975 but this was a disastrous flop, closing after 45 performances. Part of the failure of the show in New York was because the venue, a large dinner-theatre, destroyed the intimate setting that was an intrinsic part of the earlier productions.

In 1975, with backing from expartiate Australian entrepreneur Robert Stigwood, Sharman directed a film version, The Rocky Horror Picture Show, again designed by Brian Thomson and inspired by his designs for Shirley Thomson Vs The Aliens. It featured most of the original London cast including Tim Curry (Frank), Richard O'Brien (Riff Raff), Patricia Quinn (Magenta), Little Nell (Columbia), and Jonathan Adams (Dr Scott in the movie, The Narrator in the London stage version). American actors Barry Bostwick and Susan Sarandon were cast as Brad and Janet, with Meatloaf reprising his Roxy role as Eddie. Although not credited on the soundtrack album, for teh film the voice of Rocky was overdubbed by Trevor White, who had played Jesus in the Australian production of Jesus Christ Superstar. White was in the UK when he heard that the producers were auditioning for a singer to overdub the singing voice of Rocky becaus the actor

The movie did poorly on its initial US release, bombing almost everywhere except Los Angeles, but Adler and 20th Century Fox marketing manager Tim Deegan picked up on the fact that, although theatre owners were complaining of low attendance, they reported that a small but dedicated audience was returning for repeated viewings. About six months later (after a re-edit) they cleverly scheduled the film into midnight screenings in New York. It rapidly picked up a strong cult following, which slowly spread across the country. The first signs of the remarkable audience-film interaction that developed over the next few years emerged when the film began midnight screenings in Los Angeles at the UA Westwood cinema in 1976. By 1977 it had become the focus of a remarkable audience participation event, in which fans would regularly attend weekly midnight screenings in full costume, performing call-and-response routines to the dialogue, and singing along with the songs.

Little Nell (who played Columbia in both the original London production and the movie) was born Laura Campbell on 24 May 1953 and grew up in Sydney. Her father was popular local journalist, Ross Campbell, a columnist for Sydney's Sunday Telegraph, who wrote regularly about family life and the escapades of his four children. For his column, Ross nicknamed Laura "Little Nell" (after the Dicken's character in The Old Curiousity Shop) and the name stuck. Around 1970 she was the girlfriend of artist Martin Sharp and performed at The Yellow House. When she arrived in England in 1971 at the age of eighteen she worked a busker this is how she won a part in The Rocky Horror Show. Nell was performing her act, singing 1930's songs and tap dancing in top hat and tails outside the theatre where Jesus Christ Superstar was playing when director Jim Sharman saw her and as a result he cast her as Columbia. After Rocky, Nell had success in England as a recording artist with her singles "Do The Swim", Fever" and "See You Round Like a Record". Her film credits include Derek Jarman's Jubilee, Shock Treatment, Ken Russell's horrendous Lizstomania and Alan Parker's film version of Pink Floyd's The Wall. In 1985 she moved to New York and with financial partners opened the successful nightclub "Nell's". In 1994 she appeared in the off-Broadway show You Should Be So Lucky by Charles Busch, which received rave reviews. Nell recently appeared on an episode of the music quiz show ABC's Spicks and Specks.

The Rocky Horror Show has since been revived many times in many countries. Other productions have included: Mexico (1976); Norway (1977); New Zealand (1978, starring Gary Glitter as Frank-N-Furter); the second Australian production (1987/88) starring Daniel Abineri with Russell Crowe as Eddie; a London revival in 1990; a third Australian production (1991, with Craig McLachan as Frank, Gina Reilly as Janet, with Wilbur Wilde, Stephen Kearney (Los Trios Ringbarkus) and Red Symons as the Narrator); Finland and Iceland (1995); a New Zealand revival (1995); Denmark (1996); a European touring production (1996); Germany (1997) and a 25th anniversary London production starring Australian actor-singer Jason Donovan as Frank-N-Furter.

Notes on the 1974-75 Australian Production and Cast

The original Australian production of Rockypremiered in Sydney on 15 April 1974 at the New Arts Cinema, Glebe; the venue was renamed the Valhalla Cinema and operated as an "encore" cinema until the site was redeveloped as an apartment complex. It was the third major stage show produced by Harry M. Miller, and like its two predecessors it was a resounding success. It ran for almost two years, and the production and cast included several key personnel who had worked on both Hair and Jesus Christ Superstar, including Reg Livermore, Jim Sharman, Brian Thomson and Harry M. Miller.

Harry M. Miller (Producer)
Miller was born in Auckland, New Zealand in 1934. In the late 1950s he established himself as a show business promoter and entrepreneur. In 1963 he moved to Australia and established Pan Pacific Productions Pty Ltd with Sydney businessmen Keith and Dennis Wong (owners of Chequers nightclub). Pan-Pacific promoted several major international tours including the Rolling Stones first two tours. In 1967 He formed his own promotion company and entered into a joint venture with top Melbourne promoter Kenn Brodziak. Throughout the 1960s he promoted a large number of concert and theatre tours of Australia and New Zealand including tours by Louis Armstrong, Artur Rubinstein, The Rolling Stones and The Beach Boys. During the Sixties Miller was also the personal manager of many major personalities including Graham Kennedy.

He consolidated his reputation in the early 1970s by promoting the hugely successful musicals Hair and Jesus Christ Superstar. Later in the 1970s he was appointed a Director of Qantas and was organiser of the Queen's Silver Jubilee celebrations in Australia. In 1978 he established Australia's first computerised booking agency, Computicket, but the venture failed within six months. As a result of the collapse, in 1982 Miller was charged with five counts of fraudulent misappropriation in connection with Computicket. He was convicted and spent ten months in Long Bay and Cessnock jails (although many felt that Miller had been singled out because of a vendetta against him by members of the then Wran Labor government in NSW). After his release Miller resumed his career and is now a leading manager and agent with clients as diverse as Jill Wran, ex-wife of former Premier Neville Wran, and Stuart Diver, the lone survivor of the Thredbo disaster. In association with the IMG group, Miller promoted a hugely successful concert version of Superstar in the early 90s, starring John Farnham, Kate Ceberano, Jon Stevens and John Waters. In 2000 he collaborated with IMG on a revival of Hair, scheduled to open in September 2000, but the production was cancelled only weeks before it was due to open.

Reg Livermore (Dr Frank-N-Furter)
By the time Rocky premiered, Reg was one of Australia's hottest performers. His credits on stage and TV go back to the early 60s and include Whiplash, Adventure Unlimited and The Mavis Bramston Show. He was a "Tribe member of the Australian production of Hair (1969-71), taking over the role of Berger after original star Keith Glass left the show. Reg wrote the lyrics for the Patrick Flynn-scored musical Lasseter (1971), played 'Herod' in the original Australian production of Jesus Christ Superstar in 1972-73, and collaborated again with Flynn on the rock opera Ned Kelly (1974), which was recorded as an album but never staged. After Rocky closed in 1975, Reg embarked on his hugely successful and critically lauded one-man shows: Wonder Woman, Betty Blokk Buster Follies and Sacred Cow. After retiring from full time stage work in the late 80s, Reg began performing popular cabaret shows at a theatre restaurant in Springwood, and works as a regular presenter on the 'info-tainment' show Better Homes & Gardens.

Jane Harders (Janet)
Jim Sharman already knew Jane through their theatre connections, and he cast her in the lead role of his first film, Shirley Thompson Versus The Aliens in 1972. She is one of Australia's most prolific and versatile stage, screen, TV and radio actors, with credits including Shirleen (1976), The Chant Of Jimmie Blacksmith (1978), The Journalist (1979), and The Roly Poly Man (1994). Her TV credits include Rush, A Country Practice and Heartbreak High, and numerous dramatic roles on stage and radio, and audio-cassette book readings.

Kate Fitzpatrick (Magenta)
Kate is one of Australia's most distinguished theatre actors and she has also had a prominent film and TV career. Like Harders, she also knew Jim Sharman via the theatre, and played a supporting role in Shirley Thompson Versus The Aliens. Her TV and film work includes the sitcom Birds In The Bush and Peter Weir's AFI-winning Homesdale (1971), a leading role in the second series of the detective show Boney, with James Laurenson (1972), The Office Picnic (1973), The Great McCarthy and Promised Woman (1975), Summer of Secrets with Arthur Dignam (1976), Luke's Kingdom (TV, 1976), Philippe Mora's cult superhero musical spoof The Return Of Captain Invincible (1981), Fantasy Man (1984), This Time, Next Time (1990) and Heaven's Burning (1997). Her most recent major TV appearance was in the ABC serial Something In The Air (2001).

Arthur Dignam (The Narrator)
Like Fitzpartick, Dignam is one of Australia's most respected stage actors, and Arthur has also developed a very successful screen career. His post-Rocky credits include James Ricketson's Reflections (1974), Michael Thornhill's Between Wars (1974), performed on the recording of Reg Livermore's rock opera Ned Kelly (1974), Summer Of Secrets and Fred Schepisi's The Devil's Playground (1976), Cathy's Child (1979), We Of The Never Never (1982), The Everlasting Secret Family (1988), The Nostradamus Kid (1992) the 1993 children's TV series Escape From Jupiter.

Sal Sharah (Riff-Raff)
Sal played Riff-Raff again in the 1978 New Zealand production

John Paramor (Brad)
John he went on to appear in another Richard O'Brien musical The Stripper in 1982. Based on the book by Carter Brown, it was created by several Rocky Horror Show alumni: Richard O'Brien wrote the song lyrics, Richard Hartley wrote and directed the music, and Brian Thomson directed and designed the play. John Paramor played the part of Sgt. Polnik in this musical. John's other screen credits include the mini-series Shout - The Story Of Johnny O'Keefe (1985) and the feature Shark's Paradise (1986).

Julie McGregor (Magenta)
Julie's first big break was in Rocky, when she took over from Kate Fitzpatrick as Magenta during the latter part of the show. She went on to feature in the successful TV comedies The Naked Vicar Show and had a very successful stint co-tarring opposite Bob Hughes in the popular sitcom Hey Dad.

Graham Matters (Rocky)
Matters was a cast member of Hair and later starred as "The Wizard" in Chris Lofven's cult movie Oz (1976).

Bob Hudson (Chorus)
Bob was a well known figure on the Sydney folk scene in the early '70s, a successful singer-songwriter who wrote the bittersweet classic Girls In Our Town which was a hit in 1975 for Margaret Roadknight. He had two surprise novelty hits in 1975 with The Newcastle Song (a national #1) and its sequel, Rak Off Normie, written for fellow Rocky chorine Maureen Elkner. Bob became part of the early on-air team at the ABC's new rock station 2JJ (Double Jay) in January 1975, where he remained for several years. More recently he has been a regular presenter on ABC local radio.

Maureen Elkner (Columbia and Chorus)
Maureen is best remembered as the singer of Bob Hudson's novelty hit Rak Off Normie (1975), the follow-up to his hugely successful The Newcastle Song. Prior to her one-off hit, Maureen had worked extensively in the pop-rock field and was an established session singer in Melbourne, providing backing vocals on many famous records of the late 60s and early 70s including the Russell Morris classic The Real Thing. She released some solo recordings, including the single Dynamite Barley Rye on the Infinity label, and she also had a number of small TV roles, including parts in an early episode of Number 96 (1972), Chopper Squad (1978) and A Country Practice.

Piero von Arnim (Brad and chorus)
Piero worked in theatre, film and TV. His only known TV credits was Alvin Purple (the series). Piero is probably best remembered by 70s viewers for his featured part in the successful advertising campaign for "Uncle Sam's Miracle Herbal Hair Shampoo". Von Arnim died in a car accident in the late 1970s.

Cast recording

1974 (Festival L 35231) LP
The Rocky Horror Show - Original Australian Cast Album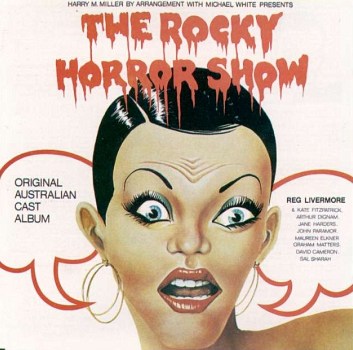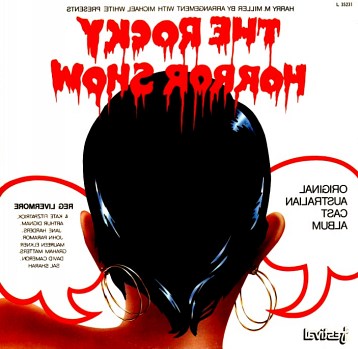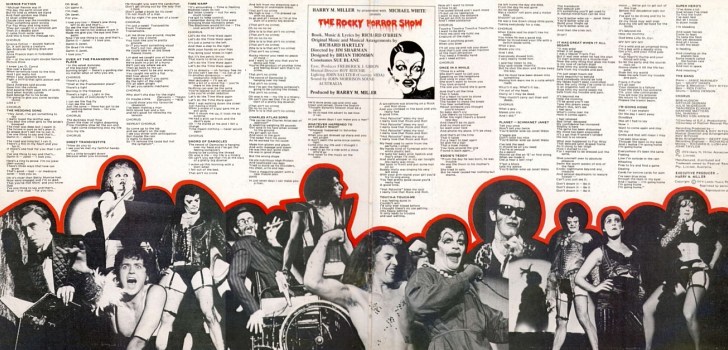 Produced by John Morrison & Roy Ritchie
Musical Direction and Arrangements: Roy Ritchie
Brass Arrangements: Geoff Oakes
Recording Engineer: Richard E. Lush
Mixing: Richard E. Lush and John Taylor
Track Listing:
Science Fiction (3:26)
Wedding Song (2:20)
Over at the Frankenstein Place (3:07)
Sweet Transvestite (3:10)
Time Warp (3:15)
The Sword of Damocles (2:10)
Charles Atlas Song (2:03)
Whatever Happened to Saturday Night (2:10)
Touch A Touch Me (2:21)
Once in a While (2:57)
Eddie's Teddy (3:28)
Planet Schmanet Janet (1:14)
It Was Great When It All Began /
I'm Going Home (9:29)
Super Heroes (2:38)
appears as The original 1974 release by Festival Records came in a gatefold jacket, featuring cast pictures and lyrics. The album was released in the USA in 1975 by Elephant Records. This was a budget release, and came in a regular sleeve. Festival Records re-released the album as a CD in 1984 with very basic liner notes, no lyrics and no cast pictures. Possiibly to avoid censorship problems, the song "Dammit, Janet" is listed as "Wedding Song" on the track credits, and it is the only cast album to do so.

Album engineer and mixer Richard Lush was a former staff engineer at Abbey Road and his credits there included many of The Beatles' later recordings, including Sgt Pepper's Lonely Hearts Club Band. After moving to Australia in the early 1970s, Lush worked extensively with Festival Records and is well known for his production with Sherbet, including their international hit Howzat.
References / Links
Jim Sharman
"In the Realm of the Imagination: an individual view of theatre"
The inaugural Rex Cramphorn Memorial Lecture
Belvoir Street Theatre, Sydney, 23 July 1995
Lisa Kurtz Sutton
Rocky Horror History: From Stage to Screen
http://www.geocities.com/TelevisionCity/Studio/8849/Moviemusicals/Leather/Timewarp.htm#Stage
The Musical World of Rocky Horror
http://www.rockymusic.org/index.html
– Shawn McHorse's very comprehensive site, which I have plundered ruthlessly. Thanks Shawn!

Riff's Rocky Horror CD Compendium
http://listen.to/rockyhorroronCD
www.rockyhorror.com
http://www.rockyhorror.com/
- the official Rocky Horror Picture Show fan club site
The Official Rocky Horror Show site
http://www.rockyhorror.co.uk/
Timewarp
http://www.timewarp.org.uk/
- the official UK fan club site
Casts Of The Past
http://www.castsofthepast.freeserve.co.uk/
– Rocky Horror Show actors database. Appears to be confined to actors in the recent UK productions so far.