THE ALLUSIONS
Sydney, 1965-69
Terry Chapman (bass, vocals) 1965 - July 1966
Bruce Davis (bass, vocals) July 1966 - early 1969
Terry Hearne (lead guitar, vocals) 1965 - Oct 1968
Kevin Hughes (drums)
Michael Morris (rhythm guitar, vocals) 1965-late 1967, October '68 - early '69
John Shaw (piano, organ, vocals)
John Spence (guitar) late 1967 - ?
History
The Allusions was a Sydney-based quintet that burst out of nowhere in 1966, scoring a couple of major hits in Sydney. Although they disappeared into obscurity after their short career ended, this is a band that deserves much more recognition.
The Allusions formed in late 1965, its members drawn from several other accomplished Sydney groups, and boasting four singers. Their leader, singer-guitarist-composer Mike Morris, had previously played with Dennis & The Dellawares; Terry Hearne had been the bassist in popular instrumental group The Dave Bridge Trio, led by ace gutarist and Joy Boys founder-member Dave Bridge. Terry Chapman and Kevin Hughes had both been members of the early '60s Sydney surf band The Midnighters.
Within a short time of forming, The Allusions were signed to Robert Iredale's Leopold Productions, one of Australia's first independent record production companies (which had also recently signed Max Merritt & the Meteors) and their recordings were issued on EMI's Parlophone label. It's possible that their rapid signing came about because Robert Iredale was already familiar with Morris' talent -- it's known that The Dellawares provided backing for The Bee Gees on some of the trio's early recordings, which Iredale had produced.
The Allusions shot to prominence in early 1966 with their captivatingly melodic version of the old Rick Nelson hit "Gypsy Woman", backed with "Fever (Burns My Brain)", a Mike Morris original. The single proved a disc-jockey's dream, securing solid airplay on Sydney's 2SM and 2UW, registering impressive sales and peaking at #12. The Allusions' reading in turn inspired The Saints to record the song as a single B-side in 1981.
With this hit under their belt, the group was given the opportunity to record two original songs (both penned by Morris) for their mesmerising follow-up. "The Dancer" / "Roller Coaster Man" developed the polished sound and strong harmonies of their debut, and echoed The Beatles' "I'm Happy Just To Dance With You". The A-side, the song for which they are best remembered, fared even better than their debut, making the Sydney Top Ten (#9) and giving great hopes for this 'mysterious' outfit among punters and pundits alike. However, because of the parochial nature of radio and the pop scene at the time, The Allusions' chart success was limited entirely to Sydney, and their Singles made no impact whatsoever in Melbourne.
Morris' impressive songwriting ability and the success of the two singles persuaded Iredale to finance the recording of a full album -- a comparitively rare occurrence at that time for a new and relatively unproven group. The original LP is now a sought-after rarity, with copies changing hands for as much as $50; copies with the older-style black Parlophone label are particularly sought-after. Happily all the tracks from this rare gem of mid-Sixties OzPop have been included in the complete Allusions Anthology, recently released by Canetoad Records (see below).
The LP contains a variety of material, mixing originals by Morris with covers such as Smokey Robinson's "Shop Around". Some commentators have been rather critical of the album, reserving particular scorn for the song "I Believe", but Chris Spencer opines that "it's not as bad as some make us believe, and doesn't sound out of place on this collection".
The late Gary Aurisch, who wrote the only book about the band (available from Chris Spencer's Moonlight Publishing) describes the album thus:
"It remains a versatile work crammed with intelligently crafted pop songs, most of which are adorned with nifty little guitar solos and carefully thought-out, unobtrusive harmony".
Terry Chapman quit the band in July 1966, not long before their third single was recorded, apparently unhappy with the Beatles-ish direction in which Morris was taking them. He went on to join one of Australia's first psychedelic groups, The Knack, which included drummer Craig Collinge, formerly of The Librettos and later of Procession. Chapman's replacement was Bruce Davis, who had worked with Morris in The Dellawares.
Their third single "Looks Like Trouble" (Oct. 1966) didn't chart, although the follow-up "Roundabout" (another Morris original, released in March 1967) managed to scrape into the bottom of the Top 40. An EP, The Dancer, followed in April, compiling the A-sides from the first three Singles, plus "Roller Coaster Man".
According to Vernon Joyson, some time during 1967 The Allusions also recorded as the (uncredited) backing band for Digger Revell on his LP To Whom It May Concern. Another Allusions curiosity from this period is a promotional single -- which the group recorded under the pseudonym The Telemen -- the A-side of which was a version of the theme from the popular TV sitcom My Name's McGooley, What's Yours?.
The Allusions released two more Singles, "Seven Days Of Rain" (July 1967) and "Mr Love" (February 1968), but neither was successful. Between these two releases, Mike Morris left the band in late 1967, and he was replaced by John Spence. The Allusions continued as a four-piece until October 1968, when Terry Hearne quit to join Digger Revell's backing band. Mike Morris then rejoined, to raise money for an overseas trip, but by this time the momentum of their early success had dissipated, and in the face of changing trends they split for good in early 1969.
Not much is known about what happened to the members after their brief spell in the limelight; what little we have gleaned comes from Vernon Joyson's entry on the band in his book. Mike Morris worked with a number of local country-rock bands after returning to Australia. Terry Hearne was reported to be still playing with Digger Revell in the 1990s, although that was presumably ended by Digger's arrest conviction on charges of marijuana cultivation and trafficking, and his subsequent incarceration. Sadly, drummer Kevin Hughes committed suicide in 1975.
The Allusions left behind a fine batch of records that are highly sought after by collectors of quality sixties Aussie pop. The evidence we have is that they could indeed "rock out" -- exemplified by the spirited cover of The Kinks' "I Gotta Move" on the LP, which arguably rivals the original -- along with strong similarities to other early beat-boom merchants like The Zombies and The Searchers. They used "I Feel Fine"-style guitar feedback too, before it was remotely de rigeur. If this band will be remembered at all though (and they should be), it would be for their extremely tight and inventive sound, those complex vocal harmonies, and their mastery of the three-minute beat-pop single idiom.
A handful of The Allusions' recordings were reissued on vinyl, and later on CD, and for these we must (as usual) say thanks to Glenn A. Baker and the wonderful people at Raven. If you can get your hands on a copy, there are five Allusions tracks -- "Gypsy Woman", "Fever Burns My Brain", "I Gotta Move", "Looks Like Trouble" and "The Dancer" -- included on Raven's excellent 1981 anthology LP Five By Four.
Prior to 2003, only three tracks had made it onto CD -- "The Dancer" is on Volume 2 of Raven's Sixties Downunder series, and "Gypsy Woman" is on Volume 3; "I Gotta Move" is included on the bootleg compilation Devil's Children, Volume 1, which is a lot harder to find.
Happily, the entire Allusions oeuvre is now available on CD at last thanks to David McLean and Canetoad Records. The original recordings have been remastered for CD and the 21-track disc includes all the single A- and B-sides and all the tracks from the album, plus the two tracks that they recorded as The Telemen. Liner notes are by David McLean, with contributions from Terry Hearne.
Original article by Paul Culnane, 1999. Revised 2007 (DK).
Discography
Singles
April 1966
"Gypsy Woman" / "Fever Burns My Brain" (Parlophone A 8196)
Aug. 1966
"The Dancer" / "Roller Coaster Man" (Parlophone A 8210)
Oct. 1966
"Looks Like Trouble" / "97 Cigarettes" (Parlophone A 8228)
March 1967
"Roundabout" / "I'll Be Home" (Parlophone A 8242)
July 1967
"Seven Days Of Rain" / "Two Of A Kind" (Parlophone A 8256)
Feb. 1968
"Mr Love" / "And She's Mine" (Parlophone A 8281)
EP
April 1967
The Dancer (Parlophone GEPO 70038)
"Gypsy Woman" / "Looks Like Trouble" // "Roller-Coaster Man" / The Dancer"
Albums
Jan. 1967
The Allusions (EMI Parlophone PMCO 7540)
Later reissued on EMI's budget label Encore (SPMEO 9439)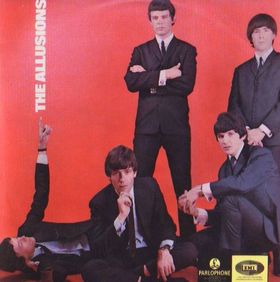 1. "Roundabout" (Michael Morris)
2. I Gotta Move" (Ray Davies)
3. "Blue Tomorrow"
4. "Looks Like Trouble" (Michael Morris)
5. "Shop Around"
6. "Lady Of Leisure"
7. "Gypsy Woman" (Burnett - Esborn)
8. "And She's Mine"
9. "In My Solitude"
10. "I'll Be Home"
11. "I Believe"
12. "Out Of Order"
13. "97 Cigarettes"
14. "The Dancer" (Michael Morris)
Produced by Robert Iredale
"When all the tracks used on singles are removed, there are seven songs unique to this album. The Allusions deserve to have a full CD release of this album and all the singles (A & B sides)." - Chris Jarvis
---
1981
Five By Four (Raven RVLP 03)
- anthology LP including five Allusions tracks:
"Gypsy Woman" (Burnett - Esborn)
"Fever Burns My Brain" (Michael Morris)
"I Gotta Move" (Ray Davies)
"Looks Like Trouble" (Michael Morris)
"The Dancer" (Michael Morris)
plus tracks by Tony Worsley, Mike Furber and Steve & the Board.
---
2003
The Allusions' Anthology 1966-68 (Canetoad CTCD 033)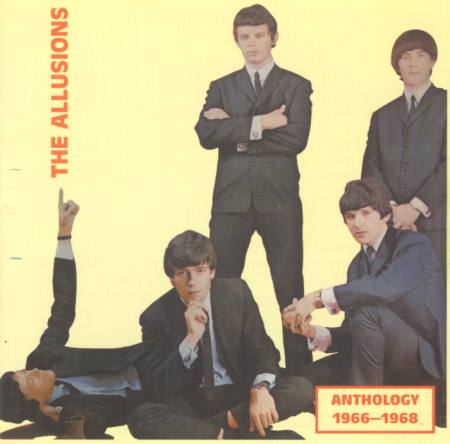 References / Links
Gary Aurisch
The Allusions (Moonlight Publishing)
Glenn A. Baker
- liner notes for Five By Four (LP, 1981) and Sixties Downunder, Volume 3 (Raven Records 1998)
Noel McGrath
Encyclopedia of Australian Rock (Outback Press, 1978)
Ian McFarlane
Australian Encyclopedia of Rock & Pop (Allen & Unwin, 1999)
Vernon Joyson
Dreams, Fantasies & Nightmares: Australia (Borderline Books, 1999)
Chris Spencer, Zbig Nowara and Paul McHenry
Who's Who of Australian Rock (Five Mile Press, 2002)
Thanks to Chris Jarvis for his comments, and for providing the tracklisting for the 1967 LP.