BAND OF LIGHT
Sydney 1972-75
Robin Andrews (drums) 1973-74
Michel Brouet (bass)
Tony Buettel (drums) 1972-73
Dannie Davidson (dr) 1974-75
Eddie Hanson (guitar) 1974-75
Phil Key (guitar, vocals) 1972-75
Ian Rilen (bass) 1972-74
Peter Roberts (bass, vocals) 1972
Norm Roue (guitar) 1972-74
Bill Williams (bass) 1974

History
Band of Light was a blues-based Sydney group, formed in October 1972 by Phil Key, with bassist Peter Roberts, who had both just left The La De Das. Phil Key was of course a founder member, the rhythm guitarist and lead vocalist in that legendary band. Peter Roberts was a more recent member -- he joined in late 1970 and helped to revitalise the group during a difficult period, after their disastrous English trip and the departure of original bassist Trevor Wilson.
In the latter days of the La De Das, Phil reportedly experienced difficulty in getting his own original material played in the band (as well as growing friction over his control of the group's finances). Phil quit the La De Das over a money dispute in September and the next month he and Peter formed Band Of Light, which enabled Phil to develop his own songs, which explored more personal themes of racial equality (Phil was Maori), social justice, spirituality and mysticism. Band Of Light was also one of the first local bands to use a symbol (a yin-yang within two triangles) to represent their philosophy and approach.
Their distinctive blues-rock sound was built around the dual slide guitar work of Key and their other superb guitarist, Norm Roue (who had come from Sydney band Gutbucket). Peter Roberts left after only three shows and was replaced by Ian Rilen, who was to become a fixture on the Australian rock scene in the 70s and 80s. The band worked consistently on the Sydney and Melbourne pub/festival/dance circuits, alongside other staple acts of the day like Billy Thorpe and the Aztecs, Carson, Coloured Balls, Chain, Madder Lake and Buffalo.
Band Of Light signed a recording contract with WEA in early 1973, and had immediate success in July when their first single Destiny Song made the national Top 40, peaking at #18. They followed up with a successful debut LP, Total Union, in August, which made the national Top 20 album chart, peaking at #13. A third single, the non-album track Moonstruck was released in November, but it didn't chart
They continued to be a popular live draw throughout into 1974, but in mid-year, on the verge of recording their second album, Rilen, Roue and Buettel all left the band. Phil called on Billy Williams (bass, ex Classic Affair) and Dannie Davidson (drums, ex-Tamam Shud, Kahvas Jute) to replace Rilen and Buettel and cut the record, which was titled The Archer and released later in the year. Ray Vanderby (keyboards) and Eddie Hansen (lead guitar, ex-Ticket) were brought in to fill out the lineup for live dates, but neither the single "The Archer" (Nov. '74) nor the album were successful, and the group split in late 1974.
Band of Light's debut EP Total Union has recently been re-released on CD by Aztec Music, who also plan to reissue The Archer in the near future.
After Band of Light:
- Norm Roue joined Buffalo. He played with them until early 1976, after which he reportedly left the music scene to follow a religious calling.
- Robin Andrews worked in several other prominent groups in the 70s and 80s, including Phil Manning Band.
- Tony Buettel moved into production in the 80s with credits including Uncanny X-Men and Strange Tenants.
- Ian Rilen joined Blackfeather (1975), was a founder member of Rose Tattoo (1976-77), and he formed Sardine V (1980-83), whose members included Joanna Piggott (XL Capris, Scribble), Barton Price (Models) and his wife Stephanie. He is best known for his long-lived power trio X (1977-79 , 1983-90). Ian died in 2006 after a long battle with cancer.
- Peter Roberts went on to work with Chariot, Flake and Rockwell T. James.
- Phil Key left the music scene and worked in Sydney as a cabbie until his untimely death in 1985 from a congenital heart condition.
Discography
Singles
Jul. 1973
"Destiny Song" / "Over B" (Warner Bros WBA-4035)
Aug. 1973
"Free Them From Hunger" / "The Cat" (Warner Bros WBA-4043)
Nov. 1973
"Moonstruck" / "If " (Warner Bros WBA-4055)
Nov. 1974
"Archer, a Sagittarian Rhapsody" / "Silis the Sun" (Warner Bros WB-100006)
EP's
1973
Band Of Light (Warner EPW-261)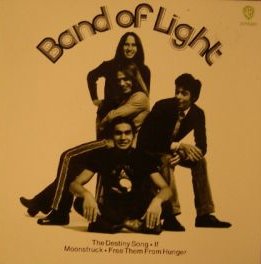 "Destiny Song" / "Moonstruck" // "Free Them From Hunger" / "If"
Albums
Aug. 1973
Total Union (WEA WS-20011)
Reissued 2007 by Aztec Music (AVSCD012) CD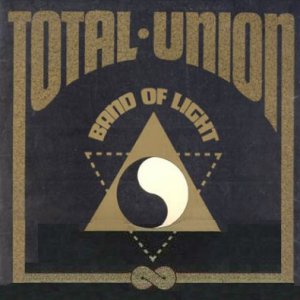 Side 1:
"My First Home"
"Free Them From Hunger"
"Spaces of Time"
Side 2:
"If"
"Earthbound Blues"
"Four Horsemen of the Apocalypse"
Bonus tracks on CD:
"The Destiny Song
"Over 'B' "
"Moonstruck"
"Messin' with the Kid" (live)
"The Cat"

(All songs by Band of Light)
Available on CD from Aztec Music
---
1974
The Archer (WEA 600011)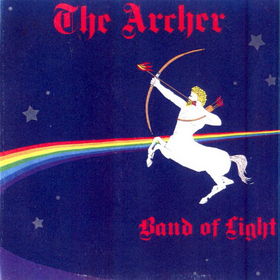 "The Archer "
"Bread & Wine"
"Indigo Heaven"
"Invitation"
"My Black Swan"
"Our Reason for Being"
"Seeker"
"Silis the Sun"
(All songs credited to "The Wheel")
References / Links
Ian McFarlane
Australian Encyclopedia of Rock & Pop (Allen & Unwin, 1999)
Noel McGrath
Encyclopedia of Australian Rock (Outback Press, 1978)
Chris Spencer, Zbig Nowara & Paul McHenry
Who's Who of Australian Rock (Five Mile Press, 2002)
Bruce Sergent
New Zealand Music of the 60's and 70s
http://www.sergent.com.au/bandoflight.html
Aztec Music
http://www.aztecmusic.net
Shazaam Productions (Peter Roberts)
http://www.myspace.com/shazaamproductions