THE BLACK DIAMONDS
THE LOVE MACHINE
TYMEPIECE
Lithgow/Sydney 1965-71



(Click to enlarge)

Glenn Bland (vocals, harmonica),
Alan 'Olly' Oloman (guitar, vocals),
Brian 'Felix' Wilkinson (organ, piano),
Alan Keogh (bass) 1965-68
Colin McAuley (drums)
Darcy Rosser (bass) 1968-71
History

"The Easybeats say that The Black Diamonds are the best support group they have ever had ... we've got a group right here that can be compared to the Yardbirds/Animals/Stones all rolled into one and still come out tops."
- 'Woody' of Orange, letter to Go-Set, 18 Jan. 1967

"The Black Diamonds will be remembered as one of the most ferocious garage punk outfits Australia ever produced in the 1960s. The band's snarling "I Want, Need, Love You" takes pride of place as one of the best cuts on Raven's seminal Aussie 1960s punk collection Ugly Things."
- Ian McFarlane

The Black Diamonds hailed from Lithgow, in the Blue Mountains of NSW, west of Sydney, and their name denoted those origins, Lithgow being a prominent coal-mining town. Alan Oloman and Alan Keogh first worked together in the Lithgow rockabilly band Johnny Kett's Black Diamonds, which evolved into The Black Diamonds in 1965.

Their musical excellence and striking originality were evident from the start -- the group reportedly had a repertoire of more than 30 original songs, and three of their first four sides were composed by band members. Managed by 2LT Lithgow DJ Bob Jolly, they played widely around the state, remaining based in Lithgow, but as the local newspaper article below relates, they found it inceasingly hard going in the face of repeated promoter rip-offs and the various physical hazards of life on the road in country NSW, and they eventually decided to relocate to Sydney during 1967.

In late 1966 they achieved a remarkable feat when they signed a recording deal with Festival, making them the first pop band from the NSW Central West to get a record deal, and one of the first regional bands anywhere in Australia to be signed to a major label contract without becoming established in a capital city. Festival issued the band's two brilliant singles, which were happily both produced by Festival's new house producer Pat Aulton. By this time they had a strong following in the Central West and their own fan club, based in Orange, started by local girls Bernadette Kelly and Clelia Calvo.

Their debut, released in December 1966, could scarcely have been more impressive or more original. The A-side is the ebullient, surf-tinged "See The Way", which sounds like the grandaddy of The Church's "Already Yesterday" although it precedes it by more than a decade. It's also vaguely reminiscent of The Troggs "A Girl Like You", but in this writer's opinion it's superior in almost every way, and Olly's guitar solo is a real corker.

The ball-tearing B-side is their indelible 'garage' classic "I Want, Need, Love You", which easily ranks alongside any contemporary track by overseas groups, such as The Yardbirds' "Happpenings Ten Years Time Ago". Its frenetic power sets it apart from almost anything else committed to record in Australia at the time, except The Missing Links' "Drivin Me Insane" and The Wild Cherries' "Krome Plated Yabby". Both these Black Diamonds tracks have appeared on various vinyl and CD anthologies. A letter to Go-Set from a fan in Bathurst (published in the 18 Jan. 1967) revealed that the single had reached #15 on the local Top 40 on Bathurst station 2BS, and that no less a band than The Easybeats had named the Black Diamonds as the best support act they had ever played with.

Two original clips of The Black Diamonds are among the huge trove of long-lost pop footage unearthed by the ABC in recent years. Two specially-made clips, filmed for the ABC's variety show Be Our Guest, are now available on You Tube (see links)

Their second single "Outside Lookin' In" b/w "Not this Time" came out on Festival during 1967. The B-side, a cracking original by Olly, has at last reappeared on the terrific Ace Records compilation Hot Generation but as far as we know the A-side has not yet made it onto CD. We believe that the A-side, "Outside Lookin' In", is a cover of a song written by J.J. Cale (then known as John Cale); it was originally released as the b-side of his second solo single, issued on the American Liberty label in 1966, just after the original version of his song "After Midnight". If this is correct, it would surely qualify The Black Diamonds as the first band in the world to record a song by this much-covered artist (in fact, J.J. Cale would remain unknown in this country until the early Seventies, when he scored a major hit with "Crazy Mama". The record received strong support from Ward "Pally" Austin and made the 2UW Top 30 on its first week on the charts in Sydney.

In 1968 Darcy Rosser replaced Alan Keogh on bass, the band changed its name to Tymepiece and they moved permanently to Sydney. According to Vernon Jopyson, they were a frequent attraction at the Hawaiian Eye and the Coli Drum Disco, which they shared a residency with The Affair.It was at this time that Pat Aulton approached them to record a version of The Tokens' "The Lion Sleeps Tonight" to promote the opening of Stafford Bullen's African Lion Safari at Warragamba, NSW. For the purposes single the group worked under the name The Love Machine. The song was a hit, but the band members then returned on to their own music, although Pat continued releasing material under the Love Machine moniker, using different musicians, until 1970.

As Tymepiece they issued three Singles on the Festival label, beginning with "Bird in the Tree" / "I Gotta Know What You're Like" in August 1968, followed by a cover of The Small Faces' "Become Like You" b/w "Give a Little More" in November 1969 and "Won't You Try?" b/w "Down and Out" in October 1970.

Tymepiece then moved to Festival's progressive subsidiary label Infinity for the release of their ultra-rare debut album, Sweet Release (February 1971). Ian McFarlane describes it as "a diverse range of moods and styles, from psychedelic pop ("Why?"), folk ("Reflections") and country ("Sweet Release") to R&B ("I Love, You Love") and the pulsating, eight-minute heavy progressive blues ("Shake Off")."

Fortunately, this highly regarded album, long out of print, has now been reissued on CD by Vicious Sloth Collectibles. Regrettably the band itself broke up not long after the album's release in 1971, although Alan Oloman later turned up in the 1974 line-up of The Executives.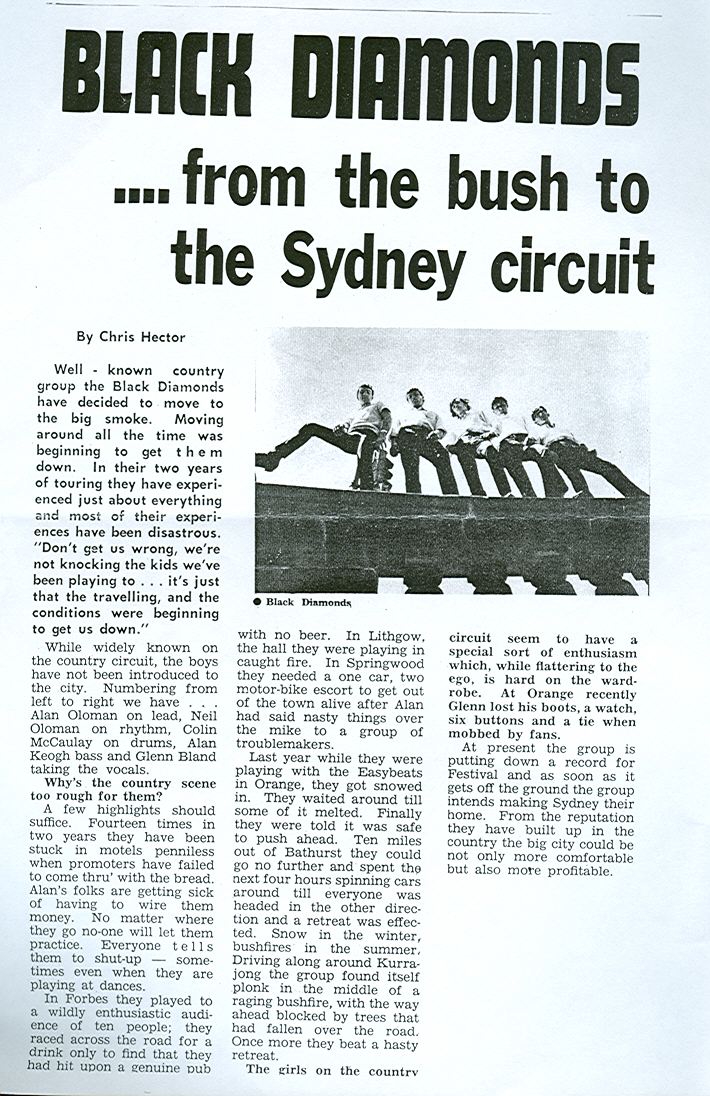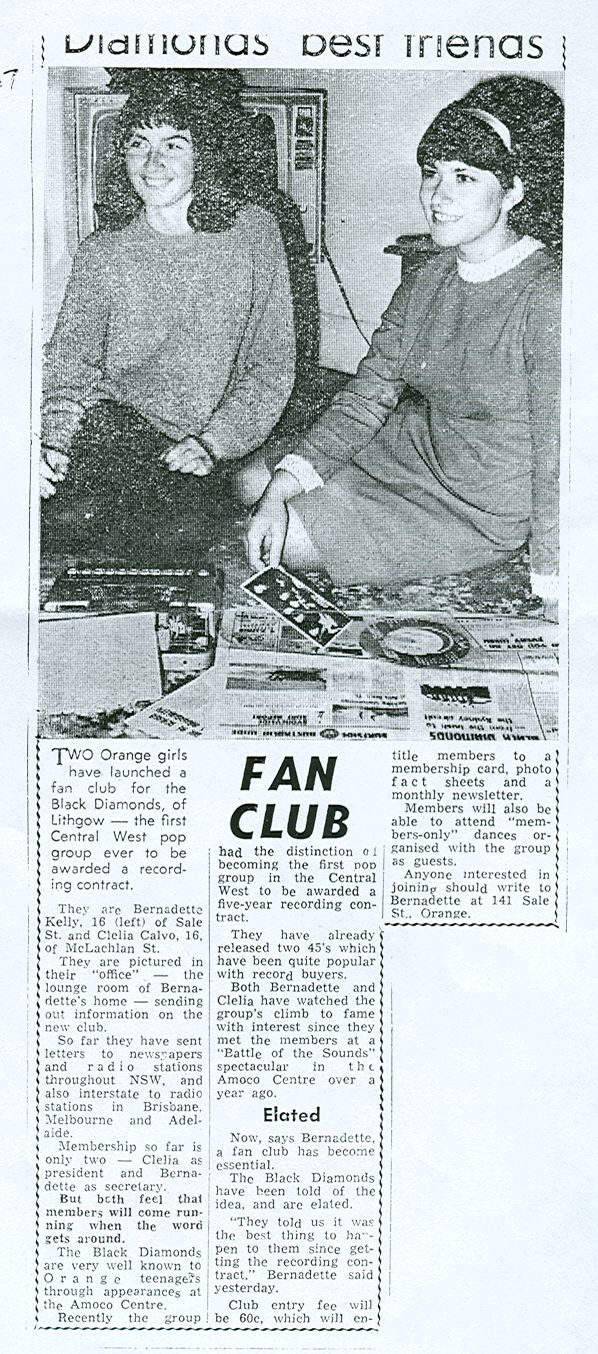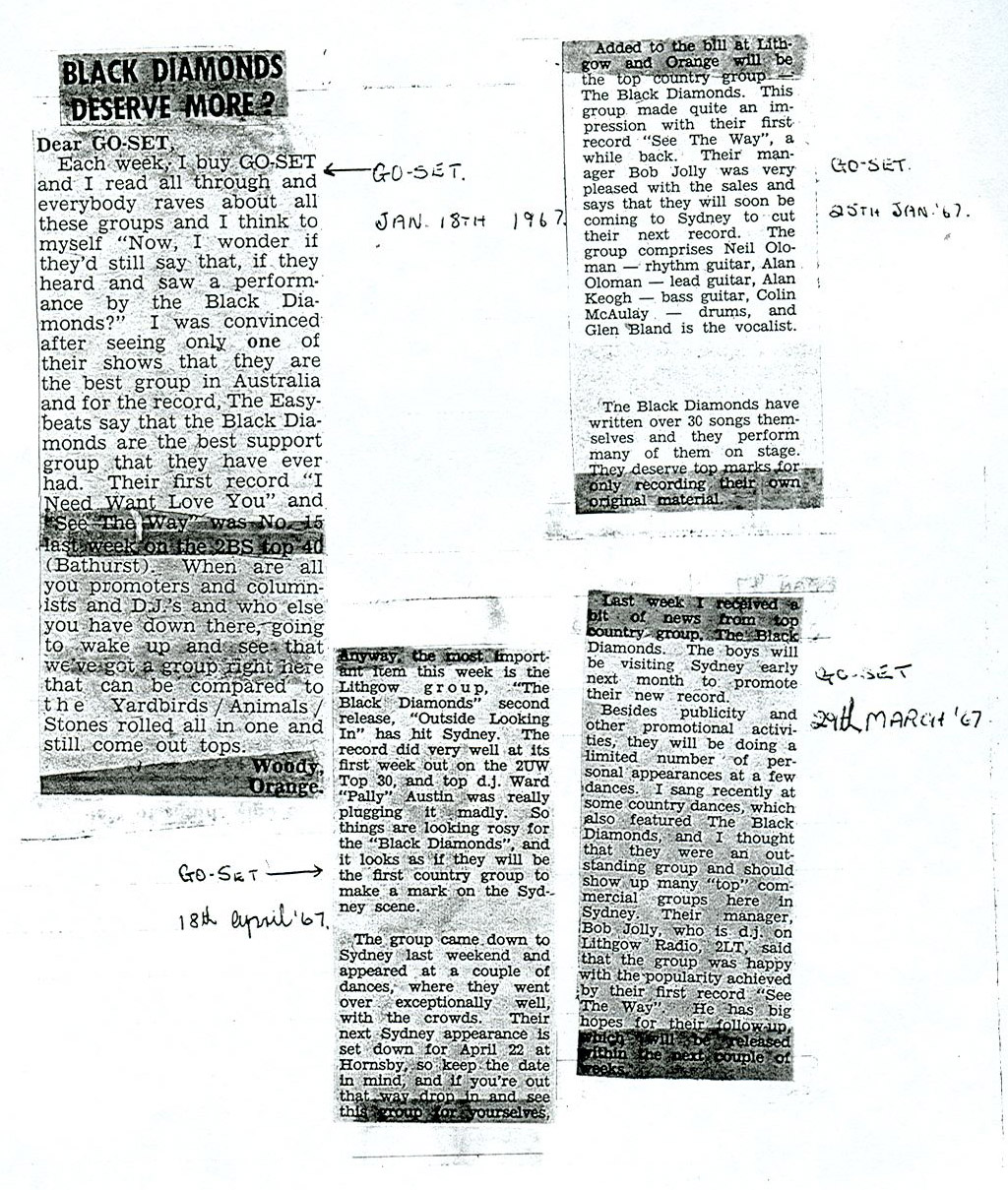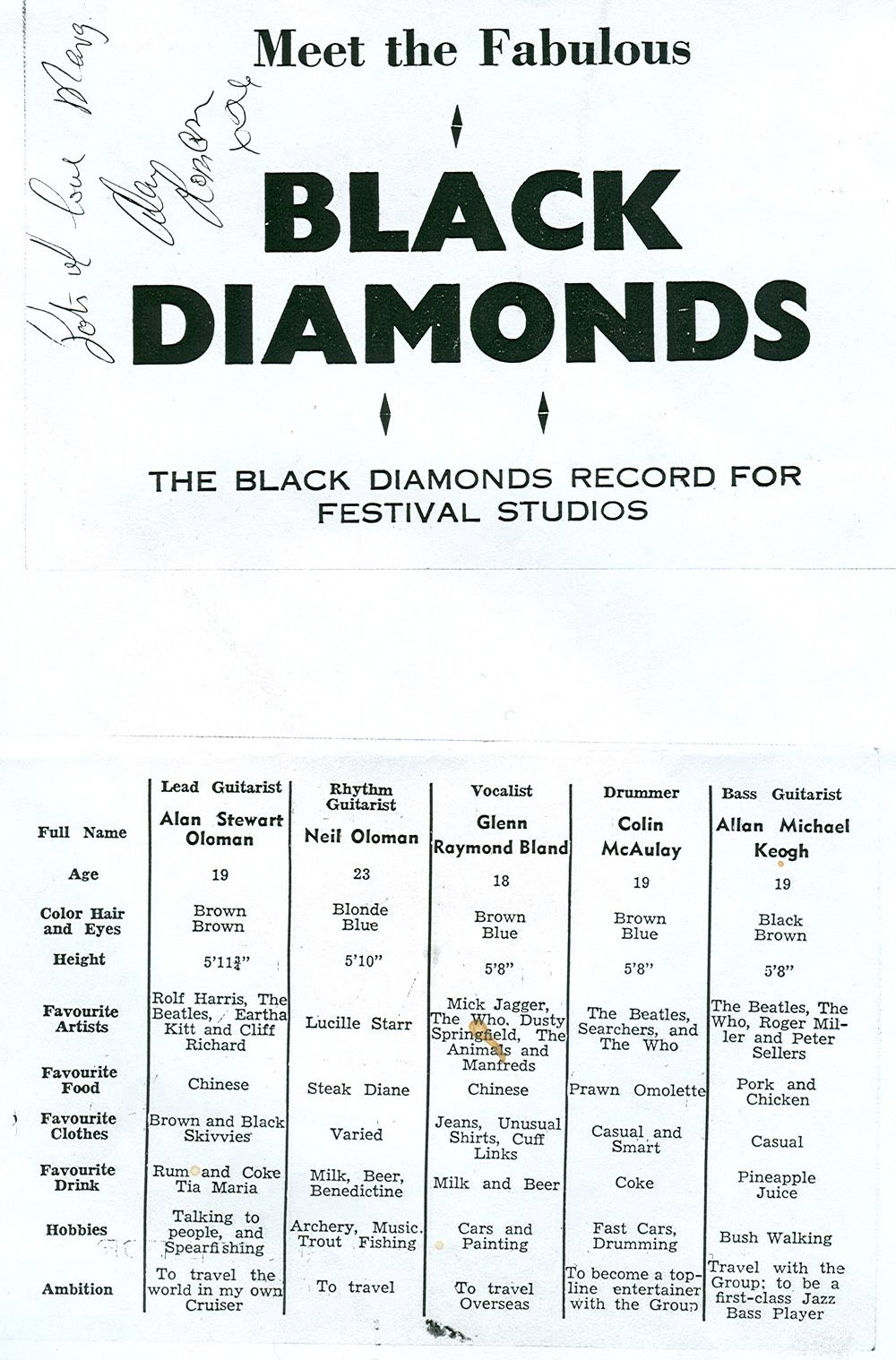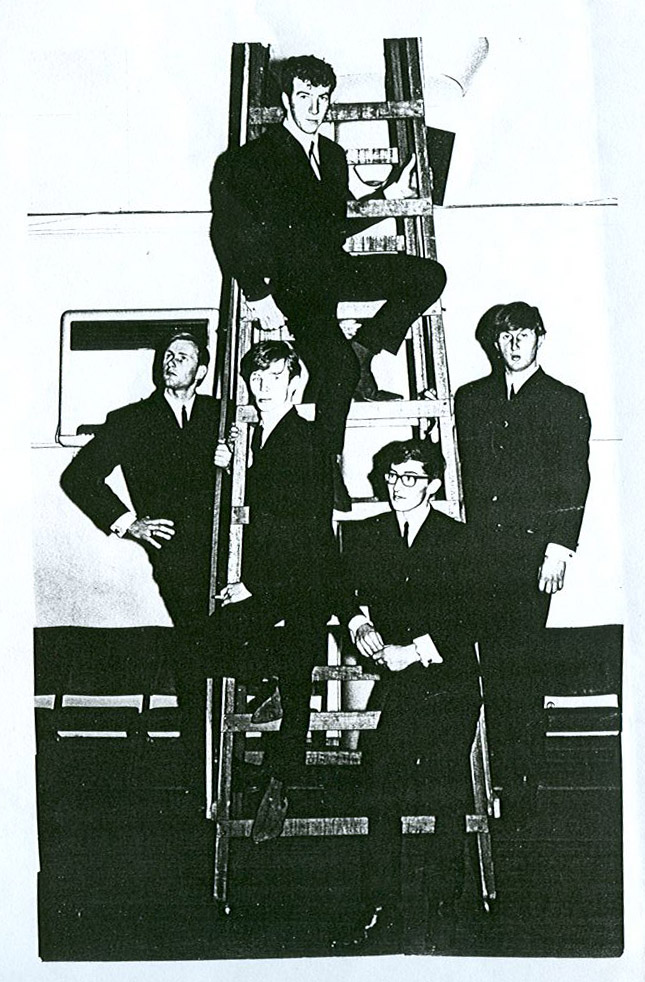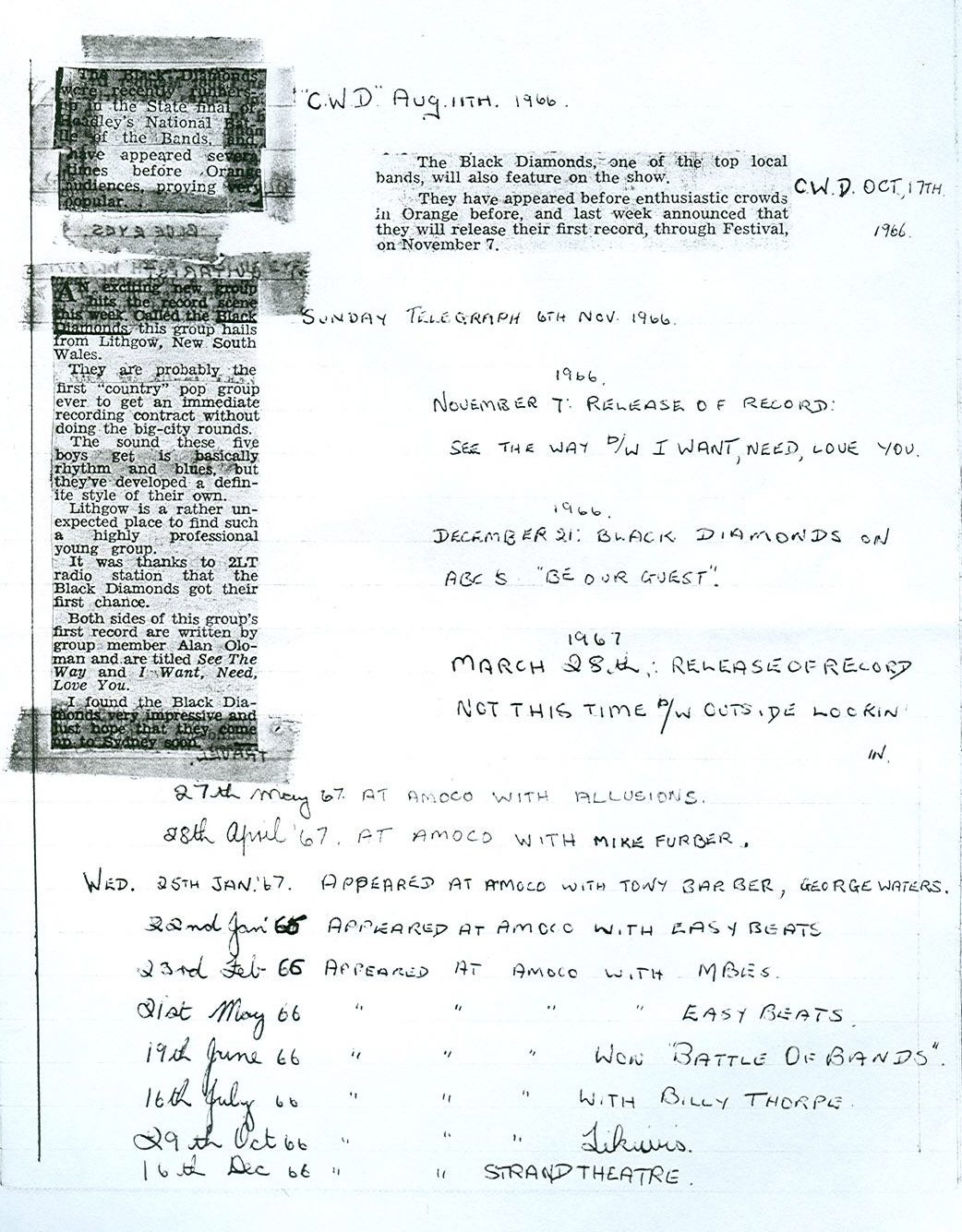 Click to enlarge
Discography
NOTES: - "Shake Off" is included on Raven's 2-CD set Golden Miles: Australian Progressive Rock 1969-1974
- "See The Way" and "The Bird In The Tree" are included on Festival's 3CD version of So You Wanna Be A Rock'n'Roll Star?
- "I Want, Need, Love You" is included on on Raven's Ugly Things
- "Not This Time" is included on the Ace (UK) CD compilation Hot Generation
Singles
The Black Diamonds:
Dec. 1966
"See The Way" / "I Want, Need, Love You" (Festival FK 1549)
Produced by Pat Aulton
?/1967
"Outside Lookin' In" / "Not this Time" (Festival FK 1693)
Produced by Pat Aulton
The Love Machine:
?/1968
"The Lion Sleeps Tonight" / "Lonely Hearts Club Christmas" (Festival FK-2526)
Produced by Pat Aulton
Tymepiece:
Aug. 1968
"Bird in the Tree" / "I Gotta Know What You're Like" (Festival FK 2457)
Nov. 1969
"Become Like You" (Marriott-Lane) / "Give a Little More" (Festival FK 3369)
Oct. 1970
"Won't You Try?" / "Down and Out" (Festival FK 3702)
LP
1971
Sweet Release (Festival/Infinity SINL-934113)
Reissued by Vicious Sloth (VSC010) CD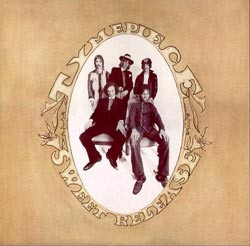 "Why?" (Oloman)
"I Love, You Love" (Oloman-Kristopher-McAulay-Rosser-Wilkinson)
"Sweet Release" (Oloman)
"Nuts" (Oloman)
"Won't You Try" (Oloman-Kristopher)
"Reflections" (Oloman-Kristopher-Rosser)
"Shake Off" (Oloman-Kristopher)
"Take Me Back" (Oloman-Kristopher-Rosser)
"Joseph Straite" (Oloman-Kristopher)
"Home Song" (Oloman)
Bonus tracks on CD:
"Bird In The Tree" (Wilkinson-Oloman-Aulton)
"I Gotta Know What You're Like"
"Become Like You" (Marriott-Lane)
"Give A Little More" (Oloman)
"Down And Out" (Oloman)
References / Links
Ian McFarlane
Encyclopedia of Australian Rock & Pop (Allen & Unwin 1999)
Vernon Joyson
Dreams, Fantasies & Nightmares: - Australia (Borderline Books, 1999)
Vicious Sloth Collectibles
www.vicioussloth.com.au
J.J. Cale singles disography
http://www.geocities.jp/hideki_wtnb/j.j.cale.html
J.J. Fix
http://perso.magic.fr/aramis/jjhist.htm
ABC "Be Our Guest" film-clips on You Tube
"See The Way"
"I Want, Need, Love You
Special thanks to Andrew Ainsworth for images and additional information.