THE VIRGIL BROTHERS
Melbourne / UK 1968-70
Peter Doyle (vocals)
Rob Lovett (vocals)
Mick Hadley (vocals) early 1968
Mal McGee (vocals) mid-1968 - 1969
Danny Robinson (vocals) 1969-70
History
Formed in early 1968, The Virgil Brothers was a "blue-eyed soul" vocal trio whose style was closely modelled on thoseother well-known Sixties "brother" acts, The Righteous Brothers and The Walker Brothers -- but like those groups, the three members of The Virgil Brothers were of course not related.
The idea of trio of peroxided young Anglo-Aussie lads in matching suits performing a "deep soul" repertoire might seem like a contrived novelty act, but it was driven in part by the realities of the Aussie music scene in the late 1960s. For most Australian pop fans of the time, authentic American soul /R&B was an exotic and rarely-heard commodity. The regretttable fact is that there was a persistent racist agenda at work in the record industry and in commercial radio -- except for proven Motown and Atlantic hits, the major Australian labels rarely released original American soul/R&B records locally, and Australian commercial pop radio stations strongly resisted playing them. One of the few Aussie DJs to feature this music with any regularity was the late, great Stan "The Man" Rofe, and Wayne Mac's superb tome on the history of commercial radio recounts an infamous incident at a Melbourne station in 1966, when a DJ made the mistake of playing the newly-released Phil Spector masterpiece "River Deep, Mountain High". When he heard the record going out over the air, the station's program manager stormed into the studio, tore the single off the turntable, rounded on the stunned jock and barked: "Don't ever play this nigger shit on my station again!".
As a result of these industry policies, American soul, R&B and funk was largely kept off the Australian airwaves and out of the shops, and it wasn't really until the mid-1970s, and the onslaught of disco, that original recordings by American soul-based artists started to get significant airplay in Australia. This is a major reason why Australian audiences were so captivated by later recyclings of soul classics in movies like The Blues Brothers and The Commitments Despite the restrictions on records, Australasian pop musicians had developed a strong affinity for the style, and material originally recorded by artists like Sam Cooke, James Brown, Wilson Pickett Otis Redding and Sam & Dave soon became a staple part of the repertoire for a slew of Australian and New Zealand bands, with acts like Max Merritt & The Meteors, Jeff St John, The Groop and The Groove achieving considerable success with their interpretations of American soul, R&B and funk. A good example is the Sly & The Family Stone classic "Sing A Simple Song" -- it's doubtful that this ever recieved any significant airplay on commercial radio in Australia, yet it was recorded by many artists including Jeff St John and Kerrie Biddell.
The original lineup definitely constituted a 'supergroup' in Australian terms, so it's not surprising that they were heavily hyped in the local media at the time. The various members were all came from very significant Australian bands of the 1960s -- Mick Hadley came from Brisbane's trailblazing Purple Hearts, Rob Lovett, had been the rhythm guitarist-singer with the original Wild Cherries (1964-66) and was of course a member of '60s Oz Rock icons The Loved Ones, and Malcolm McGee had been the lead guitarist and singer with the 'Mark I' Wild Cherries, before moving to Sydney to front renowned soulsters Python Lee Jackson.
This original lineup was shortlived -- Mick Hadley dropped out after a few rehearsals, and he was replaced by singer Peter Doyle.
Mick Hadley: "After the Purple Hearts broke up in '67 I went back to the UK for nine months. While in London Lily Brett rang me and asked me to join Rob Lovett from The Loved Ones and Mal McGee from Python Lee Jackson to form The Virgil Bros -- three blond hunks with gravitas (sorry for the hyperbole) to form a Walker Bros type act."

"We rehearsed a couple of times but it was not me. I was too much of a free spirit. I just wanted to play raw British style R&B, the wilder and dirtier the better. So I ended up with the Brisbane Coloured Balls with Robbie van Delft (one of Australia's most underrated guitarists) and my old mate Bob Dames from the Hearts. The Virgils were great talent but they were a pop product set for the supermarket shelves and I could not go there. Lilly was a good friend of mine and it broke my heart to let her down and I am glad Peter took my place and the Virgils lived on."
Peter Doyle, then aged only 18, was already being described as "Australia's most underrated singer". The gifted young performer began his career at age 10, when he joined Swallow's Juniors following his success in a TV show's talent contest. Peter began he had enjoyed solo success in the mid-1960s and released several Singles on Ivan Dayman's Sunshine label, followed by a short stint as lead singer of the Melbourne band Grandma's Tonic.
The Virgil Brothers were signed to EMI's Parlophone imprint, and spent several months rehearsing and preparing for their debut with noted British producer-arranger Johnny Arthey and their musical director David Mackay, the EMI staff producer renowned for his work with The Twilights and Johnny Farnham. The Virgil Brothers received plenty of advance publicity in Go-Set thanks to the fact that they were managed by Go-Set staffer (and future novelist) Lily Brett.
In May 1968 Go-Set reported that the group had spent four months in preparation, working on their presentation, learning their musical arrangements, honing their stage act and creating their 'look', which included matching cream suits -- and matching blonde hair. In an interview, Peter Doyle explained that although all three group members could play more than one instrument, they would not be playing their own backing, another group and orchestra would be providing the music.
The Virgil Brothers made their live debut on Tuesday 4 June 1968 at the Menzies Hotel in Melbourne, with radio station 3UZ on hand to tape the show for a later broadcast. It is not known whether this tape has survived but a taped performance on The Go!! Show still exists -- it is part of the trove of Channel 0 pop show material that has circulated among collectors for several years, and copies of three hours of excerpts are now in the collection of the National Library of Australia.
The following Sunday afternoon they appeared at Melbourne's Festival Hall, co-starring with Johnny Farnham on a bill that also featured The Mixtures, Cam-Pact, Marcie Jones & The Cookies and crack Melbourne 4-piece The Rondells (who presumably backed both The Virgil Brothers and Marcie & The Cookies for their performances).
The following week EMI released their group's debut single "Temptation 'Bout to Get Me" (backed with "I See Her Face"); the A-side was a powerful cover of the 1965 song by American soul duo The Knight Brothers. In a remarkable coincidence, The Knight Brothers' original recording was produced by Billy Davis, who later co-wrote"I'd Like To Teach The World To Sing", the biggest hit for Peter Doyle's later band, The New Seekers.
Predictably it received rave reviews in Go-Set -- Stan Rofe declared it to be the best Australian record he had heard in his 10-year career as a DJ, Johnny Farnham and Johnny Young both said they had been knocked out the first time they heard it and Jim Keays of Masters Apprentices said that it was a " ...very courageous attempt at something new, which is successful.Vocally they are the cream of all Australian talent".
Notwithstanding the hype, "Temptation 'Bout to Get Me" was a superb rendition and it became a major hit -- it made the national Top 40, peaking at #26 in July, mainly thanks to its strong chart performances in Melbourne (#13) and especially Brisbane, where it reached #6. It also won a major radio industry award as "Record of the Year", earning the group a trip to the UK under the same management as Cliff Richard. The Virgil Brothers was quickly followed up with a second single, "Here I Am" (Sept. 1968) which was backed by a cover of The Temptations' "Shake Me, Wake Me", but it failed to penetrate the charts.
Early in 1969 the Virgil Brothers travelled to the UK aboard the Fairstar; among the other passengers were The Groove who were availing themselves of the the prize they had received for their victory in the 1968 Hoadley's National Battle of the Sounds. Almost as soon as they arrived in the UK in April 1969, Mal McGee decided to quit. His replacement was another of Australia's best male vocalists, Danny Robinson (ex Wild Cherries Mark II) who was flown over from Australia.
The group's UK engagements included a weekly spot as guest artists on The Frankie Howerd Show and also an appearance on Joe Brown's TV show, Set 'Em Up, Joe!. "Temptation 'Bout to Get Me" was released in the UK with the original B side (co-written by Lovett) replaced by a Peter Doyle song "Look Away". In the UK as in Australia the single was issued on the Parlophone label although in the US and Canada it came out on the Tamla Motown subsidiary Rare Earth .
The third and final single was released in the UK in September 1969. "When You Walk Away" was co-written by Shadows member Hank Marvin (who later co-wrote the title track of Peter's 1976 solo album, Skin Deep. The B side was "Good Love".
According to Vernon Joyson, the backing for this single was provided by Quartet (which was actually a five-piece), which was a 'supergroup' in its own right. It comprised jazz renowned jazz keyboardist/composer Dave MacRae (The Goodies, Matching Mole), ex Twilight Terry Britten, and three former members of Adelaide band James Taylor Move who were fast becoming sought-after session players in London -- guitarist Kevin Peek, bassist Alan Tarney and drummer Trevor Spencer. Peek of course went on join 70s classical-rock supergroup Sky (with John Williams, Herbie Flowers and Francis Monkman) and Tarney and Spencer became both an in-demand session rhythm section, and a highly successful songwriting and production duo.
Like so many other Australian acts, The Virgil Brothers found it impossible to gain a foothold on the cutthroat British music scene, and by the time they hit the UK the vogue for Walker Brothers styled "blue-eyed soul" had long since been ecplised by newer trends like progressive and heavy rock and "glam". The group split in early 1970.
After The Virgil Brothers ...
- Peter Doyle remained in the UK and went on to great success as a member of The New Seekers. He continued to work in the UK and the USA after leaving the group, released a solo album and in the mid-1970s was reportedly offered the chance to become the lead singer of the newly-formed LRB, but turned it down. He returned to Australia
- Rob Lovett
- Danny Robinson returned to Australia, where he had another shortlived success as the voice behind the hit 1970 Australian version of Cat Stevens' "Wild World", which was credited to the fictitious band Fourth House. He also contributed backing vocals to COmpany Caine's acclaimed 1971 LP A Product of a Broken Reality; contrary to Noel McGrath claims in his 1978 Encyclopedia, Danny did not go into 'semi-retirement' -- he continued performing in the 1970s and beyond with groups including Duck, Hit and Run, Champions and Rite on the Nite, and his unmistakeable voice was heard on many well-known advertising jingles.
- Malcolm McGee ...
Discography
Singles
Jun. 1968
"Temptation 'Bout To Get Me" (Diggs) / "I See Her Face" (Lovett-Young) (Parlophone A-8390)
Produced by David Mackay, arranged by Johnny Arthey

Sep. 1968
"Here I Am" (Weiss-Wilkins) / "Shake Me, Wake Me" (Holland-Dozier-Holland) (Parlophone A-8470)
Produced by David Mackay, arranged by Johnny Arthey

Sep. 1969
"When You Walk Away" (De Scalzi - Di Palo - Marvin) / "Good Love" (Walters - Sebo) (Parlophone R 5802) UK
Produced by David Mackay, arranged by Johnny Arthey
Also released in The Netherlands Parlophone SC006.04325M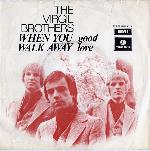 EMI Netherlands picture sleeve
EP
The Virgil Brothers (Odeon) - Brazil only
"Temptation 'Bout To Get Me" / "Look Away" // "When You Walk Away" / "Good Love"

References / Links
Many thanks to Mick Hadley for information about his involvement with The Virgil Brothers.
Peter Doyle website
http://www.peterdoylewebsite.net/virgilbrothers/vb01.htm
Spencer, Chris, Zbig Nowara & Paul McHenry
Who's Who of Australian Rock (Five Mile Press, 2002)
Ian McFarlane
Encyclopedia of Australian Rock (Allen & Unwin, 1999)
Noel McGrath
Australian Encyclopedia of Rock (Outback Press, 1978)
poparchives
http://www.poparchives.com.au/feature.php?id=218