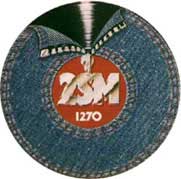 From around 1970 until the mid Eighties, 2SM dominated Sydney commercial radio. At its peak in the late Seventies it was the highest rating and most profitable station in the history of Australian radio. It epitomised and defined commercial AM Top 40 radio practice around the country for fifteen years and long after 2SM itself lost popularity, its successful programming formula was still influencing its FM band successors like Sydney's Triple-M and Nova.
In the Seventies, the freewheeling programming policies of the ABC's youth station 2JJ (Double Jay) were to a large extent formulated in direct opposition to 2SM's rigid "More Music" formula, yet ironically Double Jay's FM successor Triple J eventually came to emulate its former rival after former 2SM program director Barry Chapman was appointed to manage Triple J's transition from its Sydney base to a national network.
2SM is one of Sydney's oldest radio stations. It commenced broadcasting on Xmas Day, 24 December 1931 and from its foundation until 1992 it was owned by the Catholic Broadcasting Company, which was controlled by the Catholic Archdiocese of Sydney. The "SM" call sign was apparently taken from Sydney's St Mark's Church (not St Mary's Cathedral, as many believe). Not surprisingly, for most of its life 2SM followed a conservative line in its programming and was promoted as "The Family Station".
In 1958 2SM moved to premises at 257 Clarence St, Sydney but for the next five years it maintained its conservative family-oriented style. At the time, the station was run by General Manager Bill Stephenson, who started his radio career at 2UE in the '40s before moving to 2SM in the 50s; he later received an OBE for services to broadcasting. In September 1963 Stephenson oversaw a radical overhaul of 2SM's format when the station finally commenced 24 hour service. In those days it was still common for radio and TV stations to close in the late evening and, as many readers will recall, this practice persisted in commercial television well into the Seventies. 2SM was relaunched as a Top 40 station, featuring with Australia's first team of disc jockeys, dubbed "The Good Guys" -- a US radio inspired format subsequently copied by 3AK, 5KA, 6PR and others. This set the trend for years to come, with 2SM relying heavily on adapting of formulaic programming strategies sourced from American commercial radio, which in turn were then picked up by other stations around the country.
2SM rapidly gained popularity with youth audiences during the wave of Beatlemania in '64, thanks in part to a coup scored by DJ Bob Rogers, who won the exclusive right to accompany the Fab Four on their tour of Australia. Battling its rivals 2UE and 2UW and against stiff resistance from the station's conservative board, Stephenson took 2SM to the top of the ratings, but this success was to be short-lived. By the end of 1965, the CBC had evidently decided that the station's push to capture the youth audience had gone too far and the Good Guys team was disbanded in favour of a more 'mature' approach called "King Radio". Teenage listeners deserted the station in droves and flocked to its competitor, 2UW, which for the next four years was Sydney's most popular Top 40 station.
Searching for an alternative, in early 1967 2SM became the first station in the country to adopt the new "talkback" technology which enabled presenters for the first time to broadcast phone conversations with members of the public. Some sources claim that Melbourne's 3AW was the first, but this appears to be erroneous. The winner -- on a technicality -- was Ormsby Wilkins of rival station 2UE which broadcasting a 'one-off' half hour of talk-back following the midnight news on 17 April 1967 as a demonstration of the new open-line system. This enabled 2UE to claim they were first, but according to radio historian Wayne McCardell it was indeed it was 2SM and Walsh who presented Australia's first regular talkback program.
Prior to 1967, the broadcasting of telephone calls was prohibited by Australia's broadcasting regulations, mainly because of the fear that callers might make seditious, libellous or obscene comments. But the invention of the tape delay system (which used a seven second duration tape loop to delay caller voices) made it possible for presenters to censor any offending comments before they hit the airwaves. Former Good Guy Mike Walsh is usually cited as the first presenter to host an all-talkback show. "2SM's Two Way Radio", as it was called, was broadcast throughout 1967 and most of 1968.
2SM subsequently relegated the format to a more minor role in the station's programming, but talkback proved a goldmine for other stations reluctant to take on the Top 40 format. It became an AM radio staple and for both commercial stations and the ABC, it certainly proved to be a vital tool for news, current affairs and commentary. Ironically, talkback survived long after Top 40 vanished and to this day it remains the backbone of AM radio, and the most popular, profitable and influential format in the industry. Talkback kings like John Laws and Alan Jones command huge ratings and astronomical salary packages (although in recent years the image of both the format and its top stars has been considerably tarnished by the controversial "cash for comments" scandal uncovered by the ABC's Media Watch).
Former Good Guy Rod Muir was the key figure in the changes that followed. In late 1968 he was appointed as 2SM's new Program Manager and he oversaw a complete overhaul of the station's presentation and programming style, based on trends he had observed in American radio during a visit there. In November 1968 2SM reverted to an all music format. Exploiting the popularity of the satirical program "Laugh In", the station introduced a new positioning, "Sock it to Me" (which conveniently included the station call letters) and which included promotional gimmicks such as station messages voiced by 'celebrities' such as NSW Premier Robert Askin.
Muir developed a new team of Good Guys for 1969, including the return of "resident loon" Mad Mel (where is he now?) and during that year 2SM aggressively fought to regain the youth audience it had lost to 2UW. During 1970 2SM established itself as one of the most promotionally active and innovative commercial stations. Muir successfully transplanted the American "More Music" format to Sydney, making minor adaptations for the Australian market. With stringent format policies applying to music flow, commercial content, what announcers said and the placement of jingles, 2SM redefined the whole premise of music based radio in Australia. Key to the More Music philosophy was a strictly limited, high rotation play list of around 30 songs and which at peak times reputedly included as few as 15 songs in one three-hour shift.
The new format had several significant effects. First and foremost, it brought to an abrupt end the days of the true "personality" DJs, as exemplified by 2UW's Ward "Pally" Austin and 3XY's legendary Stan "The Man" Rofe. The rigid formatting restricted the on-air presentation, replacing it with a highly affected, American-style presented by a largely faceless and interchangeable roster of "rock jocks".
But even more significantly, the "More Music" format took programming decisions out of the hands of DJs and put them into the hands of consultants and back room programming executives. In previous years presenters like Austin and especially Rofe had a "open door" policy and they actively encouraged both new and established artists alike to come to the station with new singles. Rofe in particular was an ardent supporter of the Melbourne music scene (he even imposed a personal boycott on records from Sydney at one point) and his personal support for and encouragement of local music was crucial to the success of acts like Johnny O'Keefe, Johnny Chester, The Easybeats, Normie Rowe, The Masters Apprentices, The Groop, Russell Morris and countless others.
As the More Music format took hold, support for local music fell away drastically -- a comparison of the charts from 1966 (the peak year for Australian charting records in this period) and the charts for 1973 show a massive swing away from locally produced music in favour of American product.
Nevertheless 2SM's new "More Music" format proved hugely popular and vastly profitable --according to Barry Chapman, 2SM's profits increased from $1.5 million to $6 million in the first year. For the next six years 2SM reigned supreme in Sydney and it was without question the most successful station in the history of the industry. This tremendous success led to the formation of Digamae, a radio consultancy founded by Muir, with two of this 2SM colleagues, Trevor Smith and Hans (Jan) Torv (the brother of former journalist Anna Torv, who until the late 1990s was married to media magnate Rupert Murdoch).
Digamae began selling the More Music format and their programming expertise to other commercial stations and it was soon picked up by Melbourne's 3XY, Newcastle's 2NX, Brisbane's 4IP, 5AD in Adelaide and 6PM in Perth, creating an informal network of soundalike stations in almost every capital city. Backed by their obvious achievements at 2SM, Digamae became one of the most successful media businesses of the day and it made Muir a very rich man indeed, as his colleague Barry Chapman recalled in an interview with broadcaster Debbie Kruger:
"Muir in about '72 set up this company called Digamae. It was himself, Jan Torv [sic] and Trevor. Digamae kind of set up this whole More Music format in Australia and they all had Jags and were driving around town, go to lunch, have a meeting with the Program Director and the jocks and leave again, that was their consultancy role. All around Australia. Muir had a full-time penthouse suite at the Old Melbourne Inn with his own wardrobe there, set up for when he went to Melbourne. The Melbourne story as I understand it — I was never witness to it — but as it's told, was that 3XY who were owned by The Age wanted the More Music Format. Muir said no, don't want to do it, not interested. They offered him a substantial amount of money and he said no. And in the end he was paid I think a quarter of a million dollars up front, this was in 1972, and 50% of the profit increase that 3XY would make over the term of the contract. Of course they went from 9% to 26 or 27% — through the roof. So Muir made an absolute fortune. So in all this bloody rigmarole, he'd got well and truly off-side with the Catholic Church, 'cause it was opulence beyond belief. When I came to Sydney in '75 to be a jock Muir took me to lunch at the San Francisco Grill at the Hilton Hotel and he had his own personally engraved gold serviette ring. Out comes a bottle of Dom Perignon and away you go. That was kind of de rigueur. Every party it was Dom."
During 1975 2SM introduced its famous denim zipper logo (pictured at the top of the page). Although the logo is inextricably linked with 2SM, according to radio historian Wayne Mac it was actually created for Brisbane pop station 4IP by a company called Eagle Marketing and was subsequently picked up by other stations including 2SM, 3XY and 2NX.
At the start of 1975 2SM was faced with the first substantial challenge to its dominance over Sydney's youth market, although supporters of the station still tend to downplay or even dismiss its significance. On 19 January the ABC launched Australia's first 24 hour non-commercial pop music station, 2JJ (Double Jay). It had what was by commercial standards a tiny budget and was long hampered by inadequate transmitter facilities, which for years made it almost impossible to be heard in certain areas of Sydney, especially in the northern and eastern suburbs. But Double Jay quickly made significant inroads with the youth audience, capturing around 10% of the vital 18-25 audience, placing it second only to 2SM in that demographic.
From the very first song played on air it was clear that the new station was intent on thumbing its nose at the supposed dominance of 2SM. It famously opened the first day of broadcasting by playing Skyhooks' You Just Like Me 'Cos I'm Good In Bed, one of six tracks from Skyhooks' debut album which had been banned by commercial stations. The song's airing was galling to commercial radio, and particularly 2SM, who had to regularly censor or ban tracks at the behest of its owners, the Catholic Church, and it predictably drew howls of protest from commercial radio, FARB. In another deliberately provocative move, the announcer chosen to host the inaugural shift was Holger Brockman and Double Jay gleefully played up the fact the fact that in his previous job at 2SM he had been obliged to work under the WASPish pseudonym, Bill Drake. Even Double Jay's promotional material carried a sly dig at 2SM; the famous spaceship posters publicising the launch carried the slogan "The Head of the Dial", which was both a druggy in-joke and a dig at 2SM, which at one point promoted itself as "The Top Of The Dial" (at that time they were at the far upper end of the AM band) -- but it was a slogan they were now unable to use because Double Jay had been given a frequency above 2SM, at 1540kHz.
The Skyhooks incident highlighted one of 2SM's biggest handicaps -- censorship. Because it was wholly owned by the Catholic Church, 2SM was routinely required to censor or ban tracks which were deemed to contain "offensive" concepts or language.
Barry Chapman: "You go back into the early days of 2SM, the lyrics in "Maggie May" — "All she did was mess my bed and in the morning kick me in the head" — that was edited out. "Tonight's The Night" was very controversial when we put it on, but we said this is our business and this is what we're playing. And in the four or five years on it kind of moved on a bit. But there were still songs that were contentious ... any kind of language whatsoever. I mean, the famous "Money" [Pink Floyd] — "Don't give me no goody good (katching!) bullshit" — a cash register was edited into the song that 2SM played because you couldn't say "bullshit" on the air.
Among the many other casualties were The Hollies' Too Young To Be Married (banned because of its theme of premarital sex) and Lou Reed's Walk On The Wild Side (of course) and The Beatles' The Ballad of John and Yoko (first banned, later bleeped because of the use of the word "Christ" in the chorus. As well as its internal censorship, 2SM was also obliged to follow the self regulation guidelines set down by its peak industry body, FARB, and the national guidelines set by the government's industry regulator, the Broadcasting Control Board. Needless to say, commercial stations like 2SM found it extremely galling that Double Jay could effectively play whatever they liked, a freedom they enjoyed because the ABC answered only to the ABC Board and Minister for Communications.
Double Jay's coordinators Marius Webb and Ron Moss spoke openly to the media about what they saw as the restrictive and repetitive programming policies of commercial radio, and although not named explicitly, it was implicit that much of their criticism was aimed directly at 2SM. One of the major reasons for the establishment of Double Jay was a strong perception in the ABC, the government and the community that stations like 2SM were simply not catering for the 18-25 age group and that commercial radio failed to reflect the great diversity of music that had emerged since the Sixties, both locally and overseas. Reggae, for example, was a hugely influential new style which was already a significant force in the UK and Bob Marley was already a major star there, but both he and his style of music were still totally unknown in Australia and it would have been unthinkable to have heard reggae on 2SM in those days. Double Jay, by contrast, were soon devoting an entire three-hour shift on Sunday evenings to a show called The Dogs Of Babylon, which consisted entirely of hardcore Jamaican dub.
Another thorny issue was gender equity. Even today, the broadcast industry remains a haevn of sexism and the vast majority of presenters are still male. The only major exception in radio is the breakfast shift, where stations like 2DAY and WS have in recent years finally begun employing women, and it's ironic to note that the current top-rating breakfast shift in Sydney (on 2DAY-FM) is hosted by a woman, Wendy Harmer. But back in the seventies such innovations were still decades away. In 1975 Double Jay was making history with the first female rock DJ in the world -- former John Laws producer Gayle Austin -- and over the next few years they added more women to the line-up including Pam Swain and Keri Phillips. But over at 2SM it was business as usual with an all-male line-up and throughout this era women in commercial radio were relegated to on-air support roles such as weather, news (if they were lucky) and backroom roles like production, reception, personal assistance and marketing.
In the long term 2SM and its restrictive More Music format was sowing the seeds of its own downfall. In a 1985 Sydney Morning Herald 'Guide' article examining why 2SM had fallen so low in the ratings, former 2SM breakfast personality Nick Jones argued that one of 2SM's cardinal errors was that it had failed to heed the first commandment of Top 40 radio -- "play the hits". His assertion is debatable, but what it entirely failed to address was the critical question of how songs became commercial radio hits in the first place.
In earlier years DJs like Rofe and Austin were constantly premiering new material and trying it out on their listeners -- Rofe was well known for playing material he particularly liked two or three times in a row, introduced by his famous phrase "I like it so nice, I'm going to play it twice!" But as More Music became entrenched it became more rigid and more reliant on overseas trends If songs were played more than once, it was because DJs were obliged to do so. Commercial programmers became increasingly reluctant to expose listeners to anything unfamiliar, fearing that it might alienate them and ultimately drive them from the station, with the consequent loss of ratings and the all-important advertising revenue they attracted. Thus the commercials steadily backed away from trying out new local material and new international music. Instead began to rely on material from that was already a proven hit overseas and increasingly resorted to market research techniques such as focus groups in order to preview new material off-air and determine which singles and artists had the greatest chance of success. There would also have been a considerable (and quite understandable) reluctance to mess with the formula that sent their ratings and profits through the roof.
The result was little short of disastrous for many local bands. Airplay dried up, performers found it harder and harder to get material played, and local singles and albums that ought to have been successful either barely grazed the bottom end of the charts or failed to chart at all. There was the odd anomalous success, but even these were telling examples, like soundtrack to the Albie Falzon surf classic Morning Of The Earth, which became Australia's first soundtrack LP to earn a gold record, despite the fact that it was totally ignored by commercial radio.
There can be no denying that this was in fact what happened, because quite early on the commercial stations inadvertently turned the spotlight onto their own restrictive programming practices when they imposed the infamous Radio Ban of 1970. The Ban was the the result of a simmering "pay for play" dispute between the commercial radio and the record companies. Just as they tried to do in the 80s, the record labels argued that they were supplying the stations with free programming and that the stations ought to pay a fee for each record. The radio stations justifiably balked at the idea, pointing out that in fact they were providing the record companies with literally millions of dollars' worth of free promotion. When the dispute reached an impasse in May 1970, the commercial radio industry body FARB (the Federation of Australian Radio Broadcasters) imposed a ban on all product from major labels -- although, significantly, American labels were evidently exempt from the Ban.
It is well documented that the Ban had several important effects. On the down side, it has been claimed that it either seriously hampered or even killed the careers of a number of local acts -- although even here there were anomalies, like the Masters Apprentices' Turn Up Your Radio which became a major hits even though it was released by EMI and therefore supposedly banned -- this may have happened because of the support of key people like Stan Rofe, who played the songs regardless of the Ban, but the increasing importance of pop TV shows like Happening 70 and Hit Scene were undoubtedly also a major factor.
But on the upside, several local groups (e.g. Autumn, Fourth House) were able to score major hits with covers of songs that had been hits in the UK, simply because the originals were banned -- had the Ban not been in place there is no question that these covers would either not have been recorded or would have been blown out of the water by the original versions.
But perhaps most important effect of the Ban was that it sent stations scrambling for material to fill the gap. Into the breach stepped a number of small local independent labels such as Sparmac and Fable, who were able to gain a brief but vital foothold which helped them become established. The classic success stories of the period were Spectrum, an unknown Melbourne progressive rock band who ushered in the Third Wave of OzRock with their surprise January 1971 hit I'll Be Gone, and Daddy Cool, who scored a national #1 hit with Eagle Rock (released on Sparmac) in May 1971 and whose debut LP became the highest selling Australian album ever released up to that time. One can only wonder how they would have fared had Eagle Rock been released a few months earlier.
But once the Ban ended the proportion of local material compared to overseas material continued to fall and by the end of 1973 the proportion of Australian records in the charts was at an all time low. It was a disaster for the local music scene, but the irony was that, by maintaining such a narrow focus, and especially by ignoring so much local music, 2SM inadvertently left the door wide open for an unforeseen rival -- the ABC.
In 1975, with the establishment of Double Jay in Sydney and especially its new TV national pop show Countdown, the ABC created a new interface between the record companies and the commercial radio stations. By the late Seventies it was undeniable that it was Countdown that was now setting the agenda in Australian pop. Countdown was also crucial in establishing TV and video clips, rather than radio, as the dominant marketing medium and it has long been acknowledged that Countdown's pioneering support of acts like Abba, Meatloaf and Cyndi Lauper were instrumental in breaking these acts worldwide. But commercial radio was still by and large locked into variations of the More Music format, so all it could do now was follow the new trendsetters.
After a dream run of five years at the top, something had to give, but the first hint of trouble at 2SM was known only within the industry. Rod Muir's lavish jet-set lifestyle and his colossal success with Digamae created friction with the station's owners, the Roman Catholic Archdiocese of Sydney. After an internal investigation Muir left the station under a cloud in late 1976; the ensuing lawsuit was settled out of court in January 1977 and at this point Muir was succeeded by former DJ Barry Chapman.
Muir gets the lion's share of the credit for 2SM's success, but in fact Chapman didn't just continue 2SM's winning formula; he greatly expanded it and he was responsible not only for maintaining 2SM as the top-rating station in the city for several more years, but also for greatly expanding 2SM's role in supporting local music, something Muir had largely failed to do. Chapman's arrival marked the beginning of what can fairly be considered 2SM's "golden age". Interestingly, Chapman was critical of Muir's approach -- Muir demanded highly structured programming and presentation but could be capricious when it came to the on-air roster, hiring and firing staff virtually at will. Chapman also foresaw that listeners would soon tire of the high rotation More Music format, as he told Debbie Kruger:
"I disagreed with the whole programming format of 2SM at the time. I totally disagreed with what Muir was doing. I used to do it — when I was here I'd play Abba twice in a three-hour shift — it used to drive me nuts. I'd say, well that's not encouraging anyone to listen for any span of time. And those really loyal listeners who do, it's going to burn them in the end. There's room for a lot more music, there's room for much more creative things than were being done at the time."
When he took control, Chapman more than doubled the station's playlist -- from around 30 tracks to over 70 -- and placed far greater emphasis on local performers. He promoted slick, pacey presentation, special programming features and attention-grabbing promotional ideas including a plethora of competitions and 2SM's famous free concerts. But he added new facets to the various shifts, such as special features and documentaries and he retained one major Muir innovation, that of having a strong, credible news and current affairs team; throughout its golden years 2SM had a respected news office whcih was far larger and more effective than any of its competitors. Many members of 2SM's news division went on to successful careers in radio and TV, including journalists Steve Liebmann, Brian White and Mike Gibson, commentator John Tingle, weatherman Alan Wilkie and features reporter David White.
Perhaps Chapman's biggest successes was development of the breakfast shift as the focal point of the day's broadcasting. He appointed Ian McRae to the breakfast shift and promised that if McRae followed his direction, he would be number one within a year. Chapman he proved to be as good as his word and the team of McRae and Nick Jones ruled the timelsot for years, creating a template that has been copied ever since.
Chapman fostered a solid and highly professional team image and many of the "jocks" from this era of 2SM beacme household names -- McRae and Jones, Mike Gibson and George Moore, Ron E. Sparx, Mike Drayson, Alan Steele, Peter Grace, Mike Gibson, Gordon "Googy" O'Byrne, Grahame "Durry" Rodgers, Keith Williams and Mal Hedstrom. In an industry not noted for career stability, many 2SM presenters stayed with the station for long periods -- McRae hosted breakfast for a record-breaking 13 years -- although there was the occasional casualty, such as the unfortunate Alan Steele. According to Chapman he was listening to Steele's shift on his way home when the transmission went to "dead air" (for about 20 minutes -- an unpardonable sin in commercial radio) and this eventually triggered the station's emergency tape. Chapman called in on two-way radio to no avail, so he detoured back to the station where he found the studio empty. He finally found the hapless Steele playing Space Invaders in the jocks' room and sacked him on the spot.
In the "Chapman era" from 1976-80 2SM's classic weekday lineup was broken into even three-hour shifts which ran as follows:
Breakfast (6-9): Ian McRae and sidekick "The Honorable" Nick Jones, with news, commentary and weather from Steve Liebmann, Brian White, John Tingle, Alan Wilkie, surf reporter Shane Steadman and overseas correspondents such as John Raidler. The
Morning (9-12): Mike Gibson and George Moore with talk and interviews
Early afternoon (12-3): Gordon O'Byrne
Drivetime (3-6): Ron E. Sparx
Early evening (6-9): Alan Steele (1976-78). After Steele was sacked Chapman extended Sparx's shift by one hour and replaced Steele with Gordon "Durry" Rodgers, from 7pm-10pm
This was the station's peak period, an era fondly remembered by 2SM fans and it was in this period, still riding on the crest of its phenomenal success, that 2SM moved from Clarence St to palatial new premises in Blues Point Tower, 186 Blues Point Rd, North Sydney, with panoramic views of Sydney Harbour and the Bridge. Many will recall Ian McRae's madcap antics and his many memorable April Fool's Day jokes from this era, convincing innumerable listeners that 2SM would carry out such improbable stunts as towing an iceberg into Sydney Harbour, or the legendary 'flying the jumbo jet under the Harbour Bridge' prank.

Yet while 2SM very successfully marketed itself as a hip, happening station, it still retained links with its earlier days. Every weekend, 2SM's veteran footy commentator, the brylcreemed, bespectacled, gravel-voiced Frank Hyde, called the rugby league match of the day. And it was after all owned by the Catholci Church so Mass was broadcast every Sunday night at 7.30pm, without fail, followed by earnest Sunday night religious affairs programs and religious-oriented talkback, hosted in later years by perennial radio priest Father Jim McLaren.

2SM by now enjoyed unprecedented financial success and a towering industry profile and it embarked on a lavish series of promotional events including a myriad of competitions and give-aways that continued right through the decade. But its most visible, valuable and best remembered events were its legendary free outdoor concerts. One of the first, staged in late 1969, was "Mad Mel's Big Stir" held in The Rocks, under the Harbour Bridge, and headlined by Sydney's Dave Miller Set with special guest American singer-songwriter Roger Miller.

Throughout the Seventies 2SM staged a string of landmark outdoor shows featuring the top local acts of the day. One of the most memorable was the huge free concert staged on the steps of the Sydney Opera House on 26 May 1974. It was attended by over 25,000 people 10,000 more were repotrd to have been turned away. The show, headlined by Stevie Wright, was the occasion at which Stevie was reunited on stage with his former Easybeats bandmates Harry Vanda and George Young for the first time in five years. It is also notable to AC/DC fans; their support spot was one of the group's first major public performances.

The following year the tables had turned and at the September 1975 2SM concert in Victoria Park AC/DC were now the headliner, supported by Stevie Wright and Ross Ryan. In late 1975 the Ted Mulry Gang and John Paul Young & the Allstars performed on the famous floating stage on the harbour beside North Sydney Pool; film of this concert was used as the basis of the promotional clips for both JPY's I Hate The Music and TMG's Jump In My Car.

1977-79 was the peak period for the 2SM concerts and they staged an impressive range of free gigs. In 1977 alone they presented:
- the February 1977 Victoria Park concert with Sherbet, Dragon, and Air Supply, attended by 40,000 people

- the Easter Show 1977 free concert starring JPY & The Allstars, supported by Billy T

- the August/September 1977 2SM "Mighty Rock" concerts at Chequers nightclub in Goulburn St, featuring Dragon, TMG, Ol' 55, Windchase, Finch, Jeff St John, Feather, Rabbit, Scandal, Supernaut, Mother Goose, Moonlight and Punkz and

- the "Rocktober" 1977 concert at Victoria Park with Dragon, Stars and The Ferrets.
2SM's January 1978 Victoria Park gig featured Sherbet, John Paul Young & the Allstars, rising new stars Cold Chisel and U-Turn (performing on a sweltering 44 degree summer's day). The February '78 "Summer Magic" gig on the Opera House forecourt starred Little River Band, Skyhooks, Stars and Finch (and was one of the late Andy Durant's last performances). A March concert at Bondi Corso show featured Richard Clapton and Ray Burton. the highlight of the year was the monumental "Rocktober" 1978 concert at the Opera House with Thin Lizzy, Wha-Koo, Sports and Jon English, attended by 100,000 people (this concert was filmed and Thin Lizzy's live performance of The Boys Are Back In Town can sometimes still be seen on TV).

In February 1979 2SM staged what turned out to be its last Victoria Park free concert, featuring Dragon, The Angels, Split Enz, Kevin Borich and Sports. Sydney City Council subsequently banned outdoor shows there were following complaints about crowd behaviour (Doc Neeson was KO-ed by a flying beer can) and damage to the park. In August 2SM presented The Knack (then top of the pops with their gloriously dumb My Sharona) in a free Hordern Pavilion concert.

But 2SM's greatest event (and perhaps its last hurrah as a major force in Sydney radio) was undoubtedly the landmark Concert Of The Decade. The brainchild of program director Barry Chapman, it was staged on the Opera House forecourt, and it probalby remains the largest concert ever staged in Australia, attended by a staggering 180,000 people. Chapman's daring concept was to bring together on one bill all the top Australian artists who had had major hits of the 1970s. Although sadly AC/DC and LRB were not available, the truly historic line-up was guaranteed to make any Aussie music fan who wasn't there wish they had been.

Across two stages, 2SM presented the cream of Australian '70s rock and pop: Radiators, Mental as Anything, Misex, Cheetah, Colleen Hewett, Captain Matchbox, Russell Morris, Jim Keays, The Mixtures, The Ted Mulry Gang, Doug Parkinson, Mike Rudd, Hush, Bob Hudson, Ol' 55, Max Merritt, Stars, Neale Johns, Stevie Wright, Norman Gunston, Kevin Borich, Richard Clapton, Aunty Jack & The Gong, Jo Jo Zep & the Falcons, Marc Hunter reunited with Dragon, John Paul Young, Marcia Hines, Split Enz, Skyhooks, Jon English and Sherbet, giving what proved to be their last major Australian performance. The rousing all-star finale was a rendition of Move Baby Move, a tribute to Johnny O'Keefe, who had died earlier that year.

Australian music fans should be eternally grateful to Barry Chapman because he ensured that the show was was both recorded and filmed. Clips still surface on TV from time to time, and in particular Stevie Wright's electrifying performance of Evie, backed by the All-Stars with Sherbet's Tony Mitchell and Cheetah, remains a defining moment in Australia's rock'n'roll performance history.

As the Seventies drew to a close 2SM was riding high, but there were looming clouds on the horizon. The launch of 2WS in November 1978 provided 2SM with its first serious commercial rival. There were legal challenges over the frequency granted to the new licensee -- to 2SM's considerable chagrin, 2WS had been placed right between 2SM and 'easy listening' station 2CH, which were at the time the two top-rating stations in the city. But 2WS remained where it was and proved extremely successful with its target demographic, younger western suburbs listeners. It quickly snagged 10% of the target audience, most of them poached from 2SM.

But after three blockbusting years, 1980 marked the beginning of a sharp decline in 2SM's fortunes in particular, and the beginning of the end for commercial AM pop radio in general. It took several years, but the writing was on the wall, and it was the introduction of FM broadcasting that year that proved to be 2SM's ultimate undoing.

Triple-J was the first to switch to FM, and this greatly increased its metropolitan reach and lifted its audience considerably (although it lost some of the regional areas it ws formerly able to reach after dark on the AM band). But the most serious threat proved to be the two new commercial FM rock stations, 2DAY-FM and 2MMM-FM (Triple M). Commercial FM got off to a slow start in Australia and it took the new stations a few years to find their feet, but as FM radios began to penetrate the consumer market 2SM's audience began to abandon it in ever greater numbers.

Several factors combined to erode 2SM's position. Some older listeners who stayed with AM gradually migrated to the talk stations like 2UE and 2GB, while many younger listeners switched to other AM stations or to FM. But despite these external threats, the irony is that arguably the biggest single blow to 2SM was self-inflicted.

To meet the FM challenge, Barry Chapman decided to reposition 2SM to catch the older, more affluent demographic that was expected to go to FM. He masterminded a bold new album-oriented format, whcih was launched with a major campaign of TV commercials depicting a row of LPs falling domino-style, accompanied by the slogan "2SM lays down more albums".

The question of whether or not this would have succeeded was soon rendered moot -- in May, just two weeks after the launch, the station management got cold feet and moved against Chapman, regardless of the fact that the station had just enjoyed the most successful 3-year run in its history. Using his relationship with station promotions manager Roslyn Wilson as the pretext, Chapman was given an ultimatum -- unless Wilson was sacked, he would be. Chapman rightly refused and sought legal advice. Matters came to a head days later when managing director Garvin Rutherford sacked both Chapman and Wilson, claiming that their relationship might harm the company. What Rutherford did not know was that Wilson was carrying a small portable tape recorder in her bag and that she had taped the entire meeting. Chapman and Wilson's lawyers delivered letters to the chair of the CBC, the Archbishop of Sydney and the Cardinal, warning that the pair would take legal action under the Anti-Discrimination Act; Chapman also rang 60 Minutes, creating even more embarrassment for the station and the Church. A month later the case was settled out of court.

With Chapman gone, veteran employee John Torv was drafted in to replace him. The album-track playlist was trimmed back, but this failed to arrest the ratings decay so Torv was removed and David White, former assistant program director under Chapman, was installed in his place. But he now faced a new challenge from an old rival.

In 1979 drivetime king Ron E. Sparx had quit and moved to 2UW, taking with him one of 2SM's key producers, Kevin Johnson. Sparx became head of programming at 2UW, former home of the recently departed John Laws. 2UW had been languishing at around 8% in the ratings, but under Sparx it repositioned itself as a 'latest hits' station and, according to Nick Jones, for a while at least this new direction proved very successful, with 2UW attracting up to 56% of the 10-17 age group, most of them wooed from 2SM.

The audience drift was serious but it was exacerbated by the continuing loss of the station's key talent. Mike Gibson had quit in 1979, as had Sparx. Keith Williams moved to sister station 2NX in Newcastle and then Gordon O'Byrne quit and joined 2UW after a row with management over programming. The "brain drain" continued into the 80s -- John Tingle left to join 2GB; Ian McRae and Nick Jones left in 1982 and George Moore left in April 1983 and moved to 2DAY-FM. Another serious loss was the decision to downgrade its news service, once the best in the industry; even the faithful Alan Wilkie was eventually let go.

Less than a decade earlier 2SM was breaking new ground for Australian commercial radio and it commanded over 30% of Sydney's total listening audience. By 1982 it was struggling to hold on to a meagre 6% audience share, as more and more listeners switched to FM, and especially to the station that ultimately proved to be 2SM's nemesis -- Triple M -- which, ironically, was owned by the station's former white knight, Rod Muir and which at various times employed many ex-2SM staffers including Barry Chapman, David White and Ron Sparx.

Another desperate rebranding as "2SM - The Power" during 1983 failed to halt the inexorable ratings slide. At this point 2SM gave up the fight entirely and (like Melbourne's 3AK, once the top pop station in its home city) it briefly suffered the indignity of a name change and the switch to an 'Easy Listening' format as "Lite 'n Easy 1269". There was a final valiant attempt to regain lost ground with a return to rock music and a new "Rock of the 80's" branding in 1984/85. 2SM put up a valiant fight and briefly went back into double figures in the ratings, but in the long run nothing could halt the ascendency of FM and 2SM's gradual slide into obscurity.

By the early 90s the pop audience had almost totally migrated to FM, abandoning the AM band to the talking heads, and 2SM's ratings plummeted ever lower. Finally The Catholic Broadcasting Company surrendered to the inevitable and in 1992 they sold the former giant of Sydney radio to its one-time arch enemy, 2WS.

Under WS, there were further bids to salvage the station with rebrandings -- first as "Sydney's Hottest Country" station and then a 'hits and memories' format as "Gold 1269". After another change of ownership there was an ambitious attempt to establish an alternative adult-oriented country/rock/blues format as KICK-AM, with former 2SM/3X/Digamae alumnus Trevor Smith directing the programming. There was no small degree of irony in the fact that some of the KICK team (e.g. Tim Ritchie) were victims of the controversial purge of the "old guard" at Triple J, carried out by Barry Chapman, who had by then been appointed as Triple J's network manager and who was oversaw its transition from local station to national youth network. Chapman is on record as saying that he explicitly modelled Triple J's new format on 2SM, and while it was undeniably a success in terms of ratings, in the opinion of this writer and many others, the Chapman era marked the definitive end of the original aim of providing a true alternative to commercial radio, and Chapman successfully "dumbed down" Triple J to its present form, which is to all intents and purposes an "indie Top 40" station.

The last, poignant gasp for 2SM came in 1996 when Rod Muir made a surprise return and bought the station which had launched his career. On Christmas Day 1996 -- 2SM's 65th anniversary -- KICK AM was axed and the old-style 2SM was reinstated, complete with an update of the faithful old denim zipper logo. But despite the goodwill and the presence of industry heavyweights including Muir and breakfast supremo Doug Mulray (Muir's brother-in-law) the relaunch flopped dismally -- just as Chapman had predicted it would when Muir approached him to get involved. Soon after, Muir unloaded the station to former INXS and Midnight Oil manager Chris M. Murphy. In 1999 Murphy sold it to Bill Caralis, who owns a chain of stations in south-east Queensland and regional NSW. It changed hands for just $8.5 million, which is probably less that it made in profit in a single year at its peak.

2SM is now located in Pyrmont and still owned by Caralis, although B&T reported in June 2003 that Southern Cross Broadcasters is keen to aquire it. Caralis is reported to have turned down the offer to sell, although the recent scramble for radio licences (including the record $25 million paid for a Gold Coast licence and DMG's $13.5m acquisition of a Gosford AM licence) has pushed up 2SM's potential value considerably.

It currently presents a mix of talk and 'golden oldies' but is heard almost no-one these days, and its abject fall from ratings grace is pitiful. It languishes at the very bottom of the Sydney ratings ladder with a mere 0.6 percent of the total audience, less than one third of the figure for its nearest rival, ABC's News Radio (1.9%).

But a final cheery piece of news is that a large amount of 2SM material from the '60s, '70s and '80s has been preserved and meticulously catalogued by a dedicated former employee, Vince Connolly. In 2000 it was announced that the the Archdiocese of Sydney had gererously placed the entire 2SM collection on permanent loan with Screensound in Canberra. The archive comprises thousands of items including reel-to-reel tapes, cinema and television advertising, vinyl records, photographs, scrapbooks and memorabilia, including one of the station's original studio signs.