The Stones' second Australasian tour was even bigger than their first. They had just returned to work after what had been their longest break since the band's formation in 1963. Their popularity had soared since their previous tour, and by the time they arrived Decca had released 13 singles, six EPs and four LPs in Australia. On the first tour, promoter Harry Miller had been extremely stingy with the band's freight allowance and had insisted that they not bring their own amplifiers to cut down costs. This time around the band were in a far stronger negotiating position and they brought 72 pieces of luggage and 102 pieces of equipment.

The tour was another double bill, this time supported by The Searchers -- the bill was laster described by Searcher Frank Allen as "a combination as weird as teaming Vlad The Impaler with Mother Theresa". Following the tour, the Searchers' original drummer Chris Curtis decided to leave the band to start a career as a producer and songwriter and his place was taken by John Blunt. Curtis went on to produce records for Paul and Barry Ryan and later played a part in the formation of Deep Purple.

The '66 Far East tour came hot on the heels of the Stones' latest single, 19th Nervous Breakdown, released on 4 February in the UK. It was another transatlantic smash, gaining rave reviews and reaching #2 in both the UK and the USA. On 11 February the band left the UK and travelled to New York, where they promoted the new single with an appearance on The Ed Sullivan Show. They performed Satisfaction and 19th Nervous Breakdown, followed by a duo performance of As Tears Go By with Mick and Keith. This was also the Stones' first colour broadcast on US television.

The tour was relatively uneventful, although Brian caused a minor stir by using the word 'Christ' during a radio interview. The doorman at the Wellington Dominion Theatre was quoted about damage to the theatre there:

"When The Beatles were here seats were damaged. This was worse than The Beatles -- several seats were pierced by stiletto heels."
At the Sydney press conference, two NSW university students from Tharunka magazine were among the reporters. Paul Sleeman interviewed Jagger, chatted about instruments and music, showed him the new $1 bill (Australia had officially introduced decimal currency two days earlier) and talked about Prince Charles' stay at Timbertop school in Victoria. "They were delightful, just delightful," recalled Andrew Strauss, who accompanied Sleeman and took photographs. Later that day the band performed for a Bandstand special at TCN-9 studios. It is not known whether the recording of this performance still exists.

While in Melbourne Mick Jagger was given copies of the new Australian music magazine Go-Set, and he was reported to have been favourebly impressed. In Adelaide, while relaxing around the hotel pool, the band had a memorable encounter with a young female fan who willingly revealed some extensive tattooing beneath her bikini bottom, including a red devil tattooed onto her pubic area, which became a source of much amusement within the band in weeks to come.

Mick was interviewed by Disc magazine on 26 February, and revealed that while in Australia the band "got stoned a couple times" and attended a party given by "some DJ" (possibly Ward 'Pally' Austin?) which Mick described as "a gas", and also mentioned that the group had to stay onstage at each performance until the police came to help them get away.

According to Bill Wyman's diaries, the tour grossed $59,136 for the Stones. Remarkably, the Stones' management team earned only slightly less than their clients -- UK agent Tito Burns received $5913, managers Allen Klein and Andrew Loog Oldham were paid $5321 and the the Stones earned $7063 each after expenses, although Wyman recorded that the band did not receive the payment at the time. The delay in payment is reputed to have been the reason why Keith Richards punched out Harry M. Miller when he met him at a club in London later that year.

After the tour Wyman and Jones headed to Los Angeles, while the other members holidayed briefly in Fiji. The group reconvened at RCA Studios in Hollywood in March for three days of recording with famed session player and arranger Jack Nitzsche. The tracks recorded included some of their very best from this period -- Lady Jane, Out Of Time, Paint It, Black, Stupid Girl and Under My Thumb. These songs, which represent for many the zenith of Brain Jones contributions to the band, were released on their next LP, Aftermath.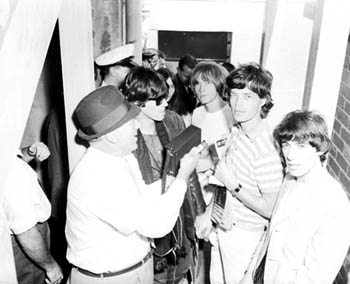 The Rolling Stones surrounded by media at the 3UZ radio studio. Mick Jagger is holding a copy of one of the first editions of Go-Set.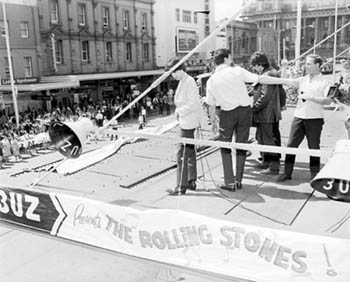 Stan Rofe (back to camera) interviews the Stones on the awning outside the 3UZ studios in Bourke St, Melbourne.
[Photos: Laurie Richards Collection, Museum of Performing Arts]
There was a remarkable postscript to the 1966 tour almost 40 years later. During the tour Bill Wyman played a semi-acoustic Vox V248 'Teardrop' bass. This distinctive instrument appeared in several Stones concert photos and film clips from 1965 and early 1966 -- including their Top of the Pops appearance on 3 February 1966, where they performed 19th Nervous Breakdown -- and it is also believed to be the bass that Bill played on Satisfaction.
Vox had a close relationship with both the Stones and The Beatles and both groups used Vox amplifiers extensively on tour and in the studio. The Stones were also noted for their frequent use of the distinctive Vox guitars and basses and Brian Jones was often photographed playing his famous trapezoid-shaped white Vox Phantom guitar. The V248 bass was the new semi-acoustic version of Vox's famous Mark IV (V224) solid-body teardrop bass. It was marketed as "The Wyman Bass" because Bill had agreed to endorse the new line, and the Wyman Bass was only Vox guitar to be inscribed with an endorser's name. On 5 February, just before the Far East tour, Jennings Musical Instruments (makers of Vox guitars and amps) gave Wyman a new Thomas organ as an advance payment for his endorsement.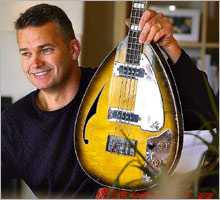 Unfortunately, Bill's Teardrop bass was stolen after their Wellington shows on 28 February. It remained in New Zealand and reportedly passed through a succession of 'owners' before being given to New Zealand musician Nick Sceats in the 1980s, in lieu of payment for a recording session. Sceats kept it for about fifteen years, but he was recently alerted to the possible Wyman connection. As a result, he contacted Bill through an internet fan site, and Wyman confirmed that it was indeed his long-lost Teardrop bass, and it was returned it to him shortly before Easter 2004.
LEFT: Nick Sceats with the famous Wyman bass
(Photo: NZ Dominion Post)