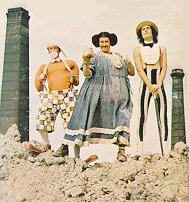 Kid Eager, Aunty Jack and Thin Arthur,
photographed at the old St Peters brickworks (now Sydney Park) in 1974.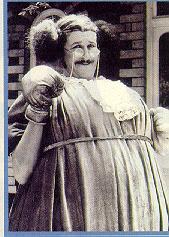 A deceptively genial Aunty brandishes the dreaded Golden Glove
Australian comedy changed forever the night that Aunty Jack roared into Australian living rooms on her Harley-Davidson. The Logie-winning series ran from 1972 to 1973 on ABC-TV and attained an instant cult status that persists to this day.
Aunty Jack was a unique comic creation, an obese, moustachioed, gravel-voiced tranvestite, part truckie, part pantomime-dame, who habitually solved any problem by knocking someone out or ripping their arms off. Visually, she was unmistakeable: she wore a huge, tent-like blue velvet dress, football boots, and a golden boxing glove on one hand. She rode everywhere on a Harley-Davidson and referred to everyone as "me little lovelies" -- unless of course she was uttering her familiar threat: "I'll rip yer bloody arms orf!", a phrase which immediately passed into the vernacular. The character was devised and played by the multi-talented Grahame Bond and was partly inspired by an overbearing uncle of Grahame's whom he had disliked as a child.
An architecture graduate of Sydney University, Grahame was already an accomplished writer, producer, comedian, singer, songwriter and guitarist by the time he graduated. He cut his teeth writing and performing as a founder member and leading light of the University's legendary Architecture Revues from 1964-69. It was here that he met and became friends with other Sydney students including Geoffrey Atherden, Maurice Murphy, Peter Weir, who became Australia's most internationally acclaimed film director. It was here that Grahame also met his longtime musical, writing and acting partner Rory O'Donoghue. Rory was also a member of Sydney bands The Pogs and Oakapple Day; aged only 14 at the time, the young muso met Grahame when The Pogs were brought in to provide musical backing for one of the Arch revues.
After graduating, Grahame and friends continued working together on a wide range of projects in film, TV, radio and theatre. Grahame collaborated on several short films and stage pieces with Peter Weir, and wrote and played in a number of stage comedies and revues incuding - Balloon Dubloon (1969) with Peter Weir, Drip Dry Dreams at the Adelaide Festival and Richbrooke, Filth at Phillip St. Revue and Hamlet On Ice at the Nimrod Theatre (1970). His friendship with Weir led to him writing the music for the three-part AFI Award-winning 1970 film THREE TO GO (in which he also had a small acting part), of which Weir directed one segment, and he also provided the music and played a leading role in Weir's first film, the 1971 short feature HOMESDALE.
Grahame's first known TV venture was in MAN ON A GREEN BIKE which screened on ABC TV at the end of December 1969. The 50-minute film was co-written by and starred Grahame, Peter Weir, with Geoff Malone, James Dellit, and Anna Nygh. As recorded by Richard Miles, the story concerns
" ...three men, who were once friends sharing many adventures, are now mayors of three cities -- medieval Ackley, the futuristic Cadmium, and Petal Lake, a community reminiscent of the 1930s. Into their midst comes the strange figure of Mr. Maloon, a man travelling on a heavily laden green bike. His presence disturbs and embarrasses the mayors."
Aunty Jack's first media appearance should have been in 1969 in an ABC children's radio series, also called "The Aunty Jack Show", which was intended to replace the long-running Argonauts Hour, which was then on its last legs. The series never went to air because ABC executive felt that that the Aunty Jack character and some of Grahame's songs were deemed "inappropriate" for the tender ears of young listeners.
The Aunty Jack character made her TV debut in AUNTY JACK'S TRAVELING SHOW an episode of ABC-TV's THE COMEDY GAME, broadcast in December 1970. It was originally to be called "Aunty Jack's Travelling Abbatoirs" but, needless to say, the 'suits' thought this and inappropriate title.
It was the start of the fruitful partnership between Grahame, Rory and ABC writer, producer and producer/director Maurice Murphy. They became the creative nucleus of as string of programs that redefined comedy in Australia. Although frequently compared to Monty Python's Flying Circus the Aunty Jack character made her appearance well before Python was shown in Australia, although the two teams evidently shared the same love of surreal humour. The Goons are also often mentioned as possible source but in Johnson and Smiedt's superb history of Australian comedy Boom Boom, Grahame himself says that he listended to them only occasionally. He cites radio star Jack Davey, The Mickey Mouse Club and The Steve Allen Show as early interests and specifically names the surreal black humour of Joseph Heller's novel Catch #22 as his major comedic influence.
Up-and-coming film director Peter Weir was also involved in the series behind the scenes in the early days of the series. He had been part of the the uni revues they had done together in the 60s, but by his own account he gave up performing just before AJ. After seeing MONTY PYTHON for the first time he felt that there was no way he could perform as well as the Python team and retreated behind the camera.
Maurice Murphy was a pivotal figure in the development of AUNTY JACK, and indeed he oversaw most of the comedy in that fertile era of ABC television comedy in the '70s, including AUNTY JACK and its various spin-off series. Ted Robinson, then young director, got his break working for Murphy on the second series of AUNTY JACK. Ted took on the Murphy mantle in the '80s producing most of the best comedies of the period including THE BIG GIG, AUSTRALIA: YOU'RE STANDING IN IT and THE D-GENERATION.
Interviewed for Mouthing Off, the ABC's history of comedy, Robinson enthusiastically sang Murphy's praises:
"When I was brought in to work on the second series of The Aunty Jack Show, it was my first contact with television comedy, and I was amazed by the atmosphere of drive and energy that Maurice generated. He made it such an exciting time to be working in comedy because the creative climate under him was so open; nothing was considered too mad or bad or off-the-wall that it wouldn't be considered for broadcast. People like me were able to learn their craft 'on-air' in those days, which meant that we were able to make mistakes or even fail completely with programs and still have a job. Maurice encouraged us to take risks and experiment with comedy and I believe this resulted in some of the best and most innovative comedy erver seen on Australian television."
The COMEDY GAME episode evidently did the trick, convincing the ABC to commission a short series to be screened weekly. THE AUNTY JACK SHOW premiered on 16 November 1972 and became an immediate cult hit with younger audiences, although it was slammed by critics. Some viewers found it all too much to take, and according to Maurice Murphy, the ABC recieved hundreds of called after the first episode, complaining about the violence, the "bad language" and especially about the drag aspect of Aunty Jack's character.
The adverse reaction was reportedly strong enough for the ABC to seriously consider taking the series off the air but legend has it that impassioned pleas from the children of certain ABC executives saved it from the scrapheap. This would not be the team's last such run-in with management, however, and the tensions between the creative and bureaucratic elements in the ABC eventually came to a head with the infamous "Leave It To Jesus" incident, part of the THE OFF SHOW in 1976.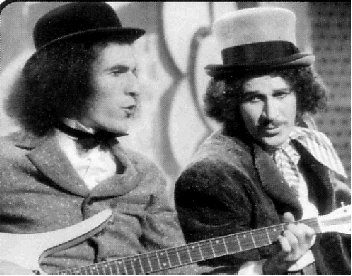 Rory and Grahame as "Neil & Errol" (note groovy Danelectro guitar)
Two series of The Aunty Jack Show were made in 1972 and 1973, the first series of seven episodes, the second of six episodes, with each episode built around a central theme. The episode titles were:
Series One
1."Radio"
2. "War"
3. "Kulture"
4. "Horror"
5. " Anonymous",
6. "Family"
7. "Sex"
8. "Horror"
Series Two
1. "The Channel Nine Show"
2. "The Iron Maiden Show"
3. "The Golden Glove Show"
4. "The Ear Nose and Throat Show"
5. "The Little Lovelies Show" and
6. "The R-Certificate Show"


Note: perhaps in homage to Aunty Jack, the title "The Channel Nine Show" was re-used by Roy & HG for the final series of Club Buggery.
Where Python had few recurring characters (other than the inimitable Gumby family, and the occasional brief appearances by Cleese's presenter and Palin's castaway), Aunty Jack alternated one-off sketches with segments featuring a regular and semi-regular characters. As well as Aunty Jack and her sidekicks -- blonde bombshell Flange Desire, the tremulous Thin Arthur and snobby Narrator Neville, there were semi-regular appearances by nervy folk-singing duo Errol and Neil (Grahame & Rory) and extrovert rock'n'roll butcher Kev Kavanagh (Grahame), a character that Grahame had already performed (as "Mr Kevin") in Peter Weir's HOMESDALE, the obnoxious Kid Eager (McDonald), a parodic amalgam of characters like Dennis the Menace and Ginger Meggs, and towards the end of the second series, Wollongong TV presenter and super-dag Norman Gunston (McDonald).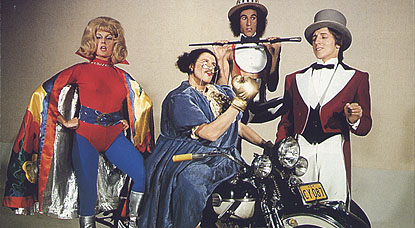 The cast of Series One (L-R) Sandra MacGregor (Flange Desire) Grahame Bond (Aunty Jack),
Rory O'Donoghue (Thin Arthur), John Derum (Narrator Neville). (Where is that Harley now?)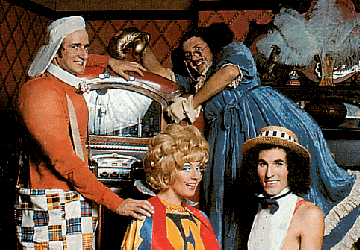 A rarely-seen cast photo, possibly taken at the start of Series 2.
L-R: Kid Eager, Flange Desire, Aunty Jack, Thin Arthur.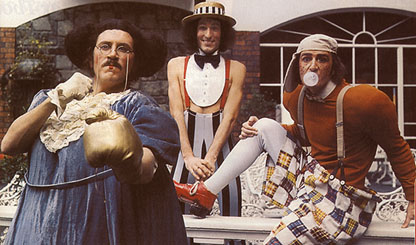 The stars of the second series, Aunty Jack, Thin Arthur and (right)Garry McDonald as Kid Eager.
Derum left the show after Series 1, wishing to pursue other interests, and McGregor evidently not long after that.
So Grahame and Rory brought in a new cast member, a hugely talented young actor, comedian and musician, fresh from NIDA, Garry McDonald. His main role was as Aunty Jack's new sidekick, the cheeky, gum-chwewing, freckle-faced Kid Eager, but in one episode Garry premiered a new character, devised by one of the staff writers. This character featured briefly in Aunty Jack, but became much more prominent in the spin-off series WOLLONGONG THE BRAVE. That character was of course the now-legendary Wollongong media non-personality Norman Gunston. The Gunston character also appeared on the Aunty Jack LP and was subsequently 'spun off' into his own hugely successful Logie-winning Tonight Show parody, THE NORMAN GUNSTON SHOW in 1975.
There were some legendary sketches over the two series, each as wild as the characters. Some of the best-loved included:
Tarzan Superape ("A five-minute origami rock opera"), an hilarious parody of "Jesus Christ Superstar" (filmed at Wattamolla Lagoon)
"Dried Elephant Arranging", in which Aunty Jack visited Taronga Park Zoo to teach viewers the fine art of "elephanto reducioso" with the reluctant assistance of Colin the elephant
Colonel Passionfruit leading his men through a dangerous choreographed war with The Pride Of Erin Mine Avoidance Tactic #III
Country-and-western singers The Farrelly Brothers performing their unique version of Lucky Starr's I've Been Everywhere -- which in this case meant Wollongong (and Dapto).
"112 George St", a parody of NUMBER 96, in which viewers were promised "lots of bottoms and lots of breasts" -- at which point two actors appeared, clad in multiple plastic 'joke' bottoms and breasts.
The popularity of the series led to a one-off TV special AUNTY JACK ROX ON and a subsequent tour, a #1 hit single, Farewell Aunty Jack (the theme song of the series) and the best-selling album Aunty Jack Sings Wollongong, released in early 1974. Farewell Aunty Jack was released as a single in Dec. 1973; it reached Number 1 in January, stayed in the Australian music charts for 22 weeks, and was also released in picture-disc form, reputedly the first disc of its kind in the world.
By the time Series 2 was underway Grahame was already heartily sick of Aunty Jack so in the final episode, "The R-Certificate Show", shocked by the gratuitous sex and nudity, Aunty Jack expired from a heart attack. Grahame departed for a much-needed holiday on Norfolk Island where, jointly inspired by the convict ruins and his holiday reading, Errol Flynn's My Wicked Wicked Ways, he came up with the concept for a new series set in the bushranger days, which became FLASH NICK FROM JINDIVIK
The AJ team stayed together for some time, working on several successful specials and short series including AUNTY JACK ROX ON, FLASH NICK FROM JINDIVIK, THE OFF SHOW and WOLLONGONG THE BRAVE, which included "Norman Gunston: The Golden Weeks", the episode that spawned THE NORMAN GUNSTON SHOW in late 1975.
Sadly it appears that, like so many ABC programs of the period, not all of Aunty Jack has survived. It has long been rumoured that some episodes fell prey to the ABC's infamous 'economy drives' and that these tapes were erased. This shameful act of cultural vandalism saw many priceless programs from the '60s and '70s erased simply so that tapes could be recycled to save money on buying blank tape. According to Bob Ellis' 1999 Sydney Morning Herald article "The Lost Picture Show", many important ABC programs have been destroyed or substantially lost. Apart from Aunty Jack, the casualties include most of the 1969-71 episodes of MONDAY CONFERENCE, most of the in-studio videotaped links, introductions and studio interviews from THIS DAY TONIGHT, most of the first two years of COUNTDOWN, and all but five of the 166 episodes of CERTAIN WOMEN.
In a 1997 Herald interview, Grahame Bond stated that three episodes of Aunty Jack had been lost:
SMH: "Is the character ever a burden years down the track?"
Bond: "Aunty Jack, like Dame Nellie, just wont seem to go away, although the ABC have done their best to lose three out of a total of thirteen episodes."
Fortunately, copies of the remaining Aunty Jack epsiodes are now preserved in Screensound's National Collection in Canberra.
Many people would dearly love to see Aunty Jack released on video, but it is understood that a long-running dispute between Bond and the ABC has prevented this so far. However, they did agree to a one-off screening of several episodes at a charity event at the Art Gallery of NSW in Sydney on 16 October 2001, with proceeds going the the Andrew Ollie Trust and Grahame and Rory appeared in character for this special event.
AFTER AUNTY JACK ...
Grahame Bond
In 1978, Grahame and Jim Burnett wrote the musical Boys Own Macbeth, which toured Australia successfully for two years and also played in Los Angeles. In the '80s, Bond wrote and produced the musical Captain Bloody for The Elizabethan Theatre Trust, and worked extensively with Rory writing and performing advertising jingles and soundtrack music. They won the 1981 AFI music award for the soundtrack to FATTY FINN and in 1988 Grahame performed stand-up comedy at the opening of the exclusive Sanctuary Cove resort, on the same bill as Frank Sinatra. In 1990, Grahame opened his own advertising agency, gaining many blue chip clients before selling it in 1996 for the chance to travel. It was while overseas that Bond was asked to host lifestyle program Better Homes and Gardens, which he continues to present.
In recent years, Bond has also travelled to Jordan with Australian archaeologists and from this experience, produced a half-hour documentary The Volunteer. He has trekked in Nepal, canoed in Kakadu, cycled from Hanoi to Saigon and visited Papua-New Guinea to shoot another documentary.
Rory O'Donoghue
Besides his work with Bond, Rory was a member of the group Black Tank (1972-74) which included former Easybeat Stevie Wright. He collaborated with Grahame on the Boys Own Macbeth, on jingles and soundtracks including Fatty Finn, and has written many pieces of incidental and theme music for film and TV, including the theme for the popular ABC series BUSH TUCKER MAN. In recent years he set up his own company, O'Donoghue Productions.
Garry McDonald
Garry, who is married to actress Diane Craig, has enjoyed a successful and distinguished career in film, theatre and TV over the last 30 years, with many leading productions to his credit, and he is rightly regarded as one of our finest actors. On TV he enjoyed huge success through the late '70s with the character and show that will forever be linked with him, the Logie-winning THE NORMAN GUNSTON SHOW (1975-79). Playing Norman took a heavy toll, however, and he eventually suffered a nervous breakdown during an abortive commercial network revival of the series in the 1990s, after which he was diagnosed with a chronic anxiety disorder. Although seemingly in dire peril of being typecast after Norman, in the early 80s he established a whole new persona and won new fans worldwide and awards galore for his portrayal of the harried Arthur Beare in acclaimed sitcom MOTHER & SON (1983-93) written by Grahame's old friend Geoffrey Atherden and co-starring Ruth Cracknell, Henri Szeps and Judy Morris. Garry has appeared in many of other notable film and TV productions including Rabbit-Proof Fence, Love Is a Four-Letter Word, Moulin Rouge!, Mr. Accident, Halifax f.p, Ginger Meggs, The Pirate Movie, Gunston's Australia, The Garry McDonald Show, The Picture Show Man, PICNIC AT HANGING ROCK, STONE, AVENGERS OF THE REEF, OVER THERE, SNAKE GULLY WITH DAD & DAVE and YOU CAN'T SEE ROUND CORNERS.
Sandra McGregor
We have only limited information on Sandra's career at this time. She began acting at Melbourne's La Mama theatre in the late '60s and after Aunty Jack she appeared in several notable '70s films inclduing PETERSEN (1974), ESSINGTON (1974), THE GREAT McCARTHY (1975) HIGH ROLLING (1977) and NO ROOM TO RUN (1978).
John Derum
Actor, writer, singer, comedian, television quiz master, teacher, caberet and revue performer John Derum has worked extensively in theatre, TV and film. His credits include the films The Night The Prowler, Goose Flesh (aka Horror Movie), Mad Dog, Sidecar Racers and The Trespassers and stage shows including the Australian production of Nicholas Nickelby, Peer Gynt at the Sydney Opera House, a national television show That's Australia and the original stage production More than a Sentimental Bloke (1990) based on the life and work of author C.J. Dennis. Derum had an unfortunate association with the now-disgraced Rajneeshi ("Orange People") sect and accompanied the notorious Ma Anand Sheela (aka Sheela Birnstiel), second-in-command to sect leader Bhagwan Shree Rajneesh, when Sheela visited Australia and made her infamous appearance on The Mike Walsh Show in the 1980s. Appearing at the height of her power, Sheela sparked a huge controversy when she reacted flippantly to Walsh's questions about the wealth of the cult (Bhagwan owned a fleet of eighty-five Rolls-Royces), enraged Walsh by arrogantly dismissing the plight of the underprivileged ("tough titties") and made a particularly tasteless joke about the starving in Bangladesh, saying that "they should bang the dish harder". All in all, a chapter Derum would no doubt like to forget. Birnstiel was later investigated by American authorities for a variety of serious criminal activities and was eventually convicted on numerous charges.
Maurice Murphy
As well as many his many distinguished small-screen credits as writer/producer/director for the ABC including AUNTY JACK, THE NORMAN GUNSTON SHOW, FLASH NICK FROM JINDIVIK, WOLLONGONG THE BRAVE and ALVIN PURPLE, Maurice has made four feature films: FATTY FINN (1980), DOCTORS AND NURSES (1981) and WET AND WILD SUMMER! (1992) and 15 AMORE (2001).