DOUG ASHDOWN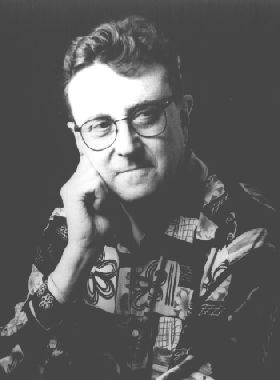 Adelaide-born Doug Ashdown was an early starter in music. At the age of ten, he was given a banjo which he learned to play by ear. By seventeen he had travelled to England, where he played in a rock band, returning to Adelaide the following year and working as lead guitarist in The Bowmen with Bobby Bright (who became famous as one half of pioneering beat duo Bobby & Laurie).
Doug's first major break came when he signed with CBS. They released his first single "Guess I'm Doing Fine" (1965), and over the next three years he recorded three albums for them, beginning with This Is Doug Ashdown in 1965. Doug's second album The Real Thing (1966) contained an eclectic range of local and overseas material, including The Beatles' "Hide your love away", Roebuck "Pop" Staple's "Ain't that news", Paul Simon's "Sounds of Silence", "I Know A Girl" by Adelaide singer-songwriter Phli Sawyer (whose 1971 Sweet Peach album Childhood's End has become one of the rarest and most collectible Australian progressive LPs) and Gary Shearston's "Sometime Lovin'", the song that was heard and recorded by Peter, Paul & Mary and led to Gary being invited to the USA. Doug's third album Source (1968) was his last for CBS, but by decade's end, he was an accomplished performer, songwriter and recording artist, and a leading light on the Australian folk scene.
After his CBS contract expired Doug released two solo singles on Philips, "Something Strange" (1968) and "Whole Lotta Shakin' Going On/Marcie" (1969). The latter, which was a chart hit in Adelaide and is quite a remarkable record, as well as being a wild digression from Doug's usual style and a veyr funny record. In several respects -- the deliberate lo-fi sound, the deadpan vocal, and the concept of creating a satirical studio deconstruction of a rock'n'roll classic -- this single strikingly anticipates the work of Britain's Flying Lizards almost a decade later. It has been anthologised on the Datura Dreamtime bootleg CD compilation but really deserves wider recognition.
In 1969 Doug joined forces with expatriate Irish singer, songwriter and producer Jimmy Stewart who had recently formed the Sweet Peach label. Stewart's first Australian success was as the producer of the one-off hit "Love Machine", recorded by the studio group Pastoral Symphony.
Based in Adelaide, Sweet Peach released music by Fraternity, Levi Smith's Clefs and Lee Conway; Doug's 1970 single "I've come to save your world" was the first issued on the new label. Shortly after its formation, Sweet Peach became involved with The La De Das, and in mid-1968 Stewart reportedly approached them with an offer to record and release their long-cherished project for a concept album based on Oscar Wilde's The Happy Prince. The band undertook numerous rehearsals in preparation for recording but as the year wore on Sweet Peach repeatedly arranged sessions and then postponed them, and by November 1968 the label had pulled out altogether and the deal collapsed.
Doug's fourth album, his first for Sweet Peach, was The Age Of Mouse which earned him a place in the history books as the first double album of original material ever released in Australia, almost two years before Spectrum's Milesago. Like many of the Sweet Peach releases it is now highly collectible and Doug has wryly commented that the prices currently being asked on the Internet are more than he was paid to record it! The songs were co-written with Jimmy Stewart, and the instrumental backing was provided by members of Levi Smith's Clefs, who were about to split from lead singer Barrie McAskill and form Fraternity.
Sweet Peach lifted three Singles — "The Day They Freed The Noise", "The Saddest Song Of All" and "And The Lion Roared", all released during 1970. The first two Singles were local chart successes, and the album gained considerable critical acclaim. As a result, it was picked up by MCA for overseas release in fifty countries. Doug recorded a live LP to follow up, but by that time The Age Of Mouse had generated enough interest in the USA to prompt Doug and Jimmy to move there.
"I then travelled to Nashville where I lived and worked for three years. While there I met many great writers and singers, ate and drank lots of great "country breakfasts" and co-wrote many songs. One of these, "Just Thank Me", became a #1 country hit for the late David Rogers. Another unforgettable experience while in Nashville was co-producing a single for, and touring with, the great Broadway star Carol Channing."
Despite these succeses, Doug was unable to crack the US market, so Jimmy and Doug returned to Australia where they set up a new label, own Billingsgate. Stewart produced Doug's next album entitled Leave Love Enough Alone (1974). The album produced two Singles, "They Always Seem To Look Like Marianne", and the album's evocative title track, co-written by Doug and Jimmy Stewart during a bitter winter in Nashville. "Leave Love Enough Alone" was released in September 1974 and received some airplay, but neither it nor its predecessor made the charts at the time.
"Leave Love Enough Alone", however, proved to be a classic 'sleeper' and the breakthrough finally came more than a year later when it was retitled and reissued as "Winter In America". The song was picked up by stations around the country and this time around it became a major hit through late 1976 and early 1977, reaching #14 in Melbourne and #30 in Sydney. It remains one of the most popular and enduring Australian songs of the '70s; it has been featured on many anthologies, and it has been covered by artists around the world including our own Margret RoadKnight. In 1988, Dutch singing star Rene Froger's version was a top five top hit in Holland, and Froger's live version topped the charts there again in recent years.
In the mid-Seventies, Doug returned to electric music and formed his own acclaimed country rock band, The Sleeping Dogs featuring famed guitarist Kirk Lorange. A single called "You're The Song" came out in April 1977, and in October the same year, after a long interval, Doug released a new album entitled Trees on his own Ash label. Doug had another minor hit in 1981 with his version of Eric Bogle's classic anti-war ballad "And The Band Played Waltzing Matilda".
Throughout his long career, Doug's high professional standing has been reflected in the many prestigious support slots he has played for international touring acts, including Joni Mitchell, Supertramp, Leo Kottke, Charlie Pride, Cheech and Chong, The Stylistics, Dave Van Ronk, Jimmy Webb, Ralph McTell and Ramblin' Jack Elliott. He has shared the stage in concert with the Sydney Symphony Orchestra, and while touring with South African journalist and author Donald Woods (the inspiration for the film Cry Freedom) Doug became the first Australian artist to perform at a South African National Press Club luncheon. Over the years his songs have been covered by many prominent artists including Tommy Emmanuel, Julie Anthony, Allan Caswell, Jimmy Little, Johnny Tillotson, Wayne Newton, Danny Doyle, The Robertson Brothers, Col Joye and Bon Scott. Doug co-wrote four songs for the Australian feature film, Billy's Holiday, starring Max Cullen.
In 1997, Doug was inducted into the Walk Of Honour at Rocky Page's Hall Of Fame, in Barmera, S.A., and he received an award for international recognition for Australian music from the Riverland Country Music Club. In the spring of 1999 he released two CDs - a re-release of his Seventies album Trees, which Doug considers one of his best, and Really And Sincerely, a 70-minute collection of 1967-69 studio out-takes and rarities.
In early 2001, he released Homesong, featuring five new songs and concert favourites, including a new acoustic version of "Winter In America". He also has a new albumDoug Ashdown And Friends Live . . . The Blues And Then Some and in 2002 Doug continued his back-catalogue reissue project with the long-awaited re-release on The Age Of Mouse on CD.
Today Doug is still busy writing songs, recording, conducting song-writing workshops and performing at clubs, concerts and festivals, including occasional trio shows with two other great Australian singer-songwriters, Mike McClelland and Kevin Johnson.


Discography
Singles
1965
"Guess I'm Doing Fine" / ? (CBS 221240)
1969
"A Whole Lotta Shakin' Goin' On" (Williams-David) / "Marcie" (Joni Mitchell) (Philips BF 430)
1970
A: "I've Come to Save the World (Mother love)" (Gordon Hill-Doug Ashdown)
B: "The Day They Freed The Noise" (Gordon Hill-Doug Ashdown) (Sweet Peach SP 001)
1970
"The Saddest Song Of All" / "Georgetown" (Sweet Peach SP 101)
1970
"And The Lion Roared" / "Susan of the Storm" (Sweet Peach SP 109)
1973
"They Always Seem To Look Like Marianne / "Tomorrow is the Last Time" (Billingsgate K 5428)
1974
"Leave Love Enough Alone" / "Skid Row" (Sweet Peach K 5627)
1976
"Winter In America" / ? (Billingsgate)
1977
"Love Will Never Be The Same Again" / ? (Ash)
19??
"You're the Song" / "You Are All I Need to Know" (Billingsgate K 5823)
1981
"And The Band Played Waltzing Matilda" / "Tell Me Honey" (CBS)
19??
"Fraser for a Day" / "Promised Land" (date and label unknown)
19??
"World for the Right Kind of Man" / "Like a Highway" (date and label unknown)
Albums
1965
This Is Doug Ashdown (CBS SBP 233283)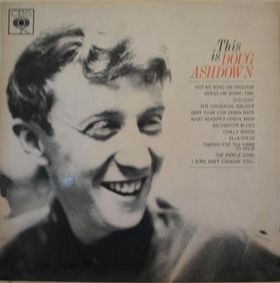 Side 1:
1. "Got My Mind On Freedom"
2. "Guess I'm Doing Fine"
3 "Old Coat"
4 "The Universal Soldier"
5 "Quit Your Lowdown Ways"
6 "What Season's Comin' Nigh"
Side 2:
1. "Backwater Blues"
2. "Chilly Winds"
3. "Ella Speed"
4. "Thanks For the Hand to Hold"
5. "The Riddle Song"
6. "I Sure Ain't Standin' Still"

---
1966
The Real Thing (CBS SBP 233317)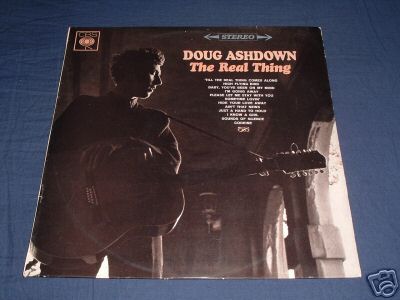 Side 1:
"I'm Going Away" (M.Driscoll)
"High Flying Bird" (Billy Ed Wheeler)
"Hide Your Love Away" (Lennon-McCartney)
"Aint That News" (Roebuck Staple)
"Sometime Lovin'" (Gary Shearston)
"I Know A Girl" (P.Sawyer)
Side 2:
"Please let me stay with you" (Tom Paxton)
"Just A Hand To Hold" (M.Spoelstra)
"Codeine" (Buffy St Marie)
"Baby, you've been on my mind" (Bob Dylan)
"Til the real thing comes along" (Holiner-Nichols-Cahn-Chaplin-Freeman)
"Sounds of Silence" (Paul Simon)
---
1968
Source (CBS SBP 233516)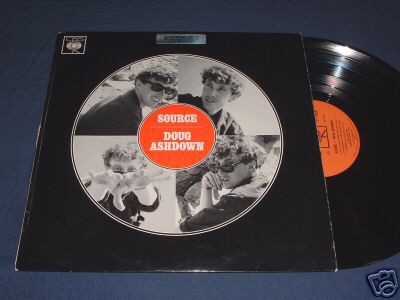 "Source"
"The dolphins"
"For lovin' me"
"He's all these things"
"The house song"
"Lilac wine"
"She belongs to me"
"Something strange"
"Suzanne"
---
1970
The Age Of Mouse (Sweet Peach)

"Who Is It That Shall Come One Day" 2:32
"I've Come to Save Your World" 3:43
"Interlude 0:37
"The Day They Freed The Noise"
"Bonus Track"
"The Lion Roared"
"We The Bridges"
"The Race"
"Galilee"
"Interlude"
"Sister Gabrielle"
"Mouse 1"
"Mouse 2"
"Susan Of The Straw"
"Mothers And Sons"
"Irish Missed Again"
"Interlude"
"Antique Annie's Magic Lantern Show"
"I Remembered Alice"
"Interlude"
"Georgetown"
"Holly"
"Interlude"
"The Saddest Song Of All "
"(Reprise) Who Is It That Shall Come One Day"
---
1971
Doug Ashdown Live (Sweet Peach SPB-501)
---
1974
Leave Love Enough Alone aka Winter In America (Billingsgate L35294)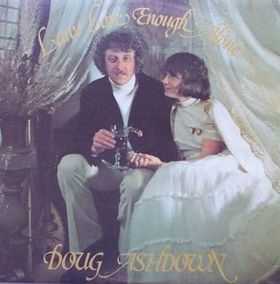 "Leave Love Enough Alone"
"Willie's Shades"
"You're The Song"
"Love Ain't Worth The Livin' When It Dies"
"The Flowers And The Wine"
"Skid Row"
"Sally Broome"
"You Are All Need to Know Of Love"
"Jeannie"
"They Always Seem To Look Like Maranne"
"Tomorrow is The Last Time"
"No Other Words"
"Leave Love Enough Alone (Reprise)"
---
1977
Trees (Ash)
---
1977
Empty Without You (Festival)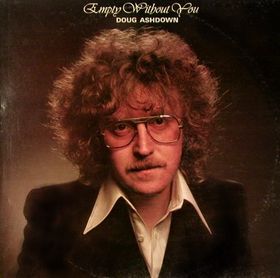 ---
1983
The World For The Right Kind Of Man
(CBS)
---
1987
Love Lives (Larrikin)
---
1997
No Cheap Grace (Movieplay)
"Cartwheels On Quicksand"
"Her Heart's On The Highway"
"Losing The Angels"
"Stowaways
"Too Much To Love Last Time"
"Remember My Life"
"I Owe My Chains"
"One Cowboy Doesn't Make A Rodeo"
"To Have And To Hold"
"That's How It Is When Your're Young"
"The Moon On Clancy's Wing"
"If Wishes Were Horses"
"Winter In America"
"No Cheap Grace"
---
1999
Trees (CD re-issue) (Sleeping Dog)
---
1999
Really And Sincerely (Sleeping Dog)
---
2000
Homesong (Sleeping Dog)
---
2001
Doug Ashdown And Friends Live - The Blues And Then Some (Sleeping Dog)
---
2002
The Age Of Mouse CD re-issue (Sweet Peach/Sleeping Dog)
Video
YouTube:
References / Links
Doug Ashdown official website
http://www.dougashdown.com/
Ian McFarlane
Encyclopedia Of Australian Rock & Pop (Allen & Unwin, 1999)
McGrath, Noel
Australian Encyclopedia of Rock (Outback Press, 1978)
Shownet - Doug Ashdown
http://www.shownet.com.au/ashdown.html
EMusic: Doug Ashdown
http://www.emusic.com/artist/10556/10556133.html
Rate Your Music - Doug Ashdown
http://rateyourmusic.com/artist/doug_ashdown