FRATERNITY
Sydney/Adelaide/UK 1970-73
1970-73:
Uncle" John Ayers (harmonica, vocals) 1971-73
John Bisset (keyboards) 1970-73
Tony Buettel (drums) 1970
John Freeman (drums) late 1970-1973
Bruce Howe (bass) 1970-73
Mick Jurd (guitar)
Bon Scott (vocals) 1970-73
Sam See (slide guitar, piano) 1971-73
1974-75
Uncle" John Ayers (harmonica, vocals)
John Freeman (drums)
Bruce Howe (bass)
Jimmy Barnes (vocals) 1975
Mauri Berg (drums)
Peter Bersee (violin)
John "Swanee" Swan (vocals) 1974, (drums) 1975
History
If it wasn't for the fact that their lead singer was the legendary Bon Scott, Fraternity probably be as obscure today as so many of their contemporaries. However, Bon's subsequent career with AC/DC has created huge international interest in his life and work and this in turn has given Fraternity has a unusually high profile -- unlike most other Australian groups of the same period, their entire catalogue of recordings has been compiled and released several times in various forms.

In local terms, Fraternity's major claim to fame was a brief jaunt on the singles charts in 1970 with their version of Blackfeather's "Seasons of Change". They recorded some interesting material, but the band's considerable potential was never fully realised on record, and the original incarnation of the group fell apart after an inevitably doomed attempt to make it in the UK.
The founding members of Fraternity all came from Levi Smith's Clefs, the legendary '60s group led by Barrie "The Bear" McAskill. It was a famed training ground for young musos, and its many lineups connects to dozens of other contemporary bands. Levi Smiths Clefs probably included more members of more leading Australian groups of the time than any other. Around one hundred musicians passed through the various bands Barrie led in the late Sixties and early Seventies, and the founding lineups of at least four significant Australian bands -- Tully, Fraternity, SCRA and Mighty Mouse -- all sprang directly from various incarnations of Levi Smith's Clefs.
One might expect Barrie McAskill to have been rather annoyed by continually losing band members but, on the contrary, he has always taken a very positive view. As Ian McFarlane noted, Barrie's philosophy was to encourage his band members to improve as musicians, and for them to move on as the urge arose. Barrie himself sums up his attitude thus:
" ... there are more musicians for me to meet and I hope it will remain this way for the rest of my life ... there is always something new to learn, new chemistries to blend and new music to play.
Originating in Adelaide, Levi Smiths Clefs had evolved from an earlier local band, The Clefs, founded by keyboard player Tweed Harris, who later went on to fame with The Groop. Another Clefs founding member was Pat Aulton, who became Australia' most prominent record producer of the late 1960s. The Clefs broke up during 1966 and a "New Clefs" formed with a new lineup of with Tweed,ÊLes Tanner (guitar), John Young (guitar), Bruce Howe (bass), Vinnie Jones (drums) and Barrie McAskill and Bev Harrell (vocals). When Tweed left to form The Groop, Barrie McAskill renamed the band Levi Smith's Clefs. Soon after the new version of The Clefs formed, they relocated to Melbourne (except for Bev, who stayed in Adelaide to pursue a successful solo career).
After moving to Sydney in 1967, Levi Smith's Clefs was offered a job at the Whisky A Go-Go nightclub in Kings Cross, and what began as a three-month engagement stretched out into a marathon residency, which saw the band playing six hours a night, six nights a week for eighteen months. The line-up during this period changed constantly, with several members coming and going more than once, and scores of other musicians sat in and jammed with the group.
Among the many notable performers who played with the Clefs during the Whisky residency were , veteran guitarist Les Stacpool (ex-Chessmen, Merv Benton and the Tamlas, The Clefs), Ian Walsh (organ, Jeff St John & the Id), Michael Carlos (organ, Long John Law's Disco), Doug Stirling (bass, The Blue Jays), John Blake (bass, Little Sammy, Janice Slater and The In People), John ÒYukÓ Harrison (bass, Ray Columbus & the Invaders, Max Merritt & The Meteors), John Helman (bass, Jeff St John & the Id), Gil Matthews (drums, Max Hamilton & The Impacts) and Jimmy Thompson (drums, Tony Worsley & The Blue Jays).
By early 1968, the line-up had stabilized with McAskill, Inez Amaya (vocals), Michael Carlos (organ), John Blake (bass), Mick Jurd (guitar), Richard Lockwood (flute, sax) and Robert Taylor (drums, Johnny Young & Company), but in late 1968 most of that lineup (Carlos, Lockwood, Blake and Taylor) left to form their own band, Tully.
Meanwhile, New Zealand band The Action, which had moved to Sydney, had been playing at the Hawaiian Eye (also run by the management of the Whisky) and their keyboard player John Bissett often sat in and jammed with the Clefs. The Action split up around the same time that the Clefs lost its 1968 lineup, so Bissett was invited to join the Clefs, which now consisted of McAskill, Amaya, Howe, Jurd and another new member, Tony Beuttel (drums, ex-Bay City Union). Inez Amaya left in mid-1969 (when the Whisky residency finally came to an end) and she joined the cast of Hair (for which Tully was the original house band).
During 1969 and early 1970 Levi Smith's Clefs toured extensively, playing the rock circuit in Sydney, Adelaide and Melbourne. They visited Adelaide in June 1969 to play a season at the 20 Plus Club, and while there, Sweet Peach put them into the studio to recorded the group's only LP, Empty Monkey, one of the first Australian albums to blend pop, R&B, soul and jazz influences into more expansive style, an approach epitomised by the album's highlight track, an ambitious 11-minute rendition of The Beatles' "You Can't Do That".
Around the same time singer-songwriter Doug Ashdown joined forces with Sweet Peach boss Jimmy Stewart, who drafted in Levi Smiths Clefs to provide the backing for Doug's ambitious new record The Age of Mouse, the first Australia pop double-album ever released.
The album was released in March 1970 and it was hailed by Go-Set's Ed Nimmervol as Òthe best rock album ever produced in AustraliaÓ. Regrettably this groundbreaking release didn't achieve the success it deserved at the time (although it's now a sought-after collector's item). John Bissett has described the LP as " a pretty accurate representation of the Clefs at that time -- a blend of Motown and rock, largely inspired by Vanilla Fudge".
According to McAskill, part of the reason the LP flopped lay was that their label Sweet Peach suddenly switched distributors halfway through the promotional tour, and McAskill also suggests that the label had a "agenda" to take the group away from him. Clinton Walker suggests that another influence was the fact that American label MCA had heard the Ashdown album and were interested in releasing it and that this "went to the Clefs' heads".
Whatever the reasons, while the Clefs were in Melbourne Jurd, Bisset, Howe and Buettel all left decamped, renamed the themselves as Fraternity, moved back to Sydney and set up house in a two-storey terrace in Jersey Rd, Paddington.
By this time The Valentines had broken up, and as soon as leader Bruce Howe heard about the split, he invited Bon Scott to join Fraternity. Signing with leading Sydney agency Nova (whose other clients included Blackfeather) Fraternity scored a residency at Jonathan's Disco on Broadway, which they shared with a new band, Sherbet. In the early days they played covers ranging from current pop hits to jazz and blues standards, but they evolved into a harder-edged boogie/rock outfit with a progressive flavour. Their influences were vary varied -- according to John Bissett:
"Fraternity were initially very much into Vanilla Fudge, Deep Purple and the Nice. Later on we were greatly influenced by the Band, Yes and The Byrds."
Although John Bissett has said that the original Fraternity members "... were ambitious and impatient for greater things than being a resident band" the necessity of making a living soon drew them back into that scene. They returned to Sydney, where the club and disco scene was booming -- thanks to the regular influx of cashed-up American servicemen on "R&R" leave -- Fraternity scored a long-running residency at Jonathan's Disco in Broadway (later known as the Phoenician Club), where they alternated with another up-and-coming young group, Sherbet.
By this time The Valentines had broken up and through Bruce Howe the other members learned that Bon Scott was keen to join Fraternity and he took over as lead vocal duties from John Bissett. Bon, Bruce, Mick, Tony and Bon all shared a house near Centennial Park, which soon became a hub for inter-band socialising and much partying. They got to know people like singer Leo De Castro and guitarist John Robinson, formerly of The Dave Miller Set.
Robinson -- who had recently launched his own new band, Blackfeather -- was a friend of 'Jonathan's' owner John Sinclair -- whose brother David had recently been appointed by Festival to run their new progressive label Infinity. Robinson often stopped in at Jonathan's late in the evening to jam with Fraternity, and as a result he became good friends with them, especially Bon Scott.
One of Blackfeather's biggest live numbers was a new song called "Seasons Of Change" which had begun life as a Dave Miller Set jam back in 1969. Fraternity's Bruce Howe was one of several Sydney musos who were much taken with the song, which had an unusual "olde English" feel. In late 1970 Blackfeather began recording their debut album, At The Mountains Of Madness, and as a result of the friendship between the two groups, Scott played recorder on Blackfeather's version of "Seasons of Change" and Bisset played electric piano on the album's closing track "The Rat".
Fraternity's first single "Why Did It Have To Be Me?" (backed by a version of The Moody Blues' "Question" was issued on Sweet Peach in October 1970. Around this time Buettel left and was replaced by another former Clefs member, John Freeman, formerly of noted adelaide band Red Angel Panic. The group then went into Sydney's United Sound Studios to record their debut album Livestock, which was produced by Doug Ashdown and Jimmy Stewart.
After the LP came out Adelaide businessman Hamish Henry took over management of Fraternity and the group moved to Adelaide. Most of the band took up residence at Hemmings Farm in the Adelaide Hills, where they wrote and rehearsed communally (in the spirit of Traffic and The Band) while Bissett and his wife rented a flat above Henry's art gallery in North Adelaide.
Vince Lovegrove reported on the group's new base in the June 1971 edition of Go-Set:
"(Fraternity) live like no other band in Australia, in a house in the hills 17 miles from Adelaide. It's surrounded by seven acres of bushland. They're from everything but nature. What a buzz! Once a week they come into the city to have a meeting with their management and collect their pay. They only leave their pad to play gigs.

"Bon Scott, vocalist, recorder and timbala player, is constantly in a dream world of his own but he's having a ball. He says: 'The point is, the dollar sign is not the ultimate. We want to try and help each other develop and live. So that the thing inside of us, whether it be creative or not, is satisfied. Something makes us tick and it's up to people to satisfy that something. We are satisfying ourselves and others by creating an environment."
The group's next single "Livestock", "Why Did It Have To Be Me?" b/w "Cool Spot" was issued in January, but did not chart. Their second single became their only major hit -- it reached #1 in Adelaide and made the Top Ten in other cities, but for reasons beyond their control it faced strong competition from the original version by Blackfeather. As noted above, Fraternity had wanted to cover "Seasons of Change" for some time, and with the blessing of David Sinclair and John Robinson, they cut their own version, which was released in March 1971. It would probably have been a major national hit, because John Robinson had generously obtained an undertaking from Infinity not to release Blackfeather's version as a single. Predictably though, as soon as Fraternity's version became a hit in Adelaide, Festival reneged on its promise and rushed out the Blackfeather version as a single.
Two new members joined during 1971, expanding the band to a seven-piece. Harmonica player "Uncle" John Ayers joined in May, and not long after that the group achieved another career peak, winning the 1971 Hoadley's Battle of the Sounds. Next on board was guitarist-pianist Sam See (ex Sherbet, Flying Circus) who was apparently approached to join Fraternity by Bruce Howe. Sam left Flying Circus at the completion of their Australian tour in September. Flying Circus had relocated to America earlier in the year and they were beginning to build up a following in Canada, where they recently toured, and they returned there after their Australian tour and it eventually became their permanent base.
Two more Singles were released after Sam joined -- "The Race" came out in October 1971 on Sweet Peach, and the same month their fourth single "If You Got It" came out on the Raven label (not to be confused with the present-day reissue company), evidently signalling the end of their relationship with Sweet Peach.
Now augmented by Ayers and See, Fraternity' cut their second album Flaming Galah, which came out on the RCA label in April 1972. It was a much rockier album that ther debut and featured a distinctive twin-keyboard interplay between Bissett and See. Although songs like "Welfare Boogie", "If You Got It", "Hemming's Farm" and "Getting Off" showed the group moving into a bluesy hard rock style, there were only three new songs alongside re-recorded (albeit superior) versions of earlier songs.
By the time the album had been released, Fraternity were in the UK, having taken advantage of their Battle of the Sounds prize (a free trip to London). Unfortunately, like so many other Australian bands, the dream of "making it" in the UK proved impossible to achieve. Basing themselves in Finchley, London the group slogged away in the UK and Europe from early 1972 to mid-1973, playing one-off gigs around England and one or two short tours of Germany. As John Bissett recalled in an interview with the AC/DC website "Back In Black", Fraternity's sojourn on the punishing UK music scene had the same effect on them as it did on so many other Australian bands:
"Our wealthy and benevolent manager, Hamish, transplanted the whole Fraternity community to London. My dog Clutch even joined us after six miserable months in quarantine. In all there were 17 people and a dog living in a house designed for maybe 6 people. It was very cramped and communal and there was a lot of bickering as you can imagine. Each band member had a girlfriend or wife and I also had a young child and a dog. There were also the two roadies, Bob and Rob, Bob&rsquos wife and our tour manager, Bruce King. Hamish had also shipped our Fraternity tour bus to London from Australia. The Finchley residents were bemused by the mini greyhound bus parked in the narrow London street.

I remember London rehearsals being very gloomy, unproductive affairs. We had very little money so the booze and drugs supply was severely limited. The whole mood of the band went downhill in London – hagsub reality began to set in. The party was over. We were not up with the play as far as sound production went. Our PA was inadequate and we lacked the know-how and experience of the UK bands. We supported Status Quo at our first gig. The audience was appreciative and kind but we could not compete with the gear we had.

Other problems inherent in the band became prominent. We had too many members to get a clear sound definition of individual instruments and we lacked good original material. We also had not established a clear musical and cultural niche or direction for ourselves. We were a strange type of country-rock band by this stage. We all tried to write new and better songs but to no avail. I was unhappy on piano but felt like a passenger on a bus that no one in particular was driving, and clueless and powerless to change anything. Things were briefly better in Germany. We focussed more on rock for the German audiences and went over quite well. Bon introduced a song or two in German, much to the delight of the audience.

I was the first to jump ship and Sam See followed soon after. The rest (Howe, Jurd, Ayers, Scott and Freeman) carried on for a time as Fang but soon returned to Australia."
John Bissett was hired and fired from Mungo Jerry then moved into computing for several years. Sam See was contacted by Doug Rowe and headed to Canada to rejoin Flying Circus. The rest of Fraternity returned to Australia, but not long after they got back Bon (whose daredevil exploits were already the stuff of legend) was severely injured in a motor-bike accident that almost claimed his life, and he was forced to leave the group and spent many months recuperating. He collaborated with a group of Adelaide musos, dubbed The Mount Lofty Rangers.
In July 1974 Vince Lovegraove introduced Bon to AC/DC at an Adelaide gig, while the band was touring as support for Lou Reed. They were about to ditch vocalist Dave Evans and Bon was offered his place, but Bon wanted to be the drummer so he turned it down, although he did sign on as their roadie. During a residency in Perth in September Bon 'subbed' as singer when Evans refused to go on; soon after that he was sacked, and Bon was again offered the job. This time he accepted, and the rest is history.
Meanwhile, Howe, Ayers and Freeman had put together a "new" Fraternity in 1974 with Mauri Berg (guitar), John "Swanee" Swan (vocals) and Peter Bersee (violin). Freeman left in mid-1975, so Swan switched to drums and his younger brother Jimmy Barnes briefly took over the new lead singer, but he left soon after, rejoined his earlier band, Cold Chisel and of course went on to become one of the biggest Australian rock stars of the 70s and 80s. Swan left to join Jim Keays' Southern Cross, and later fronted Feather and his own band Swanee.
By late 1975 Fraternity had been renamed Some Dream. Ca. 1978 it was renamed Mickey Finn, which comprised Howe, Ayers, Berg and Joff Bateman. By 1980 John Freeman had rejoined and a second guitarist, Stan Koritini, had been added and this lineup cut a self-titled album for the Eureka label. Mickey Finn released two Singles in 1980 and 1981 before fading from the scene.
Discography
Singles
1970
"Why Did It Have To Be Me?" / "Question" (Sweet Peach SP 105)
1971
"Seasons Of Change" / "Somerville R.I.P." (Sweet Peach SP 113)
#51
1971
"Livestock" // "Why Did It Have To Be Me?"/ "Cool Spot" (PS) (Sweet Peach SPM 501)
1971
"The Race Pt. 1/"The Race Pt. 2" (Sweet Peach SP 116)
1972
"Welfare Boogie" / "Annabelle" (RCA)
EPs
1971
Fraternity (Raven NSP 060)
Albums
1971
Livestock (Sweet Peach/Astor SP 12005)


---
1972
Flaming Galah (RCA SL 102038)


---
1996
Fraternity: Complete Sessions 1971-72 (Raven RVCD-56)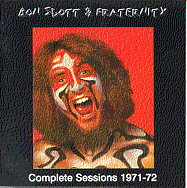 Fraternity on YouTube:
References / Links
Ian McFarlane
Encyclopedia of Australian Rock & Pop (Allen & Unwin, 1999)
Noel McGrath
Australian Encyclopedia of Rock (Outback Press, 1978)
Vernon Joyson
Dreams, Fantasies & Nightmares: Australia (Borderline Books, 1995)
Magnus Holmgren
Australian Rock Database
http://hem.passagen.se/honga/database/f/fraternity.html
AC/DC "Back In Black" website
Interview with John Bissett
http://www.acdcbackinblack.net/us/index2.php?zone=itw_john_bisset
AC/DC Crabsody In Blue website
http://www.crabsodyinblue.com/acdcfraternity.htm
John Bissett website
http://www.johnbisset.com/
Raven Records
www.ravenrecords.com.au