DINAH LEE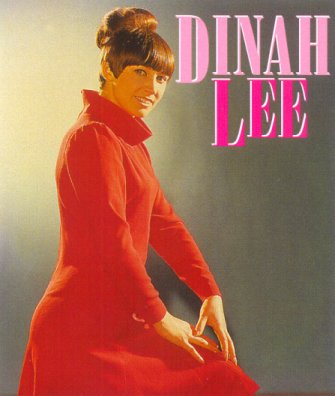 "Dynamic" Dinah Lee was without doubt the most successful and prominent Australasian female pop star of the Sixties. It's probably a symptom of the long-standing male domnination of popular music that her status is not as high as it should be, and while she has always been a famous figure in her home country of New Zealand, her many great achievements have never been fully acknowledged here in her adopted home. She did get some long-overdue recognition in the ABC's recent series Long Way To The Top, but it is curious that despite her clear preeminence as the mid-Sixties female star in both countries, and her numerous chart-toppers on both sides of the Tasman, she didn't even rate an entry of her own in Ian McFarlane's otherwise definitive Encyclopedia of Australian Rock & Pop. (Maybe Ian just didn't consider her Australian enough?)
Ed Nimmervol is one Aussie rock historian who has recognised her importance, and to quote him:
"...on stage and on record Dinah had all the adventure and exuberance that the boys had."
In the male-dominated world of rock'n'roll and beat music, young male rockers had scores of artists to emulate and imitate -- Little Richard, Chuck Berry, Elvis, The Everly Brothers, Buddy Holly and Jerry Lee Lewis in the 50s, and in the '60s The Beatles, The Stones, The Kinks, The Byrds and others. But there were precious few role models for aspiring female performers, especially if they aspired to be more than just a chanteuse.
There had been a brief vogue for the so-called "girl groups" in America in the early 60s -- The Shirelles, The Crystals, The Ronettes -- this was all but obliterated by the 'British Invasion' in 1964. Gradually, a new breed of female solo singers emerged in the mid-60s -- Cilla Black, Dusty Springfield, Dionne Warwick, Sandie Shaw, Nancy Sinatra -- but (with the exception of Dusty) they generally worked in a safe and sophisticated "middle of the road" pop style that posed no threat to traditional views about the roles of female performers.
Although the beat boom was revolutionising the music scene (as well as clothing and hairstyles) for young men, the public image of the female singer was firmly stuck in the 1950s, and was still largely defined in the mass market by well-dressed, well-groomed white performers like Connie Francis or Brenda Lee. To compete with the boys and stay ahead, Dinah had to create her own style and repertoire -- which she did with great style and energy.
She drew much of her early musical inspiration from black female singers of the early 60s, like England's Little Millie Small and America's Dee Dee Sharp. These singers were pioneering a tough, rootsy sound for female singers, based in blues and R&B rather than Tin Pan Alley or Broadway traditions. Millie Small is doubly significant -- her 1963 smash "My Boy Lollipop" was Island Records' first hit, and she was the first major artist to have a hit with "bluebeat", the exciting new genre that had recently emerged from Jamaica and which was the direct ancestor of ska and reggae. Dinah deserves full credit for being the only local artist to pick up on the bluebeat craze and record in that idiom at the time.

Dinah was also fortunate to have grown up in Christchurch, which Dave Miller accurately describes as "the Liverpool of the southern hemisphere". A key factor was the establishment of a large American base in Christchurch in 1957. It was part of "Operation Deep Freeze" and Christchurch was (and still is) the main staging point for supplying the American Antarctic base that was being built at the time at McMurdo Sound. The regular local dances were attended by many American servicemen and base staff, inlcuding many young African-Americans. Their presence, their passion for blues and R&B -- and above all, their copies of the original recordings and the prized Fender guitars and amps that they brought with them -- soon filtered through and began to exert a big influence on budding local musicians like Max Merritt, Dave Miller, Ray Columbus and Dinah.
Dinah Lee was born was Diane Marie Jacobs in Waimate, on New Zealand's South Island, on 19 August 1943. She was born into a musical family -- her father played sax, her uncle was a drummer and her two aunts played piano and violin. When her parents separated she was fostered with a family who owned a farm near Christchurch and she attended the newly-opened Cashmere High School, which is also the alma mater of NZ female vocalist Bic Runga and current pop sensations ZED (who are, not coincidentally, managed by Dinah's old mate Ray Columbus).
Dinah's father worked in a local department store, but he also also promoted teenage dances in his spare time. One night in 1958 he asked his daughter if she would like to sing some songs at The Country Club Cabaret. She was an immediate success and was soon appearing every Saturday night. Aged only fifteen, she made her professional debut with dance band Bobby Davis & The Dazzlers and she also began sitting in with a local rock 'n' roll band The Saints. This latter group, led by guitarist Pat Nehoneho, was fronted by singer Phil Garland, whom Dinah was dating at the time. In later years, Phil became a respected NZ folk artist.

In 1962 The Saints split and Phil and Diane put together their own group, The Playboys, bringing in the multi-talented Brian Ringrose, the recently departed lead guitarist from Ray Columbus & The Invaders, plus Graeme Miller, the drummer from local band The Numonics, who had been recommended to them by Pat. Completing the lineup was bassist John O'Neill and rhythm guitarist Mark Graham. Dinah became co-lead singer, alternating sets with Phil Garland. After meeting Jackie Holme, owner of hip boutique in Christchurch, Dinah changed her look. Jackie gave Dinah a page-boy haircut and dressed her in wild op-art designs with white leather boots. She began modelling around this time, and her "mod" wardrobe, makeup and hairstyle soon became her trademark.
Dinah's break as a solo performer came in late 1962, courtesy of Max & The Meteors, who had already left Christchurch for New Zealand's biggest city, Auckland. After an abortive first trip to Sydney in 1963 The Meteors had returned to Auckland, where they were holding down a residency at the popular Top 20 Club. Late in the year the Meteors were offered a national tour, so Max contacted The Playboys and asked them to come up and fill in while the Meteors were away. Apparently, this was a common tactic for resident bands on the cut-throat Auckland scene -- out-of-town groups from places like Christchurch and Wellington were brought in for the duration and then packed off home when the tours finished without posing a threat to the tenure of the resident group. It was during this time that Dinah heard "Don't You Know Yokomo?", which she had discovered on a Dee Dee Sharp album, and she immediately included it as part of her set.
According to NZ rock historian John Dix, Diane was spotted almost immediately after The Playboys' arrival in Auckland by leading solo guitarist Peter Posa. He was knocked out by her style, personality and powerhouse performance and he returned the next night with Ron Dalton, the head of New Zealand's leading independent label Viking Records. Equally impressed, Dalton offered both Phil and Diane solo contracts and even before the Top 20 gig had finished the two singers had announced their intention to leave the band. Faced with the loss of both their singers, Playboys drummer Graham Miller dashed off a classic telegram to his older brother, which read simply "Give up smoking. Start learning songs. You're our new singer." And so Dave Miller -- who went on to lead Sydney's celebrated The Dave Miller Set -- became the new lead singer of The Playboys, premiering on the same night as Dinah's farewell performance.
Dalton arranged an audition and Dinah recorded demos of two songs by the Exciters, "Tell Him" and "He's Got The Power". Viking's head office in Wellington approved them and a recording contract was signed. In February 1964 promoter Jim Haddleton put together the "Startime Spectacular" for a North Island tour. It was headlined by Bill & Boyd with Max Merritt & The Meteors and singer Lyn Barnett. At the last moment Barnett had to cancel, so Max suggested Dinah as a replacement. For the three week tour, Dinah took to the stage every night doing a thirty minute slot backed by The Meteors. Seeing her obvious talent on the tour, Haddleton signed her up to a management deal (and giving himself a whopping 25% commission) and for the next five years Haddleton exerted total control over her income and the direction of her career.
Dinah was now a rising star in New Zealand, and scoring a residency at the Top 20. Mid-year, she went into the studio, backed by the label's house band, her old Christchurch buddies Max Merritt & The Meteors. The tracks they cut included her own distinctive versions of two R&B songs she had picked up from Dee Dee Sharp records -- Huey 'Piano' Smith's "Don't You Know Yokomo" and Jackie Wilson's classic "Reet Petite". Both songs made #1 in New Zealand, establishing Dinah as one of the biggest stars on the local pop scene.
The latter half of '64 was a veritable rocket ride. In just four frantic months, Dinah released four hit singles, two EP's and her debut album, which sold a total of more than 100,000 units. She was constantly on tour and making promotional appearances on TV on both sides of the Tasman. Originally credited to 'Diane Lee', "Don't You Know Yokomo" was released in August 1964 and kicked off the frantic run of chart success in great style. The first pressing sold out within days and made the NZ Top 20 within two weeks. By the time the second pressing hit the streets, Viking had renamed her Dinah Lee (an amalgam of Dinah Washington and Brenda Lee).
In mid-1964 Ray Columbus and The Invaders broke into the Australian charts, becoming the first New Zealanders to score a #1 record in Australia with "She's A Mod". Only weeks later, Dinah followed them, smashing into the top spot with "Don't You Know Yokomo", making her the first Kiwi female artist to score a #1 Australian single. An EP including the hit single was also issued.
"Reet Petite" was Dinah's second single, released in September. In NZ it was backed by "Yea Yea We Love Them All", a novelty tribute to The Beatles, who had taken Australia and New Zealand by storm on their world tour only a few months earlier, but this combination wasn't released in Australia. Viking issued a second EP also titled Yea Yea We Love Them All. She followed up with a third huge NZ hit, "Do The Blue Beat" in October 1964. The A-side was the very first bluebeat recording made 'downunder', and it was the hit that really took her to the top on both sides of the Tasman.
Dinah's third NZ single was "Do The Blue Beat" b/w "Kansas City" and it was another huge success. However, HMV Australia hadn't picked up either the second or the third Viking single in their original form. Seeing her huge success in NZ and anxious for a follow-up, they combined the A-sides from each to make the double-A-sided "Reet Petite" / "Do The Blue Beat", Dinah's second Aussie single. It was another huge seller and chart success for her in Australia.
Dinah was now a bona fide pop sensation, the first local female star to emerge from the Beat Boom and her popularity in NZ easily surpassed all the other female singers of the day -- Maria Dallas, Sandy Edmonds and Allison Durbin, Noelene Batley, Little Pattie and Judy Stone -- in both image and performance. As Ed Nimmervol suggests, "She's A Mod" could well have been written about Dinah herself. The fashion sense she brought to her pop career made Dinah the 'Queen of the Mods' and Australasia's most imitated female performer.
Not everyone liked her new look, however. She was frequently heckled on country dates during the Startime Spectacular tour, and Dinah recalls her mother bursting into tears when they met at the airport late in 1964:
"She couldn't recognise me in my pale make-up and big black eyes, these kiss curls around my cheeks. In those days you still wore hats to town with little white gloves. She was speechless."
Dinah was a featured act on several major tours, including the Jim Haddleton-promoted "Lou and Simon Spectacular" with The Sheratons, Tony & The Initials and Alex Neill, the New Zealand leg of the "Jimmie Rodgers Show" with The Crystals and Terry Stafford, and her first international tour, Pan Pacific Promotions' "Starlift '64", an all-star package including The Searchers, Peter & Gordon, Del Shannon, Eden Kane and Dinah herself. Reviews of the Sydney Stadium shows rated Dinah's as the most exciting performance of the night.
When "Do The Blue Beat "hit the top of the charts, Dinah was touring on the Peter Posa Farewell Tour. Her performance on the Posa tour was recorded and four Dinah tracks were included on the "Live On The Peter Posa Show" album in 1964. When "Reet Petite" hit in Australia, Australia's king of rockJohnny O'Keefe recognised that there was nothing like Dinah in Australia so he invited her over specially to appear on his new show Sing Sing Sing. She rushed to Australia, taped the show and flew back to meet commitments in Auckland.
On her next visit to Australia she appeared on all the major Australian pop TV shows. Viking issued her fourth single "Who Stole The Sugar" b/w "Rock Around The Clock" in November 1964 and it was a another big NZ hit. In New Zealand she starred in two half-hour TV specials, had another NZ hit with "Who Stole The Sugar". HMV Australia again took a different path with the release of the third Australian single, lifting "I'm Walkin'" from Dinah's first album and putting "Who Stole The Sugar" on the B-side. It sold very well and charted strongly.
In early 1965 Dinah returned to Australia and taped three performances for Bandstand. She also appeared on Saturday Date and The Tonight Show. One of the Bandstand performances, which must have been a special thrill for Dinah, was a Myer Music Bowl concert where her hero Millie Small was the headlining a bill that also included Kiwi rock pioneer Johnny Devlin. About this time Viking released her fifth NZ single, "Johnny" / "Let Me In" but again HMV Australia passed on it at the time. Viking also released the Dance to the Blue Beat EP and this is now one of the most sought-after Dinah Lee recordings, fetching upwards of AU$100 on the collector's market.
With so much success in such a short time, it was obvious that the next step for Dinah was to try her luck overseas. Unusually, she went to America first, rather than to England, as was the standard procedure for most local acts in the '60s and early '70s. On her first US in mid-1965 visit Dinah achieved the unique distinction of being the only Australasian performer ever to appear on the legendary American TV pop show Shindig. On this first appearance Dinah wanted to sing one of her hits, but the producers reportedly thought that audiences would have trouble relating to "Yockomo" or "Do The Blue Beat", so she ended up doing "I'm Walkin' " and then she joined music legends Ray Charles, The Righteous Brothers and Glenn Campbell for a rendition of Ray's classic "Hit The Road Jack". Dinah also appeared on Hullaballoo, Hollywood A-Go-Go, Shebang and The Jimmie Rodgers Show.
American label Vee-Jay Records initially showed interest in releasing her material, but this fell through, and her only American release, "You Don't Talk About Love" / "Do The Blue Beat", crept out on Vee-Jay's subsidiary label, Interphon. With no promotion it went nowhere, and it has to be said that America probably wasn't quite ready for a performer like Dinah. From America she went on to London in late '65, where she hooked up with Chris Blackwell, the founder of Island Records and champion of Jamaican music. How this was arranged is unknown at present -- possibly it came about via her meeting with Millie Small in Melbourne.
Dinah cut four tracks for Island's subsidiary label Aladdin, which released mainly slow soul songs by Jackie Edwards and Owen Gray. However as her first UK single in May 1965 Aladdin actually decided to go with songs recorded back in New Zealand -- "I'll forgive you then forget you" b/w "Nitty gritty". To promote the record she appeared on several major British TV shows including Thank Your Lucky Stars and Scene At 6:30. Aladdin Records went with the combination of "I Can't Believe What You Say" / "That's It I Quit" as the second release in England, but it failed to sell. Both the Aladdin singles are pretty obscure these days, but the latter single has recently generated interest with fans of the so-called 'Northern Soul' genre, which has undergone a major revival, especially in the UK (as have some of the UK recordings made by Lynne Randell).
Meanwhile back in New Zealand, Viking released "I'll Forgive You Then Forget You" / "What Did He Say". This new combination with a different B-side made it a stronger disc, and this time HMV followed Viking and released it the sameway as her fourth Australian single. It did well despite the fact that she was not in the country at the time to promote it.
Having tried the UK market and without success, Dinah decided to head home, where she was still New Zealand's most popular female performer. For their fifth Australian single, HMV went with the second Aladdin release, and this put Dinah back on the Australian charts. Viking released three more Singles in quick succession during late '65, "He Can't Do The Blue Beat" / "The Birds And The Bees", "Nitty Gritty" / "Hey Chickie Baby" and "That's It I Quit" / "Pushing A Good Thing Too Far".
In August-September 1965, Dinah was the support act for the first Australasian tour by controversial pants-splitting singer P.J. Proby. To capitalise on the exposure HMV released its sixth Dinah Lee single, "Let Me In / Johnny" -- the NZ release they had passed on six months earlier. Following the Proby tour, she flew to America to make another appearance on Shindig and there was an attempt to line-up a more extensive tour, but it fell through due to work visa problems.
On 14 September 1965, Dinah Lee's tremendous success and popularity was recognised when she was named New Zealand's Entertainer Of The Year at the NEBOA Awards. In November Viking Records released her second album The Sound Of Dinah Lee which was another big seller. A second Live On The Peter Posa Show" album was also released, with Dinah contributing a further four tracks. It was at this time that Dinah decided to base herself permanently herself in Australia, and after collecting her award she went on her own farewell tour. Two songs from that were released on the Live On The Dinah Lee Show album.
In March 1966 Dinah made a second Australia / New Zealand tour with Millie Small, which was promoted with a new single, "He Don't Want Your Love Anymore" / "Don't You Just Know It" (her seventh HMV single, her tenth for Viking). However, by this time Dinah's chart success was beginning to wane. The music scene was diversifying and several new genres were emerging including soul, blues, R&B, psychedelia and hard rock. Groups were becoming the dominant format and solo singers were falling out of fashion -- by the end of the decade most of the Sixties solo stars were passé, and many former idols like Dinah and Normie Rowe had faded from popularity. For female vocalists it was especially tough, since public taste and record companies interest had been radically reshaped by the new wave of soul, blues and rock singers like Aretha Franklin, Janis Joplin and Grace Slick, and by emerging singer-songwriters like Joni Mitchell.
As a result, many former pop stars had to resort to the club circuit and variety TV shows simply to survive. It's notable that the majority of solo artists who had any major chart success in the late 60s in Australia were men -- Johnny Farnham, Russell Morris and Ronnie Burns -- and it's no coincidence that both Morris and Burns were backed up by the "Melbourne Mafia" including songwriter Johnny Young, producer Ian Meldrum and engineer John Sayers. It wasn't until the early '70s that solo female singers made a comeback in popularity, through overseas-based artists like Olivia Newton-John and Helen Reddy, and local singers like Alison McCallum and Colleen Hewett. But whatever the time and place, whether male or female, solo pop/rock singers who were not also songwriters faced one overriding difficulty: getting access to decent material. It was a perennial problem that stymied many a promising career.
Dinah had several more singles released during 1966 -- May's "Night Time Is The Right Time" / "Not In This Whole World" followed in August by "He Sure Is The Boy I Love" / "Summertime". PJ Proby returned for another tour in October, and Dinah was once again on the bill. Her third album, issued late in 1966, was titled The Mod World Of Dinah Lee and featured a striking cover photo of Dinah in a classic Mod pantsuit.
Dinah released only two singles in the wategsubed year of 1967. The first, "98.6" / "Too Many People", came out in February 1967 on both labels. It was followed in July 1967 by "Sorry Mama" / "I Keep Forgettin'", the latter track being a soul standard also covered by Normie Rowe as well as providing an '80s hit for former Doobie Brother Michael McDonald. This sadly proved to be Dinah's last HMV/Viking release and effectively marked the end of her chart career. Despite three years at the top, massive sales and continuing popularity in both Australia and New Zealand, neither company renewed her recording contract.
Although Dinah's remarkable chart success ended in 1967, her popularity as a performer never really diminished. She became a top attraction on the club circuit and continued to make regular TV appearances. In later years she also regained control of her career and finances after successfully suing her former manager James Haddleton in the Australian courts for the money she was owed.
Dinah released three other singles during the Seventies. The first in 1972 was on Polydor, "Tell Him" / "You Are The One". In 1974 she was part of Johnny O'Keefe's famous comeback show, "The Good Old Days of Rock'n'roll" which also featured Lonnie Lee, Laurel Lea, Johnny Devlin, and Jade Hurley, which broke attendance records nightly at Sydney's St George's Leagues Club. Her next single on Festival in 1976 was "It Doesn't Matter Anymore" / "Midnight Blue", followed by another on Laser in 1979, "I Can See Clearly Now" / "Let It Take You". In 1982, a Best Of album was released on Music World, the label run by Hoghton Hughes, an old friend from her Christchurch days and also a close friend of Dave Miller. Two excellent compilation CD's have been released, containing the best of her Sixties material.
During her long career, Dinah has received many accolades, including a special award from the Variety Club of Australia. In the '70s she was "The Face of Yardley" for Yardley Cosmetics. She became passionately interested in body-building and in 1984 was voted the 'Australian Female Body Builder of the Year' in the over-35s category, and she has written a book on the subject.
Based in Sydney, Dinah these days divides her time between regular performances here and overseas, and work as a motivational speaker. Still sounding as good as ever, and looking terrific, Dinah remains of the true icons of Antipodean pop and holds an honoured place as a pioneer among female performers. In recent years she featured on the hugely successful "Long Way To The Top" concert tour, and has also appeared on the ABC's popular music quiz show Spicks & Specks and recently performed at an all-star benefit in Sydney for veteran roadie Norm Sweeney.
Discography
Singles (NZ)

1964
"Don't You Know Yockomo?" / "You Don't Talk About Love" (Viking VP 151)



1964
"Reet Petite" / "Yeh, Yeh We Love Em' All" (Viking VP 153)

1964
"Do The Bluebeat" / "Kansas City" (Viking VP 158)

1964
"Who Stole The Sugar / Rock Around The Clock (Viking VP 161)

1965
Johnny / Let Me In (Viking VP 163)

1965
I'll Forgive You Then Forget You/What Kind Of Love Is This (Viking VP 169)

1965
The Birds And The Bees / He Can't Do The Bluebeat (Viking VP 172)

1965
Hey, Chickie Baby / The Nitty Gritty (Viking VP 175)

1965
That's It, I Quit / Pushing A Good Thing Too Far (Viking VP 180)

1966
"He Don't Want Your Love Anymore / Don't You Just Know It (Viking VP 197)

1966
The Right Time/Summertime (Viking VP 203)

1966
"Not In This Whole World" / "He's Sure The Boy I Love" (Viking VP 204)

1967
98.6/Too Many People" (Viking VP 218)

1967
"Sorry Mama" / "I Keep Forgetting' " (Viking VP 226)

1972
"Tell Him" / "You Are The One" (Polydor 2079021)

Singles (Australia)

1964
"Don't You Know, Yockomo?" / "You Don't Talk About Love" (HMV EA 4639)

1964
"Reet Pettite" / "Do The Blue Beat" (HMV EA 4648)

1964
"I'm Walking" / "Who Stole The Sugar" (HMV EA 4661)
(credited to Dinah Lee and The Kavaliers)

1965
"I'll Forgive You Then Forget You" / "What Did" (HMV EA 4670)

1965
"I Can't Believe What You Say" / "That's It, I Quit" (HMV EA 4706)

1966
"Let Me In" / "Johnny" (HMV EA 4725)

1966
"He Don't Want Your Love Anymore" / "Don't You Just Know It" (HMV EA 4745)

1966
"Night Time Is The Right Time" / "Not In This Whole World" (HMV EA 4763)

1966
"He's Sure The Boy I Love" / "Summertime" (HMV EA 4774)

1967
"98.6" / "Too Many People" (HMV EA 4835)

1967
"Sorry Mam" / "I Keep Forgetting' " (HMV EA 4859)

1965
"I'll forgive you then forget you" / "Nitty gritty" (Island / Aladdin 606)

1965
"Pushin' a good thing too far" / "I can't believe what you say" (Island / Aladdin 608)

EPs (NZ)

1964
Don't You Know.... (Viking VE 148)

1964
Yeah, Yeah We Love Them All (Viking VE 150)

1965
Dance To The Bluebeat (Viking VE 167)



1965
Sings The Hits (Viking VE 170)

1965
Johnny (Jonnie) (Viking VE 193)

1965
Mod (Viking VE 213)

Original NZ albums:

1964
Introducing Dinah Lee (Viking VP 140)



---

1965
The Sound Of Dinah Lee (Viking VP 149)



---

1966
The Mod World Of Dinah Lee (Viking VP 195)



Compilation Albums

Dinah Lee 1964-1967
- 26 track compilation of the best of the Viking/HMV recordings

Notes: Both Introducing ... and The Sound Of ... were released in Australia on HMV. The Sound Of... was also issued on Columbia (OEX 9431) in Australia. There was also a Best Of Dinah Lee in Australia. Four Dinah Lee tracks appear on the New Zealand compilations Live On The Peter Posa Show (Viking VP 143) 1964 and Live On The Peter Posa Show (Viking VP 150) 1965 and two tracks on Live On The Dinah Lee Show (Viking VP 175) 196?.
References / Links
John Dix
Stranded In Paradise (1988)
Howlspace
http://www.howlspace.com.au/en/leedinah/leedinah.htm
Ian McFarlane
Encyclopedia of Australian Rock & Pop (Allen & Unwin, 1999)
New Zealand Music of the '60s and '70s
http://www.sergent.com.au/dinahlee.html
http://www.night-owl.co.uk/uklabels/list-a.htm
Vernon Joyson
Dreams, Fantasies & Nightmares: Australia (Borderline Books, 1999)
Contacts:
Jansen Entertainment Group
Suite 7/2-8 Ennis Road
Milsons Point NSW 2061 (PO Box 68)
Milsons Point NSW 2061
Phone: (02) 9957 2907
Fax: (02) 9955 3808
Mobile: 0414-252-115