LYNNE RANDELL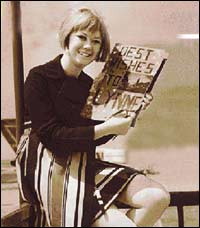 For three frantic years between 1965 and 1968 Lynne Randell was Australia's most popular female performer. Her trendy clothes and hairstyle, good looks and innocent image, backed up by a string of solid pop hits, earned her the title of Australia's "Little Miss Mod".
Lynne was born Lynne Randall in Liverpool, England in 1950. Her family migrated to Australia when she was five and settled in the Melbourne suburb of Murrumbeena. In her teens she attended Mordialloc High School, and like so many girls, she dreamed of becoming famous.
"I was going to be a famous hair dresser. It was always a famous something. To be a hairdresser of any note in Melbourne you had to work at Lillian and Antonio's in the city. I would do the apprenticeship, win the awards, then I wanted to go work for Alexander of Paris. I was going to be a famous hair dresser. It was always a famous something. To be a hairdresser of any note in Melbourne you had to work at Lillian and Antonio's in the city. I would do the apprenticeship, win the awards, then I wanted to go work for Alexander of Paris."
At 14 she began working as an assistant in the Melbourne salon run by hairdresser and socialite Lillian Frank and it was here that she was eventually disovered by Carol West, who managed several Melbourne bands including The Spinning Wheels.
"I went in with my little mod haircut. She said I could work there for pocket money then start an apprenticeship the next year. I was completely clueless. I went up to Lillian: 'Excuse me Lillian, you know how you get your holidays once a year?' 'Yes darlink, of course'. 'Well, can I have mine now at the beginning instead of the end of the year? She looked at me very strangely. 'Vy is this, darling?' 'Well, I've got to sing down at Lorne with a band'. 'Oh, you're a singer, too'. Claps her hands. All the hairdryers have to go off. 'She's a singer! Sing!' She made me stand there on a Saturday morning and in front of sixty people I sang."
It was on the beach at Lorne that she met a long-haired university student who would become a life-long friend -- Ian "Molly" Meldrum.
"He was there with his surfie mates. He made some smart remark and I gave one back to him."
Back in Melbourne, Carol West, who was a regular client of Frank's salon, heard about the young singing hairdresser and came in to meet her.
"I understand you're a singer," she said. "Nobody had ever called me that before." Lynne told West she was quitting Frank's salon because the chemicals were aggravating her dermatitis. "Carol said 'Why don't you come over to my house and maybe I can find a job for you?'."
At her 15th birthday party at Carol West's house, backed by a hired band, Lynne sang House of the Rising Sun and a John Lee Hooker song. By luck, one of the guests was Melbourne DJ Stan Rofe. Stan was a tireless promoter of talent on the local music scene and was instrumental in launching the careers of many Australian performers, including Australia's biggest solo star of the Sixties, Normie Rowe.
"He said 'Get me a demo'. So the next I know I'm in somebody's lounge making a demo."
The demo led to a contract with EMI's HMV label. Lynne's debut single, a breezy cover of Lulu's "I'll Come Running Over" came out in February 1965 and co-charted with Lulu's version. She flew to Sydney to promote the single on Bandstand, Saturday Date and Sing Sing Sing. By March the single was in the Melbourne Top 10 and just before she started 4th form, Lynne told her parents that she was leaving school.

Her pop career took off rapidly -- she became a regular guest on The Go!! Show, co-starring with the Easybeats, Olivia Newton-John, The Twilights, Johnny Young and Normie Rowe, and was soon a popular attraction on the booming Melbourne discotheque and dance circuit, where she was often backed by The Spinning Wheels. Her second single "A Love Like You" b/w "Summertime" (May) was followed by a version of The Marvellettes' "Forever" (July), b/w "Be Sure" (a song originally recorded by co-written by Doris Troy). Both singles both made the the Melbourne Top 40 and by the end of the year, Lynne had won both a 3UZ Sound Award and the Go!! Show award for 'Most Popular Female Vocalist of the Year'.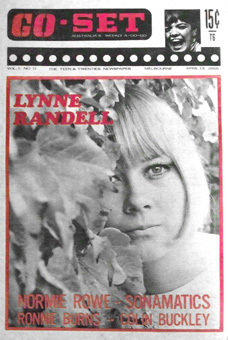 In early 1966, Lynne signed a new deal with CBS and the first single for her new label was "Heart" b/w "That's What Love is Made Of". The A-side was originally recorded by Petula Clark and co-written by Petula with Georges Aber and Tony Hatch. It was released in April and made the Top 40 in both Melbourne (#19) and Brisbane (#26), and Lynne gained even greater prominence with a full-page cover shot and feature story in the 16 April edition of Go-Set.
The follow-up was "Going Out of My Head" b/w "Take the Bitter with the Sweet" (August 1966); the A-side was originally recorded by Little Anthony & The Imperials in 1964 and has been much covered, with versions by many artists including Stu Phillips, Cilla Black, Petula Clark, Wes Montgomery, The Zombies, Sergio Mendes & Brazil '66, Long John Baldry and Frank Sinatra. It was another solid success, going Top 20 in Melbourne (#12) and Top 5 in Brisbane (#4).

After winning the inaugural Go-Set award as 'Top Pop Girl Singer', Lynne headed off to the UK and the USA. In her home town of Liverpool she performed at the fabled Cavern and in the USA she struck up a friendship with The Monkees', who were just breaking through as America's new teen sensations. For a short time she was romantically involved with lead singer Davy Jones. The band were now a hot media property and anyone around them came under the spotlight. Gloria Stavers, editor of the influential 16 magazine ran a photograph of Lynne with her head on Jones' shoulder, immediately labelling her as a "Monkee girlfriend". The English press even claimed that she was one corner of a "love triangle" with Jones and Bee Gee Maurice Gibb.
Lynne signed with the U.S. Epic label and her first American single was the superb "Ciao Baby" b/w "Stranger in My Arms"; it became Lynne's biggest hit, peaking at #6 in Melbourne and #16 in Sydney during May 1967. "Ciao Baby" was written by songwriting duo Larry Weiss and Scott English, who also wrote "Bend Me, Shape Me" (a UK hit for Amen Corner), "Help Me Girl" (The Animals) and "Hi Ho Silver Lining" (Jeff Beck). Larry Weiss wrote "Rhinestone Cowboy" (a hit for Glenn Campbell) and Scott English co-wrote "Brandy" which was a hit for him in the UK and for Bunny Walters in New Zealand, and was also a hit for Barry Manilow (under the title "Mandy").
Epic was evidently skeptical about her ability, but she proved herself a more than competent singer at the recording session:
"The producer said, look I just want you to go out there and sing into everyone's headphones –- just so that they get a feel for what your vocal's going to be, and they can play off of that. And I did that, and he came running in and went: 'You can sing! You can sing! I wasn't sure from those recordings in Australia'."
The single was only moderately successful in the USA; it made number one on some regional charts, including Hawaii and Cincinatti, but didn't break nationally, and it also gained attention and airplay in the UK, where it briefly entered the Radio London Fab Forty, peaking at #33 in July.
To accompany the single Lynne made a promotional film which was shot in New York; it is probably the first 'music video' by an Australian act to have been filmed in colour and it is certainly the earliest existing colour clip of an Australian artist that we know of. A copy of this film is believed to still exist in the archives of Channel 0 in Melbourne.
Lynne opened for The Monkees at three of their early American concerts and she was very well received, so she was engaged as support act for their now-legendary first American tour. Also on the bill for various dates were the The 5th Dimension, The Who and Ike & Tina Turner. Lynne recalls the Hollywood Bowl concert as one of the highlights of the tour:
""It was very intimidating to go on stage after Ike and Tina Turner and close the first half of the show in a real star-studded audience, but I got really good reviews."
Another act who supported The Monkess for seven dates early in the tour The Jimi Hendrix Experience. The inclusion of Hendrix -- who was invited by The Monkees themselves -- has since become the subject of persistent urban legend. It was reported at the time that Hendrix had been sacked because of his outrageous stage act, but the story was a furphy. Hendrix in fact became increasingly frustrated by the squealing teeny-bopper audience, and after a troubled performance at the Forest Hills Auditorium, he gave the audience the finger, stormed off stage and quit the tour.
The source of the story that (supposedly) explained why the Experience had been dropped was in fact Aussie journalist Lillian Roxon, who had been tagging along on the tour because she was an old friend of Lynne's from Melbourne. Roxon concocted a mischievous press release to explain Hendrix's abrupt departure, claiming -- with tongue firmly in cheek -- that the right-wing group The Daughters of the American Revolution had complained that Hendrix's stage act was "too erotic", that he was "corrupting the morals of America's youth," and the DAR had pressured the promoters to dismiss him from the tour. Few realised that it was simply a leg-pull, and Roxon's report was duly printed as a straight news story, creating a "fact" that would continue to be cited for years to come.
There was also a darker side to Lynne's American sojourn, and it's a story that only recently came to light thanks to Melbourne Age journalist Peter Wilmoth. It was during this period, travelling constantly and eating poorly, that Lynne began to worry about her weight.
"We travelled in a private plane, we stayed in hotel suites, there were hospitality suites. You sang, travelled, were exhausted and stuffed your face. I got really chubby."
The crunch came during a visit back to Australia. According to her account, just as she was about to go on camera on a local TV show, manager Carol West criticised the dress she was wearing:
"I'd bought this yellow dress in New York and she said 'What did you wear that yellow dress for? It makes you look fat."
Speaking recently to The Age's Peter Wilmoth, West denied that she made the comment about Randell looking fat. "I might have said 'That doesn't look good on you', but not 'fat'. I'm not that sort of critic. She's never looked fat. She's a tiny little thing." But the remark, whatever it was, stuck.
"When you're running around the stage you don't want to be bursting out of the seams of your pants, which was starting to happen. It was a bad look. I was uncomfortable with the weight I'd gained. All these girls copied how I dressed. Once I went into the city without make-up on and got into a real lot of trouble with Carol."

Lynne decided to do something about it. She resorted to what was then the common solution for weight problems and obtained some "diet pills" from a friend who worked in a pharmacy. The pills were, of course, pure methamphetamine. Although they proved spectacularly successful at controlling her weight and keeping her up and going through a gruelling tour schedule, she soon developed an addiction that was to plague her for decades.
"I felt pressure. But nobody ever held me down and made me take them. My parents got suss because I was losing weight quickly. All of a sudden I was the amazing shrinking teenage pop star. They asked a policeman to come and have a talk with me."
Lynne's next single -- which proved to be her last for CBS -- was an obscure track by singer-songwriter Albert Hammond, "That's a Hoe Down" (b/w "I Need You Boy"). A version of this song was recorded the following year by the UK band Shyster (which, coincidentally, included musician Gordon Haskell, who wrote the song "Lazy Life", a Top 20 hit in Sydney for Heart'n'Soul in 1969). Lynne's version of "That's a Hoe Down" fared well, making the Top 20 in Melbourne (#19) and reaching #26 in Adelaide in August 1967, and Lynne capped the year with her second consecutive Go-Set Pop Poll award for 'Most Popular Female Vocalist'.
In February 1968 she parted ways with Carol West and moved to Los Angeles full-time. She kept taking the 'diet' pills and quickly came to rely on them.
"I was 18 and I was going to be thin. It took me four years to use the word addicted. But whenever I didn't have them I'd have to go to sleep. I couldn't get up. The energy wouldn't come back. I lost heaps of weight and everyone said 'Don't you look fabulous' but I was running myself down so badly."
In fact she became so run down that she contracted severe glandular fever, followed by a bout of peritonitis. She was still a household name in Australia and was recognised wherever she went, but she was virtually unknown in the USA. She revelled in the anonymity and thrived on the glamour and excitement of the life in Los Angeles:
"I had money to spend, I had no-one nagging in my face, telling me what to do. And because I'd always been told 'No boyfriends' for my image -- you deny a teenager something, they want it like water in a desert. There I am in America, I've got an apartment and a car -- I'm looking for a male."
In 1969, aged just 20, Lynne married Abe Hoch, an executive for Atlantic and Motown Records, who went on to run Led Zeppelin's Swansong Records.
"I so wanted a relationship because I hadn't been allowed to have one. And Abe fell for it."
Lynne recorded one more (unsuccessful) single, this time on Capitol. "I Love My Dog" / "Mind Excursion", released in December 1969, marked the end of her recording career. But having already written successfully about her US adventures for Go-Set, she worked as their American correspondent during 1970 and 1971, interviewing musicians.
"I got along great with rock and roll bands because I could walk the walk and talk the talk."
She interviewed many stars including Jim Morrison (just before he made his fateful trip to Paris), a young Michael Jackson, The Carpenters, Eric Burdon, Joe Walsh, Dr Hook and David Cassidy.
"I got flown to Houston Astrodome with 20 journos to see Three Dog Night. It was a little hobby. It was my little thing."
Established at the heart of the music industry, Lynne became a famous hostess, throwing legendary parties for the stars:
"It was more fun than singing ... I gave these great parties. Everyone came -- Elton John, Bernie Taupin, Led Zeppelin, George Harrison, Ringo Starr, Cher, Dusty Springfield. I was like the crazy lady from Australia, and people would just love me for it."
In 1972 their son Jamieson was born and in 1976, the family moved to London for Hoch's work. There her dependence grew, facilitated by her doctors. The problem began to take a serious toll on her health -- she developed chronic reflux, which escalated into oesophageal spasms, and Lynne had to be hopsitalised six times to have food that had logded in her throat removed under general anaesthetic.
"It got to the point where I was taking the pills every day, if I could get them. I'd go to doctors in Harley Street and ... you'd pay and they'd shovel the pills out of a shoebox with a lolly scoop and put them in a tin. They were the best diet pills I ever had, they didn't even have a name. They were 30 (pounds) for a month's worth. I used to say I was going overseas or something, they'd give me 100 worth. A Vegemite jar full. They were completely bats, these doctors. Sometimes they'd send me packages of them to America."
Under the added strain of her addiction, her marriage to Hoch eventually crumbled, and they dovorced in the late 70s. Lynne returned to Melbourne in 1980, feeling totally lost. She began hanging out at Ian Meldrum's house and this led to her becoming his personal assistant; she stayed with him until 1986.
She left the job with Meldrum because her ex-husband had parted from his second wife, and Lynne needed to be near their son, who was now living in Woodstock, NY. But she had no money and no idea how to get there. Out of the blue, she received a call from Seymour Stein, head of the Sire label, whose roster at the time included Talking Heads, Madonna, The Smiths, The Cure and The Pretenders. Stein was looking for a new PA, and (no doubt at Meldrum's behest) he offered Lynne the position. He sent her $5000 to relocate -- precisely the amount she needed -- and she worked for him for the next two years.
She eventually returned to Australia in the 1990s, where she made infrequent appearances at '60s revival' concerts, but her addiction continued. Finally, in 2003, Lynne made the courageous decision to try and beat the problem. She was in bad shape -- her GP told her that as a result of her 30-year addiction, her adrenal glands were not producing vital hormones and her nervous system was exhausted.
In 2004 Lynne went public about her addiction problems in a major interview with Peter Wilmoth of The Age, and over the next three years she battled to overcome the damage her dependency had caused and to rebuild her relationship with her son (who now lives in Melbourne). She also began working on a book.
Tragically, Lynne was not able to beat her addiction. She was found dead in her Toorak home on Friday 8 June 2007. The Melbourne Herald-Sun reported that there were "no suspicious circumstances in her death". She left a message asking for a party instead of a funeral; she had packed all her belongings in boxes and had left small gifts and letters for all her family and friends. Lynne was survived by her son and two grandchildren, Jacob and Rachel, but in a tragic postscript to her own death, Lynne's only son Jamieson, 35, died suddenly from a brain hemorrhageonly three days after her memorial ceremony at St Kilda beach.
Lynne Randell will be fondly remembered by a generation of fans, and her voice lives on in her recordings.
Discography
Lynne's singles are much in demand with collectors of the Northern Soul genre. The original UK issue of "Caio Baby, which features "Stranger In My Arms" as the A-side (CBS 2847) is highly collectiblel, with good-quality copies reportedly fetching as much as UK£120.
Singles
1965
"Hold Me" / "I'll Come Running Over" (HMV EA-4675)
1965
"A Love Like You" / "Summertime" (Gershwin) (HMV EA-4689)
1965
"Forever" / "Be Sure" (HMV EA-4701)
1966
"Heart" / "That's What Love Is Made Of" (CBS BA-221278)
1966
"Going Out Of My Head" / "Take The Bitter With The Sweet" (CBS BA-221315)
May 1967
"Ciao Baby" (English-Weiss) / "Stranger In My Arms" (CBS BA-221387)
Also issued in the UK (CBS 2847) and the USA (Epic 10147) with the sides reversed.
Some early US copies were issued in a picture sleeve.
1967
"That's A Hoedown" (Albert Hammond) / "I Need You Boy" (CBS BA-221432)
Also released in the USA (Epic 10197) with sides reversed.
1968
"An Open Letter" / "The Right To Cry" (ABC 11112, U.S. only)

1969
"I Love My Dog" / "Mind Excursion" (Capitol CP 8993, Aust. / Capitol 2683, USA)
EPs
1966
CBS Presents Lynne Randell (CBS BA-225129)
1967
Ciao Baby (CBS BA-225202)
Albums
1986
Dynamic Lynne Randell (Raven RVLP 25) LP
Compilation
Video
Lynne Randell film-clips and TV appearances on YouTube
"Stranger In My Arms"
http://www.youtube.com/watch?v=C-77OoMuWQ8
"Ciao Baby" colour film clip
http://www.youtube.com/watch?v=g5h4sV7mgvc
"It Won't Be Long"
http://www.youtube.com/watch?v=SkdW4yhYfc0
References / Links
Peter Wilmoth
"The amazing shrinking teenage pop star"
The Age, 22 February 2004
http://www.theage.com.au/articles/2004/02/19/1077072785744.html
Ian McFarlane
Encyclopedia of Australian Rock & Pop
http://www.whammo.com.au/encyclopedia.asp?articleid=672
martinsbox
Lynne Randell
http://martins_box.tripod.com/id49.htm
Vernon Joyson et al
Dreams, Fantasties, Nightmares - Australia
http://www.borderlinebooks.com/australia/r2.html#Lynne_Randell
Soulful Kinda Music website
http://members.tripod.com/SoulfulKindaMusic/lrandell.htm
ABC-TV
Love Is In The Air - episode transcripts
http://www.abc.net.au/love/episodes/transcript2.htm
Urban Legends Reference Pages - Jimi Hendrix
http://www.snopes.com/music/artists/hendrix.htm
Radio London - Field's Fab Forty
http://radiolondon.co.uk/rl/scrap60/fabforty/july67/july6703/fab160767.html