BARRY "BIG GOOSE" SULLIVAN
Musician, 1946-2003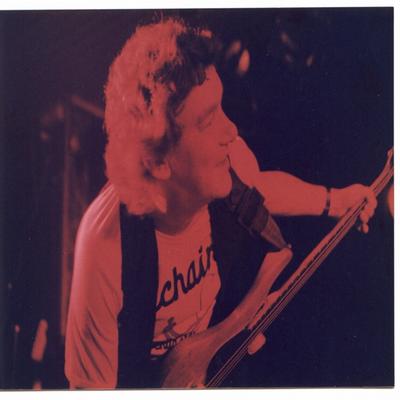 Barry Sullivan was known to just about everyone who knows and loves Australian music, and most people knew him by his famous nickname, "Big Goose". Widely regarded as one of the best Australian rock bassists of his generation, his name will always be inextricably linked with the mighty Chain, but he had close ties to many other major names in Australian music, including LRB, John Farnham, Russell Morris and Renee Geyer. He played in some of the most important Aussie groups of the last forty years and he performed on many seminal Aussie recordings of the Sixties, Seventies and beyond.
Barry's musical career began in his hometown of Brisbane. In the late Sixties he was the rhythm guitarist in a local blues band, Thursday's Children. In early 1968 he and two bandmates -- bassist Steve Pristash and his longtime musical partner, drummer Barry Harvey -- joined one of the last incarnations of the legendary Wild Cherries with Lobby Loyde. Big Goose switched to bass after Pristash left and remained with the Cherries until they split in April 1969.
In October 1969 the two Barries joined the second and most famous lineup of Chain and it was during this time that they were given their nicknames, "Big Goose" and "Little Goose". They were a powerhouse team, and in his tribute to Barry, rock historian Ed Nimmervol hailed the Sullivan-Harvey team as "the greatest rhythm section Australian rock has known".
Chain went through many permutations and several temporary splits during the early Seventies. In these intervals, Barry took some notable sidetracks, working with Flite, Pilgrimage and Carson, but for most of the this period he was a core member of Chain. He also co-wrote one of their best known songs, Leaving, with guitarist Phil Manning. Barry Harvey has been quoted as saying that when Big Goose left the group in 1974 "it took five years to find someone good enough to replace him".
After Chain, Barry joined funk band Sanctuary with Mal Logan and Mark Punch. In 1975 his mastery of the soul-funk idiom saw him brought in to play bass on the sessions for Renee Geyer's breakthrough LP It's A Man's Man's World, produced by Tweed Harris (who also sadly passsed away in 2004). Renee subsequently hired Sanctuary as her backing band, which was renamed The Renee Geyer Band. They backed her on tour and on her next LP, the superb Ready To Deal in 1976.
In later years Barry toured with LRB and the John Farnham Band. He left the scene for a number of years but recently returned to music with the band Brother Goose, which included his son Shannon as drummer. What proved to be Barry's final performance took place on October 23, a gig which happily reunited him with his old mate Renee Geyer. Brother Goose played as Renee's support act at a Brisbane Tivoli gig which was part of Renee's Tenderland album launch tour.
Barry died in his sleep a few days later, on 27 October 2003 at his Sunshine Coast home, aged 57.
Renee Geyer described Barry as "an absolute legend," and added that along with Barry Harvey, he inspired her to record her 1974 breakthrough album, It's a Man's Man's World. "The only thing I'm thankful for is that he was so happy when we were last together for the Brisbane gig."
Barry's son Shannon said: "He was playing at his prime and at the height of his happiness. My dad lived life to the full, and that had its good points and its bad points."
Another close friend, singer-songwriter Russell Morris, said Sullivan had been "instrumental in everything musically that I did". Barry worked extensively with Russell in the Seventies, notably as part of the all-star lineup that backed Russell on his breakthrough 1971 LP Bloodstone.
Former Stylus lead vocalist Peter Cupples also paid tribute to Barry on his website, describing Big Goose as
"... one of Australia's all time great R&B bass payers... for those of you not familiar with Barry's work, just get yourself a copy of Renee Geyer's Ready to Deal album 1976 and that should make it very clear to you what an extraordinary talent 'Big Goose' was ... during the late seventies there were three bass players that really stood out in the R&B stakes, and they were Barry Sullivan, Mike Clarke and Harry Brus".
The great Lobby Loyde paid a succinct but heartfelt tribute to his old bandmate:
"The world has lost a great bass player and a great human being. When Barry joined the Wild Cherries we both played guitar so we tossed a coin to see who would play bass and Barry won. He took to it like a duck to water and became one of the greatest."
A celebration of Barry Sullivan's life was held on 3 November 2003 at Caloundra, Queensland.
References / Links
ABC Online: 'Dig' news page
http://www.abc.net.au/dig/stories/s976806.htm
Howlspace
http://www.howlspace.com.au
Brisbane Sunday Mail
http://www.thesundaymail.news.com.au/common/story_page/0,5936,7736132%255E12852,00.html