CARSON
Melbourne 1970-1973
John Capek (keyboards, vocals) 1970
Mal Capewell (sax) 1972-73
Gary Clarke (bass) 1971-73
Tony Enery (piano) 1970
Ian "Fingers" Ferguson (bass, vocals) 1970-71
'Sleepy' Greg Lawrie (guitar, slide guitar, dobro) 1970-73
Paul Lever (guitar. vocals, hamonica) 1970
Mal Logan (kbds) 1971-73
Tony Lunt (drums) 1970-73
Broderick Smith (vocals, harmonica) 1971-73
Barry Sullivan (bass) 1971
Ian "Willy" Winter (guitar) 1971-72
History
Carson's career was relatively short -- almost exactly three years - but in that time the "Kings of Boogie" built a reputation as a powerful live act, and they were one of the most popular Australian blues bands of the early 70s. Together with Bulldog, Chain, The Aztecs, Company Caine and Pirana, Carson was part of the stable of acts handled by Consolidated Rock, the Melbourne agency founded by young entrepreneur Michael Gudinski. Carson was also an important stepping stone for several of its members, including singer Broderick Smith, and the group's original keyboard player John Capek.
The original four-piece lineup formed in in January 1970. Guitarist "Sleepy" Greg Lawrie (ex-The Creatures, Chocolate) was already considered one of the best slide players in the country; John Capek was ex-Leo De Castro and Friends; Ian "Fingers" Ferguson's career had started way back in 1961 with Shepparton rockers Tony & The Shantels, and completing the lineup was drummer Tony Lunt.
The group was originally called The Carson County Band, but they had dropped the "...County Band" part of the name by the end of 1970 because they were being mistakenly tagged as country rock group, and only their first single came out under that name. They were strongly influenced by Chicago blues, and by the emerging "boogie" style being popularised by bands like Canned Heat and, later, ZZ Top.
(According to Who's Who of Australian Rock, Paul Lever and Tony Enery were also members during this year, but details of their role in the band are not known at this stage.)
Their first single was On The Highway / Resting Place, issued on the Rebel label around May 1970; at about the same time Lawrie and Capek got together with Matt Taylor, Tim Piper and Yuk Harrison from Genesis, plus Trevor Courtney (ex-Chants R&B, Cam-Pact) in a one-off recording project called The Meating. The single they recorded together, Bad Luck Feeling / Back Home was released on Rebel in August 1970.
John Capek left Carson in late 1970 or early 1971, moving on to King Harvest, Flite and Hannagan. To replace him, Carson recruited singer and harp player Broderick Smith, formerly of Adderly Smith Blues Band and Sundown, and second guitarist Ian "Willy" Winter (ex-Brothers Grimm, Five Just Men, Pigface).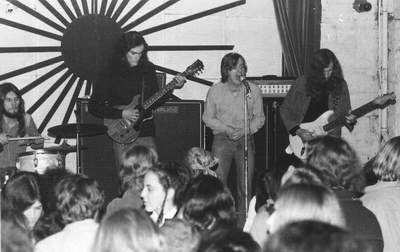 Thumpin' Tum

disco,

The new lineup recorded a single for the Havoc label, "Travelling South" / "Moonshine", which was issued in August 1971. Meanwhile, Ian Ferguson left in July to join Island, and he was replaced by ex-Chain bassist Barry "Big Goose" Sullivan. Sullivan left after about three months to join Flite so he was replaced by Garry Clarke (ex-King Harvest). In November they added a new keyboard player, Mal Logan (ex-Healing Force), and they also augmented the band even further for concerts, adding a three-piece horn section.

Ian Winter left in March 1972 when he was invited to join Daddy Cool as second guitarist, but after Daddy Cool split in August he returned to Carson. Brod Smith also branched out during the year -- Carson's manager, Rhett Walker (who was also the program manager for Melbourne radio station 3AK) decided that Smith could be promoted as a solo artist (along similar lines to Rod Stewart's parallel solo career with his work with The Faces). Broderick cut two Singles for the Image label, and all four sides of which were written and produced by Brian Cadd.

Sometime during this period, Broderick was also called in to sing on the soundtrack to Albie Falzon's surfing movie Morning Of The Earth. Oddly enough, the track he appeared on, First Things First, was actually by Tamam Shud. Singer Lindsay Bjerre was having voice problems when they cut the song, so the original vocal was done by lead guitarist Tim Gaze. However, producer G. Wayne Thomas was evidently not satisfied with the result so he erased Tim's vocal, and he brought in Broderick Smith to lay down a new track. Although this has previously been reported as having been done without the Shud's knowledge or permission, recent information from Brod himself contradicts this.

This is at odds with Lindsay Bjerre's claim that Tamam Shud didn't find out about the substitution until the night of the film's premiere, later in the year, and they were understandably furious about it. (Bjerre acknowledged, however, that Brod's vocal was a good effort in its own right, despite the circumstances.)

By September 1972 Carson had signed with EMI's Harvest imprint. Their first single for the label, Boogie, Parts I & II gave them their first taste of chart success in September, going to #30 nationally, and it is now widely regarded as one of the classics Australian rock Singles of that period.

They followed up in November with their very successful debut album, Blown, produced by Rod Coe (former bass player with Freshwater and Country Radio). Its memorable cover was another fine design by Melbourne artist Ian McCausland. Blown fared even better than the single, reaching #14 nationally in December. Meanwhile, Havoc took advantage in on Carson's new prominence by reissuing "Travelling South" the same month.

Late in the year Carson expanded yet again, when sax player Mal Capewell (ex-Dr Kandy's Third Eye, Company Caine, Dada, Graham Bond's Holy Magick) joined the touring lineup. In January 1973 they appeared at the second Sunbury Festival over the Australia Day long weekend; their set was recorded and the song "Friday Night Groove" was included on Mushroom's inaugural release, the ambitious triple-album The Great Australian Rock Festival: Sunbury 1973 (April 1973). Unfortunately, Sunbury was to be Carson's last major performance: Winter and Logan left just afterwards and in February it was announced that Carson had split up. Their final record was On The Air, the full recording of their Sunbury set, which was released in April 1973.

Various band members moved on to successful careers in other bands. Brod Smith of course became the lead singer of The Dingoes, and went on to a successful solo career; he still performs regularly in an acoustic duo. Greg Lawrie played on Chain's Two Of A Kind LP, as well as Matt Taylor's solo LPs Straight As A Die and Magic, and featured prominently on Matt's 1973 hit single "I Remember When I Was Young". Mal Logan formed Alta Mira before rejoining Smith in The Dingoes, and he featured on their famous debut LP. In later years he worked with Renee Geyer.

John Capek went on to considerable success. He moved to the US around 1973 and established himself as a songwriter. Since that time he has had songs recorded by some of the world's biggest names, including Rod Stewart, Chicago, Toto, Manhattan Transfer, Don Johnson, Olivia Newton- John, Dan Hill, Marc Jordan, LRB, John Farnham, Patty Austin and Diana Ross. He has also provided music for the Hollywood films Cocktail and Youngblood, as well as the Australian features Boulevard of Broken Dreams, Heaven Tonight and What The Moon Saw.



Discography

Singles

May 1970
"On The Highway" / "Resting Place" (Rebel RG-270/06)

Aug. 1971
"Travelling South" / "Moonshine" (Havoc H-1008)

Nov. 1972
"Boogie, Part I" / "Boogie, Part II" (EMI Harvest HAR-9965)

Albums

Dec. 1972
Blown (EMI/Harvest SHVL 608)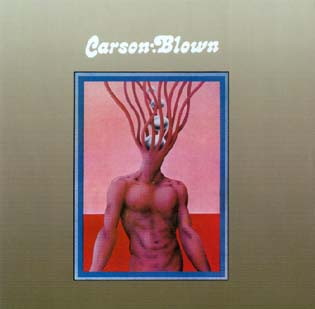 "Rock'n'roll Games
"Better Times Will Come About"
"Sunday in the City"
"Banana Power"
"Boogie"
"Let Me Sleep"
"Up In Queensland"
Produced by Rod Coe
---
Dec. 1972
The Great Australian Rock Festival (Mushroom)
various artists - one Carson track only: "Friday Night Groove"
---
Apr. 1973


On The Air (EMI Harvest SHVL 611)
live at Sunbury 1973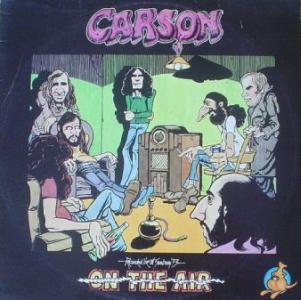 "Dingo" (Carson)
"Laid-back Feel" (Carson)
"Dust My Broom" (Elmore James)
"Hey Joe" (Roberts)
"Boogie" (Carson)
"Sunbury Jam" (Carson)


REFERENCES

Thanks to Paul McHenry for additional information and corrections!

Paul Conn
2000 Weeks: The First Thirty Years of Australian Rock (Moonlight Publishing)

Ian McFarlane
The Encylopedia of Australian Rock & Pop (Allen & Unwin, 1999)

Noel McGrath
Australian Encylopedia of Rock (Outback Press, 1978)

Chris Spencer, Zbig Nowara & Paul McHenry
Who's Who of Australian Rock (Five Mile Press, 2002)

OzBlues.Net - Blues Discography
www.ozblues.net/ozdiscs.htm