HAVOC RECORDS



Category: Australian independent label

Location: Melbourne

Date: 1970-1973

Owners: Rod De Courcy and Frank Smith

Distribution: Astor
History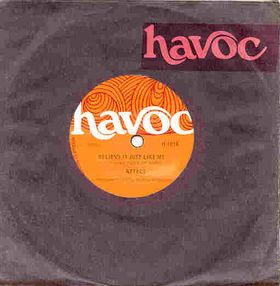 Havoc Records was established in Melbourne in 1970 by Rod De Courcy and Frank Smith, and although it only operated for about three years, it made a significant impact on the Australian music scene in the early 1970s. Rod De Courcy is the brother of Brian De Courcy, the well-known Melbourne dance promoter and artist manager, whose clients included Merv Benton, Carol Cook and The Strangers.
Rod's partner Frank "The Lion" Smith (1927-1974) was an important figure in Australian music, whose early death prevented him from becoming as well known as he deserved to be. A saxophonist of international repute, Smith was a leading figure on the Melbourne jazz and session scene from the late 1950s to the early 1970s and he was also a long-serving member of the house band on Graham Kennedy's IMT. Aztecs drummer Gil Matthews was the label's house producer-engineer; he produced, engineered and/or arranged all Havoc's original recordings and even released a single under his own name during 1971.
Although based in Melbourne, Havoc's records were reportedly manufactured in New Zealand. It's likely that it was cheaper to have them made there, but quality was probably also a major factor. Havoc was noted for the high standard and heavy weight of its pressings, and they were certainly superior to the average Australian-made record of the period. The comparitively poor quality of locally-pressed vinyl at that time was a common complaint, and this was compounded by the fact that local labels habitually cut back on packaging to reduce costs -- many albums released in gatefold sleeves overseas were only released in standard covers here -- and thse factors combined to create a strong ongoing demand for imported pressings of local releases.
Havoc's inaugural release appears to have been the 1970 single "Avignon" (b/w "Sable") by Melbourne band The Ash. It is notable that this was released in a picture sleeve -- prior to the late 1960s, picture sleeves were usually reserved for EPs, and well into the '70s singles were typically released in die-cut paper sleeves featuring the label and/or the distributor logo. The catalogue number for this release (HS 7003) is atypical, but it was common for small labels to number the first release in this way, making it appear that they already had several releases under their belt. From their next release onwards (The Ash's second single, numbered H-1002) the numbering followed a regular sequence.
Havoc released nineteen singles and five albums during its three-year life. A few titles were licenced from overseas labels, but the bulk of its output consisted of original recordings by contemporary Melbourne acts. The roster was headed by the 'new' Billy Thorpe & The Aztecs but also included The Carson County Band, Lobby Loyde & The Coloured Balls, Michael Turner In Session, Abacus, Star Spangled Banner and The Ash. Havoc's biggest LP release was the 2LP set Aztecs Live At Sunbury, but by far the most successful of all its releases was the classic Billy Thorpe single "Most People I Know (Think That I'm Crazy)", which was a national Top 5 hit in 1972. Also of note was the one-off single "I Am The Sea", credited to The Wild Cherries which, for this release, was in fact recorded by Lobby Loyde backed by The Aztecs.
Havoc evidently ceased operations ca. 1974; the LP by Melbourne progressive band Star Spangled Banner (1973) appears to have been its final release. The label's closure was apparently precipitated by Frank Smith's untimely death in early 1974.
Gil Matthews and colleagues launched their Aztec Music imprint in mid-2005 with long-awaited CD reissue of the Aztecs Live At Sunbury set, and over the last two years it has continued its program of superb archival releases. In early 2008 Aztec released a deluxe digi-pak compilation of the complete Havoc singles 1971-73.
Discography
Singles
Cat. #
Date
Artist
Title

Notes

HS 7003
1970
The Ash
"Avignon"
"Sable"

(picture sleeve)
H-1001
-
-
-
-
H-1002
1971
The Ash
"Midnight Witch"
"Warrant"
-
H 1003
1971
Billy Thorpe & The Aztecs
"The Dawn Song"
"Time To Live"
-
H-1004
-
-
-
-
H 1005
1971
Chook
"Cold Feet"
"Tables Turn"
-
H 1006
1971
The Wild Cherries*
"I Am The Sea (Stop Killing Me)"
"Daily Planet"
-
H 1007
1971
Gil Matthews
"Little Dove"
"Gil's Thing"
-
H 1008
1972
Michael Turner In Session
"Pattern Of My Life"
"Just Around Midnight"
-
H-1009
-
-
-
-
H 1010
1971
Carson
"Travelling South"
"Moonshine"
-
H-1011
-
-
-
-
H 1012
1972
Billy Thorpe & The Aztecs
"Most People I Know (Think That I'm Crazy)"
"Regulation Three-Puff"
H-1013
-
-
-
-
H-1014
1972
Billy Thorpe & The Aztecs
"Believe It Just Like Me"
"Get The Hell Out Of Here"
-
H 1015
1972
Lobby Loyde & The Coloured Balls
"Liberate Rock"
"The Slowest Guitar On Earth"
-
H-1016
-
-
-
-
H 1017
1972
Star Spangled Banner
"Star Spangled Banner"
"Sailing"
-
HS-1018
1973
Lobby Loyde & The Coloured Balls
"Mr Mean Mouth"
"Love Me Girl"
-
H-1019
1972
Billy Thorpe & The Aztecs
"Captain Straightman"
"Bow My Heart"
-
Albums
| | | | |
| --- | --- | --- | --- |
| HST-4001 | 1971 | Billy Thorpe & The Aztecs | Aztecs Live! |
| HST-4002 | - | - | - |
| HST-4003/4 | 1972 | Billy Thorpe & The Aztecs | Live At Sunbury (2LP) |
| HST-4005 | 1973 | Star Spangled Banner | Star Spangled Banner |
References / Links
Special thanks to Paul McHenry for his assistance.
Ian McFarlane
Australian Encyclopedia of Rock & Pop (Allen & Unwin, 1999)
Chris Spencer, Zbig Nowara & Paul McHenry
Who's Who of Australian Rock (Five Mile Press, 2002)
Vernon Joyson
Dreams, Fantasies & Nightmares - Australia (Borderline Books, 1999)