THE TWILIGHTS
Adelaide / Melbourne 1964-69

Frank Barnard (drums) 1964-65
Peter Brideoake (rhythm guitar, vocals)
Terry Britten (lead guitar, vocals)
John Bywaters (bass, vocals) Clem "Paddy" McCartney (lead vocals)
Laurie Pryor (drums) 1965-69)
Glenn Shorrock (lead vocals)

History

There's no question that The Twilights ranked alongside their contemporaries The Masters Apprentices and The Easybeats and solo singer Normie Rowe as one of the most successful and popular Australian pop acts of the 1960s, and they continue to enjoy a unique reputation in the top echelon of the OzRock pantheon. The Twilights have earned acclaim and respect for their formidable body of recorded work, coupled with their legendary status as arguably the most polished and accomplished Australian live act of the era. Glenn Shorrock himself remembers "Twilight Time" as the happiest and most fulfilling experience in his long and distinguished musical career. As he told an online group of Little River Band fans in 1997 "... my first band, The Twilights, is the band I remember most fondly; we were very close then in a very exciting period of pop."

1965

The migrant hostels of the major Australian cities were the fertile breeding grounds for some of the most vital and seminal rock bands in in the early sixties. At Villawood migrant hostel in suburban Sydney, some young and talented music enthusiasts had recently formed into a group called The Easybeats, and that band's story is among the most compelling as any in Aussie rock History. Meanwhile, over in Elizabeth, north of Adelaide in South Australia, another mob of young guys, like so many youths all over the world, were seduced by the magic of The Beatles' film "A Hard Days' Night". Drawn together by their British origins - similar to the impetus that sparked the Easys' genesis - Glenn Shorrock (hailing originally from Kent, UK), and his friends Mike Sykes and Clem "Paddy" McCartney (although born in Belfast, blessed with a classic albatross of a surname!), formed an a-cappella trio to try out their pop and folk wares, eventually gaining regular bookings around the relatively meagre Adelaide folk/coffee-house circuit.

Occasionally, and especially for more prestige engagements, the vocal three-piece teamed with local instrumental outfits, among them The Vector Men and The Hurricanes. Typical of the era, the latter band began as a Shadows-style instrumental act, but soon caught the Brit-invasion bug. The Twilights and The Hurricans developed a solid bond. It was inevitable that with such strong, enthusiastic, precocious and insistent talents as those of Britten, Shorrock and Brideoake rubbing against each other, the prospect of blending it all together would prove irresistible. Thus, the six-piece, fully electric-and-vocal group as we know and revere them, was born.

Still based in Adelaide, self-managed and produced, the newly-formed band released its debut single, "I'll Be Where You Are" on EMI's Columbia imprint in June 1964. A plaintive, Beatle-esque ballad written by Shorrock and Britten, the single got some airplay in Melbourne but failed to chart outside their hometown Subsequent releases made further inroads -- their second single, "Wanted To Sell", cracked the Melbourne charts and the third, the brisk, Brideoake-Britten original "If She Finds Out" gained them fans in Sydney and Brisbane. The Twilights began to cause a stir with their dynamic live shows in Adelaide, and a 'vibe' quickly built about the band who could knock out note-perfect renditions of the latest hits with ease and could also rock out with wild abandon.

Early in 1965, drummer Frank Barnard (who featured on the first two singles) was replaced by Laurie Pryor. Barnard's wife apparently objected to manager Gary Spry's strict "no girlfriends" touring regime, and so Frank quit. Laurie, a locally-known drumming prodigy who had played with Johnny Broome & the Handles in England, immediately jumped at the offer. The new line-up with Pryor remained in place for the rest of the band's career. After taking over the group's management, Spry's strategy was to establish the group in Australia's pop capital, Melbourne, so The Twilights moved there in late 1965, and rapidly became established as one of the top acts in a city that had no shortage of great bands on offers.

1966

It was with their classsic fifth single "Needle In A Haystack" that The Twilights achieved national success.Its refrain rang out relentlessly on our 2SM/UW; 3UZ/XY; 4BH/BC (etc) "good guy" radio stations during '66. This superb rendition of the Motown song (originally cut by Martha & The Vandellas) flagged them in no uncertain terms as group to watch The single was a Top 10 in most states and reached the coveted #1 spot on the new Go-Set national chart in October 1966. The Twilights had already made big inroads with their previous single, a rendition of Larry Williams' "Bad Boy" that comprehensively whipped The Beatles' better-known version into a cocked hat. And to consolidate, the funky follow-up single to "Haystack" -- a cover of the Sam Cook classic "You Got Soul", together with a strong first album, confirmed critics' and fans' faith in the band.

On their eponymous debut LP, The Twilights demonstrated their diversity as a recording unit. With a strong mix of self-penned tunes, songs specially written for them (by Barry Gibb of The Bee Gees and Hans Poulsen), and tour-de-force reproductions of their stage favourites, the group's dexterity with a variety of styles was proven. A blistering version of The Yardbirds' "I'm Not Talkin' " (consummately seeing off the original with a welter of Britten guitarobatics) contrasted with the mellow tones of The Who's "La La La Lies", The Moody Blues' "Let Me Go" and the thrilling harmonies of Paddy and Glenn on The Hollies' "Yes I Will". Then, just when you thought it safe, along came a white-hot reading of the Stones' "(I Can't Get No) Satisfaction" to close the program in a raspy-vocalled feedback freakout! The David MacKay-produced LP showcased the band's strengths, and presented a potent document to take the nascent group into its most exciting era.

The next milestone was a new established national pop competition, The Hoadley's Battle of the Sounds. Established a couple of years earlier by Everybody's magazine as a talent quest for new unsigned bands, the Battle gained greater credibility and attracted many of the nation's finer outfits when, in 1966, confectioner Hoadleys' (best known for their scrumptious Violet Crumble Bar) assumed sponsogsubip, and the recently-launched Go-Set magazine took over the co-ordination role. The stakes were higher too, with first prize being full return passage to England on the Sitmar cruise line, two definite gigs and $1,000 prize money. The subsequent competitions would see such acts as The Groop and The Masters Apprentices taking out the prize, and many other prominent outfits that would go on to greater success competed in the Battle until its conclusion in 1972. But, as in so many other instances, The Twilights were pioneers.

In July 1966, The Twilights took the stage at Festival Hall, Melbourne, before a full house of screaming, streamer-hurling fans, to win the competition ahead of over 500 other hopefuls. They were awarded bonus points for sound, originality, presentation and audience reaction -- qualities the band already had in abundance (they had already taken out the 1965 title in a local Adelaide competition the previous year). The competition's rules set a maximum group membegsubip of five, which meant that Paddy -- half of the band's twin lead vocal line-up -- had to sit out the winning performance. But he returned to the stage for the triumphant encore and was, luckily, included in the victors' spoils. Any listener will thrill to hear what the fuss was all about -- the full performance is contained on the Raven LP Twilight Time. With the prize in hand, for the world music mecca of London for their biggest adventure yet.

1967

The "Twilight highlight" of 1967 was undoubtedly the band's trip to England, part of their prize for winning the 1966 Battle Of The Sounds competition. On 26 September 1966 the group set sail for London, and as soon as they disembarked at Southhampton, they made a bee-line for all the essential landmarks of swingin' London. Cash registers in the trendy clothes shops of Carnaby Street took a beating as the guys -- now sporting "Pepper" moustaches and the finest mod coiffures -- soaked up the delights of a city and culture that had already profoundly influenced them.

Despite th excitment of being at the epicentre of the pop world, the band's lofty ambitions were tempered somewhat when the boys were confronted by the sheer quantity and quality of the British groups they encountered. As Shorrock ruefully observed upon the band's return to Australia:

"Our biggest shock was the high standard of so many groups who are not even known. It was hard for us to get jobs with good money".

Nevertheless, one major fillip was the dream opportunity to play a week's residency at Liverpool's The Cavern Club, to very enthusiastic response! The band fulfilled another dream by recording at the famous Abbey Road Studios under the production guidance of Norman "Hurricane" Smith, who engineered all the Beatles recordings up to Rubber Soul and produced Pink Floyd's debut album). It's alleged that one of the Fabs poked his head around the door, thumbs aloft, and offered cheers and encouragement to the boys. The Beatles were at that time recording one of the classic singles of all time, "Strawberry Fields Forever"/ "Penny Lane" and The Twilights were invited to sit in on their sessions. Phew!

A clutch of songs from the Abbey Road sessions soon saw release back in Australia. In February, the splendid "What's Wrong With The Way I Live?" made the national Top 10. Composed especially for the group by Graham Nash, Tony Hicks and Alan Clarke of The Hollies, the song exhibited a sophisticated sound that the band had only hinted at before. With its outrageous banjo motif and tight block harmonies, the recording earned plaudits from the composers themselves ("Much better than we did it!", an amazed Nash remarked) -- and garnered support from other expatriate Aussie musicians (like the Bee Gees) trying to crack it in the UK at the time, as well as gaining encouraging airplay on Blighty's pirate radio stations like Radio Caroline (many of which were staffed by expat Aussie DJs like Tony Windsor and Graham "Spider" Webb. The flipside called "9.50", a driving Terry Britten psych-rocker with an irresistible guitar riff, proved equally popular and was revived by The Divinyls as a single b-side in the early 80s.

The third song recorded during the Abbey Road sessions provided the next a-side. "Young Girl" was a Laurie Pryor tune -- melancholy and evocative, with Terry's innovative use of the variable volume pedal (as employed previously on The Beatles' "Yes It Is"). It's a measure of The Twilights' pre-eminence on the Aussie rock scene by this time that it became the group's biggest hit to date.

The changes in looks, attitude and musical accomplishment evident in the band upon its return to Australia were exemplified by the increasing dominance of Terry Britten. Of all the Twilights, the Manchester-born Terry seemed the one to have most absorbed the kaleidoscopic influences on offer in the melting pot of Swinging London. Not only did he sport the best clothes and haircut (!) of the bunch, but more importantly, Terry exhibited the greatest creative growth in the band, and from this time onwards assumed the role of chief songwriter and virtual helmsmanship. Embracing, like his hero George Harrison, elements of Eastern philosophy and religion, Terry introduced exotic instruments and musical forms into The Twilights' music, and heralded this newfound discovery by heavily featuring the sitar as a lead instrument on the b-side to "Young Girl", a fine social observation called "Time And Motion Study Man". It the first of many instances in which sitar and other Indian instruments were used prominently on Twilights records.

The last single from the group in 1967 used the sitar as a lead instrument on both sides. Unusually for the time, "Cathy Come Home" came housed in a two-colour picture sleeve. The spine-tingling A-side showed the group at the peak of its formidable pop powers, while its flip, "The Way They Play" displayed a dynamic group cohesion, with John Bywaters' fluid basslines proving particularly effective. The single was another unqualified airplay and chart success, but it was to be the last major hit that the band enjoyed.

"Cathy Come Home" also marked the beginning of a trend in which a number of his songs were based on movies and TV shows. "Cathy" was inspired by the groundbreaking British docu-drama of the same name. Over the next few years Terry also wrote a song for Ronnie Burns, inspired by the Michael Powell Anglo-Australian-production Age Of Consent (submitted for the film soundtrack but rejected), and in 1969 he released his own solo single, again inspired by a current movie -- in that case, Tim Burstall's ill-fated feature debut 2000 Weeks.

In concert the group continued to impress. Weeks prior to the local release of The Beatles' Sgt Pepper album, The Twilights played the whole thing live (could The Beatles themselves have done so at that stage?). Alarmed reps at EMI demanded they desist, fearing their flawless performance might actually spoil reaction to the album when it was finally issued in June!

1968
A wategsubed year for The Twilights, but perhaps certain events conspired to herald the beginning of the end. Things started optimistically with the chart success of "Cathy Come Home" and continued with the invitation by the Seven Network to develop a weekly television sit-com series based around the group at work and play, loosely along the lines of "The Monkees" or "A Hard Days' Night".

At the time, Go-Set magazine documented the pilot of "Once Upon A Twilight" (as the show was to be titled), with photos of the group on filming location around Melbourne. The shots showed the band looking fine, with their proposed regular co-stars, the late comedienne Mary Hardy (playing the role of the band's secretary), together with a youthful Ronnie Burns. While the disappointing fate of the TV show was only revealed at the end of the year, when the Ford motor company withdrew its sponsogsubip, the project helped to inpsire what was to become The Twilights' recording zenith, as the "soundtrack" to the shelved TV show took on a life of its own. A long gestation period, interspersed with the band's most concentrated regime of live touring yet, resulted in one of the finest albums of the decade, Once Upon A Twilight.

While showcasing Peter Brideoake's plaintive, cello and horn-embellished "Tomorrow Is Today" and Laurie Pryor's raucously daft comedy turn, "The Cocky Song", the album is essentially Britten's own. As main songwriter he provided lush settings for Glenn (the title track, "Found To Be Thrown Away" and and the psychedelic gem "Paternoster Row") and delicate arrangements for Paddy's sweet lilt ("Bessemae"). Terry also made his own mark with lead vocals and almost solo instrumentation on "Mr Nice" and the Eastern-flavoured "Devendra" -- the latter featuring an arrangement of Indian string and percussive sounds similar to George Harrison's "Within You Without You". Embellished by brass, strings, Clapton-esque wah-wah guitar, Keith Moon-ish drum patterns and the latest studio trickery --feedback, reverse-tape effects masking, stereo panning and Leslie'd vocal effects -- the album presetned a suite of spirited and captivating pop songs that hinted at brilliance.

"OUAT" was initially pressed in mono only, as the stereo mix commissioned in America was delayed. An uncorroborated tale has it that Linda Ronstadt and her band The Stone Poneys (including Anglophile songwriter Andrew Gold and future Eagle and collaborator to Shorrock, Glenn Frey) were recording in an adjacent studio, and heard some of the mixing sessions. Mightily impressed with the quality of the songs and performances, Ronstadt and her manager apparently lobbied to secure American release for The Twilights on Capitol records.

When it finally arrived, the stereo version of the album was slightly disappointing with its murky mix, but it did highlight the dense layers of overdubs, sound effects and kitchen-sink studio trickery the group and producer David MacKay had laboured over. And it became plain that Britten had by now assumed defacto leadegsubip of the band, with some of the most sophisticated songwriting yet demonstrated. To complete the ambitious package, another typically innovative touch: a gatefold die-cut pop-up 3D cover depicting the six lads as medieval knights, frolicking with lusty wenches around a fairytale landscape!

At the time of its release the album Once Upon A Twilight was regarded by some critics as music past its use-by-date! Well, at the time, sure, the considerable time-lapse between the album's conception and its eventual release maybe didn't do the band many favours, but 30 years later this album sounds as fresh and fine and seminal to this writer's ears as Ogden's Nut Gone Flake -- another album The Twilights were known to perform in its entirety in concert.

Concurrent with the release of the album came the group's eleventh single, "Always". Recorded during the same sessions, is a sumptuous ballad, a rich mix of acoustic guitars, trilling flute embellishments, and Terry's haunting lead vocal. Great single, crap response - the demise was about to set in. The lacklustre reception to The Twilights' second and very important album and the Always single began to beg the question: how much longer could they sustain the momentum?

Nevertheless, 1968 was certainly the band's year as a performing entity. Melbourne was "theirs" as they dominated the city's thriving dance and disco circuit. Popular venues such as Sebastian's, Bertie's, Pinnochios, Catcher, The Thumpin' Tum and Opus played host to the most polished stage shows by an Australian band yet witnessed. With their enormous Magsuball amplifiers, impeccable presentation and tight professionalism, the boys could do no wrong. Sprinkled among a grab-bag of their own best songs and funkified Motown and soul classics, came assertively powerful cover versions of such numbers as Cream's Sunshine Of Your Love, Traffic's Dear Mr Fantasy, Hendrix's Purple Haze and The Move's Night Of Fear - often comprehensively eclipsing the originals.

It should be noted that a Twilights show at the time would not have been complete without the prominent comedy/slapstick element. Egged on by the sardonic wit of John Bywaters, Glenn was frequently prone to adopting his alter-ego, Superdroop, dressing in a most disreputable super-hero jumpsuit (or a ridiculous but scary gorilla outfit on occasions), to taunt the audience with puerile gags, sometimes swinging precariously on a trapeze over the crowd! The group toured extensively during 1968 and this author was lucky enough to catch a Twilights show in Canberra (their solitary visit to the capital). It was without doubt the best rock concert experience I was to have until well into the 70s. They were just that good!!!

Remaining busy in Armstrong's recording studios with longtime producer MacKay, the group released the double-a-side, Tell Me Goodbye / Comin' On Down in August. The former was a distinctively catchy singalong with a wicked tremelo guitar figure from Terry, while the cosmic, slightly confusing, phasing-drenched flip seemed to be about the apocalypse or something - probably only Britten knows for sure. It was a fine single however, but criminally ignored by the public. By this time the band was beginning to outgrow the audience that had so hungrily supported them only months before. They had achieved much in their short time together and according to some observers they had lost interest, become complacent and were merely going through the motions. Spry had quit as manager mid-year and internal divisions and petty power struggles had begun to surface.

November saw the release of the group's swansong, this time produced by the up and coming Howard Gable. "Sand In The Sandwiches" attempted a jaunty, frivolous "let's all head off for the beach" theme but fell short of target, coming across as somewhat stilted and forced ("abysmal", rock historian Glen A Baker describes it). The b-side, by contrast, shoe-horned just about every vital strength of the band into an absolutely exhilarating 2 minute 48 seconds. Led by Pryor's ferocious tom-tom fills, heavily compressed handclaps, boisterous "Hey!" call-and-response vocal chants and yet another idiosyncratic Britten solo, the song called "Lotus" was a solid affirmation of The Twilights' outstanding musical skills and was the perfect bookend to their remarkable recorded output. Yet again though, airplay and sales reception were comparatively pitiful.

Preparations for a return foray to the UK were thwarted later in the year when Laurie declined to participate and resigned from the group (what is it with tub-thumpers?!). Disappointed and dejected with their recent lack of progress and perceived declining public response, the group decided then to cut its losses and disband, announcing a series of final live appearances.

Revealed Glenn in 1985:

"The breakup of The Twilights was not something that we planned. It all happened in three days. I didn't know what to do with myself…"


1969

The Twilights gave their last concert performance at Bertie's disco, Melbourne, in January. Emotions were bittersweet. As you would expect, they took the roof off the place and left the audience gobsmacked. But at that moment Australia had lost one of the finest bands to emanate from the fertile 60s beat boom and we would never see its like again.


After The Twilights

- Glenn Shorrock turned to band management, looking after Brisbane teen-pop outfit, The Avengers. But the muse still beckoned and he soon formed a "super group" with Brian Cadd and Don Mudie (ex-Groop), specifically designed to take the overseas market by storm. Axiom underachieved in this regard, but served as a template for The Little River Band which scored phenomenal success in the US later in the seventies, with Glenn as its lead singer. Before LRB though, he spent time in England, releasing a couple of solo Singles for the MAM label, doing backup vocals in Cliff Richard's touring band, then joining the avant-garde orchestral-rock collective, Esperanto for two Albums. After leaving LRB in early 1982, Glenn retreated from performing for a time, compering ABC-TV's Rock Arena, before releasing a solo album Villain Of The Peace, then teaming again with Cadd for the Blazing Salads venture. A double-CD anthology The First Twenty Years, which traces most phases of Glenn's recording career (including a brace of Twilights tracks) came out in 1985. Most recently, he helped mount a large-scale presentation of Beatles songs at the Sydney Opera House in 1998 with a crack band and full orchestra under the baton of Sir George Martin.

Terry Britten consolidated his reputation as "songwriter for hire", penning and sometimes producing songs for (among many others) Zoot, The Avengers and Ronnie Burns. He released a solo single, 2,000 Weeks, before taking off to England to develop his new classically-flavoured group with fellow expats, Kevin Peek, Alan Tarney and Trevor Spencer (ex-James Taylor Move). The wryly-dubbed Quartet released one single, "Now" on Decca before disbanding in late 1969 (a much-touted album, Joseph never seems to have seen the light of day). Terry then partnered with Brian Peacock (ex-Procession) in Homer, before concentrating on honing his craft as songwriter to the stars (sometimes in collaboration with the likes of Tarney and/or Spencer, and B.A.Robertson). He placed strong chart hits for Cliff Richard, Tina Turner and local "Countdown" poppet, Christie Allen, to name just a few. And Terry need not fear for his financial future, since writing "Just Good Friends" with Graham Lyle (Gallagher & Lyle) for Michael Jackson's mega-selling Bad album. Finally, too, he fulfilled his long-time ambition to secure a film soundtrack song, winning a Grammy for his theme to the movie Mad Max 3 - Tina's "We Don't Need Another Hero". These days, Terry continues to compose from his home base in rural England.

Laurie Pryor took up drumming duties with Chain soon after leaving the 'Lights, undertook various studio sessions and helped form the much-lauded early 70s prog outfit, Healing Force with the late Charlie Tumahai.

Peter Brideoake turned his hand to classical composing and TV soundtrack work, and now teaches music at Adelaide University

The remaining ex-Twilights, Paddy McCartney and John Bywaters, seem to have disappeared altogether from the pop scene, presumably returning to "normal" lives back in Adelaide.

(Note: if anybody can shed further light on the current whereabouts and activities of former Twilights, please feel free to let the webmaster of ROCK 'N' ROLL SCARS know)

1982 -- Glenn Shorrock Remembers

"I'm presently in the earlry stages of rehearsing my new band to go out on the road and promote Villain of the Peace, my fisrt solo album in 20 years (this was written in '82 - Ed). Before this I was the lead singer of four bands and my first and favourite was The Twilights.

It's now almost twenty years to the day that the new Twilights were formed. It was a warm summer evening in Elizabeth, South Australia, ten miles north of Adelaide. Paddy McCartney, Mike Sykes and myself had been singing in a quartet called The Checkmates but had decided to trim down to a more efficient trio. Looking into the changing colours of the evening skyline, I suggested we call ourselves The Twilights.

We performed as a trio for a year or so around Adelaide, sometimes with various bands, sometimes a capella. We sang songs like "Runaround Sue", "Surfin' Safari", "At The Hop", "Blowin' In The Wind" and "Tom Dooley" – sort of a cross between Jan & Dean and The Kingston Trio! Then, in mid-'63, Please Please Me hit our ears (Love Me Do was released here later) and things changed quickly. Adelaide went Beatle crazy and The Twilights rode the wave eagerly. We won a Beatles Soundalike competition and appeared on the Adelaide Tonight television show. Things were getting serious.

It was becoming obvious that our hobby had the potential to become a career and it was commitment time. From being just part of a "package" show of band, vocalist and vocal trio, The Twilights reorganised into a complete rock 'n' roll band. At that time there were a lot of young bands emerging in Adelaide, such as Bobby Bright & the Beaumen, Johnny B Goode & Penny Rockets, Pat Aulton & the Clefs and The Hurricans. We sort of merged with The Hurricans. This meant losing my friend Mike Sykes, my first bitter taste of ruthlessness. Into the fold came lead guitarist Terry Britten, bassist John Bywaters, rhythm guitarist Peter Brideoake and drummer Frank Barnard. Two other Hurricans members went on to other Adelaide bands – Kevin Peek to Johnny Broome & the Handles and John Rupert Perry to The Vibrants.

Over the next two years, The Twilights consolidated their position as Adelaide's leading mod band, specialising in versions of the best British rock. We performed all over South Australia but the hub of things was our Friday and Saturday nights at the Oxford Club. There the faithful would squeeze into a tiny hall, pretending it was The Cavern. We began writing our own songs and cut a single for the local market – "I Don't Know Where The Wind Will Blow Me", a prophetic song by Terry and I. Our second single, "Come On Home", picked up some airplay in Melbourne and came to the attention of budding club owner and band manager Gary Spry. He came to Adelaide with his band The Flies. They were supposed to be Australia's leading Beatle-type band but when they got to the Oxford we drained them of their confidence. They honestly believed that the sound of The Twilights live was Beatle records being played in the club! Gary Spry instantly offered us Melbourne, the world and even Sydney.

So in November 1965 we took holidays from our day jobs (remember we were still only weekend superstars) and played a week at Melbourne's leading mod discotheque, Pinnochio's. The reaction was so strong that when we returned to Adelaide we decided to accept Gary's offer of management and move permanently. All of us that is except Frank, who was replaced by Laurie Pryor. We were very much a vocal-orientated band and certainly the only one (until The Valentines came along) with two lead singers.

From early 1966 things started to happen fast. Our third single, "If She Finds Out", made the Melbourne top twenty. So we had a recording career, a producer (David MacKay), a manager and a hit. Within five months we had three more hits – "Baby Let Me Take You Home", "Bad Boy" and our first national number one, "Needle In A Haystack", a Velvelettes song. To cap it off, we won the 1966 Hoadley's National Battle Of The Sounds and were on our way to England by September.

The performances (on the "Twilight Time" LP)… reflect the quality of live recording at the time – negligible – but nonetheless I was thrilled to hear my favourite band after so long and reaffirm what I felt about our playing. The Twilights were a damn good band!

So dig out your Oxford Club membegsubip medallion, crack open a couple of Violet Crumble Bars, close your eyes, think of Pinnochios, say the magic words "Gary Spry", and enjoy yourselves – I did!

- Glennn Shorrock. Birchgrove, Sydney, late September 1982.



Random Memories Of A Twilights Enthusiast -- Paul Culnane

I unabashedly present this essay from the standpoint of a comitted fan. Objectiveness has scant value as I report my reminiscences - the pure adrenalin rush of seeing the Twlights take the stage (and the memory it still evokes) is the currency I'm dealing in here.

My abiding love affair with The Twilights' music began, I guess, around the time one of my older brothers, Tony, and I used to listen to the radio broadcasts of the final heats of the Hoadley's Battle of the Sounds contest. We used to argue and speculate on the relative merits of the contestants (as I'm sure most listeners did). When The Twilights won in '66, my predictions and convictions were vindicated, and Tony agreed that this was indeed the closest thing Australia had to our own Beatles!

I was besotted by the band since first hearing Needle In A Haystack and its sublime b-side, I Won't Be The Same Without Her; and had received their first album as a birthday present (my first own real LP, along with Sgt Pepper!)… when I actually saw one of my heroes from the group while I was on holiday in Melbourne…

It was great fun shopping for "mod" or "stylist" clothes in trendy Toorak Road (I picked up a fantastic blue windcheater with vertical white sleeve-stripes, as sported by the sartorially-bedecked band, The Vibrants; as well as a mustard epaulette shirt, paisley cravat and authentic brown suede Beatle-boots – I was barely 15!). Well, that day I spotted none other than Terry Britten walking along toting a guitar case. With the reckless nonchalance of youth, I followed him. He obviously sussed that I was tailing him – what must he have thought? Obviously I wasn't a cute sixties pop-chick, merely a naïve, intrigued young fella touched by the pop music bug ever since first seeing The Beatles on Bandstand! Following Terry until he disappeared into a huge South Yarra mansion was strangely exciting – a brush with celebrity! Brother Tony, with whom I was staying at the time, thought it odd for a young bloke to have actually done that, let alone buy a pillowcase with the band's photo on it, but I remained oblivious to his taunts. There's an indefinable allure for some teenage boys when they see a long-haired guitar-wielding rebel swivelling his hips on TV. Just consider the effect Elvis had on Lennon. Or ask Tim Rogers about Pete Townshend. It happened for me when I first set eyes on Brian Jones with his blond moptop and otherworldly Vox teardrop guitar. And later, Terry Britten became my hero. I tried to emulate him and generally succeeded in the visual department; even started to write some little songs; but, crucially enough, I never did manage to play the bloody guitar!

The fantastic double a-side single, Cathy Come Home / The Way They Played advertised an address for The Twilights fan club on its picture sleeve. I immediately applied to join, and over the next year or so corresponded with, and assisted, the club's president (her name escapes me now) with club activities, including the distribution among other fans of transcribed lyric sheets for all the band's songs. She worked as a receptionist at Armstrong's Studios, Melbourne's pre-eminent recording venue until well into the seventies, and as such was graciously able to fill the small autograph book that I sent her with the signatures of The Twilights and those of many other well-known artistes of the day. I've lost much of the collected memorabilia of that time, but still treasure that autograph book (reproductions from which will appear on this site).

Sometime during 1968, my beautiful sister Margo and her boyfriend Andrew (now best friends and landlords!) chaperoned me to a concert the band put on at the Albert Hall in Canberra. As alluded to earlier in these pages, it was a mind-blowing experience for me. Among my abiding memories: Beige! – the huge horizontal Magsuball speaker cabinets, the brocade frock-coats, the smart tailored pants, the drum-kit, even the guitars themselves – all beige! I recall Glenn's witty stage banter, wherein he continually hassled the hapless, diminutive lead guitarist by referring to him as "Terribly Brittle". Everybody seemed to enjoy the pantomime interludes of the show, which complemented but never impinged on the sheer musicality of the performance. The band's impeccable four-part vocal harmonies and tight musicianship reminded me of a rockier Hollies. They played all their hits up to that time (nothing from the yet-to-be-released second album though), and stunned punters with note-perfect readings of "Sunshine Of Your Love", "Mr Fantasy" and "Afterglow", among others, before lifting the roof off the staid old joint with spirited and consummate renditions of Stones, Move, Small Faces, Hendrix, and Who concert staples. How fortunate was I to have had such a rare chance to witness this magnificent band in its performing prime? I'll never forget that night!

After that, notwithstanding the considerable enjoyment their second album and later Singles afforded, it was somewhat a denouement. While I was but one of many fans saddened and frustrated by the group's break-up, I continued to enjoy their records, followed their post-Twilight careers, and treasured my collection of many of the band's rarities – still do to this day!

Yes, the music remains... Allow me to recommend that you, the reader - assuming you're a neophyte - high-tail it to a reputable record outlet and snap up the CD The Way They Played, poste-haste! You could do worse than to secure the Raven album of live recordings, Twilight Time, too, if you can find it. Now, look here! If you remain unmoved by original classics such as What's Wrong..., Cathy Come Home or Lotus, or fail to be blown away by the group's incendiary versions of I'm Not Talkin', Night Of Fear or Satisfaction, then why have you bothered reading this far? (But thanks for doing so anyway)…

Original article by Paul Culnane, 1999. Revised 2007.

Discography

Singles

June 1965 *
"I'll Be Where You Are" / *"I Don't Know Where The Wind Will Blow Me" (Columbia DO-4582)

Oct. 1965 *
"Come On Home" / *"Wanted To Sell" (Columbia DO-4610)

Feb 1966*
"If She Finds Out" / *"John Hardy" (Columbia DO-4658)

May 1966
"Baby Let Me Take You Home" / "You've Really Got A Hold On Me" (Columbia DO-4685)

June 1966
"Bad Boy" / "It's Dark" (Columbia DO-4698)

Aug. 1966
"Needle in a Haystack" / "I Won't Be The Same Without Her" (Columbia DO-4717)

Dec. 1966
"You Got Soul" / "Yes I Will" (Columbia DO-4742)

Feb. 1967 **
"What's Wrong With The Way I Live" / "**9.50" (Columbia DO-4764)

May 1967 **
"Young Girl" / "Time & Motion Study Man" (Columbia DO-4787)

1967
"Bowling Brings Out The Swinger In You" / "instr. version" (EMI Custom PRS 1736 – promo only)

Nov. 1967
"Cathy Come Home" / "The Way They Play" (Columbia DO-5030)

May 1968
"Always" / "What A Silly Thing To Do" (Columbia DO-8361)

Aug. 1968
"Tell Me Goodbye" / "Comin' On Down" (Columbia DO 8448)

Nov. 1968
"Sand In The Sandwiches" *** / "Lotus" *** (Columbia DO-8602)

Singles produced by: David MacKay
Engineers: Roger Savage, David Page
Studios: Armstrong's Melbourne; AWA and EMI Sydney
except:
* first three singles self-produced in Adelaide
** produced by Norman Smith at Abbey Road, London
*** produced by Howard Gable at Armstrong's. Studios, Melbourne

As The Pastoral Symphony:

May 1968
"Love Machine" / "Spread A Little Love Around" (Festival FK-2343)

Dec. 1977
"Love Machine 1968" / "Love Machine 1977" (Festival K-6991)

One-off "supergroup" project, executive-produced by Jimmy Stewart, produced by Geoffrey Edelsten (yep, the notorious entreprenurial doc). A substantial hit upon its initial release, it was re-released in barely noticeable US remix form in 1977. Group comprised full Twilights lineup, augmented by Terry Walker (The Strangers) on lead vocals, Ronnie Charles (The Groop); backup vocals; and The Johnny Hawker Orchestra.

Terry Britten solo:

1969
"2,000 Weeks" / "Bargain Day" (Columbia DO-8711)
Composed, performed and produced by Terry Britten. Both tracks available on the Raven Twilights comp CD.

Extended Plays

Bad Boy (Columbia SEGO 70129)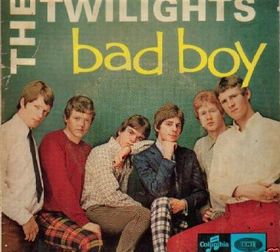 "Bad Boy" / "I'll Be Where You Are" / "Baby Let Me Take You Home" / "If She Finds Out"
---
Twilights' TIme (Columbia SEGO 70139)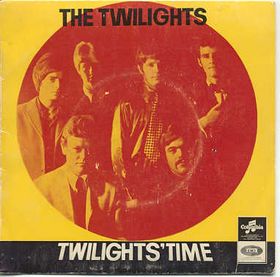 "Needle In A Haystack" / "9.50" / "What's Wrong With The Way I Live" / "Young Girl"
---
Always (Columbia SEGO-70161)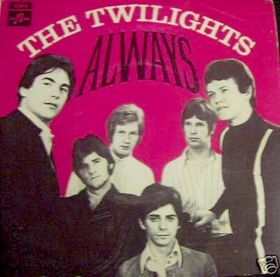 "Always" / "Cathy Come Home" / "You Got Soul / "The Way They Play"
---
Things Go Better With Coca-Cola (EMI PRS 2028 - promo only)
Various artists compilation inlcuding Twilights Coca-Cola jingle
Albums
1966
The Twilights (EMI Columbia 330SX) LP, (EMI 7243 8 5572 2 7) CD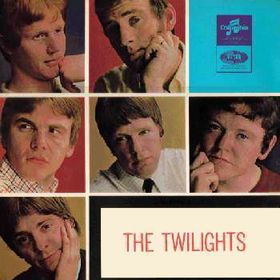 "Sorry She's Mine""
"La La La Lies"
"It's Dark"
"Diddy Wah Diddy"
"Long Life"
"Needle In A Haystack"
"You've Got Soul"
"Yes I Will"
"I'm Not Talkin'"
"Let Me Go"
"Lucky Man"
"Satisfaction"
Produced by David MacKay
Engineers: Roger Savage, David Page
Recorded at Armstrong's Studios, Melbourne and EMI Studios, Sydney
---
1968
Once Upon A Twilight (EMI Columbia SECO 7870) LP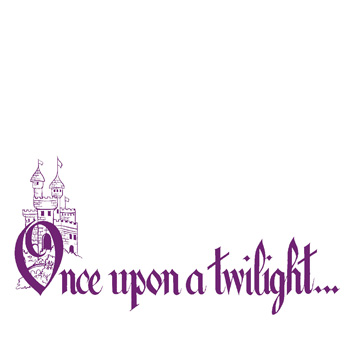 1. "Once Upon A Twilight"
2. "What A Silly Thing To Do"
3. "Bessemae"
4. "Stop The World For A Day"
5. "Mr Nice"
6. "Take Action"
7. "Blue Roundabout"
8. "Devendra"
9. "Found To Be Thrown Away"
10. "Tomorrow Is Today"
11. "The Cocky Song"
12. "Paternosta Row"
Producer: David MacKay
Engineers: Roger Savage, Alan Hay, Phillip Webster
Studios: Armstrong's Melbourne
Orchestration: Johnny Hawker
Re-released on CD by Aztec Music, 2007
---
1969
The Best of The Twilights (EMI Columbia)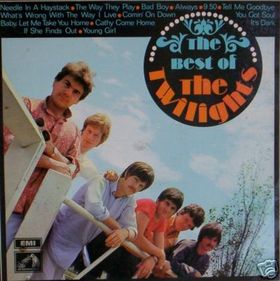 ---
1982
Twilight Time (Raven RVLP 08)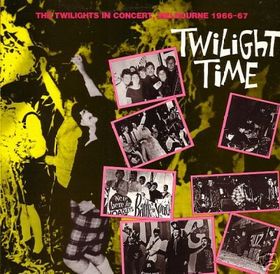 "Needle In A Haystack""
"Barefootin'"
"Young Girl"
"Night Of Fear"
"Show Me"
"What's Wrong With The Way I Live?"
"Intermission: Bowling Brings Out The Swinger In You"
"My Generation"
"Drive My Car"
"Smokestack Lightning"
"Battle of the Sounds Medley:"
"- Bad Boy"
"- Satisfaction"
"- Yesterday"
"- If She Finds Out"
"- I'm Not Talkin'"
"Bad Boy"
"I'm A Man"
Concert performances in Melbourne 1966-67, compiled by Glenn A Baker from 3UZ radio recordings
- Tracks 1-6 as support act to The Easybeats' 1967 homecoming tour (Festival Hall, Melbourne)
- Tracks 8-10 as support act to The Rolling Stones' 1966 Australian tour (Palais Theatre, Melbourne)
- Remainder: Festival Hall, Melbourne, 1966, Hoadley's Battle Of The Sounds grand final
---
1990


The Way They Played

(Raven CD RVCD 03) CD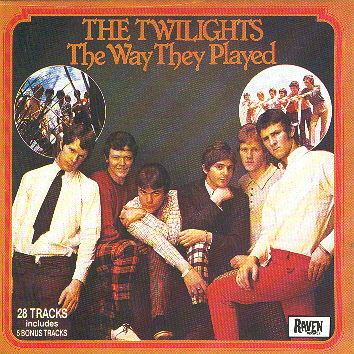 "If She Finds Out"
"It's Dark"
"Bad Boy"
"Baby Let Me Take You Home"
"Sorry She's Mine"
"Needle In A Haystack"
"I Won't Be The Same Without Her"
"Yes I Will"
"You've Got Soul"
"What's Wrong With The Way I Live?"
"9.50"
"Cathy Come Home"
"Young Girl"
"Time & Motion Study Man"
"The Way They Play"
"Always"
"Once Upon A Twilight"
"What A Silly Thing To Do"
"Paternosta Row"
"Comin' On Down"
"Lotus"
"2,000 Weeks (Terry Britten solo)"
"John Hardy"
"I'm Not Talkin'"
"Bessemae"
"Mr Nice"
"Tell Me Goodbye"
"Bargain Day" (Terry Britten solo)
Compiled by Glenn A Baker and Kevin Mueller. Originally released in shorter form on EMI LP 1977.
This compilation, still in print, is undoubtedly the best, most definitive and comprehensive introduction to The Twilights' studio legacy. However, beware the variable source material -– not necessarily always master tapes ("Young Girl" = crackles galore). Only tracks 17-19 are presented in stereo, whereas stereo masters for other tracks, in mono here, are known to exist. And the truncated intro to "Bargain Day" is unforgivable!)
Video
Twilights aficionados are poorly served in the film/video department, unlike the case of The Easybeats, where quite a healthy archive of footage is readily available to fans, and it's doubly regrettable, given that The Twilights made so many TV appearances in their heyday. However, since this article was first written in 1999 it has energed that at least some footage of their appearances onThe Go!! Show, Kommotion and Uptight has survived, and it is undertood that compilation DVDs of this material are currently (2007) being prepared for a commerical release. The fate of the band's reputed 1967 appearance on Britain's Top Of The Pops) is unknown, but fortunately, we can confirm that the long-lost pilot episode for Once Upon A Twilight has survived and is now preserved as part of the collection of the National Film & Sound Archive. Fortunately, a handful of clips (mostly from The Go!! Show) have recently surfaced on the video sharing website YouTube -- the links for these clips are listed below.
References / Links
Glenn A. Baker
liner notes from The Way They Played (EMI, 1989) CD
interview with Glenn Shorrock (1985) http://www.lrb.net/shorrock/Glenn_History.htm
LRB fans' online interview with Glenn Shorrock (1997)
http://www.lrb.net/shorrock/intvw_Glenn.htm
Glenn Shorrock
liner notes from Twilight Time (EMI, 1982) LP
Chris Spencer, Zbig Nowara & Paul McHenry
Who's Who of Australian Rock (Five Mile Press, 2002)
Mark Lewisohn
The Complete Beatles Recording Sessions
YouTube
"Cathy Come Home" film-clip (from Once Upon A Twilight pilot)

"Cathy Come Home (filmed promo-clip made for The Go!! Show)

"Bad Boy" (1966 (probably from The Go!! Show)

"Needle in a Haystack" (probably from The Go!! Show, 1966)

"I Won't Be The Same Without Her" (Go!! Show?)