PHILIPS RECORDS (AUSTRALIA) / VERTIGO RECORDS







Category: Overseas-owned label

Date: 1950s - present

Location: Sydney, NSW?

Ownership:
1950-1962: subsidary of Philips Phonografische Industrie (PPI)
1962-1972: subsidary of Gramophon-Philips Group (GPG)
1972-1998: subsidary of PolyGram group
1998-present - subsidary of Universal Music Group
1999 - merged with Decca to become Decca Music Group

Subsidiary labels: Fontana; Mercury (from 1960); Melodica (from 1961); Polydor International (1960s); Vertigo (1970s)
History
Philips company history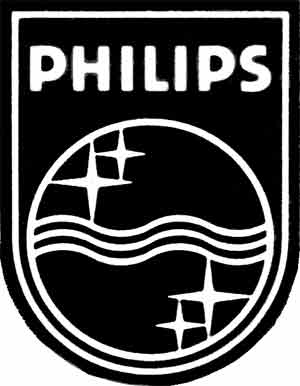 The Philips label -- now part of the Universal Music Group -- originated as the recording division of the Netherlands-based Philips electronics corporation. The label is best known for its prestigious classical catalogue, although it also developed a popular catalogue in the 1950s. Philips operated an Australian subsidary from the 1960s into the 1980s and recorded some local pop and rock acts, notably The Missing Links, whose only LP is now one of the rarest and most valuable of all Australian LP and Perth band The Valentines, which featured the young Bon Scott as co-lead singer.
Philips first moved into the record business in 1924 when it established a recording studio after acquiring radio manufacturer Nederlandsche Seintoestellen Fabriek. It began record manufacture in 1933 and in 1942 acquired Hollandsche Decca Distributie (HDD), the Decca licensee, gramphone manufacturer and independent record label. HDD had been founded in 1931 and expanded within Europe and the Dutch empire (including what is now Indonesia).

In 1950, following Columbia's introduction of the long-playing record, Philips consolidated its international recording interests as Philips Phonografische Industrie (PPI), which was incorporated on 28 September 1950, with its head office in Baarn, in the Netherlands. A new record manufacturing plant was also built in Baarn and became operational by the end of 1951. During 1951 PPI signed an agreement with Columbia USA (a division of CBS Records) with PPI becoming Columbia's distributor outside the US, while Columbia distributed PPI product within the US. Philips' popular music division was effectively a takeover from HDD, with mainly Dutch and British repertoire.
In Australia, however, CBS/Columbia recordings were distributed by EMI until the mid-1950s, but when EMI acquired Capitol Records in 1956, its local competitor The Australian Record Company (ARC) lost the rights to release Capitol recordings in Australia, so ARC responded by acquiring the rights to the CBS catalogue, a deal which led to the company's eventual takeover by CBS in 1960.

After the formation of PPI, the task of building Philips' classical catalogue fell to Otto Glastra van Loon, who had been a conductor of the Nederlandse Opera and the Philips Choir. Two house producers were appointed -- Jaap van Ginneken, a former radio producer and Us van der Meulen, a recording pioneer who had already recorded the famous "Mengelberg" St Matthew Passion in 1939 on Philips-Miller tape. The first orchestral recordings were made in December 1950 with the The Hague Philharmonic Orchestra under Willem van Otterloo (later a conductor of the SSO), playing Haydn's Oxford Symphony and the Peer Gynt Suites by Grieg. As there was no suitable hall in The Hague, orchestra members and their instruments travelled in coaches to and from the Concertgebouw in Amsterdam, to take advantage of its famous acoustic. The first recordings with the Concertgebouw Orchestra itself were in 1951 under Paul van Kempen with Tchaikosky's Symphony No. 5 and Symphony No. 6 and some Overtures.
One of the first major soloists contracted to the label was pianist Clara Haskil. Her first recording, one of the earliest on Philips, was the Schumann Piano Concerto with the The Hague Philharmonic Orchestra under Willem van Otterloo, made in May 1951. In 1952 conductors Antal Dorati and Eugen Jochum were signed to the label. Philips' classical catalogue expanded rapidly and by 1957 it contained 680 LP titles. Most recording was handled by the Classical Producing & Recording group in Baarn, although there was also a smaller recording centre in Vienna, as well as a contract with Columbia USA for the exchange of repertoire.
Among the great names on the Philips label were Bruno Walter, George Szell, Eugene Ormandy, Sir Thomas Beecham, Robert Casadesus, Rudolf Serkin, Zino Francescatti, Isaac Stern and Pablo Casals, I Musici, Arthur Grumiaux, Colin Davis, Alfred Brendel, Neville Marriner and The Academy of Saint Martin in the Fields, Claudio Arrau, Jessye Norman and The Beaux Arts Trio. George Szell's first recording for Philips -- Mendelssohn's A Midsummer Night's Dream, made in December 1957 -- was also the first Philips stereo recording, made when the company was just beginning to experiment with stereo recording. The original LP was in mono, but a later CD release was sourced from the previously unreleased stereo master.

In 1960 PPI acquired the prestigious US label Mercury Records, founded in 1945. Mercury was renowned for its jazz catalogue, but in the 1960s it released a wide range of popular recordings by acts such as Aphrodite's Child, Roger Miller, The McCoys, Sir Douglas Quintet and Buddy Miles Express. By the time of the Mercury acquisition, tensions between Philips and Columbia had escalated and the following year Columbia ended its alliance with PPI, establishing its own European distribution network. Philips then acquired Italy's Melodica labels and later in 1962 it established the Gramophon-Philips Group (GPG) as a joint venture with Siemens, selling 50% of PPI to Siemens while Philips acquired 50% of Deutsche Gramophon and its popular label Polydor.
PPI made recording history in 1963 with the introduction of the compact cassette, which revolutionised the domestic music market. Expanding into publishing, PPI acquired Chappell Music Publishing in 1968. In 1969 Philips launched a new subsidary label, Vertigo, which was established to compete with other labels catering to the burgeoning progressive rock market, such as EMI's Harvest Records and Decca Records's Deram label. Among the first artists signed were Ian Matthews, Mike Absalom, Colosseum and Black Sabbath. Later singings included Australia's Buffalo, Nirvana (UK) and Kraftwerk. After Philips Records was renamed Phonogram Records, major acts including Status Quo, Thin Lizzy and Tears for Fears joined Vertigo. Now part of the Universal Music Group, Vertigo is a division of Mercury Records. Recent signings include The Rapture, The Killers, One Night Only and The Noisettes.
In 1972 GPG was replaced by Polygram, which merged all the recording interests of Philips and Siemens. Through the 1970s, Polygram greatly increased its profile, acquiring a string of prestigious labels including Verve (purchased from MGM), the United Distribution Corporation, the Robert Stigwood Organization (including RSO Records) and stakes in Casablanca and Barclay records. In 1979 it acquired Decca and London Records and in 1980 it bought Decca UK, one of the world's oldest labels.
A proposed 1983 merger between Polygram and Warner Music was forbidden by both the US Federal Trade Commission and Germany's cartel office, so Philips then bought a further 40% of Polygram from Siemens, acquiring the remaining shares in 1987. The same year it rationalised its film operations, closing Polygram Pictures and selling Chappell Music to Warner. The same year Philips completed the first public offer of shares in Polygram -- 35 million shares, equivalent to 16% of the company's stock -- in a deal that valued the group at US$5 billion. A further 9% was sold in 1993. During this time Polygram continued to aggressively acquire major and minor labels in Europe and North America including Chris Blackwell's Island Records (1989), A&M Records (1990) and Interscope, as well as music publishing and film interests including Abbey Home Entertainment, Gramercy Pictures and Kitty Music.

In 1998, amid speculation that the group would collapse, Philips undertook alarge-scale restructuring, which saw Polygram sold to Canadian beverage corporation Seagram for US$10 billion. Seagram then bundled Polygram with Motown and other record interests to create the Universal Music Group. Two years later Seagram was acquired by Vivendi for US$34 billion, becoming Vivendi Universal. In 1999, Philips was merged with Decca Records to create the Decca Music Group (known as Universal Music Classics Group in the USA)

Philips in Australasia
Our research is still in its early stages, but it appears that the Australian division was established in the late 1950s. An interesting trivia note is that several of the earliest known Australian Philips singles and EPs were Australian releases of records made in New Zealand by New Zealand artists, inlcuding popular duo Bill & Boyd and The Quin Tikis.
The original parent company for the Philips groupb of labels in Australia was Philips Electrical Pty Ptd. Some time in the mid-1960s Philips incorporated a new holding company for its recording interests, following the 1962 creation of the GPG group as a joint venture with Siemens, who owned Deutsche Gramophon and Polydor. In Australia and other countries this new parent company was Phonogram Recordings Pty Ltd. In 1972 GPG was globally rebranded as Polygram Records, but in Australia the group continued to trade as Phonogram Pty Ltd until at least the early 1980s.

Right: The Who's 1966 single "I'm A Boy", released in Australia on Polydor. Note the "Philips Electrical Pty Ltd" credit on the sleeve.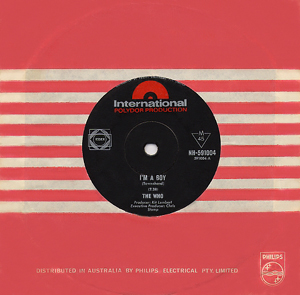 Philips' singles were distinguished by an orange-on-black label design, featuring the Philips name in bright orange, surmounted by the Philips "waves and stars" logo; the label was divided across the middle by orange bars radiating out from the spindle hole to the edge of the label. The main label text was in sans serif silver print, with copyright and trademark notices printed around the outside of the label in small white print.
From 1964 to around 1973 Philips singles were catalogued with a "BF" prefix and a three-digit catalogue number (e.g BF-001). The earliest Australasian single we have located so far is Bill & Boyd's "Just another foo" b/w "Holiday Hootenanny" (1964), which may have been released by Philips New Zealand. Although overseas releases comprised the bulk of its output, Philips did record a The label had evidently released around 500 singles by 1972, when the cataloguing changed to a new system. Under the new system, singles were prefixed EPs were prefixed "PE"; it is not yet known whether singles and EPs were jointly numbered, or whether the EP range had its own numbering. Around 1973, Philips changed to a new four-digit prefix -- singles were prefixed 6037, EPs were prefixed either 6205 (Philips) or 6307 (Vertigo) and all LPs were prefixed 6357.
Other notable Australian acts signed to Philips include several releases by legendary Sydney '60s band The Missing Links -- whose LP and EP are among the most sought-after and expensive of all Aussie collectible recordings -- the first two singles by Janice Slater, and singles by The La De Das (still recording for Philips NZ at that time), the Laurie Lewis Sextet's recording of the theme from ABC current affairs show This Day Tonight, several singles and an EP by popular Perth band The Valentines (which featured a young Bon Scott) and several singles and an LP by leading Melbourne band The Strangers. Among the quirkier items in the catalogue are several comedy singles and LPs by Barry Humphries from the early 1970s.
One of Philips' most successful local signings in Australia was Kamahl, who came to fame in the late 1960s after winning a talent quest and went on to establish a long and successful career as a vocalist and actor. The prolific and popular vocalist recorded many singles and albums for Philips between 1967 and the mid-1980s (when he moved to Festival) and many of these were also issued overseas through Philips other international divisions. Another notable signing in the 1970s was hard rock band Buffalo, which included former AC/DC lead singer Dave Tice and the late, great Peter Wells. They were the first Australian signing to Philips' new progressive subsidiary Vertigo, for whom they recorded several singles and albums between 1972 and 1976.
Discography 1964-75
Under construction; titles highlighted are Australian releases by overseas artists.
Singles
Cat. #
Date
Artist
Title
BF-13
1963?
Margie Singleton
"Magic star"
"Only your shadow knows"
BF-32
1963
Lesley Gore
"It's My Party"
"Danny"
BF-65
1963
The Taymen
"Beach Bunny"
"Quasimodo"
BF-66
1964
Bill & Boyd
"Just another fool" (Goffin-King)
"Holiday Hootenanny"
BF-69
1964
The Kingsmen
"Louie Louie"
"Haunted Castle"
BF-76
1964
Dionne Warwick
"Anyone who had a heart"
"The love of a boy"
BF-79
1964
Dusty Springfield
"I only want to be with you"
?
BF-105
1964
Bill & Boyd
(Recorded live at the Rotorua Soundshell)
"Chulu Chululu" (Cate-Robertson)
"Habit of lovin' you" (Gene Pitney)
BF-113
1964
Four Seasons
"Rag Doll"
"Silence Is Golden"
BF-125
1964
Bill & Boyd
"Laughing girl"
"Don't Take it away"
BF-124
1964
The Four Seasons
"Save It For Me"
"Funny Face"
BF-128
1964
The Hondells
"Go Little Honda"
"Hot Rod High
BF-133
1964
Dusty Springfield
"All cried out"
"I wish I'd never loved you"
BF-142
1964
The Quin-Tikis
"The enchanted sea"
"Don't you know, Yockomo"
BF-166
1964
Keri & The Quin Tikis
Sam and The Quin Tikis
"Get me to the church" (Lerner-Lowe)
"Route 66" (Troup)
BF-172
1964
Janice Slater
"Wanting you" (Westlake-Springfield)
"Summertime" (Gershwin-Heyward)
BF-179
1965
Janice Slater
"I'm gonna live" (Marty Van Wyk-Janice Slater)
"He really cares" (Peter Figures)
BF-187
1965
Keri & The Quin-Tikis
Sam and The Quin-Tikis
"Keep on lovin' me"
"Honky Tonk"
BF-191
1965
Sharon Black

"Mother dear, you've got a silly daughter"
"Under the smile of love"
BF-192
1965
Roger Miller
"Engine Engine No.9"
"The Last Word In Lonesome"
BF-193
1965
Horst Jankowski
"A Walk In The Black Forest"
"
BF-211
1965
Bill & Boyd
"Once in a while"
?
BF-212
1965
Sharon Black
"Little church around the corner"
"Don't hurt me"
BF-213
1965
The Missing Links
"You're drivin' me insane" (Baden Hutchens)
"Something else" (Sheely-Cochrane)
BF-225
1965
George Moody
"Santa The Swagman" (F.Ifield-A.Gill)
"Bring a little sunshine (to my heart)" (Barkan-Raleigh)
BF-244
1965
The Missing Links
"Wild About You" (Andy James)
"Nervous Breakdown" (Rocuzzo)
BF-315
1966
The La De Das
"Hey Baby"
"Other love"
BF-316
1967
Reggie Norton & The Ideas
"Aba Dabba Honeymoon" (Field-Donovan)
"Take it easy" (Tony Barber)
BF-336
1967
The La De Das
"All Purpose Low"
"My Girl"
BF-350
1967
Gene Pierson
"Celeste"
"Love love"
BF-357
1968
Laurie Lewis Sextet
"This Day Tonight" (theme)
"Hippie-potamus"
BF-362
1968
Wright of Waye
"Sun god"
"The dollar song"
BF-370
1968
Chris & Peter Allen
"Ten Below" (Kasha-Hirschorn)
"Just Good Friends" (Lewis-Klenner)
BF-376
1968
Kamahl
"The Impossible Dream"
"Island in the sun"
BF-377
1968
Gene Pierson
"You Got Me"
"Rainy Day"
BF-380
1968
Paul Wayne
"This time it's over" (Wayne)
"Since I don't have you" (Longmore)
BF-384
1968
Helen Reddy
"One way ticket"
"Go"
BF-388
1968
Rim D. Paul
"The Ballad of Lionel Rose"
"River Deep, Mountain High"
BF-407
1968
Rim D. Paul
"A thousand hours" (Lazarus)
"Downstairs to meet her" (Toni & Royce)
BF-408
1968
Nonesuch
"Ride the wind away" (Libaek-Roberts)
"Roberto's Theme" (Libaek)
BF-412
1968
The Strangers
"Happy without you" (Laguna-Pinz)
"Take the time" (Farrar)
BF-413
1968
The Tallifer Group
"This happiness feeling" (Brinstead)
"Fansifrea" (Brinstead)
BF-414
1968
Leather Sandwich
"Kilroy was here"
"Quite unexpectedly"
BF-416
1968
Rim D. Paul
"The child of Mrs Anthony" (Pat Aulton-Stan May)
"I travel alone (Sonny Cannon)
BF-421
1968
Johnny Chester
"Green green" (B.McGuire-R.Sparks)
"It works out easier that way" (Chester)
BF-422
1968
Toni Lamond
"Silent voices" (Monath-Limiti-Mogul-Isola)
"They don't give medals" (Bacharach-David)
BF-424
1969
Tommy Raeburn
"Come Summer" (Egginton-Bacon)
"Ghost Town" (Rayburn-Stonham)
BF-427
1969
The Valentines
"Ebenezer"
"My Old Man's A Groovy Old Man"
BF-430
1969
Doug Ashdown
"Whole Lotta Shakin' Goin' On"
"Marcie" (Joni Mitchell)
BF-436
1969
The Motion
"Nice girl"
"Goodnight Rhonda"
BF-438
1969
The Strangers
"Lady Scorpio" (Woodley-Poulsen)
"California Soul" (Ashford-Simpson)
BF-442
1969
Tommy Raeburn
"How long (have I loved thee)"
"Ebb Tide"
BF-444
1969
The Valentines
"Nick Nack Paddy Wack"
"Getting Better "
BF-449
1969
Oakappple Day
"No face, no name, no number" (Winwood-Capaldi)
"Oceans of fire"
BF-450
1969
Magic
"I want to fly"
"Booked on a drunk charge"
BF-451
1969
The Motion
"Treat her groovy"
"Faded Love"
BF-454
1969
Rim D. Paul
"All God's children got soul" (Booker T. Jones-William Bell)
"Downstairs to meet her" (Toni & Royce)
BF-455
1969
Al Styne
The Jack Grimsley Orchestra
"Red wind" (Grimsley-Pontius)
"Italian love affair" (Grimsley) - Fiat advertising jingle
BF-456
1969
Johnny Chester
"I just don't know how to say goodbye" (Stec-Salisbury)
"Highway 31" (Chester)
BF-459
1969
Kamahl
"You've got to learn" (Aznavour-Stillman)
"Run wild, run free" (Black-Whitaker)
BF-467
1969
The Strangers
"Sweet September" (McGussie-Phillips-Stanley)
"Paper cup" (Jimmy Webb)

BF-469
1970
The Valentines
"Juliette" (Milson-Ward-Scott)
"Hoochie Coochie Billy" (Lovegrove-Ward-Milson)
BF-474
1970
Magic
"The Carpenter's Song"
"Vintage Wine"
BF-480
1972
Barry Humphries
"Is'E and Aussie, Is 'E, Lizzie" (with Dick Bentley)
"True"
6037 004
1971
Head (aka Buffalo)
"Hobo"
"Sad Song: Then"
6037 007
1971
Hush
"Rainy Day Bells"
"Over You"
6037 011
1972
Buffalo
"Suzie Sunshine"
"No Particular Place To Go"
6037 013
1972
John Capek
"Blue Jean Baby"
"Annabelle"
6037 020
1973
Buffalo
"Just A Little Rock And Roll"
"Barbershop Rock"
6037 021
1973
Barry Humphries
"Ricky Roo"
"Sandy Sings Sacred Songs"
6037 022
1973
Mr George
"So Much Love (In My Heart)"
?
6037 025
1973
Bobby Thomas
"You've Gotta Stay By Me"
"26,000 Miles"
6037 033
1974
Mr George
"Lazy Susan"
?
6037 035
1974
Buffalo
"Sunrise (Come My Way)"
"Pound Of Flesh"
6037 041
1974
Buffalo
"What's Going On?"
"I'm Coming On"
Vertigo 6037 055
1975
Buffalo
"Little Queenie" (Berry)
"The Girl Can't Help It" (Troup)
6037 058
1975
Kamahl
"The Elephant Song"
"A Daisy A Day" (Jud Strunk)
6037 068
1975
Freeway
"Ridin' high" (Barker-Welch)
"Lot of livin' to do" (Barker-Welch)
6037 106
1975
Lindsay Bjerre
"I'll Take You Higher"
"Old Soul"
Vertigo 6037 901
1975
Buffalo
"Lucky" (Roue)
"On My Way" (Tice-Taylor)
?
1975
Freeway
"Riding high"
?
1974
Mr George
"Yesterday"
?
EPs
Cat. #
Date
Artist
Title

Tracks

PE-25
1964
Bill & Boyd
Chulu Chululu
PE-31
1965
The Missing Links
Links Unchained
"I'll Go Crazy" / "Don't Give Me No Friction"
"One More Time" / "Woolly Bully"
PE-60
196?
Hedley Smith

Let's Dance: Hedley Smith at the Hammond

"Song of the islands" / "Wonderful one"
"Where the blue of the night" / "China dol"
PE-76
1968
Rim D. Paul

The Ballad of Lionel Rose

PE-79
1968
Toni Lamond
A Touch of Toni
"Silent voices" (Monath-Limiti-Mogul-Isola)
"They don't give medals" (Bacharach-David)
"Another time, another place" (Westlake)
"Our day will come" (Hillard-Garson)
PE-81
1969
The Valentines

My Old Man's A Groovy Old Man

PE-82
1969
Kamahl

Kamahl

"Sounds of goodbye" / "My cup runneth ove"r
"You've got to learn" / "Squeeze a flower"
Arranged and produced by Laurie Lewis and Billy Weston
6205 019
1972
Barry Humphries with Dick Bently
A Track Winding Back


Vertigo 6237 001
1973
Buffalo

Buffalo
Albums
Cat. #
Date
Artist
Title
S S10830
1959
Australian Youth Orchestra
cond. by Sir Bernard Heinze
Mendelssohn: Violin Concerto, op. 64 in E minor.
Nicolai: "Merry wives of Windsor"
Margaret Sutherland: "Dithyramb"
Borodin: "Prince Igor" - Polovtsian dances.
PD-44
?
Brook Benton

Lie To Me

PDS-37
?
Patrice Munsel

Unpredictable

PD-91
?
Damita Jo

Recorded live at the Diplomat

PDS-145
1963?
Dusty Springfield

A Girl Called Dusty

PD-151
1964
Bill & Boyd
Chulu Chululu
PD-161
1964
Various Artists
Bandstand Starlight '64
PDS-199
Dec. 1965
The Missing Links
The Missing Links
BL-10853
1965
Adelaide Harmony Choir

Harmony at Christmas

PDS-202
1966?
Roger Miller

Golden Hits

PDS-322
1968
The Strangers

The Strangers

PDS-323
1968
Rim D. Paul

That's Live

6830 045
1970
Kamahl
Peace on earth
6357 006
1972
Kamahl

Kamahl in London

6357 007 Vertigo
1972
Buffalo

Dead Forever

6357 010
1973
Barry Humphries

Barry Humphries at Carnegie Hall

6357 011
1973
Barry Humphries

The Barry Humphries Record of Innocent Austral Verse

6357 015
1973
Galapagos Duck

Ebony Quill

6357 019
1973
Mr George

On The Bandwagon

6357 028
1975
Stéphane Grappelli w/ Diz Disley Trio.
On the road with Stephane Grappelli and the Diz Disley Trio
Recorded Sydney Town Hall, 23 Sept. 1974.
6357 029
1975
Kamahl

The Elephant Song

6357 046
197?
Kamahl
Lovin' Kind
6357 060
197?
Kamahl

Smile

6357 101 Vertigo
1973
Buffalo

Volcanic Rock

6357 102 Vertigo
1974
Buffalo

Only Want You For Your Body

9777 877
1974
Galapagos Duck

The Removalists

(film soundtrack)
References / Links

ketupa.net media profiles


Polygram, Decca and Deutsche Gramophon chronology
http://www.ketupa.net/polygram2.htm

Ross Laird / Screensound
The First Wave: Australian Rock & Pop Recordings 1955-1963
The Sixties: Australian Rock & Pop Recordings 1964-1969

Hans Lauterslager
"Philips 50 - a retrospective view"
http://www.deccaclassics.com/music/philips50/article.html

Barry Humphries discography
http://www.cyberonic.net/~atrain/comedy/humph.htm