MARCIA HINES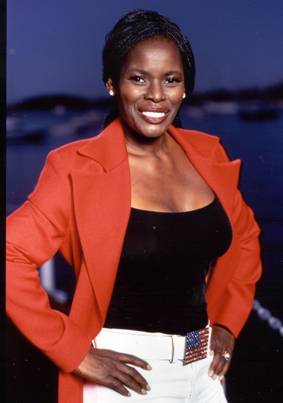 Australia's undisputed "Queen of Soul", Marcia Hines has been praised as "arguably the best female singer in Australia" and since her Australian professional debut in 1970 at the tender age of 17, she has been thrilling audiences with her superb and soulful voice. A consummate performer who is equally at home in the theatre, on the concert stage or on television, Marcia is one of Australia's best-loved and most successful performers, and she remains Australia's top-selling female recording artist of all time.
Marcia was born in Boston Massachusetts on 20 July 1953. Her vocal gifts were evident from an early age -- she began performing in church choirs in her hometown as a child and gave her first solo performance at a church festival at just nine years old. She began working with local R&B bands in her early teens as well as continuing her church singing. In early 1967, aged fourteen, she won a scholagsubip to the New England Conservatorium of Music but she stayed there only three months, admitting that she was more interested "in the Rolling Stones than in Traviata". A month later, just after she turned sixteen, her babysitter took her along to the Woodstock Festival.
In 1969 Australian entrepreneur Harry M. Miller went to America to recruit African-American cast members for his new Australian production of the rock musical Hair. Marcia's best friend just happened to be the younger sister of another Boston singer, Donna Summer, who had just left town to join the cast of the first German production. Marcia's buddy suggested that she try out for Australian Hair and, needless to say, she won the audition. Twelve days later she was on her way to Sydney and a country she knew nothing about ("I didn't know where it was. I didn't even know what language they spoke"). Because Marcia was still legally a minor under Massachusetts law, Miller had to be appointed as her legal guardian, but what neither of them knew at the time was that Marcia was already pregnant: "If I knew I was pregnant I would never have come here. I would have stayed home."
Marcia joined the cast of Hair in April 1970, and immediately won praise from audiences and critics alike with her powerful and soulful vocal performances. She stayed in the show right up to the time her baby was born on 4 September 1970, and returned to work immediately afterwards. She named the baby Dohnyale, or Deni for short, in honour of her friend and fellow cast member Denni Gordon. Denni was a regular cast member of the TV series Heartbreak high, and also appeared in The Matrix but most Australians these days will know her by sound rather than sight -- hers is the voice that screams "Raa-aaage!" in the program ID for the ABC's late-night music video show Rage.)


Marcia's&nbsp:Hair cast photograph, from a 1970 programme.
Marcia's success in Hair led to her next major stage role, that of Mary Magdalene in the Harry M. Miller - Jim Sharman production of Jesus Christ Superstar. She took over from Michelle Fawdon in 1973, becoming the first black singer anywhere in the world to play this role. Her show-stopping performances further enhanced Marcia's reputation and when the show ended in February 1974 she joined the Daly-Wilson Big Band. During this time she toured Australia, the USA, where they performed at a White House recital as well as supporting B.B. King and Wilson Pickett in Las Vegas. The band also undertook a ground-breaking month-long tour of the Soviet Union, which was filmed for a documentary.
Other black female performers had come to Australia, including Chelsea Brown, Delilah and Marcia's fellow Hair cast member Inez Amaya, who was the co-lead singer in Sydney band Levi Smith's Clefs in 1967) but Marcia was the first black American female performer to become a major star in this country, and certainly there was no-one quite like her on the Australian music scene when she first arrived in 1970.
Marcia:"I looked different with this huge Afro and hippy clothes, but I thought, if they want to stare well here I am. You don't look at somebody you don't like. In Boston we were different because my family was Jamaican, not Afro American, and I attended an all white school. But I was raised as an individual not as a black person."
"Australia was nothing like I thought . . . and there weren't that many black people here . . . I'd gone to white schools, so I was kind of used to being stared at and pointed at, but some of the kids truly freaked out and had to be sent back home."
"(Hair) was a pretty amazing play and it was a pretty amazing time and it was a time for people to share. And we all shared."
Many Australians, and especially Australian musicians, were passionately interested in R&B and soul music, and acts like Max Merritt, Doug Parkinson, The Groove and The Groop had championed the genre in the face of continuing disinterest from commercial radio. There was a degree of "novelty value" (at first), and Marcia's ethnic heritage and her musical background proved to be an asset in a country where audiences had had very little exposure to authentic American gospel, R&B and soul:
"I've never deluded myself about that. A lot of the reason behind my success was that I was a black singer who came along at a time that was pretty unusual. We played on that. We always made sure I stood out from the crowd as much as possible."
But ultimately, it was her talent and her extraordinary voice that carried her forward and won the hearts of Australian audiences. After leaving the Daly-Wilson band early in 1974, Marcia signed a solo deal with Robie Porter's Wizard label in July and she set to work establishing herself as a solo performer. Marcia's success was remarkable -- she was an American in an small local industry where 'outsiders' were often viewed with suspicion, and she was one of only a handful of female solo pop performers in the thoroughly male-dominated pop world, where very few women had managed to break into the charts and even fewer had succeeded in forging a continuing career.
Her debut single set the stage for her extraordinary success through the latter half of the '70s and the early '80s. Her soulful version of James Taylor's "Fire and Rain" (#9 in May 1975) was a Top Ten hit and was backed by a superb cover of the Bill Withers' song "You". (Click HERE for a comment on this song by Ken Lyons). It was produced by Robie Porter, who would oversee a string of hit albums and singles for Marcia and wrote many tracks for her. Like many other performers in this period, Marcia's success was boosted by the considerable support of the ABC's new national pop show Countdown, where she became a regular guest, and Marcia quickly rose to become Australia's most successful and popular female performer ever. She was crowned Australia's "Queen of Pop" for three consecutive years (1976-78), all of her first seven LPs went Top 20, and her total album sales exceed 500,000.
To support her on tour, she put together a band that consisted of the cream of Australian rock musicians, including Stephen Housden (guitar, later of LRB), Frank Esler-Smith (keyboards), Tony Hedges (keyboards), Warren Ford (keyboards), Mike Cleary (trumpet), Mike Bukovsky (trumpet), Richard Gawned (tenor sax, flute), Steve Parkinson (baritone sax, flute), Monalisa and Terry Young (backing vocals), Jackie Orszaczky (musical director, bass; ex-Syrius, Sunil De Silva (percussion, ex-Skylight) and Mark Kennedy (drums, ex-Spectrum, King Harvest, Doug Parkinson In Focus, Friends, Ayers Rock). Marcia and Mark were also engaged for several years.i
Her second single "From the Inside" (Nov. 1975) did even better, reaching #8 nationally, and it was bolstered by the enormous success of her debut album Marcia Shines (#10 in November 1975), which sold over 50,000 copies on release, eventually selling more than 150,000 copies. Marcia was presented with a platinum record award for the sales of the LP, making her the first Australian female performer ever to earn a platinum disc and the first to female artist to have a triple platinum selling album.i
Her third single, "Don't Let the Grass Grow" was released in May 1976 on the newly created Miracle imprint. Strangely, after the enormous susccess of her earlier releases, it did not chart, a curious pattern which was repeated over the next few years as her Singles either scaled the highest reaches of the charts, or mysteriously failed to chart at all. But she bounced back to score a third major hit with a cover of the Bacharach-David classic "I Just Don't Know What to Do with Myself", which reached #3 in September. Her fifth single, "Until Your Love Broke Through" (December) again didn't chart but her second album Shining, recorded in Los Angeles, was another smash hit, reaching #4 in December 1976. Released on Porter's new Miracle imprint, it too went triple-platinum and sold over 150,000 copies. It included the title track, written by Robie Porter, "Love Is The Key" by Wizard labelmate Rick Springfield, and covers of "I Got The Music In Me" and Stevie Wonder's "Signed, Sealed Delivered".
Marcia's toured solidly through 1976-77, cementing her recording success with sell-out shows around the country, and winning the Australian "Queen of Pop" award in both years. Her next single "What I Did for Love" (co-written by Marvin Hamlish) shot to #7 in June 1977, her third LP Ladies and Gentlemen ... Marcia Hines reached #5 in September and Marcia ended the year on a career peak when her signature tune "You" was released as the A-side of her next single, and it was this track which at last snagged her the coveted national #1 in November.
The double album Live Across Australia was released early in the 1978 and was another huge hit, reaching #6 in March and again selling more than 100,000 copies. She scored another Top 20 hit with her next single "Music is My Life" (#19 in April). It was followed by "Imagination" (June), backed by another of Marcia's signature tunes, "Shining", which was co-written by Robie Porter. Again, neither it nor her next single "Let the Music Play" (October) made the charts. During 1978, as well as picking up her third consecutive "Queen of Pop" crown, Marcia achieved another career peak when she was chosen to host her own ABC-TV series Marcia Hines Music, which was a great success and was picked up for a second season in 1979. She also reprised her role of Mary Magdalene in the Sydney club circuit revival of Jesus Christ Superstar, but she was forced to miss several performances due to throat and respiratory problems.
Marcia bounced back into the charts again in 1979 with another major hit, a cover of "Something's Missing (In My Life)", originally recorded in 1967 by Chicago teenage soul group The Five Stairsteps (who were direct precursors to the Jacksons).It went to #10 in April, backed by "Moments", written by Rick Springfield, who also played guitar on the track. Her fifth album Ooh Child was another major chart success and reached #15 in June; it was followed by the singles "Dance You Fool, Dance" (live) in August and another Bacharach-David song, "Where Did We Go Wrong?", in November. In retrospect, the title of this, her last Miracle single, was apposite -- by this time her relationship with Porter and her label had apparently deteriorated beyond repair, and Marcia had to endure a two-year hiatus in her recording career while she waited for her Wizard contract to expire -- just as Ross Wilson had been obliged to do in 1975-77 after his own falling out with Porter.
In 1980 Marcia signed a new deal with the Midnight label, a subsidiary of WEA, beginning her long-running association with the Warner group. Her first Midnight single "Your Love Still Brings Me to My Knees" temporarily reversed the slide of her last two Miracle releases, providing her with another major hit (#10 in August 1981). It was followed by "What a Bitch is Love" (September), "Take It From The Boys" (February 1982), "Jokers and Queens" (a duet with her old Superstar comrade Jon English, June 1982), "Love Sides" (September), "Heart Like A Radio" (March 1983) and "Shadow in the Night" (November).
Take It From The Boys was Marcia's fifth studio album and her sixth LP, and it also sold strongly, reaching #16 nationally in October 1981. The album's impressive sales contrasted strongly with radio's obvious lack of interest in her singles in 1982-83. Seizing the opportunity, Wizard cashed in by releasing the compilation album Greatest Hits Volume 1 which did even better business, reaching #2 in February 1982. The release of the Greatest Hits album gave Marcia the extraordinary distinction of being the first Australian female performer to release seven consecutive Top 20 Albums.i
Marcia's next LP Love Sides came out in May 1983 and it was followed by two singles, "Love Side" and "Shadow in the Night" but again neither of LP nor single charted, and these were to be her last pop recordings for many years. Incredibly, although she was still only in her early 30s, Marcia's pop career had ground to a halt. But, rather than be relegated to the club circuit, she returned to theatre:
"I knew I could keep touring the clubs churning out the same old material but I didn't want that. I didn't want to become a nostalgic act."
Late in the year she reprised her Mary Magdalene role in the Melbourne revival season of Jesus Christ Superstar. After the Superstar revival, Marcia continued her theatre work over the next couple of years with roles in the productions Big River, Are You Lonesome Tonight? and Jerry's Girls. But Marcia Hines' life and career changed irrevocably in 1986. After collapsing in her kitchen one day, she was rushed to hospital, where she was diagnosed with diabetes. Her treatment required a strict regime of daily insulin injections, exercise and careful monitoring of her diet.
"I was in hospital next to this girl who had had two major operations. She looked over to me and said, 'You know we could be really sick couldn't we?' and that brought me down to earth. I realised it wasn't a big deal. It's something that can be treated. I don't believe life dishes out more than you are able to deal with."
Marcia withdrew from public performance and recording for almost a decade, concentrating on raising her daughter Deni and learning to manage her condition. Finally in 1993 she returned to the stage with The Masters of Rhythm and Taste and in March 1994 she toured nationally for the first time in seven years. Marcia signed a new contract with Warner Music, who released her first album in more than a decade, Right Here and Now and the singles "Rain (Let the Children Play)" (August 1994) and "Give It All You've Got" (October). Over the next few years she gradually revived her career with concert and TV appearances, and like many other performers of her era, she also discovered that the burgeoning corporate function circuit was now providing a lucrative new line of work.
In 1998, Marcia hooked up with The Rockmelons (Bryon Jones and Ray Medhurst), with whom daughter Deni had scored three hit singles as lead vocalist in 1992. They oversaw the production of her new album, selecting songs and finding producers for each track. She travelled to the UK and the USA for the recording of the album, which was to take up much of the next two years. The first CD single from the sessions was a cover of the Irene Cara hit "What a Feeling"(from the 1980s hit movie Flashdance). Released in November, it was accompanied by several dance/house mixes, and also featured a terrific new remixed version of "I Got the Music in Me" as bonus track.
1999 began with two major appearances in February. The first was at the Sydney Gay & Lesbian Mardi Gras, where Marcia delivered a typically show-stopping performance, backed by gold-clad male dancers, and at the end of the performance Marcia expressed her appreciation for the support the gay community had shown her throughout her career. Also in February she gave another triumphant performance at the opening of the Sydney Olympic Stadium in front of 100,000 people, singing Patti LaBelle's "Oh! People". In mid-1999 Marcia finally made it back on the charts for the first time since 1982, with her next single, the title track from her album, "Time of Our Lives", which reached #31 in June. The single subsequently ranked #29 on the Top 100 most played tracks on Australian radio in 1999.

The album Time of Our Lives, released in July, took Marcia back into the charts again, reaching #17 in July. It included the track selected as the album's third single, "Making My Way" one of two songs on the album penned by American songwriter Diane Warren, the author of mega-hits for Celine Dion and Aerosmith. To support the LP, Marcia embarked on a solid round of touring and corporate functions in mid 1999 which continued right through 2000 and 2001. Her version of "The Lord's Prayer" appeared on the charity album, Spirit of Christmas at the end of 1999. Her next single was "Woo Me" (January 2000) and during the year BMG released a compilation of her Wizard recordings entitled Queen of Pop. A highlight of the year (and indeed of her whole career) was undoubtedly the selection of her recording of "Rise" as the official song for the Australian Olympic team at the Sydney 2000 Olympics.

Marcia's 2001 single "I've Got To Believe" was written and produced by leading Australian dance music producer Paulmac. In September 2001 Pan MacMillan published Marcia's authorized biography, Diva, written by Karen Dewey, and to coincide with the book Warner Music released a career retrospective under the same title in October. Presumably encouraged by this renewed interest in Marcia's music, BMG issued another compilation, the old Wizard Greatest Hits Vol.1 album, on CD.

From January to April 2002 Marcia starred in the lead role of Roxie Rochelle in the '70s-themed musical Oh! What A Night. She also featured with Paulmac -- winner of that year's ARIA 'Best Dance Artist' category -- and she led the chorus in the show-stopping finale performance of his hit single "Just Enough (For A Broken Heart)" at the 2002 ARIA Awards. In May she toured with her own '70s revival show called "I Will Survive" and in September-October she wowed audiences around the country yet again with her brilliant performances in the acclaimed "Long Way To The Top" mega-tour. In late 2002 she was one of the acts selected to join the scaled down LWTTT regional tour, which is touring the country during February-March 2003.

Over the last few years, Marcia has once again become a household name thanks to her role as one of the regular judges on the top-rating Network Ten vocal talent quest Australian Idol.

Discography

Singles

May 1975
"Fire and Rain" / "You" (Wizard)
#9, May 1975

Nov. 1975
"From the Inside" / "Jumping Jack Flash" (Wizard) (#8)

May 1976
"Don't Let the Grass Grow" / "You Gotta Let Go" (Miracle)

Aug. 1976
"I Just Don't Know What to Do with Myself" / "Trilogy" (Miracle)
#3, Sept. 1976

Dec. 1976
"Until Your Love Broke Through" / "Whatever Goes Round" (Miracle)

Jun. 1977
"What I Did for Love" / "A Love Story" (Miracle MS 507)
#7, June 1977

Nov. 1977
"You" / "In a Mellow Mood" (Miracle MS 508)
#1, Nov. 1977

Apr. 1978
"Music is My Life" / "Empty" (Miracle MS 510) #19

Jun. 1978
"Imagination" (Live!) / "Shining" (Miracle MS 513)

Oct. 1978
"Let the Music Play" / "Empty" (Miracle MS 514)

Apr. 1979
"Something's Missing (In My Life)" / "Moments" (Miracle MS 517) #10

Aug. 1979
"Dance You Fool, Dance" / "Trilogy" (Miracle)

Nov. 1979
"Where Did We Go Wrong?" / "Dance You Fool, Dance" (Miracle)

Jul. 1981
"Your Love Still Brings Me to My Knees" / "Till It's Too Late" (Midnight NITE 001)

Sep. 1981
"What A Bitch Is Love" (Midnight NITE 002)

Feb. 1982
"Take It From The Boys" (Midnight NITE 003)

July 1982 (with Jon English)
"Jokers And Queens" / "The Best of Me" (Midnight NITE 004)

Sep. 1982
"Love Sides" / ? (Midnight NITE 005)

Mar. 1983
"Heart Like A Radio" / "She Got You" (Midnight NITE 006)

Nov. 1983
Shadow in the Night /

Aug. 1994
"Rain (Let The Children Play)" (Warner) CD single

May 1999
"Time Of Our Lives" (Warner 398427 2922) 4 track CD single

1999
"Making My Way" (Warner 398429 4862) 6 track CD single

1999
"Woo Me" (Warner 857381 3992) 6 track CD single

2001
"I've Got To Believe" (Warner) 4 track CD single

Albums

Oct. 1975
Marcia Shines (Wizard ZL 209)

Nov. 1976
Shining (Miracle ML 701)

Aug. 1977
Ladies And Gentlemen ... Marcia Hines (Miracle ML 702)i

Mar. 1978
Live Across Australia (Miracle ML 703)
2LP gatefold sleeve with inserts and flyers

Jun. 1979
Ooh Child (Miracle ML 705)

Oct. 1981
Take It From The Boys (Midnight MX 198522)

1981
Greatest Hits (Wizard WIZLP 1001)
#2, Feb. 1982

1981
Greatest Hits Volume 2 (Wizard WIZLP 2001)

Jul. 1982(with Jon English)
Jokers And Queens (Midnight NITELP 101)

May 1983
Love Sides (Midnight NITELP 104)

1984
Marcia Hines Collection (Wizard / EMI CDAX 2603140)

1984
The Complete Marcia Hines 1975-1984 (Hammard HAM 113)

CDs

October 1994
Right Here And Now (Warner 450998 1122) CD

1998
Music Is My Life - The Ultimate Collection (BMG) CD

July 1999
Time Of Our Lives (Warner 398426 9772) CD

2000
Queen of Pop (BMG 74321754852) CD

2001
Greatest Hits (BMG) CD

2001
Diva (Warner) CD

References / Links

Marcia Hines official website
http://www.geocities.com/BourbonStreet/3902/index.html

Ian McFarlane
Australian Encyclopedia of Rock & Pop (Allen & Unwin, 1999)

Marcia Hines -- Australian Jazz Agency
http://www.australianjazzagency.com.au/bands/bands_pages/marcia_hines.htmli

ABC-TV – Timeframe (1997) - Hair
http://abc.net.au/time/episodes/ep4.htm

Ed Nimmervol
Howlspace website
http://www.howlspace.com.au/en3/hinesmarcia/hinesmarcia.htm