SPECTRUM / INDELIBLE MURTCEPS
Melbourne 1969-1973

Spectrum's original lineup, 1970
(L-R) Lee Neale, Bill Putt, Mark Kennedy, Mike Rudd

Mike Rudd (vocals, guitar, recorder, harmonica)
Bill Putt (bass)
Mark Kennedy (drums) 1969-70
Ray Arnott (drums, vocals) 1970-73
Lee Neale (keyboards, vocals) 1969-72
John Mills (keyboards) 1972-3
History
As readers will have guessed, Spectrum is one our favourite Australian bands, and one of our missions here at Milesago is to prosecute the cause of this outstanding group. During their short but illustrious career Spectrum were in the vanguard of progressive rock in Australia, and they left a legacy of innovative and imaginative music, too little of which is currently available on CD.
The central figure in Spectrum was singer/songwriter/guitarist Mike Rudd, one of the many outstanding expatriate NZ performers who have contributed so much to the Australian music scene. Mike arrived in Australia in 1966 as rhythm guitarist for the NZ group Chants R&B. (For the full History of this great band, please visit the Chants R&B page on Bruce Sergent's excellent New Zealand Music of the 60's and 70's website.)
Chants only lasted a short time after they arrived in Australia, but Mike remained in Melbourne, where he soon teamed up with young singer-songwriter Ross Wilson and guitarist Ross Hannaford. Their first band The Pink Finks (which had also just broken up) worked in a similar vein to Chants, and had some local chart success in Melbourne. Mike was invited to be the bass player in a later lineup of their next band, the short-lived but legendary Party Machine (1967-69). This was followed by the more experimentally-oriented Sons of The Vegetal Mother (1969-71).
Sons of the Vegetal Mother was an occasional project rather than a full-time band, but Mike was apparently involved on a regular basis, even after the formation of Spectrum, and he played bass on the Vegetal's only recording, an ultra-rare EP called The Garden Party, of which only about 250 copies were ever pressed. Although close connections between them continued, by 1970 Wilson and Hannaford were concentrating on the Vegetals new offshoot Daddy Cool, so Rudd decided to put together his own band, continuing down the progressive path he had been following with Party Machine and the Vegetals.
Mike Rudd: "I had a burning desire to put a band around some original material. That was the only thing I was thinking of. I hadn't even thought of whether I was capable of doing it or not. I was mainly impressed with how well the Party Machine had worked on that level and I thought, well, I'll try it."

"We were a professional amateur band, with the courage of our convictions. We were aggressively original when it just wasn't fashionable to be like that. We were totally immersed in what we were doing."
Although Mike later described the formation of the band as "incredibly haphazard", his choices were all fortunate ones. Bassist Bill Putt, from Melbourne bands Gallery and The Lost Souls formed a lasting friendship and musical partnegsubip with Mike, and they have worked together ever since. Organist Lee Neale happily left his current band, Nineteen 87, who were apparently scornful of his lack of 'pop image'. A hotshot young drummer called Mark Kennedy, who had already worked with Putt in Gallery, completed the lineup. Kennedy's musical strength helped carry the band through a difficult first year, during which time the band honed their skills and found their sound.
"Mark really carried us through the first year because people would say 'Wow, look at that drummer, they must be a good group.'"

"Mark was the central focus of the band 'cause he was such an outstanding player. He used to play things like drum solos!, but he was very good. By the same token, I was almost relieved to get away from that 'cause the emphasis swung back to the material and the band in general rather than one player."
Initially, Spectrum drew on the work of contemporary bands like Traffic, Soft Machine and Pink Floyd and they played covers of these groups in the early days, but they soon outgrew these formative influences, developing their own highly individual style. Many elements contributed to this –- their synergistic playing style, the rock-solid yet supple rhythm Putt-Kennedy rhythm section, Lee Neale's superb keyboard playing, Mike's skewed, rather Goonish sense of humour, which was manifested in his wry song titles and lyrics, his expressive finger-picked guitar, and of course his voice, one of the most distinctive in Australian music.
Twelve months of gigging allowed them to polish their performance and write and refine a substantial set of original material, which became the basis for their first LP. They were regulars at the concerts events held at the various "head" venues around Melbourne like the TF Much Ballroom, Garrison and Sebastian's, and they appeared with other leading progressive bands like Tully, Tamam Shud and Sons Of The Vegetal Mother.
Financially though, the rewards were slim. Inspired by his time in the Vegetals, Rudd had conceived Spectrum as a concert band, and they generally performed with a large and costly set-up, which included a large PA and a full multi-media light show. At one stage the band even supplemented their act with members of the Melbourne performance troupe Tribe. They played at all the major Australian rock festivals of the period, including Wallacia, Myponga, Mulwala, Rosebud and Sunbury. However, their national success was limited by the lack of ongoing radio support in other capitals, and the fact that they rarely ventured outside Victoria, visiting other cities only intermittently (probably because of the costs, and the lack of suitable venues in other cities).
Unfortunately for Spectrum, a major logistical problem was emerging -- the focus of the Melbourne music scene undergoing a profound shift. This was partly due to changes to the age of majority (recently lowered in many states from 21 to 18) and to the licensing laws governing entertainment in hotels in Victoria. These legislative changes coincided with demographic changes -- the young audiences who had patronized the unlicensed dances and discos in the mid-to-late Sixties were now ageing into their late teens and early twenties, and were therefore now able to enter licensed premises. Seeing the popularity of rock music and realising the financial potential, hoteliers went all-out to woo customers into the pubs by putting on popular bands, often free of charge. Consequently, even as Spectrum worked to establish themselves, the focus was beginning to shift away from the larger concert events and unlicensed city discotheques frequented by 'head' audiences, whose main drug of choice was cannabis, and towards the burgeoning pub circuit, where alcohol was cheap, plentiful and, above all, legal. While the smaller pub venues and their rowdy, combative atmosphere suited more 'aggressive' bands like The Aztecs to a tee, the erosion of the concert scene posed a major problem for Spectrum, whose complex music and upscale presentation demanded both a larger audience, and a reasonable degree of concentration from them. Consequently, as the pub circuit began to boom, the bigger engagements that Spectrum needed to survive became fewer and less regular.
Despite a loyal following and much praise from the music press (notably Go-Set) the band were virtually broke by mid-1970, when a measure of salvation came in the form of a contract with to the new EMI progressive imprint Harvest. Interviewed by Ian McFarlane in 1990, Mike reflected on this situation and its influence on the formation of Spectrum's alter-ego, Indelible Murtceps:
"We had painted ourselves into a corner. We touted Spectrum as a concert band, but the concerts were few and far between. The pub scene was beginning to burgeon and we were looking bankruptcy in the face, so we decided to do something about it. I felt we should divide the material and take the load off ourselves. It was considerably different for us. We used half the gear for a start."
Before being signed up by EMI, Spectrum had cut a demo single, which they hawked around to record companies as a 7" acetate. One side was an early, folky version of one of the newer songs in their set, I'll Be Gone; the flip was another original, "You Just Can't Win". According to Ian McFarlane, these acetates are now "impossibly rare" with only two or three copies known to have survived. "You Just Can't Win" was reissued to subscribers to From The Vault magazine on a 7" flexidisc in 1990, accompanied by the almost equally rare Vegetals track "Let It Begin", from their fabled Garden Party EP. The Spectrum track is now available of Aztec Music's CD reissue of Spectrum's first album.
Once signed to EMI, the band went into the studio to make their first official recordings, under EMI house producer Howard Gable, who had made a name as one Australia's leading new producers for his work with bands like the The Masters Apprentices. They laid down two tracks -- "Launching Place", "Launching Place Part II", and at the end of the session, Gable asked if they had anything else:
"...we'd actually gone into the studio in order to record 'Launching Place Parts I & II', to help promote the Launching Place Festival. When we had finished recording those, Howard asked us did we have any others and I said, "Yeah, I've got this one called 'I'll Be Gone', which we recorded as an afterthought. But then it became a hit single."
These first recordngs were soon followed by the tracks for their first LP, but shortly after the album sessions Mark Kennedy left the band, in August 1970. Had Kennedy left a few months earlier, it could have posed areal problem for Spectrum, but by that time they felt more than able to carry on:
"...by the time Mark evolved away from the band, the rest of us were aware of our potential and ready to go."
Mark's place was taken by seasoned ex-Brisbane drummer Ray Arnott, (Chelsea Set, The Browns, Cam-Pact, Co. Caine) who proved an ideal replacement -- as well as being an excellent drummer, Arnott was a good singer and composed his own material. After Spectrum, Kennedy played on many sessions and worked with Leo De Castro in King Harvest, Friends, Renee Geyer, Marcia Hines (to whom he was engaged for some time) and McGuire, Kennedy & Burton band, which was the nucleus of the highly-touted jazz-rock outfit Ayers Rock in 1973.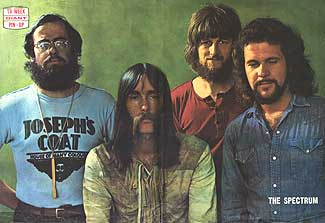 Left: A 1971 TV Week pinup of 'The Spectrum' with new drummer Ray Arnott
One of Ray Arnott's first major gigs with Spectrum, a typical engagement of the time, was 31 October 1970 when Spectrum played a Jimi Hendrix/Janis Joplin Memorial at the TF Much Ballroom, with Sons Of The Vegetal Mother, Lipp Arthur, Adderly Smith Blues Band – a show historically notable as one of the first official appearances by the Vegetals' new offshoot, Daddy Cool.
As the 1971 opened, all the hard slog paid off handsomely when "I'll Be Gone" (b/w "Launching Place Part II") was released as Spectrum's debut single in January 1971. Heralded by Mike's unforgettable harmonica intro, "I'll Be Gone" announced the arrival of both Spectrum as a major new band and Mike Rudd as a significant new songwriter. It is without question one of the greatest Australian pop-rock songs ever written. Mike's lyric is timeless, simple but eloquent -- a wistful, almost fatalistic observation of life on the road and the elusiveness of love and fortune. With its loping country-blues feel, the easy, swinging backbeat from Mark and Bill, and interlocking guitar and electric piano by Mike and Lee, "I'll Be Gone" became an immediate hit, racing up the charts to became the national #1 in February 1971 and spending 20 weeks in the charts.
Its success was considerably assisted by one of Australia's classic early promotional films, created by musician and film maker Chris Lofven (who also made the clip for Daddy Cool's Eagle Rock soon after). The simple but evocative monochrome film clip, which cost the princely sum of $300, was filmed around Tullamarine and features brief glimpses of Mike's wife Helen and their young son, Chris, who also appears on the front cover of Spectrum Part One.
The single was actually an edited (3:28) mono version of the full-length (4:24) stereo master, and at the time the full version was only ever released on vinyl on a compilation album, Go-Set Pop Poll Awards 1971. The longer version is finally became available on CD on the Raven Records Spectrum compilation in the early 1990s and is now included on the Aztec resissue of Spectrum Part One. The song is justly regarded as a classic, and is generally credited as the flagship of the new era in Australian rock that began in 1970-71. ("I'll Be Gone" and "Launching Place" were later covered on the LP The Good Earth by Manfred Mann's Earth Band, which at that time included of former Procession guitarist Mick Rodgers.)
The flipside, "Launching Place Part II" is a very curious piece. It's much more in keeping with the rest of the Spectrum oeuvre -- the intense, powerdrive minor-key introduction is led by some fine organ work from Neale, and the song proper and contains some of Rudd's strongest early writing. By Mike's account "Launching Place" Parts I and II were written to promote the Launching Place Festival in late 1970, but the lyrics of Part II read as a rather savage attack on the naiveté of the prevailing peace-and-love festival ethos. Lines like "Doctor, doctor, take your shoes off, dance around in sheep manure", are typical of Mike's black humour, he makes it sound like an altogether unappealing event and there's even more disturbing imagery in the last verse:
"The world no longer is a virgin, empty sockets blankly stare
and children making love to children, children making love to children".
We can only wonder what the Launching Place organizers made of all this!
As noted above, Spectrum had recorded the tracks for their debut album prior to Mark Kennedy's departure. Spectrum Part One, produced by Howard Gable, engineered by the illustrious team of Ern Rose and Roger Savage, was released in April 1971. With a noble disdain for commercial considerations, the group refused to let EMI include "I'll Be Gone" on the LP, a decision that had Mike scratching his head in later years:
"It's still a matter of some disbelief for myself that we didn't include I'll Be Gone on that album. I'm sure it couldn't happen these days. EMI probably made that rule after we'd sent that album out. It probably would have sold a lot more copies. Still, 'I'll Be Gone' has had a marvellous life. When it became a big hit we refused to let EMI include it on the album, and they were silly enough to humour us. We were so underground we didn't know what was going on in the real world. Our heads were right under the ground."
Still, the decision was understandable in the context of the time -- "I'll Be Gone" was quite different from the rest of the music on the album, and it evidently didn't reflect the direction they wanted to follow. Even without the hit single, the album did extremely well, reaching #10 in Melbourne and #13 nationally. As a debut album it's a tremendously assured piece of work, and it's a great snapshot of how Spectrum sounded on stage at the time. Three decades on, Spectrum Part One has barely dated. Virtually recorded live, the performances are tight and strong, and the production -- sparse, understated and well balanced -- has really helped the album to last. There is no unnecessary studio trickery, and the mix favours a dry and very 'present' sound on most of the instruments, with spacious reverb on the vocals - a marked contrast to the echo-drenched, infinitely overdubbed extravaganzas that were becoming de-rigueur in prog-rock circles.
"Spectrum Part One was basically what we'd been playing live; it was the basic feel of the band. It was a live recording. There wasn't much overdubbing, pretty much that was it."
With a nod to Ross Wilson, the album kicks off with a jarring and discordant introduction, leading into Spectrum's stately, atmospheric reading of Ross's "Make Your Stash" -- a track dating from Ross's recent stint in London with Procession. Wilson recorded his own version not long after, on Daddy Cool's second LP Sex Drugs, Rock'n'Roll: Teenage Heaven, but the Daddy Cool version is a much more frenetic arrangement that shows the unmistakable influence of Frank Zappa. If the melody sounds familiar it's because Ross Wilson lifted it straight out the 'Jupiter' section of Gustav Holst's famous orchestral suite The Planets. Another Party Machine connection comes with the closing track, "Mumbles I Wonder Why", which was co-written by Mike and Ross Hannaford. The highlights of the record are probably the two extended pieces, the classic "Superbody" –- which still stands one of Spectrum's best tracks -- and "Fiddling Fool", which clock in at over 9 and 12 minutes respectively. The emphasis is on texture, atmosphere and dynamics, rather than on production tricks or attention-grabbing solos, and it's one of the reasons the record has worn so well -– and it has to be acknowledged that Lee Neale's keyboard work on both these longer tracks is quite outstanding.
One of the most distinctive features of Spectrum was their unrivalled ensemble playing, and their attention to dynamics, light and shade, and the texture of the music. In Spectrum, Mike began playing a Fender Stratocaster. He was one of the few electric lead guitarists in Australia to use a fingerpicking style, rather than a plectrum, and he quickly grew to understand the unique character of the 'Strat' sound, and used it to full advantage. Mike explained to how his playing style evolved:
"After I finished with the Party Machine and tearfully forsook bass-playing, I looked at the prospect of resuming guitar. I decided that the possibility was that I might have to cover a little more than just rhythm (which was my specialty with the Chants) and I was daunted. "Why not just be different and avoid invidious comparisons with far more accomplished guitarists?" I thought. So I dropped the pick. My first guitar was an L-series Strat which I strung with medium gauge strings (akin to fencing wire in tension and feel) and this largely dictated the tone. Then, as now, I favoured the neck pick-up and still managed to sound pretty peaky. I used Strauss solid-state amps."
Bill Putt is one of the heroes of the bass. His Fender bass sound is deep, rich, full and incredibly satisfying to the ear -- the perfect bass sound in my opinion. His playing is authoritative and always spot-on: no frills, always totally in sync with the drums, but never dull. Similarly, Lee Neale has to be given his due as one of the all-time great Australian rock organists. His keyboard work is thoughtful, subtle yet distinctive, the antithesis of the 'look-at-me' theatrics of a Rick Wakeman or Keith Emerson, and his sense of tone and feel, and the overall intelligence and sensitivity of his playing is outstanding. He's a great accompanist as well as a great soloist, which is a rare commodity. Mark Kennedy shows plenty of the form that soon made him one of Australia's most in-demand session drummers. Check out his superb polyrhythmic drumming in the central section of "Superbody", or his exquisite cymbal fills at the end of the intro to "Drifting", and you'll hear exactly what we're talking about.
Hot on the heels of Spectrum's single success, the two Rosses, Wilson and Hannaford, stormed up the Australian charts with Daddy Cool and their classic single "Eagle Rock". Daddy Cool and Spectrum embarked on a joint national tour in mid-1971, which included performances at the Aquarius Festival of University Arts in Canberra. The tour highlighted the differences between the styles of -- and audience reactions to -- the two bands. The experience of the joint tour might have given them added impetus for the formation of Spectrum's alter ego in October 1971. Interviewed during the tour, Mike offered this observation on the situation, and on supposed rivalry between the bands:
"While we've found success with a commercial record, people have found out we're not what we appear to be. They've started appreciating us for all that we're doing now. Daddy Cool gauge their audiences completely differently. Their audience jumps around and screams out, and if that doesn't happen it's a bad audience. But for us, if they're just sitting there we know it's good. It's a feeling, not an open response. We have to follow our audience but Daddy Cool's comes to them. I think they're the best rock'n'roll band in Australia. We don't resent their success at all, we just resent ignorant audiences."
After the tour, Spectrum checked into Bill Armstrong's Studios in Melbourne and spent all of September recording the tracks for their next album, using Armstrong's newly installed 16-track recorder -- the first of its kind in Australia. With the new LP in the can, Spectrum set about addressing their economic woes and reorganising themselves as a performing unit. Realising that their lengthy and complex material was precluding them from getting bookings on the lucrative dance and pub circuit, they created a set of simpler, dancier music, using a pared-down stage setup. He re-christened the band as Indelible Murtceps for the purpose, thus allowing Spectrum to continue on its progressive course while enabling them to supplement their income with the Murtceps gigs.
Spectrum's second single, released in October, was a brooding Ray Arnott song called Trust Me, a song he had performed with Company Caine. It should be noted that, as with almost all the Spectrum (and Ariel) 45s, the single version of Trust Me is a different recording to the version which appeared on their next LP – it's not an edited version of the album track, as is sometimes stated. Unfortunately it failed to chart, perhaps being too down-beat for audiences used to the 'happier' sound of "I'll Be Gone".
January 1972 was a high point in Spectrum's career, with two major events that month. The first was the release of their landmark second album – Milesago, the very first true Australian 'rock' double-album and only the second 'popular double album ever released in this country (the first was Doug Ashdown's Age of Mouse in 1970). Milesago is, quite simply, a masterpiece. The luxury of being able to spread the music across four sides allowed for much greater scope and diversity in the songs and arrangements, but they did not sacrifice the organic, improvisational feel of their live performances, and the result is by no means self-indulgent. Even at their most expansive, economy was always a watchword in Spectrum's music -- unlike so many "prog" Albums of the era, there's no "filler" material here, and nary a wasted note throughout. Milesago is chock-full of great moments, with several superb new extended tracks including the title track, the brilliantly ironic "What The World Need's Now (Is A New Pair Of Socks)" -- a dig at the peace-and-love schtick of the Bacharach-David hit -- the sombre "Fly Without Its Wings", the epic four-part suite "The Sideways Saga", and a new, six-minute version of Ray Arnott's "Trust Me". Once again, the production is fairly dry and warm, capturing the essential Spectrum sound but this time the 16-track facilities allow far greater fidelity and permitted the addition of extra layers to the arrangements, and it has to be said that Milesago is still a superb-sounding record. It's also the only Spectrum album to feature outside players -- a brass section arranged and led by sax player Jeremy Noone (Vegetals, Co. Caine, Daddy Cool) with Simon Wettenhall on tuba and Steve Miller on trombone. The music press was full of praise, and it even received a highly favourable review from English music bible NME on its release in England. It reached #16 on the LP charts in January 1972. It was originally released in a textured cover, but later pressings were issued in a gloss-laminated flat cover. Its distinctive hallucinogenic collage was one of the first major album covers created by Go-Set staff artist Ian McCausland, who rapidly became the leading Australian cover and poster artist of the period.
The other major event for Spectrum in January 1972 was their appearance at the historic first Sunbury Festival over the Australia Day Weekend. They played as both Spectrum and Murtceps, and their performances were recorded for EMI's Sunbury live double LP. As Spectrum, they took up the whole of side two of the album with their extended renditions of "Some Good Advice" and "I'll Be Gone", and the Murtceps cuts included were "We Are Indelible", "Be My Honey" and "But That's Alright".
Milesago's opening track "But That's Alright" (b/w "Play A Song That I Know") was the third Spectrum single, released in February '72, but in spite of its considerable commercial appeal, it failed to chart. Once again, the single was a different and shorter version of the track that appeared on the album. To promote it Spectrum made a rare TV appearance on Happening '72; regrettably they had to mime to the single, but fortunately this rare glimpse of the band on video has survived and still exists in the archives of Channel 0 in Melbourne.
As both Spectrum and Indelible Murtceps the group gigged consistently throughout 1972; they were commonly billed under both names, and usually played alternating sets of the relevant material. Despite the poor commercial showing of the previous Spectrum Singles, Murtceps surprisingly scored a top-40 hit in Melbourne with their jaunty single Esmaralda in May 1972 -- again, a different version from that on the Murtceps LP.
A few months later they recorded a full LP under the Murtceps banner, called Warts Up Your Nose. It's also notable as featuring engineering credits by all of Armstrong's "Big Four" recording engineers of the period – Ern Rose, Roger Savage, John French and John Sayers. The album featured a brown cardboard cover (delightfully suggestive of the old "plain brown wrapper" pornography jokes) and it sported a quaint cover cartoon by Mike. Evidently, Murtceps was providing some much-needed light relief for the band, and thematically, most of the album was replete with sexual and toilet humour, with tracks like In The Bog, Blue Movies Made Me Cry, Hand Jive, Snap Crackle And... There was also a re-recorded version of the single tracks We Are Indelible -- Mike's ironic commentary on the band's commercial fortunes -- and Esmaralda, a tribute to an overworked "working girl", in a similar vein to the Small Faces' Rene).
Mike: "We had a lot of fun with the Warts Up Your Nose album. It lent itself to some quaintly bizarre notions, I suppose. It's an amusing album."
With his typically bent sense of humour, Mike's writer credits on the album were given as "My Crudd". Notwithstanding the comical aspects, the album is a solid achievement and one of that's much loved by those who know it. It also contained a real gem as its centerpiece -- the epic, 13-minute dope-smokers' anthem, Some Good Advice, one of Mike's most enduring and enjoyable songs. It's a perfect example of the Spectrum/Murtceps sound, and the interlock between Mike's guitar and Lee's electric piano on the main riff, rippling over the relentless chugging of Bill and Ray's rhythm section, is pure magic.
Around this time, Spectrum also contributed material for an obscure detective film called Dalmas by Bert Dehling, who later directed the feature Pure Shit. Snap Crackle And... from Warts was apparently the only track actually used in the film, but they also recorded at least one other instrumental piece Dalmas (Theme) which eventually surfaced on EMI's ROYGBIV compilation in 1984 (although this track does not appear on the Ghosts CD).
Mike: "We never even saw the finished film. It had what you might call a 'limited pubic release'. We basically jammed to the images we saw at a preview screening and that was about it. I'm sure we didn't even get paid for it."
Sadly, Warts Up Your Nose was to be Lee Neale's swansong -- he suffered some form of breakdown shortly after the album was completed and left the band in September 1972. Regrettably, this fine player abandoned the music scene for good, dropping completely out of sight, and to this day not even Mike and Bill know anything about Lee's whereabouts, or what became of him after leaving Spectrum.
Neale was replaced by Canberra keyboard player John Mills, and Spectrum continued playing regularly. They recorded their third studio album, Testimonial early in 1973. This marked a change in sound, and a shift to a new producer, New Zealand born Peter Dawkins, who later went on to considerable acclaim as the producer of Dragon, among his many other achievements. Testimonial was eventually released in July 1973 and reached #12 in August that year, and a single Indelible Shuffle/Ray's Boogie was also released but apparently did not chart. Ironically, by the time Testimonial finally hit the stores, Mike's new band Ariel was already hitting the charts with their debut single.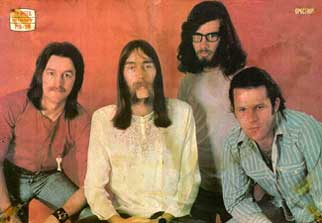 Right: a 1973 TV Week pinup of The 'Mark III' Spectrum lineup with new keyboard player John Mills (second from right)
After the brilliance of the previous two Albums, and the loss of Lee Neale, its not surprising that Testimonial comes off as a somewhat less impressive effort, and even Mike admitted that the band had begun to run out of steam by the time it was recorded:
"Testimonial was a pretty low-key album. To me a lot of the inventiveness of the band is missing. Homesick Valium Blues nearly goes comatose at the end. There's not much humour in that album. I seem to think there were signs that the guts were falling out."
How long Spectrum might have continued is anybody's guess, but unfortunately the death-knell for this wonderful band sounded in March 1973 when Ray Arnott announced he was leaving to join Wilson and Hannaford's new band Mighty Kong. Feeling that they couldn't maintain the spirit of the original group, Mike decided to break up the band and start afresh. Spectrum played their farewell concert on the 15 April 1973 at the Dallas Brooks Hall in Melbourne. The set list spanned the whole of their career and included the previously unrecorded Essay In Paranoia, a six-part suite that had been a longtime staple of their live shows. Happily, the concert was recorded and it was released in December 1973 as the superb double-LP, Terminal Buzz, engineered and mixed by Roger Savage and John Sayers. The album's iconic cover, a visual pun on the title, shows an hugely enlarged half-tone image of a fly impaled on a pin. (Flies seem to have been something of a lyrical preoccupation for Mike).
"Terminal Buzz still sounds good. It has terrific atmosphere. We were a live band after all, and the songs on that album stand up pretty well."
In a fitting valedictory, "I'll Be Gone" was chosen as the final rock single to be played on 3AK -- once Melbourne's top-rating pop station -- before it switched to a so-called "Beautiful Music" format on 1 June 1973.
After Spectrum ...
Messrs Rudd, Putt and Mills launched their new band Ariel in mid-1973. Like Spectrum, they enjoyed critical acclaim and a strong cult following but had only limited commercial success. Although some of Australia's most distinguished players passed through the ranks -- drummers Nigel Macara (Tamam Shud) and John Lee ( The Dingoes), guitarists Tim Gaze (Tamam Shud, Kahvas Jute), Harvey James (ex-Mississippi, and later of Sherbet) and Glyn Mason (Chain, Copperwine) -- the band was dogged by frequent lineup changes and, like Spectrum, they were virtually ignored by radio after their first single.
After the demise of Ariel in 1977, Mike and Bill formed a series of bands -- Instant Replay, The Heaters, W.H.Y. and Number 9. Spectrum reunited several times, beginning with a national reunion tour in 1984 (with Ray Arnott), but for most of the late 80s and early 90s Mike and Bill effectively withdrew from regular live performance. In the mid-90s' Spectrum and Ariel both occasionally reformed for gigs in Melbourne, including a reunion of Ariel's Rock'n'Roll Scars lineup, with Harvey James and John Lee (who sadly died not long after). But for most of this period Mike was obliged to keep a low profile, due to the illness and eventual death of his wife Helen.
Mike and Bill re-emerged in the final episode of the 1998 ABC music series "Hessie's Shed", hosted by former Crowded House drummer Paul Hester. The pair were in top form, with Mike's voice -- and wit -- as fine as ever. Interviewed by Hester, Bill enthused about his home studio, and Mike used the occasion to announce that they were 'back'. They performed two numbers, backed by Hester and his band -- what Mike wryly described as a 'morning-after' version of the perennial I'll Be Gone (with Bill on second guitar), plus one newly-written number.
Since then the lads have been gigging regularly. In July 1999 Spectrum performed at the launch of Ian McFarlane's Encyclopedia of Australian Rock & Pop, an apposite choice, and not only just because of their stature -- Spectrum was reportedly the first band that McFarlane ever saw live. Over the last couple of years, the new three-piece Spectrum has made a welcome return to regular gigs around Melbourne and environs, with drummer Peter "Robbo" Robertson, who was introduced to them by Ross Ryan and Broc O'Connor of GI Studios, (where they recorded their Spectrum Plays The Blues CD).
Besides gigging, Mike and Bill have re-released the first two Ariel albums on their own label (see Discography) and thanks to Aztec Music Spectrum Part One has finally been given its long-overdue re-issue on CD. And don't forget that you can buy the recent Spectrum/Mike and Bill CDs, the Ariel and Spectrum reissues, fetching t-shirts and much more from Mike and Bill's glamorous, informative and typically tongue-in-cheek website.
Discography
Until 2007, the only Spectrum/Murtceps material officially released on CD was the excellent Raven CD compilation Ghosts: Post Terminal Reflections, which is a revised version of the awkwardly titled 1980s EMI compilation Red-Orange-Yellow-Blue-Green-Indigo-Violet. Happily, Aztec Music reissued Spectrum Part One (with bonus tracks) on CD during 2007, and Milesago is scheduled for release in 2008.

Copies of the original LPs can still be found; Milesago is the easiest to obtain, but according to Ian McFarlane Spectrum Part One is now hard to find and commensurately expensive and Testimonial and Terminal Buzz are now hard to find. It's worth noting that the LP and CD versions of the Raven compilation album contain somewhat different track listings and different versions of tracks they share in common. This is a particular issue when collecting Spectrum and Ariel, since the band habitually recorded alternate versions of songs for release as singles, rather than editing the album versions. The versions of "Trust Me", "We Are Indelible" and "Esmeralda" on the ROYGBIV collection are the 7" edits, whereas the Ghosts collection uses the album versions. ROYGBIV also includes "Dalmas (Theme)" and "Stay Another Day", which were not included on Ghosts. Given that both were compiled by Glenn A. Baker, this was no doubt done with collectors in mind.

Mike and Bill have re-released the first two Ariel albums on their own RareVision label, and have delighted fans with a long-awaited CD release of their aborted Jellabad Mutant project, a rock opera which was intended as their second LP but which was rejected by EMI; all are available form their website. It has to be said that the absence of the Spectrum albums (and many other recordings) from the shelves is a shameful indictment of EMI Australia and symptomatic of their disgraceful lack of interest in their Australian artist roster of the '60s and '70s, a problem that has been compounded by repeated instances in which artists such as Spectrum and Ross Ryan have discovered that master tapes of their 70s recordings have been "lost" by the company. Fortunately, reissue label Aztec Music has stepped into the breach and we can look forward to many superb re-releases of sought-after Australian music from this fertile period.
Singles
as Spectrum:
May 1971
"I'll Be Gone" / "Launching Place Part II" (Harvest HAR-9329)
Aug. 1971
"Trust Me" / "Going Home" (Harvest HAR-9505)
Oct. 1971
"But That's Alright" / "Play a Song That I Know" (Harvest HAR-9667)
Mar. 1990
"You Just Can't Win" (Spectrum) / "Make it Begin" (Sons of the Vegetal Mother)
(From the Vault # 7) (shared disc with Sons of the Vegetal Mother)
flexidisc 7" distributed to subscribers to From the Vault magazine
as Indelible Murtceps:
Apr. 1972
"Esmeralda" / "We Are Indelible" (Harvest HAR-9837)
1973
"Indelible Shuffle" / "Ray's Boogie" (EMI 10218)
Albums
1971
Spectrum Part One (Harvest SHVL-601) LP
re-issued on CD by Aztec Music (AVSCD026), 2007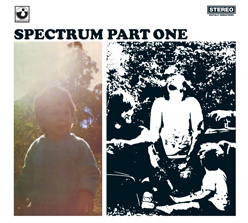 Side 1:
"Make Your Stash" (Ross Wilson) 4.09
"Fiddling Fool" (Rudd) 12.28
Side 2:
"Superbody" (Rudd) 9.12
"Drifting" (Rudd) 3.23
"Mumbles I Wonder Why" (Mike Rudd - Ross Hannaford) 5.51



Bonus Tracks on CD:


- "Launching Place, Part I" (original Australian Harvest single, mono)
- "I'll Be Gone" (single edit)
-
"Launching Place, Part
II" (B-side: original German Harvest single, stereo)
- "
I'll Be Gone"
(full-length version)
-
"Launching Place, Part
II"
(Psycho-Psychedelic version)
-
"I'll Be Gone" (
original acetate demo, ono)
- "You Just Can't Win"
(
original acetate demo, mono)
Mike Rudd - guitar, vocals, recorder
Lee Neale - organ, piano, vocals
Mark Kennedy - drums, percussion
Bill Putt - bass
Producer: Howard Gable
Engineers: Ern Rose, Roger Savage
---
1971
Milesago (Harvest SHDW-5051) 2LP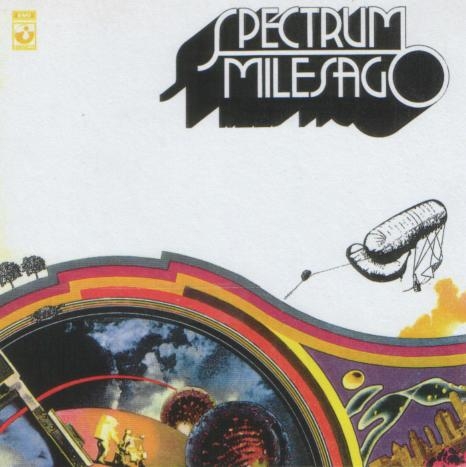 "But That's Alright" (Rudd) 4.20
"Love's My Bag" 4.14 (Rudd)
"Your Friend and Mine" 7.22 (Arnott-Rudd)
"Untitled" 4.30 (Rudd)
"Play a Song That I Know" 3.45 (Rudd)
"What the World Needs (Is A New Pair Of Socks)" 7.30 (Rudd)
"Virgin's Tale" 3.30 (Rudd)
"A Fate Worse Than Death" (Rudd)
"Tell Me Why" 1.47 (Rudd)
"The Sideways Saga"
- 1. "The Question" 1.06 (Rudd)
- 2. "The Answer" 2.14 (Rudd)
- 3. "Do the Crab" 4.55 (Rudd)
- 4. "Everybody's Walking Sideways" 2.42 (Rudd)
"Trust Me" 6.05 (Arnott)
"Don't Bother Coming Round" 3.23 (Rudd)
"Fly Without Its Wings" 10.07 (Rudd)
"Mama, Did Jesus Wear Makeup?" 2.10 (Rudd)
"Milesago" 7.14 (Rudd)
Michael Rudd - Vocals, Acoustic & Electric Guitar, Recorder
Lee Neale - Piano, Electric Piano, Organ, Harpsichord, Vocals
Bill Putt - Bass Guitar
Ray Arnott - Drums, Tympanies, Tibetan Ding-a-ling, Vocals
Arrangements scored by Jeremy Noone
Jeremy Noone, David Clarke - saxes
Steve Miller - trombone
Simon Wettenhall - tuba
Recorded at Bill Armstrong's Studio, September 6-9, 15, 22, 29-30, 1971
Produced by Howard Gable
Engineered by John Sayers
Cover art & album design - Ian McCausland
Photography - David Porter
---
20 Jan. 1973 (as The Indelible Murtceps)
Warts Up Your Nose (EMI HMV OCSD7597)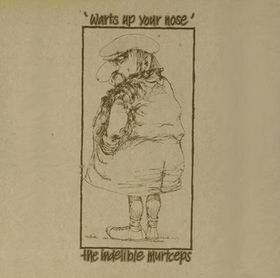 "Be My Honey" (My Crudd)
"Blue Movies Make Me Cry" (My Crudd)
"Esmeralda" (My Crudd)
"Excuse Me Just One Moment" (My Crudd)
"Hand Jive" (Arnott-Putt)
"In the Bog" (Neale)
"Pie in the Sky" (Arnott-Crudd)
"Some Good Advice" (My Crudd)
"Stay Another Day" (My Crudd)
"We Are Indelible" (My Crudd)
"Snap, Crackle and ..."
Produced by Howard Gable
Engineers - Ern Rose, Roger Savage, John Sayers, John French
Studios - Armstrong's, South Melbourne; TCS, Richmond
---
1973
Testimonial (EMI SOELP 10081/2) 2LP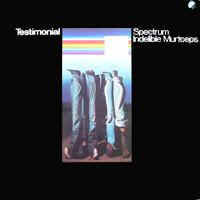 "Hot Rocket" (Arnott-Rudd)
"I Think I Missed the Station" (Rudd)
"Indelible Shuffle" (Rudd)
"It Would be Nice" (Arnott)
"Ray's Boogie" (Arnott)
"Real Meanie" (Rudd)
"Singing the Blues" (Rudd)
"Who is Bugging You?" (Rudd)
"Homesick Valium Blues" (Rudd)
Produced by Peter Dawkins

---
1973
Terminal Buzz (EMI EMC 2503)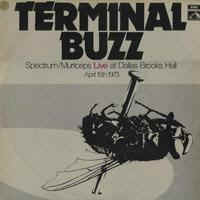 "Crazy Song/Goodbye" (Rudd)
"Essay in Paranoia" (Rudd)
"I Want to Know" (McLeod)
"I'll be Gone" (Rudd)
"Superbody" (Rudd)
"What the World Needs (Is A New Pair Of Socks)" (Rudd)
Produced by Peter Dawkins
---
1984
Red Orange Yellow Green Blue Indigo Violet (EMI EME1100) LP
[no image available]
"I'll Be Gone" (Rudd) - single edit
"Launching Place Pt II" (Rudd)
"Make Your Stash" (Ross Wilson)
"Drifting" (Rudd)
"But That's Alright" (Rudd)
"Love's My Bag" (Rudd)
"Trust Me" (Arnott) - single edit
"Esmeralda" (My Crudd)
"Stay Another Day" (My Crudd)
"We Are Indelible" (My Crudd)
"Indelible Shuffle" (My Crudd)
"Some Good Advice" (My Crudd)
"Dalmas (Theme)" (Rudd)
Compiled and annotated by Glenn A. Baker

---
1991
Ghosts: Post-Terminal Reflections (Raven RVCD18) CD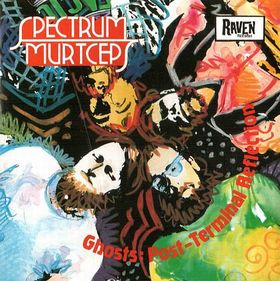 "I'll be Gone" (Rudd) - long version
"But That's Alright" (Rudd)
"Drifting" (Rudd)
"Esmeralda" (My Crudd) - single version
"Fly Without its Wings" (Rudd)
"Launching Place Part II" (Rudd)
"Love's My Bag" (Rudd)
"Make Your Stash" (Ross Wilson)
"Superbody" (Rudd)
"Trust Me" (Arnott) - single version
"We Are Indelible" (My Crudd) - single version
"What the World Needs (Is A New Pair Of Socks)" (Rudd)
"Some Good Advice" (My Crudd)
Compiled and annotated by Glenn A. Baker
Spectrum on YouTube
References / Links
mikeruddbillputt.com
Mike & Bill's History
http://www.mikeruddbillputt.com/History/History_page.htm
Glenn A. Baker
liner notes to EMI LP EME-1100 and Raven CD RVCD18
Ian McFarlane
- Spectrum article in From The Vault (Vol.2 No.3, 1990)
- Spectrum article in Freedom Train (Vol. 1, Issue 3, 1996)
- Encyclopedia of Australian Rock & Pop (Allen & Unwin 1999)

Noel McGrath
Australian Encyclopedia Of Rock (Outback Press, 1978)
Mike Rudd
email to Paul Culnane, December 2000
Chris Spencer, Zbig Nowara & Paul McHenry
Who's Who of Australian Rock (Five Mile Press, 2002)
Special thanks to Mike and Bill and Paul Culnane, and a resounding "hats off" to Glenn A. Baker, Ian McFarlane and Bruce Sergent.