ALISON McCALLUM
Sydney, 1967 - ca. 1980
Article by Michael Robbins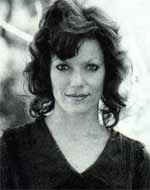 When Alison MacCallum arrived on the music scene, female solo singers (e.g. Judy Stone, Allison Durbin, Little Pattie etc) generally wore pretty (usually short) dresses or long gowns. They were also expected to be girl-next-door types & sing pretty pop songs, cabaret and show tunes. NZ-born Dinah Lee was a notable exception, belting out her great mid 1960's ska/rock hits, but "Little Miss Mod' was known as much for her oufits as her records. Others like Marcie Jones who also performed with Marcie & The Cookies, built their careers in Australia singing with lots of grunt, but she sang in the then only marginally popular Motown/Soul style. Jones' success was also confined more to live performance rather than chart success which didn't really arrive for her until 1973. And she still wore the gowns and mini skirts like all the others anyway.

But this wasn't for MacCallum, who bolted out of the blocks screaming her straight up hard rock & & howling her blues, more often than not dressed in jeans and T-Shirt. Her scorching rock vocal style deservedly won comparison with Tina Turner, Janis Joplin and Maggie Bell, who were blazing a similar trail overseas, but she was in every way one of a kind in Australia. And she did it alone, without any of the shared decisions, workload and support that comes with being part of a band.

There were of course other girls singing rock at the time in Australia. Sharon Sims comes to mind in terms of success but she was part of a band, in her case Flake. Wendy Saddington would be the other obvious comparison but she was more your traditional blues belter rather than than a rock singer. There were other girls in rock bands who didn't have any commercial success. So Alison flew the flag alone as being the first and only female soloist until that time who sang pure rock, and gained sustained commercial success over a five-year period doing it.
Early career
Alison MacCallum was born in Sydney in 1951. She began her career in 1967 with Jeff Bull's Jazz Band. She soon moved on to Big Apple Union, which performed blues and Motown material. By the end of the year Alison started forging her reputation when Gulliver Smith joined the band. Gulliver who found lasting cult status as leader of his next band Company Caine, joined with bass player Arthur Eizenberg and drummer Dave McKenzie to become the semi-legendary Dr. Kandy's Third Eye.
Reputely Australia's first psychedelic band, they sadly never recorded but they were a meeting ground for some of our best musos. Apart from Alison and Gulliver, other members were bassist Arthur Eizenberg and Sax/keyboard player Mal Capewell, who also went on to Co. Caine, while Mal later played in Carson, Healing Force and Oz blues legends Chain. Dave initially joined Ross Hannaford in Quill, then played with Jeannie Lewis and a string of bands over the next twenty years and Dave Ovendon was an integral member of the fondly recalled 69ers. Finally there was Ian (aka Bob) Walsh who played with the Levi Smiths Clefs and Python Lee Jackson. So much talent evidently couldn't be contained in one band and they broke up in 1968.
Alison spent 1969 singing with soul band This Hallelujah Chorus however in June that year she made her first recording with progressive band Tully. It was a great version of The Bee Gees "To Love Somebody" and featured on the band's ABC-TV series Fusions. However the track did not become commercially available until the Glenn A. Baker compiled Albert Archives some 10 years later. It featured many rarities of the era and is now highly collectible.
By 1970 she had joined the band that would provide her springboard to success, Freshwater. Freshwater was originally a New Zealand blues band who like many more before and since, crossed the Tasman in the late '60's. Following a few line-up changes they releasd a couple of pop Singles without success until the release of the notorious "Satan"/"Satan's Woman" in 1970, songs which were inspired by the Manson murders. By this stage they had adopted a more progressive direction. Alison joined the band as featured vocalist just after its release.
In November of 1971 Alison sang out front on the band's next single "I Ain't Got The Time". It was credited to Freshwater featuring Alison MacCallum and this, her first commercial recording, also became her first hit, making the Top 20 in her home town and Top 30 nationally.
Following this initial success, Alison left Freshwater and spent a short period with Ray Brown's One Ton Gypsy. She then embarked on a solo career, and RCA, who had released the Freshwater single, then offered her a solo contract. Alison was still only 21, though she'd had a long apprenticeship, but finally she was on her way and was ready to break down some boundaries doing it too.
Solo career
To launch her solo career, RCA spared no expense, utilising the services of famed English producer/manager Simon Napier-Bell (Yardbirds, Marc Bolan, Peter Sarstedt) to man the desk for Alison's debut album Fresh Water. For her first single from the album and her first solo single, Alison arrived with a bang when "Superman" / "Take Me Back" became a double-sided national Top 10 smash in February 1972. The A-Side, was a hard rocker penned by Harry Vanda and George Young formerly of Australia's most successful 60's band The Easybeats. The flip, a more laid back country rock tune was penned by a then up and coming new tunesmith Ted Mulry.
The Fresh Water LP, which followed a month after, was an excellent album which included both sides of the single, several good rockers including the funk-rock title track and a nice take on the Rolling Stones "The Last Time". There was also a magnificent slow blues reworking of the 1920s chestnut "Organ Grinder Blues" (aka "Swing") and another "Mean Woman Blues" both of which featured outstanding guitar work. Big band, chugging jazz-rock was in order on "Ain't Eatin' Dinner Tonight" and the great rock ballad "Any Way You Want Me" (also the album's re-issue title) allowed Alison to move from a smokey lower register at the start then lifting the song a full octave to showcase her beautiful howl. It was a perfect showcase in which to highlight Alison's vocal mastery, as she effortlessly changed from spitting out the lyrics with abandon on the rockers, interspersing them with piercing screams and shrieks, to grunts and howls as she 'wailed dem blues' and then showing a warm lower register when required. The album was greeted with much unanimous acclaim and featured many of our best musicians including master axeman Phil Manning who plays some fine guitar throughout. While not as successful as the single and nowhere near as successful as it should have been, this album (and Alison) still has the distinction of being the first LP by an Australian female artist to make the album charts. Another unsung credit for the pint sized fiery red-head!
Having already had two hits on the one single, rather than release another track from the album, Alison's next release in June featured two new tracks and it was one of her very best Singles, "Ol' Rock 'n' Roll Boogie Woogie Blues" / "Have You Seen Your Mother Baby (Standing In The Shadows)". The A-side was a rollicking rock boogie while the flip was a big band, brassy rock reworking of the Rolling Stones classic. Its lowly national chart placing was an insult, though it did manage two months in the chart and went as high as #24 in Adelaide.
The follow up "It's Time" (b/w "Hippy Gumbo", October 1972) is the other song that Alison is best remembered for these days and yet incongruously it's her one RCA single that did not chart anywhere in the country. "It's Time", was the theme song for the famous Australian Labor Party election campaign in 1972, produced and co-written by the legendary Pat Aulton. The song received saturation airplay on radio and television and the TV advertisement showcased Alison, who was joined by a chorus comprising a 'Who's Who' of entertainment and sport personalities like Bobby Limb and Chuck Faulkner. The campaign was a resounding success -- which makes the song's lack of chart success even more perplexing -- and as a direct result, Labor won government for the first time since 1949, ending 23 years in opposition. Just why this landmark single did not make the charts remains something of a mystery, but it's possible that radio stations and chart compilers were unwilling to list it for fear of being seen as ALP supporters.
Things improved chart wise with the next two singles both reaching various state listings. The first "Would You Believe" / "Lonely", was a change of pace for Alison as both were big rock ballads, in the best sense of the word. However the follow up, "Fire" / "Teach Me How To Fly" saw a return to familiar territory and featured two slabs of hard rock with Alison at her considerable best. The latter song, originally recorded by US band, the Rotary Connection was much covered in Australia, with versions by Jeff St John, Flake and Erl Dalby (plus Alison's) all released on Singles within a space of just two years. Jeff enjoyed the chart success, but Alison's was confined to the B-side, although the tougher guitar arrangement and vocal couldn't have been more different to Jeff's and compares more than favourably compared to the other two.
After a hectic few years Alison then took a well deserved break and travelled overseas to follow up on interest from various countries. During 1973 she travelled to Europe to perform and whilst there she showcased "Superman" at the 8th MIDEM International Music Trade Fair at Cannes.
Upon returning in 1974 Alison signed with a new record label Albert Productions and her first recording for the label was a single by the then mysterious Hooter Sisters. It was later revealed that the Hooters were in fact Alison and two of Australia's finest female vocalists, who also happened to be best friends -- Bobbi Marchini and Janice Slater. The A-side was a three-way vocal workout on Phil Spector's "To Know Him Is To Love Him" while the B-side was a more exprimental/progressive rock track co-written by Janice. Despite the combined power of these three fine ladies, the single sank without a trace, possibly due to their individual commitments -- although in recent years, Bobbi Marchini has expressed her unhappiness with Albert's treatment of its female artists at that time.
Alison then set about recording her second album Alison (aka Excuse Me), again with Napier-Bell at the helm. Her new label was then in the process of re-establishing itself -- Albert's had been a significant independent label in the mid-'60s, spearheaded by the phenomenal success of The Easybeats, but it had gone into abeyanace for several years around the end of the decade. It was reactivated by Ted Albert around 1972, and its fortunes really began to revive in late 1973, when Vanda and Young returned from the UK and took over as the label's house producers. Albert's Australian roster over a thirty year period is second to none, featuring a 'Who's Who' of Oz Rock including JPY, AC/DC, Flash & The Pan, The Angels, Rose Tattoo, Choirboys and many more. Expectations must have been high, as it would seem to have been the ideal home for Alison, but for reasons unknown they softened her image by having her apply more makeup, put on shimmering, glittery dresses, and had her record in a more mellow pop-soul vein, despite her previous success in rock.
The first result of this change of image was the soulful ballad "Excuse Me", which in fact became Alison's second biggest hit, so the change must have seemed like a good move at the time. Although it only went as high as #29 nationally, its chart life spanned nearly a full year. This was due to each state picking it up for airplay at different times. Adelaide led the way in October 1974 where it peaked in the Top 5 at #4, by January 1975 it was #12 in Sydney and Brisbane sent it all the way to #1 in May '75. Victoria was the only state not to pick it up, but it was nonethless a promising new start for Alison.
However, when the album came out in June 1975, it only managed two solitary weeks at the bottom of the Top 100 and Alison never made the charts again. There was a second 45 lifted from the album, a fine reworking of Gram Parson's "Hot Burrito" (retitled "Her Kind Of Guy" for single release) but it went nowhere. It was one of the few highlights of an otherwise lacklustre album, which completely lacked any sign of the fiery rock vocals with which Alison had made her name. Only two tracks, the Vanda-Young ballad "Things To Do", previously a minor hit for Johnny Farnham and the soulful blues of "Cry For Me" hinted at the vocal power that was being harnessed and were all the better for it. There was one more newly-recorded single for Alberts, "Love Grows Cold" / "Lunatic Love", released in February 1976 but it too missed the charts completely and, as absurd as it sounds, that was the end of this rock pioneer's recording career.
Life after chart success ...
Following her years as a hit-maker, Alison began a second successful period as one of Australia's most in-demand session singers. Some of the many recordings she appeared on includes those by artists as diverse as John Robinson, Doug Parkinson, Ross Ryan, Billy Thorpe, Jeff St. John, Mark Holden (tragic isn't it!), Marty Rhone and Slim Dusty's daughter, Anne Kirkpatrick, as well as many TV and radio jingles and advertisements and TV appearances including Seven's popular satirical comedy-variety series The Naked Vicar Show.
An unexpected event thrust Alison back into the limelight in 1979. Superman, the film that re-introduced the Man of Steel to a new generation and launched the career of blue eyed heartthrob Christopher Reeve, was the unexpected blockbuster hit of the year. In an effort to gain extra mileage out of Alison's old hit, RCA re-issued Alison's 1972 smash hit single of the same name. The record was also released as a 12" single to further boost sales.
She appeared on a few TV shows to promote the record and her stalled career was given extra impetus when RCA released a 'Best Of' album, also called Superman. It compiled highlights from her first long-player, plus many of her non-album Singles tracks, thus making it quite a desirable package for fans who had worn out the old Singles. Still it was pointed out by contemporary reviewers that the release was missing several single tracks, inluding the (in)famous "It's Time" and her hit she had when she fronted Freshwater. Considering the album had only ten tracks and it's relatively short running time, all of these could have been included to create a very impressive profile of Alison's early career.
The bottom line is though that the rejuvenation it brought to her career proved to be only temporary as the era of disco was being overtaken by punk and New Wave and the single and album, -- being re-issues of old-school rock -- were not as successful as hoped. So again Alison went back to her session work, which kept her busy until the mid 1980's. Since that time she seems to have slipped completely from view.
Alison broke quite a few rules for women, set several precedents and enjoyed success on her own terms. Above all, there was THAT joyous, howling, shrieking, gutsy, reckless, warm voice.
Discography
Singles
Note: At least four (confirmed) of these singles give Alison's surname as "McCallum", although on most other releases it is spelled "MacCallum", which is the correct spelling.
with Freshwater:
Nov. 1971
"I Ain't Got the Time" / "Hello Sunshine" (RCA Victor 101944)
(Australia #30, Sydney #19)
Solo singles:
Feb. 1972
"Superman" / "Take Me Back" (RCA Victor 102019)
(Australia #8, Sydney #10, Melbourne #10, Brisbane #9, Adelaide #7, Hobart #23)
May 1972
"Ol' Rock 'n' Roll Boogie Woogie Blues" / "Have You Seen Your Mother Baby (Standing In The Shadows)" (RCA Victor 102038)
(Australia #87, Adelaide #24)
Oct. 1972
"It's Time" / "Hippy Gumbo" (RCA Victor 102147)
Dec. 1972
"Would You Believe" / "Lonely" (RCA Victor 102222)
(Adelaide #25)
March 1973
"Fire" / "Teach Me How To Fly" (RCA Victor 102281)
(Adelaide #27)
Oct. 1974
"Excuse Me" / "Honk Honk" (Albert Productions AP-10476)
Credited as "Alison MacCallum" (Australia #29, Sydney #12, Brisbane #1, Adelaide #4, Hobart #42)
Sept. 1975
"Her Kind of Guy (Hot Burrito)" / "If Your Eyes Could Smile" (Albert Productions )
Feb. 1976
"Love Grows Cold" / "Lunatic Love" (Albert Productions AP-10978)
with The Hooter Sisters" (Alison McCallum, Bobby Marchini, Janice Slater)
Aug. 1974
"To Know Him is to Love Him" / "So Tough" (Albert Productions AP-10605)
12" SINGLE
Aug. 1979
"Superman" (Disco Version) / "Take Me Back" (RCA Victor TDS-056)
Re-Issue of 1972 single
Albums
Mar. 1972 (credited as "Alison McCallum")
Fresh Water (RCA Victor SL-102036)


(Australia #42)
1. "Fresh Water" (3:52)
2. "Ain't Eatin' Dinner Tonight" (3:19)
3. "Anyway You Want Me" (2:34)
4 "Lean Woman Blues" (4:25)
5. "Take Me Back" (4:30)
6. "The Last Time" (3:25)
7. "Organ Grinder Blues" (5:59)
8. "Hippy Gumbo" (2:53)
9. "If It Ain't Hard, It Ain't Easy" (4:11)
10. "Superman" (2:28)
---
March 1974
Any Way You Want Me (RCA Victor VCL1-0009)
Re-Issue of Fresh Water with new title and different sleeve
---
Oct. 1975
Alison (aka Excuse Me) (Albert Productions APLP-010)
Australia #96

1. "Hot Burrito" 3:49
2. "Fade In, Fade Out" 2:30
3. "Hear My Voice On the Radio" 3:09
4. "Cry For Me" 4:08
5. "See What You Can Do" 2:42
6. "Like a Child" 3:41
7. "If Your Eyes Could Smile" 4:01
8. "Things To Do" 3:07
9. "Then" 3:09
10. "Excuse Me"

---
April 1979
Superman - The Best Of The RCA Years (RCA Victor)
References / Links
Many thanks to Mick Robbins for this article (which was originally written for Wikipedia).
Acknowledgements and thanks also to Tony Jaggers for information from his Wikipedia article on Alison.
Ian McFarlane
Encyclopedia of Australian Rock and Pop (Allen & Unwin, Sydney, 1999)
Noel McGrath
Australian Encyclopedia of Rock (Outback Press, 1978)
Chris Spencer, Zbig Nowara & Paul McHenry
Who's Who of Australian Rock (Five Mile Press, 2002)
David Kent
Australian Chart Book 1970-1992 (Australian Chart Books)
Gavin Ryan
Australian Chart Books (Moonlight Publishing)
Go-Set Magazine, 3 July 1969