THE FLYING CIRCUS
Australia / Canada, 1967-75
Doug Rowe (lead guitar, vocals) 1968-75
Colin Walker (drums) 1968-75
Greg Grace (vocals, harmonica) 1968-69, 1971-74
Bob Hughes (bass, vocals) 1968
Red McKelvie (keyboards, lap steel, vocals) 1970
Sam See (keyboards, vocals) 1970-71, 1974-75
Warren Ward (bass, vocals) 1968-69
Terry Wilkins (bass, vocals) 1969-73
James Wynne (rhythm guitar, vocals) 1968-71
History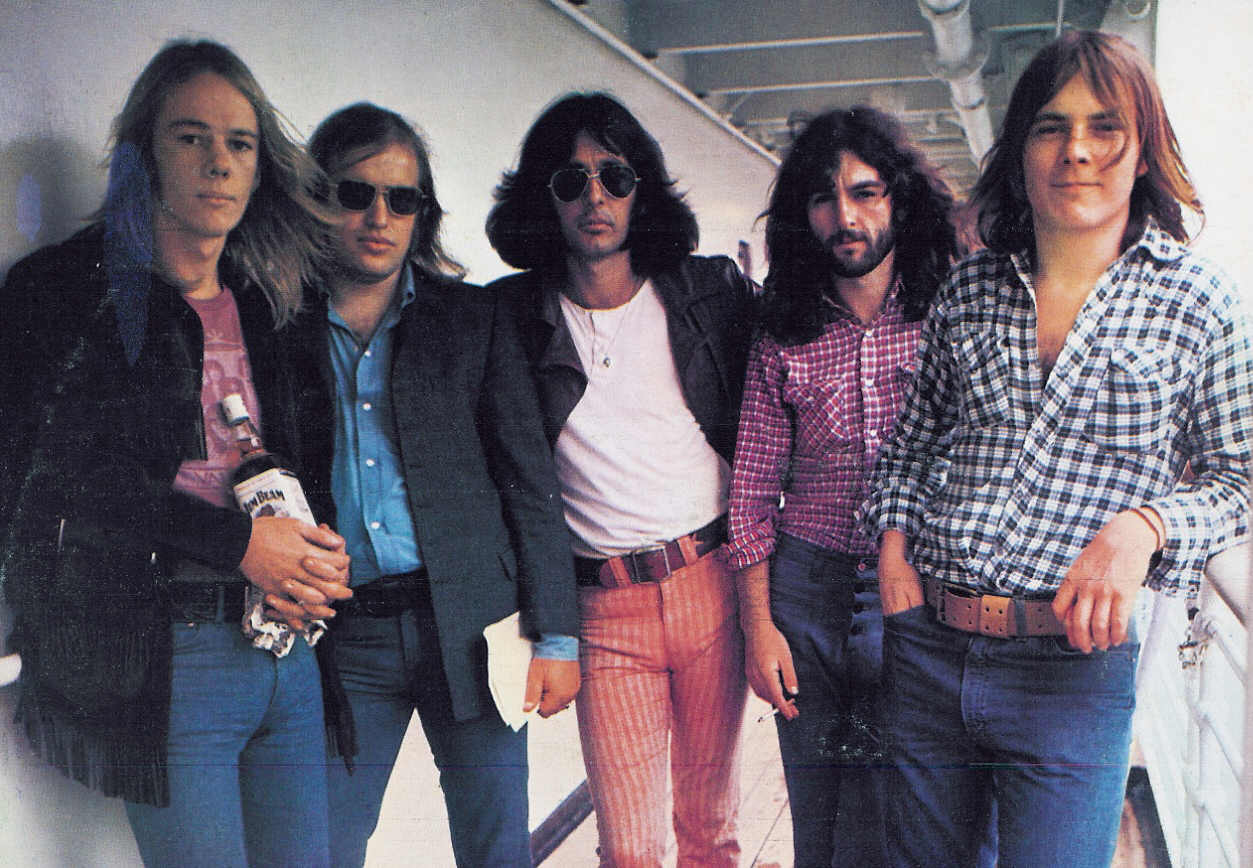 A rare photo of The Flying Circus taken in 1971, on the day the band left for San Francisco.

The Flying Circus is one of the most misunderstood, overlooked and underrated Australian groups of the '64-75 period. They're mainly remembered these days for their two early "bubblegum" hits, which is unfortunate, as Greg Quill, leader of the acclaimed Country Radio, points out:

"Wrongly labelled a pop band because of their lightweight recordings, they were actually a complex and very progressive live act, the first link in Australia between pop and country rock."

In spite of their musical excellence, and a flying start with three hit records, they never really managed to gain a firm footing in Australia. They eventually found a more receptive audience after relocating to Canada, becoming one of the first Australian acts to establish themselves overseas. Many factors -- changes of musical style, frequent changes of lineup (Rowe and Walker being the only constants) and long periods overseas combined to restrict their chances of establishing a strong and lasting identity with the local media and the public.

But the overriding factor that worked against the group after their initial burst of pop success was that, like so many other local acts, they were poorly support by their label and after their first hits, virtually ignored by Australian commercial radio, which blatantly failed to get behind country rock and progressive music. It's ironic that, at the same time, the American music market was broadening significantly, thanks to FM broadcasting, college radio and the new album-oriented rock (AOR) programming formats. But Australian radio, which would remain trapped on the AM band until 1975, was becoming ever more conservative. Commercial AM stations had a stranglehold on the Australian pop market, and apart from one or two valiant ABC efforts like Room To Move, commercial radio was the only outlet for pop and rock music in this country.

The problem was compounded at the turn of the '70s, when many stations around the country adopted new programming regimes like those promoted by the Digamae consultancy, headed by former DJs Rod Muir and DJ Hans Torv. Narrowly focused, rigidly-controlled and hugely profitable, this model favoured a limited range of pop songs in a highly structured, high-rotation playlist, with programming choices largely taken out of the hands of DJs. This was a critical change, since many of the leading "personality" DJs -- like Sydney's Ward 'Pally' Austin and Melbourne's Stan 'The Man' Rofe -- had been free to select much of the material they played and these same DJs were often crucial in breaking and supporting local acts through the 1960s. Programming now came under the control of a collusive network of faceless cabal of programmers and record company A&R managers, for whom the ultimate obscenity was "uncommercial". Diversity and innovation were stifled, overseas pop fodder was favoured over innovative local music and many fine Australian bands -- including Flying Circus -- suffered as a result.

The Flying Circus was formed in August 1967 by New Zealand-born singer, songwriter and lead guitarist Doug Rowe. Before coming to Australia Doug had been a member of two NZ bands, The Saints, from Palmerston North (not to be confused with the better known Christchurch band of the same name) and Peter Nelson & The Castaways, which had also included bassist Reno Tehei (later of Compulsion and briefly a member of The La De Das) and future Twilight Laurie Pryor.

Doug had come to Australia with The Castaways but had quit the band not long after they arrived. The formation of The Flying Circus came about through Doug's work as a cadet journalist at the Sydney Morning Herald. He got know bassist Bob Hughes, another Herald journo, who clsSubHeadared his interest in country rock. Doug and Bob began jamming regularly at Wooloomooloo's Frisco Hotel and it was here that they met Jim Wynne. The final member was another friend of Bob's, Colin Walker. Colin had only just taken up drums but his brother Terry was already an establiclsSubHeaded musician who played with The Hi-Fives, The Times, The Strangers and Pastoral Symphony.

Four days after the band formed, a young salesman and aspiring promoter, John Sinclair, was taken to a rehearsal at the group's Woolwich house by his flatmate, singer Marty Rhone. The group's strong renditions of songs like "Walk Away Renee", "Wild Mountain Thyme" and "Turn Turn Turn" impressed Sinclair so much that the following month he presented them at the first dance he promoted, at Cronulla Masonic Hall -- their first gig. Two weeks later he was driving them to gigs and in the new year he became their manager.

Shortly after this, the band was offered their first major engagement -- a short tour of New Zealand. By this time they had settled on the name The Flying Circus which (fortunately) edged out second contender Iron Cross. Both choices were apparently inspired by the current 'Red Baron' fad which derived from the popular Charles Schultz Peanuts comic strip and The Royal Guardsmen's novelty single "Snoopy vs The Red Baron"

The Flying Circus started out as a four piece, playing a mixture of country, bluegrass, folk and rock, drawing on a wide range of influences including The Byrds, Dylan, The Dillards and Revolver-period Beatles. Doug Rowe began making demo tapes of original songs with the help of his friend, the respected musician-composer-arranger-producer Mike Perjanik -- another Kiwi expatriate who has made a huge mark on Australian music. As a result of the demos and Perjaniks interest and help, The Flying Circus signed a contract with EMI's Columbia label in late 1968.

According to Glenn A. Baker, Mike Perjanik's original choice for their debut single was a track called "Shame, Shame" which the band knocked out in a couple of hours. But by the time EMI were ready to release it the song had also been recorded by Manchester group The Magic Lanterns, who scored a surprise US Top 40 hit with it, spurring Phonogram to rush-release the Magic Lanterns' version in Australia, thus nobbling The Flying Circus version before it even came out. So the first Flying Circus recording went un-issued as a single, finally creeping out as a track on EMI's 1969 Royal Easter Show Souvenir EP. It was also included on Glenn A. Baker's 1995 CD anthology.

After this false start there was a change of lineup. Bob Hughes left so Jim Wynne brought in his friend Greg Grace (vocals and harmonica) who in turn brought in bassist Warren Ward (ex Nutwood Rug, Stonehenge (with Tim Gaze & Nigel Macara), A Love Supreme (with Gulliver Smith) and Quill, thus expanding the group to a five-piece.

The group signed with manager John Sinclair on 1 January 1969 and the new lineup made its first major appearance at an outdoor concert in Sydney's Domain on Australia Day. Their commercial breakthrough was not long in coming. They signed to EMI they were offered a song called "Hayride". Originally recorded by Gary Lewis & The Playboys, it had been penned by the American team of Buzz Cason and Mac Gayden. Although "Hayride" was trite, formulaic bubblegum pop, it had obvious commercial appeal. So despite some reservations, they agreed to cut it as their first single.

Released in February 1969, it became a Top 40 hit around the country, reaching #4 in Sydney and #24 nationally. Incredibly enough, the song apparently caused concern among staid New Zealand radio programmers and objections to the shocking phrase "making love in the hay" resulted in the NZ release being delayed while the group battled to prevent it being banned, and it was not released there until May. Significantly, the single was also released in Canada, where it became a minor hit in several east coast cities, and it made the Top-40 on CFNB in New Brunswick.

The national success of "Hayride" was also an interesting pointer to the future marketing trends for Australian pop. Even though Flying Circus had not toured outside New South Wales at that stage, the song gained considerable interstate exposure via a promotional film-clip which was aired on nationally-screened TV pop shows including Uptight. The clip was made for them by Aggy Read and David Perry from Sydney underground media collective UBU.

The following year, Chris Lofven's classic promotional clips played a critical part in the national success of Spectrum's "I'll Be Gone" and Daddy Cool's "Eagle Rock", and over the next few years music video (as it came to be known) took on an increasingly important role in the marketing of pop music. This culminated in the huge change which came with the advent of the ABC-TV's Countdown at the end of 1974, which initiated a critical shift from radio to television as the major venue for breaking pop bands and records and helped to usher in the music-video era.

The success of their second single only compounded their image problem. It was even dumber than its predecessor, but this was after all the height of the bubblegum craze and "La La" turned out to be an even bigger hit, going Top Ten across the country in June and peaking at #8 in Sydney. It sold in huge numbers and rather remarkably it became the biggest selling Australian group single released to date, an honour it held until it was overtaken by Zoot's "Eleanor Rigby" about a year later.

The problem was that although both Singles were major hits, they had virtually nothing to do with the real musical interests of The Flying Circus and their chart success would prove problematic for the further development of their career. Some of the blame must rest with Mike Perjanik, who was apparently in full control of their recorded repertoire, but evidently the band themselves felt that recording a few pop numbers might be an effective way of gaining notice. As Jim Wynne later recalled: "We were so glad to be in a studio that we would have recorded nursery rhymes. As it turned out, that's pretty much what happened.

It was a good move in the short term, but we can only speculate on what the group would have chosen to do had they been able to foresee what millstones those pop hits would become. Although the Singles were perfectly suited the chart trends of the day -- and were more than ably performed by the band -- they had the effect of immediately branding Flying Circus as a one-dimensional bubblegum act among certain sections of the audience and the media. As Doug Rowe ruefully observed:

"La, La" sealed our fate and made it impossible for us to break out and be honest about the music we played."

A couple of years earlier (or later) this might not have mattered, but this was a period of rapid transition in Australian music, a time when many bands and solo artists were trying to shake off the restrictive "pop" image and be seen as serious musicians. Conversely, younger fans drawn to their concerts by the pop hits were bemused by the group's serious stage demeanour and their country-rock repertoire.

The band had some difficult times in the second half of 1969. In June, the house they had shared in Woolwich burned down, and Greg Grace left Flying Circus to form his own group Hot Cottage, unhappy with the pop direction and was also because he was suffering from persistent throat problems (although he would return to the band later).

In July the band was scheduled to head out on a NSW-Qld. country tour with Johnny Farnham, Mike Furber, Free Fall and The Valentines, but just before they left Warren Ward collapsed and had to be replaced for the tour by The Valentines' John Cooksey. On their way back from Brisbane, the band's truck was written off in an 80 mph collision with a Volvo. During August Jim Wynne fell victim to ill-health -- he collapsed on stage in Melbourne, suffering from pleurisy and pneumonia, and again in Sydney due a severe throat infection. This second collapse happened on the eve on the N.S.W. Final of the Battle of the Sounds, forcing them to withdraw from the competition.

Their run of bad luck continued -- during an Adelaide tour, Doug was almost electrocuted and was laid up for two weeks. In September Warren Ward quit due to his severe bouts of pneumonia and asthma, and with Rowe still out of action, the group were forced to play a Wollongong gig as a three-piece. Warren's fifteen year-old brother Ross (still working today and currently leading his own band, Ward's X-press) helped out for a string of gigs, including an major open-air concert in Newcastle NSW.

The gig in Newcastle in late 1969 led to major changes in The Flying Circus. One of the support acts was a Sydney wine-bar band called Quill (previously known the Starving (Wild) Dogs and the Savage Rare Blues Band). It comprised the late Keith Barr (ex-Nutwood Rug Band, Heart'n'Soul), drummer Daryl McKenzie, guitarist Red McKelvie and bassist Terry Wilkins . At the end of the gig Terry quit his band on the spot and took over Warren Ward's place in Flying Circus.

Amidst all this turmoil,the band somehow also managed to record their debut LP, which was EMI released the band's self-titled debut album. With Perjanik firmly in control of repertoire, the LP was an odd mish-mash of styles and clearly showed the tension between the pop image foisted on them by EMI and their own preference for country rock. It predictably featured the three pop hits, although it also included two other Doug Rowe originals, a medley of songs from the popular stage musical Hair, two Byrds covers, a version of Simon & Garfunkel's "Scarborough Fair / Canticle", The only real concession to the group's country-rock leanings was a cover of Dylan's "You Ain't Going Nowhere", one of the profoundly influential batch of songs written by Dylan and The Band in late 1967, which had been circulating as part of the legendary "Basement Tapes" demos.

The Flying Circus' last Australian hit single was "Run Run Run" (December 1969), which was also their last "pop" release. They had originally been asked to record another Cason-Gayden formula piece called "Groupie" (which was later a hit for The New Dream) but the band flatly refused. In its place they cut a version of a Guy Fletcher song, "All Fall Down". Doug Rowe's "Run Run Run" was intended as the B-side, but to the band's delight Perjanik eventually decided to flip the single and release Doug's song as the A-side. It proved a successful decision, making a very respectable #19 in January 1970.

But just as the single hit the airwaves in December, disaster struck again when Doug suffered a perforated ulcer and had to be flown home to New Zealand to recover. Needing to promote it, the band hunted desperately for someone to fill in, so Terry Wilkins called up his former Quill bandmate Red McKelvie, who stayed on with the group after Doug's return and became a permanent member in April 1970.

During 1970 The Flying Circus worked hard to leave behind the pop image and establish themselves as a serious country rock group. Red's arrival steered the group even further towards straight country music and the change was evident on their Frontier EP, which featured four pure country songs, two band originals plus covers of Dylan's I'll Be Your Baby Tonight and Merle Haggard's "The Day The Rains Came Down".

According to Glenn Baker, fate now dealt the group a long overdue favour. A 'pay for play' dispute was flaring up between commercial radio and major record companies and when talks broke down, the commercial radio industry body, the FACB, imposed an embargo -- the infamous Radio Ban -- on most major label product. As the Ban took hold the local industry (including EMI) ground to a halt and with the pressure off to cut hit Singles that would not get airplay, The Flying Circus were able to enjoy an unprecedented luxury of having virtually unlimited recording time at EMI's Sydney studio -- 130 hours, according to Baker and just as importantly, free reign to record whatever material they wanted.

The band took full advantage of the opportunity. Red officially joined halfway through the sessions and as well as his superb guitar work Red contributed one original song "Israel" on which he also played mandolin (which he learned to play two days before the session!)

Sympathetically produced by Perjanik, Prepared In Peace, was a major step forward for the group, and it remains one of the lost gems of early '70s Australian rock. The album consisted almost entirely of original country-rock songs by the band, except for the coda, a brief a capella rendition of Leadbelly's "Goodnight, Irene". It was dominated by the songs of Doug Rowe, who contributed his best material yet, but also included Jim Wynne's "3667", a song commemmorating the scrapping of an old NSW Railways steam engine (which were known as "pigs"). It was one of many Flying Circus songs with a railway theme -- Jim and Doug were both dedicated steam-train enthusiasts. Terry Wilkins was also coming to the fore as a writer and contributed two self-penned songs, the title track and "Giggling Guru" (supposedly a swipe at poet and hip identity Adrian Rawlins) as well as "One Way Out", which he co-wrote with Doug.

The LP was taken very seriously by the group and in a contemporary interview Doug said: "It's a do-or-die effort which will either establiclsSubHead us (as) a force in our own right or, if not accepted, will mean obscurity". It was critically lauded, and while not a major commercial success, it sound quite respectably -- 12,000 copies, according to Baker -- and is long overdue for a reissue on CD. Along with Axiom's debut album it was a pioneering record for Australian music and a landmark of the local country-rock-harmony style. The original pressing was released in a special black gatefold cover with an oval die-cut window on the front, which framed the heads of the group.

On 1 June 1970 Flying Circus took part in an historic event, supporting soul legends The Four Tops at the last concert ever held at the legendary Sydney Stadium, which was demolished the following year to make way for the elevated section of the Eastern Suburbs Railway. The group marked the occasion by dressing in formal evening wear. This was followed by two more major events -- the release in July of Prepared In Peace followed on August 9 by their somewhat contentious victory in the Hoadleys National Battle of The Sounds.

The Battle of the Sounds final was being held in Sydney for the first time this year and although The Flying Circus expected to do well, they faced stiff competition from the hot favourites, Adelaide's Zoot -- who, ironically, were fighting their own battle to overcome their image as bubblegum popsters -- and fellow Sydney band Autumn (who were also managed by Sinclair) who were riding high on the success of their national #1 hit "Yellow River".

As Bernie Howitt notes in his 1994 article on the band, the lead-up to the Hoadley's final was a graphic illustration of the punishing workload faced by bands at the time, and the saga of the 24 hours leading up to the Hoadleys performance would later be immortalized in Terry Wilkins song "The Longest Day".

The night before the final, they were booked for a gig from 8pm until midnight in Tamworth, hundreds of kilometres from Sydney. They then had to drive to Armidale for an early-morning set from 2am to 4am, followed by a drive back to Tamworth to catch the early morning flight back to Sydney for the Hoadley's final.

Arriving at the venue with only half an hour to freclsSubHeaden up and prepare, they trooped on and dutifully played their set as best they could. Doug Rowe later commented that Zoot and The La De Das probably played better on the day but felt that the originality of the Prepared In Peace material tipped the balance in their favour. All but Doug then left the theatre, convinced that they had lost. As it turned out, the judges -- John Bromwell (of Essex Music) and journalists David Elfick, Greg Quill, Jock Veitch and Donnie Sutherland -- evidently felt that The Flying Circus were overdue for some recognition and in a surprise decision they awarded them first prize, an outcome which was greeted with boos and hisses by diehard Zoot and Autumn fans.

In October EMI released a single from the LP, Red McKelvie's "Israel" (b/w "Giselle") but it did not chart. Red was sacked from the band the same month, a victim of the perennial problem, "musical differences". According to Glenn Baker's account, Doug claimed that Red was confusing the band's direction and wanted to "completely change the group", but Baker asserts that the core problem was that Doug was concerned that Red posed a threat to his leaderclsSubHeadip of the group. Whatever the truth of the matter, it was evidently an acrimonious parting, and according to Noel McGrath there was even talk of Red suing the band for his clsSubHeadare of the Hoadleys prize, a trip to the USA.

McKelvie's departure precipitated yet another change in style and a step away from the strong country flavour of their recent recordings. To replace Red they headhunted guitarist and keyboard player Sam See (Sam Ruthven), one of the founding members of Sherbet.

Sam See: "I was supposed to play keys and guitar. We went to a small town called North Haven to rehearse, the truck blew up and my Hammond never arrived. I thus became a guitarist for the band, which was fine by me. It was terrifying to replace Red as the lead guitar player at that point!

"The album we recorded over the next few months was to be called Northhaven Harvest as we were changing to Harvest as a label, we all thought it was a grand title. EMI thought differently and somebody outside the band suggested Bonza, Beaut & Boom Boom Boom. We thought it was a joke, as the song was a joke and put-down of Oz apathy. It ended up as the title, so beware of jokes which can bite the teller on the arse!"

The album was more straight-ahead rock in style and despite being lumbered with the bizarre title, it was another sterling effort which again consisted of all original material by the group. The single "Turn Away" / "The Longest Day" (Feb. '71) was the first lifted from the LP. The band were particularly proud of "Turn Away" and said so at the time: "We know its the best thing we've ever done, whatever happens with it, we've achieved everything we ever wanted to do". Sadly, neither it nor the follow-up "It Couldn't Happen Here" / "Somerville" (Aug. '71) made any impression on the charts, even though they are regarded as being among the band's best work.

Depressed, exhausted, disillusioned and increasingly frustrated by the lack of recognition at home, The Flying Circus were itching to take advantage of the Hoadleys prize and try their luck overseas, although it apparently took some time for the whole group to agree on the best course of action. At one point, only a week before they were scheduled to leave, they took a vote during a set break at Chequers and decided they were not going to America -- instead, they stunned manager John Sinclair by telling him that they had voted (by 3-2) on packing up and taking their families to Perth to "get it back together" Nothing Sinclair could do would change their minds and he went home despondent -- only to be rung the next morning at 7am by Doug, telling him that the band had changed their minds again and would go to America after all.

After an impromptu photo session for the new album on the deck of the cruise ship, The Flying Circus set sail for North America on 20 January 1971, although they left without Doug, who was still completing his production of the Megan Sue Hicks album Maranatha. During a stopover in Hawaii , Terry and Sam wrote "The Ballad Of Sacred Falls", which became their next single.

The American trip was a bold step -- only a few Australian acts had attempted it before them. Neither Johnny OKeefe nor Ray Brown had any success, and it would be several years more before expatriate Australians such as Helen Reddy and Peter Allen achieved their commercial breakthroughs there. The band were reunited in for San Francisco, where they intended to study the local scene, rest and refocus after more than two gruelling years of constant touring.

John Sinclair found them a house in the celebrated Haight-Ashbury district, but by this time the Summer of Love was well and truly over, the hippies were long gone, and the band found itself in what was now a largely black neighbourhood, dominated by the militant Black Panther movement. Scraping by on their meagre savings and living on vegetable stew, they took in the sights and sounds and became regular visitors to Bill Graham's fabled Fillmore West, seeing legendary acts including Fleetwood Mac, Boz Scaggs, Tower of Power and Aretha Franklin.

Just before they were due to come home in February they made crucial breakthrough -- the influential Music Factory agency offered them a $10,000, eight-week tour of Canada. Just before the tour, Jim Wynne left the band for personal reasons, and although he intended to return he did not do so. The band soldiered on and fulfilled the tour as a four-piece, impressing the receptive Canadian audiences with their distinctive repertoire and fine musicianship.

They returned to Australia in July 1971, brimming with confidence and eager to return to Canada and build on their initial success, but by this time Sam See had already been approached by Bruce Howe to join progressive group Fraternity, which was fronted by Bon Scott. Sam had already committed to the Flying Circus Australian tour, but once that was completed in September he left the group. Doug called up the erstwhile Greg Grace, taught him guitar and brought him back into the band. Their next single "The Ballad Of Sacred Falls" / "Finding My Way" was released in September and "Turn Away" / "The Longest Day" was also released in the USA, but made no impression.

Flying Circus headed back to Canada in late 1971, by which time they had parted company with John Sinclair. He subsequently set up a management agency in Sydney which looked after Autumn, Jeff St. John and Copperwine, Sherbet, Third Union Band and Sabbath. Later, he returned to Canada to work as a booking agent, returning to Australia in the late '70s. Meanwhile, Flying Circus became permanent residents of Canada, enabling them to work and live there. Once again they found audiences much more receptive than at home and they gradually built up a solid following.

During 1972 they scored their biggest break yet -- a major contract with Capitol Records, for whom they recorded their first American album. It was reported at the time that the deal was worth $1 million; according to Glenn Baker it was a ten-album deal with a promised advance of $50,000 per album. Either way it was a coup and probably the best international deal to date for an Australian act.

The new LP was recorded in Canada in late 1972 and released as Flying Circus in the USA and Canada, and as Gypsy Road in Australia, where it was issued through the Warner label. For the recordings the band were assisted by Canadian musicians Lenny Solomon (violin), Rob Lehman (steel guitar), Dick Armin (cello, from Lighthouse) and "Fatman" Paul Hoffert (vibes and piano).

The band made their last visit back to Australia for the second Sunbury Festival in January 1973, but the time away had eroded their local popularity, and the band was disappointed by their lukewarm reception, although they reportedly played a "magnificent set of fiery guitar-based country rock".

Gypsy Road was (and remains) a highly regarded album, one which consolidated all their past hard work. It was set for a major promotion by Capitol and received glowing reviews in the American music press. Unfortunately the then president of Capitol, who had been a major fan of the group, was sacked just as the album was released and their chance to crack the US market was lost. Despite these setbacks it still made the Top Ten in Canada and produced two successful Singles. Back home, with only the Sunbury performance to promote it, the record vanished without trace.

Sam See: "I don't think it was released in Australia owing to a publishing dispute."

Ironically, depsite it being ignored in their homeland, Gypsy Road produced the most successful American single for Flying Circus, Doug Rowe's "Old Enough (To Break My Heart)", which spent nine weeks on the Canadian charts in mid-May of '73, reaching #8 (or #12, depending on which source you accept) . The follow-up "Maple Lady" reached #58 in Canada and also made the lower reaches of the US Top 100.

During 1974 Greg Grace left again, this time for good and he was replaced by none other than Sam See. whom Doug invited to rejoin while Sam was in England with Fraternity -- he did not "talk his way back into the band" as Glenn Baker claims. Sam's decision evidently caused some rancour in Fraternity, but by his own account that band was on its last legs by the time he decided to quit and in his own words he "took the escape hatch gladly". This final Flying Circus lineup recorded one more album, ironically entitled Last Laugh in 1974 and a US-only single "Jabber Jabber" / "Gypsy Road". The album sold well in Canada but once again it was totally ignored back in Australia.

The end of the band was precipitated by Terry and Sam's decision to quit in early 1975 to join Canadian band Lighthouse. The remaining members struggled on briefly with Canadian replacements, but Flying Circus split for good soon afterwards.

After The Flying Circus ...

Terry Wilkins settled permanently in Toronto , where he became "a guiding force and a leading light to a generation of musicians on the Toronto scene". His thirty-year career as a performer, composer, arranger and producer has made him one of Toronto's most respected musicians and has earned him a Maple Blues Award. In the period immediately after Flying Circus split up, Terry and Sam See toured and recorded with Canadian bands The Headliners and Lighthouse. In 1974 Terry was part of a cross-Canada tour with Lighthouse, which, as he recalls, marked a turning point in his musical career:

"... 68 concerts in 75 days from Victoria to St. John's caused me to fall into a funk regarding the seemingly shallow reality of the modern musician. This was the era of 'tight' bands and rehearsed-to-death performances. It was on that tour that I started to fantasize about which era I would rather have been a musician."

Terry's disenchantment with the rock scene and meetings with other similarly inclined Toronto musicians in the late '70s led to an abiding interest in authentic jazz, swing, blues and Caribbean music, a switch from electric to acoustic bass, and the formation of a succession of popular Toronto bands including Professor Piano & The Canadian Aces, and The Signifying Monkey (who recorded the CD New Standards which Terry wrote). In recent years, Terry has been key member of the core group of musicians who play in the three bands at the heart of Toronto s "Swing Jazz" scene -- Jake and the Blue Midnights, Tyler Yarema & His Rhythm and Terry's own group The Swing Gang. Terry produced the debut CD for Jake & The Blue Midnights and co-wrote six songs on the album; he also produced seven tracks on Chris Whiteley's Blues Party album. More recently, he formed Acoustic Mojah!, which performs all acoustic West Indian folk, reggae and calypso, and he also leads a junior version of The Swing Gang that includes his children Julian and Gabriela.

Thanks to Greg Quill we were able to contact Terry in 2000, and he sent us these thoughts about his career in music before, during and after The Flying Circus: P class=Quote>"... for me this is like 3 centuries ago and since then I have had 3 or 4 whole music careers. Before I joined FC I was on the Taylor Square scene playing blues and jug band music and this is my true roots. Although my time with FC was exciting, definitely interesting and lots of hedonistic fun, the pull of what is essentially Black-American music has always proved to be the strongest force in music for me. In the years that I have been here (29 years and counting) I have had the privilege of working with some of the greats of jazz and blues like Eddie 'Cleanhead' Vinson, Sunnyland Slim, Dr.John and more. I currently play acoustic bass in a collective of swing musicians (mostly in their 20's) called The Swing Gang. Last year I was the recipient of The Maple Blues Award for Bassist of The Year and this year I was nominated for Bassist of The Year and for Producer of Year, neither of which I won but what the heck..."

Doug Rowe also stayed in Toronto, where he set up his own studio and lived and performed for many years before eventually returning to Australia. He now lives in Bathurst, NSW; he still performs regularly and remains one of Australia's most respected country-rock artists. He has released two Albums on his own Rowe Records label, Havannah Street Blues and Hometown Lights (with Bob Breese). He has recorded four CDs with Rob Reese (available from Rob's website -- se Links) and he's also a member of The Woodpickers with Broderick Smith (See links).

Sam See joined Greg Quill's last band Southern Cross (1975-78). After that band split during a visit to Australia he formed Stockley See & Mason with fellow veterans Chris Stockley (Cam-Pact, Axiom, Dingoes) and Glyn Mason (Chain, Copperwine, Home, Ariel). Sam has been a mainstay of the Australian music scene ever since and his bulging CV includes work with Goanna, The Black Sorrows, Greg Page (The Wiggles), John Farnham, Ross Wilson, Daryl Braithwaite, Brian Cadd, Swanee, Broderick Smith, Rose Bygrave, Olivia Newton-John, Tina Arena, Glenn clsSubHeadorrock, Dale Ryder, Debra Byrne, Brian Cadd. Thelma Houston, Men At Work, Marie Wilson, Jane Saunders, Joe Camilleri, The Revelators and The Hornets as well as recording music for films and advertising. Sams first solo album, Unhinged, was released in late 2002.

Red McKelvie moved on to form the country-rock groups Chant (with Jim Wynne and Colin Walker's brother Terry), Johnny & The Ringworms, Powderhorn and Third Union Band. He became a sought-after session player and performed on Richard Clapton's 1972 debut LP Prussian Blue. In 1974 he provided the signature slide guitar on Richard's breakthrough hit "Girls On The Avenue". He returned to New Zealand soon after, where he continued working as session musician, reputedly playing on almost ever country record released there during the late '70s and '80s. He still lives in New Zealand and was most recently a member of the Glen Moffatt Band.

Bob Hughes has been an enduring presence in the Australian media through his acting, advertising and voice-over work. He starred as the reporter in ABBA, The Movie (1976) and is best known in Australia and elsewhere for his title role in the long-running and very successful TV sitcom Hey Dad! in the 1980s.

James Wynne was an accomplished artist as well as a musician, and his interest in art was fostered by his grandmother, a keen amateur watercolourist. Jim learned to draw as a teenager, but his obvious talent for music led to him joining Flying Circus. After he left the band in 1971 James played in Chant with Red McKelvie, and then decided to turn to painting as a career. In his early years he had worked part-time as a fireman on the New South Wales railways, which supplemented his income and allowed him indulge in his passion for steam engines, which became a feature in the songs he wrote for Flying Circus, and featured prominently in his paintings. Working in an Impressionist style, James establiclsSubHeaded his reputation with his paintings of relics of the steam era, which were often done on-site in railway scrap-yards. He held his first one-man exhibition at Copperfield Gallery in 1974, and since then he has exhibited at major galleries, such as Prouds, Parker Galleries, Artarmon Galleries, Barry Stern and the Wentworth. He is represented in many prestigious private collections in Australia and overseas. James belongs to the great Australian tradition of Impressionist painters, started by the Heidelberg School. James also works as a tutor for the Charles Sturt University winter and summer schools, he has produced an instructional video on oil painting for Australian Artist magazine, and has featured in several articles of the magazine. He has also had five works reproduced in print form by 'Art Throughout Australia'. Music still plays an important part in Jim's life, and it's an interest he shares with his two grown-up sons -- they are both professional musicians and they and James write, play and perform together whenever possible.

Greg Grace became the roadie for Canadian band Wireless, which included three ex-members of Flying Circus' Sydney contemporaries Autumn. No other information about his later career has been located so far.

Colin Walker still lives in Canada, where we understand he became a stained-glass artist.

Discography

The Flying Circus relatively prolific recording career by Australian standards, but like so many Australian acts of the period who had the questionable fortune to be signed to EMI, virtually none of their original catalogue has been re-released on CD although some of their original vinyl recordings can still be obtained second-hand at reasonable prices. Glenn Baker's 1994 CD anthology, an expanded version of his 1977 LP, is the only CD of their work yet released. While this CD provides the best available overview of their earlier career, it is regrettable that, due to contractual problems, neither album includes any of their later Capitol recordings. It is not know whether these tracks have ever been reissued in the USA or Canada. We can only hope that the increasing international interest in Australasian music of the '60s and '70s will eventually lead to a more representative compilation in the future, and hopefully the re-release of their original Albums.

Singles

Feb. 1969
"Hayride" / "Early Morning" (EMI/Columbia DO 8617)

May 1969
"La La" / "Last Train" (EMI/Columbia DO 8775 )

Dec. 1969
"Run Run Run" / "All Fall Down" (EMI/Columbia DO 8989)

Oct. 1970
"Israel" / "Giselle" (EMI/Columbia DO 9254)

Feb. 1971
Turn Away / Longest Day (EMI/Harvest HAR 9321)

Apr. 1971
"It Couldn't Happen Here" / "Somerville" (EMI/Harvest HAR 9546)

Sep. 1971
"Finding My Way" / Ballad Of Sacred Falls (HMV EA 9608)

1971
Run, Run, Run" / "Silvertown Girl" (Capitol 72652)

1972
"Old Enough (To Break My Heart)" / "Train Ride (Capitol 72689)
#12, Canada

1972
Maple Lady / Green Patch (Capitol 72676)
#58, Canada

1974
Jabber Jabber / Gypsy Road (Capitol 72711)
(US only)

EP

1970
Frontier (Columbia SEGO 70187)
Produced by Mike Perjanik
"I Remember Joanne" (Doug Rowe) / "I'll Be Your Baby Tonight "(Bob Dylan) // "The Day The Rains Came Down" (Merle Haggard) / "When Will I See You As You"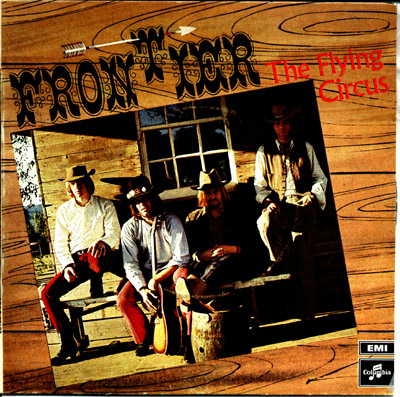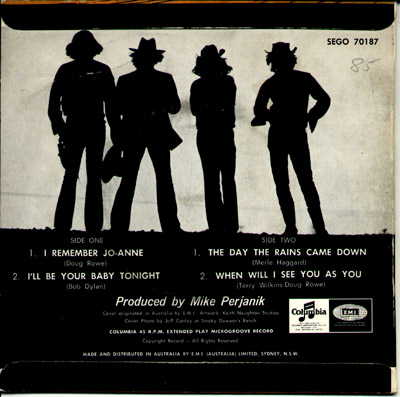 Albums
1969
Flying Circus (EMI / Columbia SCXO 7907) LP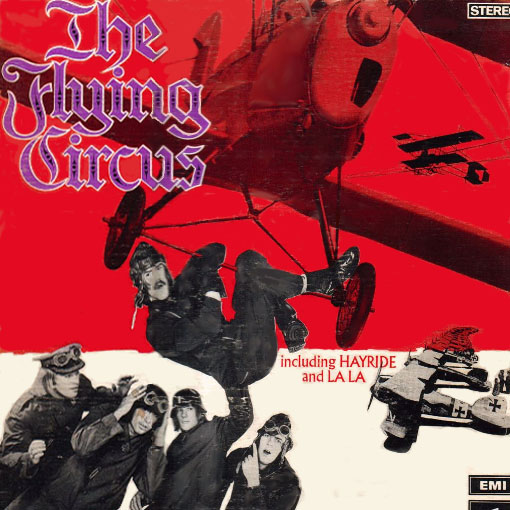 Side One
"Hayride"* (Cason-Gayden )
2. "She Don't Care About Time" (Gene Clark )
3. "The Last Train" (Doug Rowe )
4. "Scarborough Fair/Canticle" ( trad . arr. Paul Simon)
5 "Groovy Night" (Doug Rowe)
6. "I Think I'm Gonna Feel Better" (Gene Clark )
7. "So You Want To Be A Rock And Roll Star" (McGuinn-Hillman )
Side Two
1. "La La" (Cason-Gayden )
2. "Twilight Journey" (Doug Rowe )
3. "To Put Up With You" ** (Williams/Nichols)
4. "You Ain't Going Nowhere" (Dylan )
5. "Hair" Medley (Ragni-Rado-MacDermot)

Additional musicians:
Mike Perjanik - piano, organ, glockenspiel, electric harpsichord, brass arrangements
Ken Kitching - electric steel guitar<
Kevin King - dobro
Don Burrows - flute**
Peter Skerrett - bass*
Brian Dean - additional guitar*
Brass section - Bill Burton, Pat Crichton (trumpet), Errol Buddle (alto sax), Lee Hutchings (tenor sax), Herb Cannon (trombone)
Produced by Mike Perjanik
Engineered by David Woodley-Page
---
1970
Prepared in Peace (Columbia SCXO 7925, Harvest SHSP 4010) LP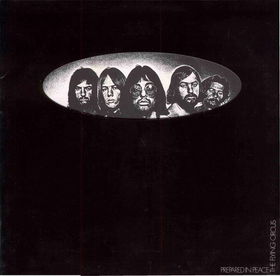 Side One:
1. "Follow Me" (Doug Rowe)
2. "Israel" (Red McKelvie)
3. "3667" (James Wynne)
4. "Pax" (Doug Rowe)
5. "To Have A Friend" (Doug Rowe)
6. "Giselle (Doug Rowe)
Side Two:
1. "Prepared In Peace " (Terry Wilkins)
2. "One Way Out" (Terry Wilkins, Doug Rowe)
3. "Mary" (Doug Rowe)
4. "Giggling Guru" (Terry Wilkins)
It's So Hard" (Doug Rowe)
5. "Silvertown" (Doug Rowe)
6. Reprise - "Goodnight Irene" (Huddie Ledbetter, John Lomax)
Produced by Mike Perjanik
Engineer: David Woodley-Page
---
1971
Bonza, Beaut & Boom Boom Boom (EMI Harvest SHVL 604) LP
Side 1:
1. "Back At You" (Wilkins-Rowe)
2. "Bonza, Beaut & Boom Boom Boom" (See-Wilkins)
3. "Despair" (Rowe)
4. "Farewell to my Childhood" (Rowe)
5. "It Couldn't Happen Here" (Wilkins-Rowe)
6. "Kempsey Mail (Wynne)
7. "A Long Long Time Ago" (Rowe)
8. "The Longest Day" (Wilkins)
9. "Somerville" (Howe-See)
10. "Song for Clelia" (Rowe)
11. "Ten" (See-Wilkins-Rowe)
12. "Turn Away" (Rowe)
---
1971
Prepared in Peace (Capitol Canada ST-6365) LP - standard sleeve
Canadian compilation with tracks from Prepared in Peace and Bonza, Beaut & Boom Boom Boom
Side One:
1. The Longest Day (Terry Wilkins) 3:20
2. "Back At You" (Doug Rowe/Terry Wilkins) 2:14
3. "Despair" (Doug Rowe) 2:00
4. "Silvertown Girl" (Doug Rowe) 2:34
5. "Farewell to My Childhood "(Doug Rowe) 3:57
Side Two:
1. "Song For Celia" (Doug Rowe) 4:12
2. "Turn Away" (Doug Rowe) 3:39
3. "It Couldn't Happen Here" (Doug Rowe/Terry Wilkins) 5:07
"Prepared In Peace " (Terry Wilkins) 4:27
"Run Run Run" (Doug Rowe) 2:08
---
1971
Flying Circus (World Record Club WRC 55291) LP
Budget reissue of Columbia SCXO 7907
---
1972
Gypsy Road (Warner WS 20010) Australia LP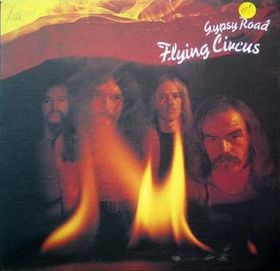 Side One
1. "Old Enough (To Break My Heart)" (Doug Rowe) 3:22
Another Winter's Day " (Doug Rowe) 3:37
Summer Song " (Doug Rowe) 3:37
clsSubHeadake, Rattle & Roll " (Charlie Calhoun) 3:42
Gyspy Road (Terry Wilkins) 3:23
Side Two:
"Thousand Years (Greg Grace) 3:13
"Train Ride" (Terry Wilkins) 2:43
"Green Patch" (Greg Grace) 4:16
"Me And You" (Greg Grace) 4:49
"Maple Lady" (Greg Grace/Doug Rowe) 2:51
(Issued by Capitol in the USA/Canada in 1973 as Flying Circus)
---
1973
Flying Circus (EMI SEXO7907) LP
Budget reissue of Columbia SCXO 7907
---
1973
Flying Circus (Capitol ST-11147) LP
US/Canadian version of the Gypsy Road LP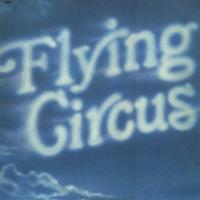 Side One:
"Old Enough (To Break My Heart)" (Doug Rowe) 3:22
"Another Winter's Day" (Doug Rowe) 3:37
"Summer Song" (Doug Rowe) 3:37
"Shake, Rattle & Roll" (Charlie Calhoun) 3:42
"Gyspy Road" (Terry Wilkins) 3:23
Side Two:
"Thousand Years" (Greg Grace) 3:13
"Train Ride" (Terry Wilkins) 2:43
"Green Patch" (Greg Grace) 4:16
"Me And You" (Greg Grace) 4:49
"Maple Lady" (Greg Grace/Doug Rowe) 2:51
---
1974
Last Laugh (Warner WS20020, Aust.) (Capitol 11240, US) LP
Side One:
"Turn Away" (Doug Rowe) 3:40
"Morning Sets You Free" (Doug Rowe) 3:07
"Rock & Roll Woman" (Steven Stills) 2:50
"Jabber Jabber" (S.A.R. See/L.J. Reid) 4:36
"Wake Up Wake Up" (S.A.R. See/L.J. Reid) 4:37
Side Two:
"Round and Round" (Doug Rowe) 3:19
"Requiem" (S.A.R. See) 4:24
"You're Not To Blame" (S.A.R. See/L.J. Reid) 3:54
"Ontario Spring" (Doug Rowe) 3:17
"Hemmings Farm" (S.A.R. See) 3:06
"Last Laugh" (C. Bernard Walker) 0:11
---
1977
Steam Trains & Country Days (EMI EMA 326) LP
Side One:
"Hayride" ( Cason-Gayden )
"La La" (Cason-Gayden)
"Run, Run, Run" (Doug Rowe)
"She Don't Care About Time" (Gene Clark)
"The Last Train" (Doug Rowe)
"All Fall Down" (Fletcher-Flett)
"I Remember Jo'Anne" (Doug Rowe) 2:49
3667" (Wynne)
Side Two:
"Silvertown Girl" (Doug Rowe)
"Giselle (Doug Rowe)
"Israel" ( Red McKelvie)
"Kempsey Mail" (James Wynne)
"Turn Away" (Doug Rowe)
"The Longest Day" (Terry Wilkins)
"Ballad Of Sacred Falls" (Terry Wilkins/Sam See)
"Reprise: Goodnight Irene" (Leadbetter/Lomax)
Compiled and annotated by Glenn A. Baker
---
June 1995
Best of Flying Circus 1969-71 (EMI 814170) CD
Hayride" (Cason-Gayden) 2:16
La La (Cason/ Gayden) 2:10
"Run, Run, Run " (Doug Rowe) 2:10
"She Don't Care About Time " (Gene Clark) 2:35
"The Last Train" (Doug Rowe) 2:30
"All Fall Down" (Fletcher/Flett) 2:49
"I Remember Jo'Anne" (Doug Rowe) 2:49
"3667" (Wynne) 3:14
"Silvertown Girl " (Doug Rowe) 2:32
"Reprise: "Goodnight Irene" (Leadbetter/Lomax) 0:59
"Giselle " (Doug Rowe) 3:10
"Israel " (Red McKelvie) 3:31
"Kempsey Mail " (James Wynne) 4:20
"Turn Away" (Doug Rowe) 3:50
"The Longest Day (Terry Wilkins) 3:23
"Ballad Of Sacred Falls" (Terry Wilkins/Sam See) 4:25
Finding My Way " (Terry Wilkins/Sam See) 3:24
Early Morning " (B.J. Harvest) 2:28
"Shame, Shame" (Colley/Colley/Henderson) 3:07
Groovy Night " (Doug Rowe) 2:18
"I Think I'm Gonna Feel Better " (Gene Clark) 2:30
"So You Want To Be A Rock & Roll Star " (McGuinn/Hillman) 2:18
"Twilight Journey " (Doug Rowe) 1:56
"To Put Up With You" (Williams/Nichols) 3:40
"You Ain't Going Nowhere (Dylan) 2:40
CD version of the Steam Trains & Country Days LP with nine extra tracks added.
Compiled and annotated by Glenn A. Baker
References / Links
Our sincere thanks Greg Quill Doug Rowe, Sam See and Terry Wilkins for their invaluable assistance, and also to Tom Magsuball, Les Brown and especially Jeremy Smallhorn for invaluable assistance with track listings, graphics and additional information.
Glenn A. Baker
Liner notes for the Steam Trains & Country Days compilation LP (EMI EMA 326) 1977
Paul Conn
2000 Weeks: The First 30 Years of Australian Rock (Moonlight PubliclsSubHeading, 1996)
Vernon Joyson
Dreams, Fantasies & Nightmares - Australia (Borderline Books, 1995)
Events in Canadian Rock - May
http://bodzie.freeservers.com/History/may.html
"Highway To Hell" AC/DC and Bon Scott Site - Sam See Interview
http://www.buoy.com/~bonfire/interviews.html
Bernie Howitt
Rock Through History (Longman Cheshire, 1994)
Jam! The Canadian Pop Music Encyclopedia
http://www.canoe.ca/JamMusicPopEncycloPagesF/flying.html
Ian McFarlane
Encyclopedia of Australian Rock & Pop (Allen & Unwin, 1999)
Noel McGrath
Australian Encyclopedia of Rock (Outback Press, 1978)
Sam See
Email to the author, November 2002
Chris Spencer, Zbig Nowara & Paul McHenry
Who's Who of Australian Rock (Five Mile Press, 2002)
Terry Wilkins -- Swing Gang Deluxe
http://www.torontobluessociety.com/9910cov_swing.htm
James Wynne - Snowy Art
http://www.snowyart.com.au/james_wynne.htm
Rob Breese & Doug Rowe
http://www.robbreese.com.au/5.html
The Woodpickers
http://members.ozemail.com.au/~woodpicker/