ZOOT
Adelaide - Melbourne 1965-71



First lineup, Adelaide 1965-68
(Note: the band was originally called Down The Line in 1965-66 and was renamed Zoot in 1967)
Beeb Birtles (vocals, bass)
Daryl Cotton (lead vocals, guitar)
John D'Arcy (guitar, vocals)
Ted Higgins (drums)

Second lineup, 1968
Beeb Birtles (vocals, bass)
Daryl Cotton (lead vocals, guitar)
Ted Higgins (drums)
Rick Brewer (drums) 1968
Steve Stone (guitar) 1968

Third lineup, 1969-71
Beeb Birtles (vocals, bass)
Daryl Cotton (lead vocals, guitar)
Rick Springfield (guitar, vocals)
Rick Brewer (drums) 1968-71
History
Zoot became one the most popular Australian bands of the second 'pop wave' of the late 'Sixties when they and other acts like The Valentines, the Masters Apprentices, Russell Morris and The New Dream were scoring hits and causing riots. Like so many groups at the time, Zoot were drawn along by the rapid stylistic shifts of that uncertain period and they suffered under some ill-advised management decisions that led to them being tagged as a lightweight 'bubblegum' act — an undeserved reputation which overshadowed their fine musicianship and their genuine desire to be taken seriously. Ironically, they're probably best remembered these days for the 1970 single that they hoped would scuttle their pop image for good — their classic heavy-metal version of The Beatles' "Eleanor Rigby" — and also for the fact that Zoot was first successful outing for two future stars -- solo performer and soapie heart-throb Rick Springfield, and Little River Band lynch pin Beeb Birtles.
Zoot was one of several significant Aussie bands that emerged from the fertile musical hothouse of Adelaide in the mid-1960s -- the same scene that produced The Masters Apprentices and The Twilights. Zoot started out as one among scores of hopeful young beat groups who that formed in and around the migrant settlement suburbs around the South Australian capital of Adelaide. New satellite suburbs such as Elizabeth and Port Noarlunga were established in the 1950s to receive the huge influx of "New Australians", and many of the young British kids who settled there with their families had actually seen the leading British beat groups in person before leaving for Australia.
In this respect the scene was similar to Sydney, where the Villawood Migrant Hostel and its surrounding areas spawned The Easybeats. Australia's greatest beat group. The Twilights, another band comprised of migrant lads, were the first Adelaide group to break nationally in late 1965, and they were quickly followed by The Masters Apprentices, who had honed their chops playing for the young migrant audiences at the same clubs and local dances before shooting to national prominence in 1966.
The founder members of Zoot were English-born John D'Arcy and Netherlands-born Gerard Bertelkamp, who became mates at Plympton High School. They used to get together after school to rehearse songs and harmonies by their idols -- acts like The Hollies and The Who. John, a recent arrival from Manchester, worshipped hometown heroes The Hollies, and his love of their distinctive close harmony style soon rubbed off on Gerard, who had a strong musical background himself, with both parents having both sung in amateur operetta productions in the Netherlands.
Together with drummer Ted Higgins and an unnamed bass player, John and Gerard formed their first band, named Times Unlimited in 1966. They only played one gig at a scout hall before the bass player decided to leave. John told Gerard (who was universally known by his high school nickname, "B.B.") that he would have to learn to play bass guitar and sing at the same time. Fortunately, B.B. was up to the task, so they hand-made B.B.'s bass guitar and began to practise. Next, they recruited singer Darryl Cotton from another local band, The Murmen, and changed the name to Down The Line, taken from the Hollies song of the same name.
Gerard's nickname also took on its final form, thanks to Daryl Cotton, as Beeb explained to the ABC's David Kilby in 1999:
Beeb: "When I was going to Plympton high school, there was a cartoon series on TV called The Dick Tracy Show, and they had all different characters in it, like Mumbles and a little Chinese character. But there was also a character called Bee-Bee-Eyes! And, I don't know why this happened, but the kids at school started calling me Bee-Bee-Eyes, which got abbreviated to Bee-Bee, and for most of my years in high school I was known as Bee-Bee. And then it was Daryl Cotton who abbreviated that to Beeb, and so it kinda stuck, and became my professional name. Because my last name is actually Bertelkamp, which is very Dutch-sounding, so I abbreviated that to Birtles and anglicised the spelling of it, and that's how I got my name."
Down The Line played regularly around Adelaide during 1966, and they became friendly with local heroes The Twilights, often catching their sets on Friday nights at the Caledonian Hall in King William Street (not far from the pub where The Masters Apprentices rehearsed). Religiously each Sunday morning, the group would tape the ABC radio replay of British TV's "Top Of The Pops" and work out their own stage versions of hits by the mod icons of the day, The Move, The Small Faces The Who and their beloved Hollies, songs that would usually not be released until weeks or months later in Australia. Like The Twilights, Down The Line's ability to perform note-perfect renditions of current overseas hits gave them a strong appeal with local Mods.
Daryl: "We were the mod band in Adelaide, we played the mod dance at Scot's Church every Friday night."
By 1967 Down The Line had become a hot live attraction, and like many other bands they supplemented their gigs by backing visiting solo singers. It was a common practice at that time for established local groups to provide backing for solo artists, and solo singers like Ronnie Burns and Russell Morris often had a roster of bands in each major city that they could call on for backing when they toured.One such singer, with whom they worked on several occasions, was a young English-born vocalist, Johnny Farnham who had just split from Melbourne band The Mavericks.
The connections between Farnham and Zoot are yet to be fully clarified, but here's what we've pieced together so far: Zoot's first recordings apparently came about through them backing Farnham when he played in South Australia. He was ' discovered' by accountant-turned-pop manager Darryl Sambell, who at that time was the manager (and boyfriend) of Adelaide singer Bev Harrell. It's usually reported that Farnham was singing with Strings Unlimited when he was spotted by Sambell at a gig in Murray Bridge, South Australia, and he was signed to EMI in September 1967 but this might be a case of mistaken identity.
The source of the confusion seems to lie with Zoot's original name, Times Unlimited. Glenn A. Baker's liner notes for the EMI compilation Zoot Locker claim that the band changed its name from "Down The Line" to "Strings Unlimited", but this is incorrect. According to the Who's Who of Australian Rock, Strings Unlimited was an entirely different band, based in the Mornington Peninsula area of Victoria, who competed in the Victorian state final of the inaugural Hoadley's Battle of the Sounds, and Who's Who states that Farnham was a member of this band for about six months. Curiously though, Who's Who also lists Beeb Birtles as a member of Strings Unlimited, but this seems to be a (rare) mistake.
What is known for sure is that sometime in mi-1967, Down The Line backed Farnham on several 'demo' tracks recorded at Adelaide's Gamba Studios. One of these tracks, "Half Heaven, Half Heartache", has never been commercially released, although it did eventually surface on Volume 3 of bootleg CD-R compilation series Obscured (But Unscarred). Another of the Gamba demo tracks, "In My Room", was evidently considered good enough to be released as the B-side of Farnham's breakthrough hit "Sadie, The Cleaning Lady". It would appear that these demos were made as part of Sambell's successful bid to get Johnny signed to EMI.
Just after the recordings with Farnham, Down The Line changed its name:
Beeb: "Doc Neeson (later the lead singer of The Angels) was living in Adelaide at that time, and he was in partnership with another guy, and I think they were seeking to do a management thing or something. And they really liked the group when it was called Down The Line but they didn't like the name. And it was actually Doc Neeson who suggested: 'Y'know, you should change the name to something short and punchy like Zoot'. I think he was meaning a name that really doesn't mean anything, you know. And we didn't hear any more from those guys as far as management was concerned, but we liked the name, and that's how we came to change our name to Zoot ... To this day I've never spoken to Doc Neeson about this, or whether he even remembers saying this to us. It was just one of those things in history that happened, and then we locked into the name, and that's what we were known as."
Zoot continued to perform around their hometown for another year. By that time their The Twilights and The Masters Apprentices were established as two of the top groups in the country, and it was clear that Zoot would have to leave Adelaide if they wanted to further their careers. In mid '68, EMI producer David McKay was on the road with The Twilights, and when the tour hit Adelaide he was finally introduced to Zoot (who were one of the local support acts) by Twilights vocalist Paddy McCartney. Mackay might have already aware of them via the Farnham demos, but he was suitably impressed, and immediately offered them a recording deal:
Beeb: "Within a couple of years Zoot became a very popular Adelaide band, playing all the different places where you play in a particular town; and in late '68 we decided that we couldn't go any further in Adelaide. We had to either move or do something and that's when we decided to move to Melbourne ... At the time we were leaving Adelaide to go to Melbourne, we did some shows with The Twilights and they had another singer, other than Glenn Shorrock -- a guy called Paddy (MacCartney) was the other singer in the group. And he really loved us and brought us to the attention of EMI Records."
Daryl: "We only had homemade guitars and amps and hardly any money to go to Melbourne to make our first single. So The Twilights loaned us their incredible Marshall amps and paid our train fares across"
Checking in to Melbourne's hit factory, Armstrong's Studios, they recorded the tracks for their first single -- a dynamic psych-pop cover of Jackie Lomax's "You'd Better Get Going Now ", backed by a fairly awful novelty tune called "Three Jolly Little Dwarfs", an album track by UK psych band Tomorrow. The power-packed A-side showed off their formidable musical chops, and especially the high, bright harmonies that have become a trademark of Beeb's work. Zoot returned to Adelaide to await its release. This was to be the only commercial recording by the original Zoot lineup and John D'Arcy then left the band, to be replaced by Steve Stone. In a notable coincidence, John later joined Alison Gros with Graeham Goble, the group that evolved into Mississippi and finally LRB.
In late August Zoot made a second trip to Melbourne at McKay's behest. "McKay was pleased with the record" says Cotton, "but he insisted we needed management. The next day a fellow called Wayne de Gruchy knocked on our door". Wayne was the manager of Berties Disco and, together with owner, Anthony Knight, he came up with a masterstroke of promotion: "Think Pink - Think Zoot". Zoot's debut single was launched at a now-legendary media party at Berties on September 3. Knight decked out the disco in pink, adding accessories like pink champagne and pink carnations. The launch didn't do a great deal for the single in Melbourne --- although it reached #12 in Adelaide -- but the night was a huge success from a promotional stance -- although in the long run it took on a life of its own and became a millstone around the boys' necks.
Beeb: "... there was a guy in Melbourne who was a manager, called Wayne De Gruchy, and Wayne came over to see the group and saw a lot of potential in us becoming a very popular young band in Australia. And when they brought us over to Melbourne, he and another guy that owned the Bertie's disco in Melbourne, decided that they needed a gimmick of some sort, to really get the band going. And the image that was decided on was "Think pink - think Zoot"! It was this outrageous thing where the band dressed up in all-pink clothes, which of course, y'know, all the young girls loved us in these ridiculous outfits and all their boyfriends hated our guts, y'know? (laughs) And that's really how the whole thing came about. I always felt very, very uncomfortable dressing that way, 'cos it wasn't me. But, at the same time, it worked, and you can't knock the success that the band had over that two-year period between '69 and '71 when we travelled all over Australia and became a very popular teenybopper group ..."
A second single was quickly recorded, but this time both sides were produced and written by Twilights guitarist Terry Britten, who was then branching out into a wider role as a freelance producer and songwriter. Zoot's second single, "1 x 2 x 3 x 4", (backed by another excellent Britten original, "Sailing", was released in December '68 and it became a moderate Melbourne hit (#32). However but combined with the "Think Pink" campaign, it cemented Zoot's image as an lightweight bubblegum pop outfit.
Daryl: "We'd never really decided to go in that direction" offers Cotton, "but we played the style of the Top 40 and when it changed, we changed. By 1969 the charts were full of American bubblegum".
Shortly after the second single was recorded Higgins and Stone left the band and returned to Adelaide, but Beeb and Daryl were determined to continue, so they recruited Roger Hicks, a talented young classically-trained guitarist from the posh inner-Melbourne suburb of Toorak, and Rick Brewer , an experienced ex-Adelaide drummer, living in Melbourne, who was an old schoolmate of Beeb and Daryl's, and who had already recorded for EMI as a member of The Third Party.
Soon after the new members joined, Zoot had a narrow escape when, on 12 November, their van was hit by a car running a red light through a Melbourne intersection. The band's psychedelically painted vehicle was written off and Roger Hicks was hospitalised but fortunately his injuries were minor and Zoot were quickly back in action.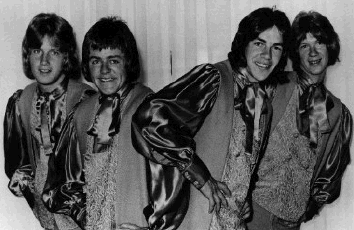 And they thought the pink outfits were bad?? Zoot Mark III, probably early 1969. (L-R) Cotton, Hicks, Birtles, Brewer
Less than a week after their car accident, on 17 November, Zoot got a major publicity boost thanks to a giant outdoor concert at the Melbourne Velodrome, jointly staged by 3XY and the TV pop show Uptight and televised on Channel 0. Zoot were bottom-billed to a swag of leading acts -- The Twilights, The Masters Apprentices, Johnny Young, Iguana, Compulsion, The Wild Cherries and The Chelsea Set -- but Zoot reportedly stole the show, which was no mean feat given the live clout of groups like the Twilights and the Masters. This was partly due to a dedicated corps of female fans, assembled for the event by fan club president Jan Gilbert. The unexpected audience frenzy they whipped up greatly impressed the Uptight production team, and they soon became regular guests on the show.
Of course there was a downside to all this teen adulation. Like The Easybeats before them, it was considered unwise for such eligible bachelors to be seen with female companions (even The Beatles' relationships and marriages were kept secret until late in their career) so Wayne de Gruchy barred Zoot from appearing in public in the company of a female. According to Glenn A. Baker, Darryl's girlfriend was forced to climb over his back fence whenever she wanted to visit him, so that she wouldn't be spotted by the diehard fans routinely camped out in front of his house.
Early in 1969, Roger Hicks took time out to join members of The Groop at the sessions for the first solo single by former Somebody's Image lead singer Russell Morris. The single, was of course "The Real Thing" and Roger's acoustic guitar part (with a little bit of added 'flanging' for the full psychedelic effect) became the instantly recognisable "hook" of the song.
It was during this period that the group parted ways with de Gruchy and signed with Johnny Farnham's management team, Darryl Sambell and Jeff Joseph -- much to the chagrin of rivals and stablemates The Masters Apprentices, who soon came to feel (with some justification) that Sambell was neglecting them in favour of Farnham and Zoot. Rivalry between the two bands was exacerbated by the fate of the Masters' first 1969 single, which bombed, while Zoot's "1x2x3x4" fared considerably better. Rightly or wrongly, the Masters blamed Sambell and Zoot for this. Matters were not helped by a confrontation later in the year at the 1969 Battle of the Sounds, when Zoot refused to let the Masters use some of their equipment.
The band gained more good exposure in Melbourne with their appearance on 12 April at another major concert at the Princess Gate Tower, alongside Doug Parkinson In Focus and The Valentines, in front of a crowd of 15,000 people.
Zoot's third single came out in June '69. The jaunty, Ian Meldrum-produced "Monty & Me" was an engaging ditty co-written by former 18th Century Quartet member Hans Poulsen and ex-Seeker Bruce Woodley. The psyched-up production, with touches of flanging, shows clear similarities with Meldrum's concurrent studio magnum opus "The Real Thing" (which was about to be released), on which Roger Hicks had played the opening guitar part.
"Monty and Me" fared rather better than its predecessor, and though it only made #33 in Melbourne, it surprisingly shot to #1 in Brisbane. It was a purpose-made "think pink" tie-in -- the 'Monty' of the title was Daryl's hapless Afghan hound, which had been roped as part of 'Think Pink' campaign, and had -- along with their car and clothing -- been dyed bright pink. It was backed by a leftover Terry Britten production "Little Roland Lost" (co-written by Beeb and Daryl, and the first of many writing credits for Beeb) with lead guitar also courtesy of Britten and featuring an interesting tremolo effect on the vocal fadeout.
In July they took to the road on their first major tour, slogging through the backblocks of Queensland alongside Ronnie Burns, Jon Blanchfield and The Sect, generating teen frenzy all along the way. In August they lost the playoff final of Hoadley's National Battle of The Sounds to Nova Express. Two months later, in September, they joined Russell Morris, Johnny Farnham, Johnny Young, Ronnie Burns, The Valentines, The Masters Apprentices and Doug Parkinson In Focus on the famous Operation Starlift, a huge (but financially disastrous) national capital city tour by the top echelon of the Australian pop world.
Around this time, EMI assigned their new house producer, New Zealand-born Howard Gable, to look after Zoot. It was a fruitful relationship, although it began with some conflict. In October, EMI released Zoot's fourth single -- the Brian Cadd/Don Mudie song "It's About Time" (backed by Rick Springfield's "Sha La La") -- but Zoot apparently knew nothing about it until they saw it mentioned in the Go-Set "New Releases" column. EMI had pressed and released it without consulting the band, and it caused a major stink. Zoot thought that the songs had only been recorded as a demos to assist in picking the tracks for their next single, and they fully expected to re-record whatever would have been finally chosen for commercial release. Zoot's strenuous public objections to EMI's cavalier behaviour virtually ensured the single's chart failure.
Just before the Operation Starlift tour, Roger Hicks decided he had had a gutful of the "pretty pink pansies" ridicule and defected to The (Brisbane) Avengers. Ironically, The Avengers settled on Hicks after missing out on their first choice, Rick Springfield.
Born in Merrylands, in Sydney's west, and based in Brisbane at the time, Rick had toured Australian military bases in Vietnam with a reformation of MPD Ltd and was playing in Pete Watson's Wickedy Wak when a Johnny Young-composed, Ian Meldrum-produced single "Billie's Bikey Boys" brought him to wider attention. At the time that Roger Hicks left Zoot, both The Avengers and The Valentines were vying for Rick's services and they were soon joined by Zoot, who had first met him during their Queensland tour. Evidently they hit it off at once, since Beeb actually sang harmonies on the Wickedy Wak single.
Rick considered all the offers and decided that his best chance lay with Zoot. If they had been good teen-idol fodder before, the arrival of Springfield took it to new heights. From the band's perspective Rick was an ideal choice, being a singer, guitarist and songwriter of considerable talent and potential, and it certainly didn't hurt that he was also extremely good looking.
In spite of some setbacks, they had a remarkably successful year, which they rounded off with a December tour of Tasmania with Russell Morris, and they made up for the Hoadley's loss by being voted 'Top Australian Group' in the 1969 Go-Set Pop Poll, beating their rivals The Masters Apprentices into second place.
Zoot's desire to rid themselves of the 'Think Pink' gimmickry (which dogged them to the end) was given added impetus by Springfield's arrival. Although he initially donned the pink outfits, his distaste for the teenybopper image was obvious and in early the new year the group ceremonially burned all the hated pink gear on camera during a TV appearance on Uptight's successor, Happening 70. Their own contempt for the image was being reinforced by outside pressures -- as well as sniping from the media and their peers, they were being subjected to some heavy abuse and harassment from audiences, which culminated in a well-publicised incident in December '69 when the group was attacked in Brisbane by a gang of louts, leaving Darryl with a mild concussion.
As Rick began adding his considerable creative input, Zoot set to work on their first and only album - Just Zoot, recorded early in 1970 and released mid-year. It was a highly creditable effort. Besides the preceding single A-sides, there were several strong originals from Rick Springfield -- "Mr Songwriter", the acidy, Who-influenced "Flying", (which suggested that Rick, for one, had been experimenting with substances not normally available over the counter!) and two more superb Britten compositions, including a magnificent rendition of Britten's "I Feel Glad", a gorgeous, Hollies-style ballad that ranks as one if the great hidden gems of 60s Australian psychedelia.
For Zoot fans, their first obvious shift in direction came in April with the release of the (Zoot-approved) fifth single, "Hey Pinky". It marked a sea change for them-- the Rick Springfield song was a blistering piece of riff-driven heavy rock, its lyrics a caustic and vehement attack on their former image and their manipulation by management and the media. It was promoted by a cheeky Go-Set ad sporting a nude rear-view shot of the group (though it has to be admitted that it probably did little to increase their credibility).
Interestingly, this seems to have been the only Zoot single from this period that didn't make the charts. A possible explanation is that the single was released at the height of the 1970 Radio Ban -- the infamous dispute between commercial radio and the record companies, during which commercial radio and record companies were boycotting each other because of a dispute over a new royalty that the record companies were demanding.
It's probable that the Ban affected the single's airplay, since Zoot's were signed to EMI, one of the group of labels that imposed the Ban. Certainly other progressively-oriented bands of the time on major labels, such as The Dave Miller Set, suffered a similar fate. Their classic single "Mr Guy Fawkes" was a major success in late 1969, went Top Ten in Sydney and was named Go-Set 'Single Of The Year', but their follow-up, a cover of Chicago's "Does Anybody Really Know What Time It Is?", released in early 1970, received virtually no airplay because of the Ban, and sank without trace. According to Dave Miller, its total failure led directly to the band splitting up a couple of months later.
Zoot were admittedly in a difficult situation. The music scene was changing fast -- the emergence of the pub rock scene in Melbourne, and the rise of the new wave of serious-minded progressive, blues and hard-rock bands like Spectrum, Chain and the new Aztecs was making teen-oriented bubblegum groups like Zoot and The Valentines look increasingly silly and irrelevant, despite their undoubted popularity with teenage female audiences.
In this respect, Zoot's fate has strong parallel to that of Sherbet in the late 70s. Like Zoot, Sherbet's main audience base was teenage girls, and their image that of a lightweight pop band -- which belied the quality of musicianship that drove the band and its music. In the latter stages of their careers, both groups struggled in vain to overcome the teenybopper tag, and in spite of the excellence of their later recordings, they were written off by the press who obviously felt that, in both cases, the bands had outstayed their welcome.
The event which really marked their intention to change took place on June 20, when the "new" Zoot played at the nationally televised Go-Set Pop Poll and literally stopped the show with a defiant performance that presaged Cold Chisel's infamous set-smashing routine at the Countdown Awards more than a decade later. With backs to the audience they slammed into a pounding, heavy-metal rendition of the Beatles' "Eleanor Rigby" that brought the house down. In the poll itself they performed rather poorly, coming in fifth behind The Masters, Axiom, New Dream and The Town Criers -- a disappointing result after their outright win in 1969. Two months later they also narrowly lost Hoadley's National Battle of the Sounds to The Flying Circus (who would soon face battles of their own over their perceived status as a bubblegum band) in a controversial decision that caused considerable resentment among die-hard Zoot fans. But these setbacks were, for a time, overshadowed by the excitement generated by their Pop Poll performance, although they still had to contend with the aggressive attitudes of male 'fans' -- on 19 July Beeb Birtles was bashed by three youths at a dance a Werribee and had to be taken to hospital for treatment.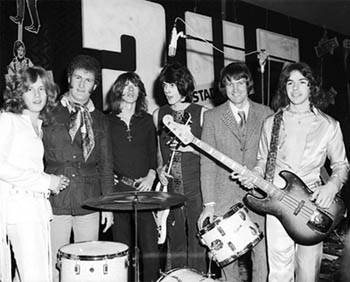 RIGHT: Zoot put on a brave face after losing out to The Flying Circus at the 1970 Hoadley's Battle of the Sounds (Photo: Laurie Richards Collection,Victorian Museum of Performing Arts)
Zoot were obviously getting inspiration from the heavy rock trends in the UK, exemplified by tracks like Black Sabbath's "Paranoid". Zoot's radical take on the melancholy Beatles classic was just one of a series of contemporary faves they reworked in similar fashion for their live set, including The Beatles' "Hello, Goodbye", Joni Mitchell's "Woodstock" and Donovan's "Hurdy Gurdy Man". According to Beeb, "Eleanor Rigby" was one of their most popular stage numbers. After the strong reaction to the Pop Poll performance, Gable insisted on "Eleanor Rigby" as the next single and it was duly released in December 1970.
Beeb: "Well, y'know, Zoot were making the transition from being the "Think pink, think Zoot" thing, which was really starting to get old with us, and the majority of us hated wearing those pink clothes. So it was around the time when music was getting heavier. Black Sabbath was starting to release their records and it was shortly before Led Zeppelin came along -- Deep Purple and bands like that. So we started taking a lot of the well known hit songs, you know, top forty songs and giving them a heavier treatment. And "Eleanor Rigby" wasn't the only song that we treated like that -- we did some songs by Neil Diamond, we did a version of "Summer In The City", that was kind of our own version. But it was the version of "Eleanor Rigby" that Rick Springfield had a lot to do with ... because of the distinctive guitar riff that opens that song. And it became so popular with our live audiences that we decided to record that song ... It wasn't that long after The Beatles and the treatment definitely was very different. In fact, we got some very irate reactions from people who just absolutely loved The Beatles' version and hated our version of the song!"
The single got an equally strong but positive response from radio, who picked it up on the day of release and by the first week of the new year it was in the national Top 5, eventually peaking at #3 during its 21-week chart run. Unfortunately sales fell just short of gold single status at the time, although that was rectified in 1979 after a re-release (urged by Birtles and Cotton).
In retrospect, it's a shame that Zoot weren't able to develop further during this final progressive phase of their career. Some pop-loving critics have dismissed this move into heavier music as a mistake, and Glenn A. Baker damned them with faint praise in his liner notes to Zoot Locker, dismissing them as "a simple pop-rock band". Such criticism is ironic, considering that Adelaide rivals The Masters Apprentices have been lionised for making the same transition from pop idols to serious rock band.
Notwithstanding Baker's somewhat jaundiced view of the music scene in the early 70's, it's clear that Zoot were both hip to the changes and very keen to be taken seriously. They undoubtedly had the chops as a performing and recording unit, and on the evidence of the Springfield-penned songs from this period, and his burgeoning talent as a songwriter, it's quite likely that they could have matured into a very significant band in the early '70s. It's also worth remembering that Beeb was just beginning to develop as a writer. It's anyone's guess what might have happened if Zoot had been able to take up the offers to tour and record in America. but given the subsequent success there of both Rick Springfield as a solo artist, and Beeb Birtles as a principal writer in LRB, it's a tantalising thought.
This success of "Eleanor Rigby" confirmed the band's judgement that they should play heavier, louder and more complicated music, and they were determined to stick it to their critics by winning over the "head" audience. According to Glenn A. Baker, Rick Brewer was a prime mover in this, due to his obsession with British progressive rock, but there's little doubt that Rick Springfield, who was rapidly developing both as a writer and a guitarist, had a great deal to do with the group's new 'heavy' direction.
Daryl: "We really began to fire as a band then, but it was a bit too late - we just couldn't escape our image. The pink thing haunted us."
Their excellent follow-up single, the Springfield-penned concept piece "The Freak" / "Evil Child" should have continued their success, and it still stands up well against the work of their contemporaries like Blackfeather and The Masters Apprentices. The ambitious A-side "The Freak" is an impressive work, but to be fair it was probably just too left-field to have been successful in the charts and in retrospect it's likely that they would have done better if radio had flipped the single and played using the bluesy, brass-driven B-side "Evil Child", which is similar in sound to the Masters Apprentices classic "5:10 Man". In the event, the new single fared relatively poorly after the huge success of "Eleanor Rigby" reaching #27 in Melbourne only.
Zoot battled on through the watershed year of 1970, but by early 1971 the frustrations of their loss to Flying Circus in the 1970 Battle Of The Sounds and the poor showing of "The Freak" led to rumours of an impending break-up, fuelled by reports that Birtles might be called up for National Service, and that Springfield was being courted to pursue a solo career (which was true) and that he had threatened to leave the band unless they went to the US. The crunch came in May when RCA America -- who were very excited about "Eleanor Rigby" -- were thwarted in their attempts to secure Zoot for a US deal because of work visa problems. With their chances of heading overseas success thwarted, Zoot announced their split later that month.
After Zoot ...
Daryl and Beeb stuck together and formed a soft-rock/harmony duo called Frieze, which brought with it some rather amusing problems, as Beeb recalled:
"Well, it had a fashion connotation only because we were sponsored by a suit manufacturer called Frieze Brothers. In fact, the story is actually a lot more embarrassing ... Because, when we first met with these advertising people -- Frieze Brothers was one of their clients -- they came to us with the idea that they wanted us to form another group. And they wanted each of the guys in the band to be named after a material, meaning like a cloth material. So Darryl Cotton was fine! But, you know, they wanted me to change my name to Terry Lene and I was to have a brother called Crimp! And so, we had just come outta the Zoot thing and we just laughed in these guys' faces and said 'Listen, you can't be serious -- we've just come from out of "Think pink, think Zoot" -- we've been there and done that!' And so we talked them into doing a duo idea, and that's where the suits came in, you see?"
Frieze issued a cover of the Barry Mann/Cynthia Weil song "Feelings" (September 1971) as a single on Robie Porter's Sparmac label, which was a minor hit in Melbourne. The duo originally performed using backing tapes, but later drafted in former Brisbane four-piece Burke & Wills as its backing band. Using an all-star lineup including Brian Cadd, Barry Sullivan, Ray Arnott, and Phil Manning, Frieze recorded the album 1972 BC for the recently established Australian divison of the Warner Brothers labels. They released two singles, "Try Yourself" and the awfully-titled "Why Do Little Kids Have to Die?". Daryl and Beeb dissolved the partnership in June 1972 and Daryl left for the USA the next month.
Thanks to Jean Gair of the AMBO agency, Beeb scored a job answering phones at the AMBO office for $50 a week. It was there that took a call from someone who was trying to contact him -- it was Graeham Goble (Alison Gros, Drummond) who invited Beeb to join his new group Mississippi; they had some local success under that name, tried their luck in England for a while, and then re-organised in 1975, bringing in Beeb's old Adelaide colleague and ex-Twilight Glenn Shorrock as lead singer. Renamed The Little River Band, they enjoyed huge success and acclaim, becoming the first Aussie band to finally achieve major and consistent commercial success in the USA through the late '70s and early '80s, with a string of hugely successful albums and singles to their credit.
Rick Brewer worked in a succession of bands including I'Tambu and Jim Keays' Southern Cross (1976) before joining The Ferrets, playing on their national #1 hit "Don't Fall In Love", in 1977 and the album Dreams Of A Love. He later joined the Motivators (1980-82)
Rick Springfield launched his solo career, signing to Robie Porter's Sparmac label, then shifted base to the west cost of America, where he began forging a new career as a solo artist. After a lengthy struggle, during which he recorded his solo hit "Speak To The Sky", he established himself in Los Angeles and eventually broke into TV, where he enjoyed a highly successful career, including a long-running part in the TV soapie General Hospital. The TV fame also helped to rekindle interest in his music and he scored a major international hit in the 80s with the single "Jessie's Girl" and the album Working Class Dog. He has been a popular recording and performing artist ever since, as witnessed by the many fan site on the WWW. For more on the Rick Springfield story, see our MILESAGO page on Rick, or see our Links section below to connect to the many fan sites about him.
Daryl Cotton left Australia in July 1972, and travelled to the UK where he worked for several months with Mick Flynn (ex-Mixtures). In early 1973 he received an offer to join a band in the US called Friends (not to be confused with the Australian band of the same name, led by Leo De Castro) with American Michael Lloyd and fellow Aussie expatriate Steve Kipner (ex-Steve & the Board, Tin Tin). Friends signed to Warners and issued one self-titled album, plus a couple of singles including a cover of the Vanda and Young classic "Good Times", retitled "Gonna Have a Good Time" (b/w "Would You Laugh?" (1973). The A-side was a cover of (later covered by INXS and Jimmy Barnes), which was rather curiously credited to Vanda-Young-Cotton-Lloyd-Kipner on the record label.
Cotton and Lloyd continued as Cotton, Lloyd & Christian with new member Chris Christian. The vocal trio recorded a self-titled album for 20th Century which was also used as the soundtrack to the 1976 US teen film The Pom Pom Girls directed by Joseph Ruben. Cotton Lloyd & Christian issued the single Crying in the Rain in April 1977, after which Daryl toured as guitarist and backing vocalist for Olivia Newton-John before returning to Australia in early 1978.
Daryl signed to Ross Wilson and Glenn Wheatley's Oz label (through EMI) and issued the single "Don't Let It Get to You" / "Can't Face the Music" (August 1978), which charted in Melbourne, peaking at #22 during October. In January 1979, Cotton was in Adelaide hosting the television pop show "Summer Rock" for the Nine Network. He issued two more singles on Oz, a cover of Hall and Oates' "I Don't Want to Lose You" / "Let the Music Take You Away" (February 1979) and "Glamour Girl" / "Childish Games and Foolish Pride" (July) before turning to acting. Cotton appeared in the Nine Network's soapie The Young Doctors for a season, before hosting another series of 'Summer Rock'.
In 1980, he signed to EMI and enjoyed his biggest solo hit when "Same Old Girl" / "What'cha Gonna Do?" (February 1980) reached #6 on the national chart in April. The single came from his debut solo album Best Seat in the House, which had been produced by his old bandmate Chris Christian. Daryl then formed a backing band, dubbed The Charts, which comprised Joey Amenta (lead guitar; ex-Taste, Redhouse, Russell Morris Band), Randy Bulpin (guitar; ex-Mondo Rock), Terry Davidson (keyboards), Simon Gyllies (bass; ex-Mondo Rock) and Andy Buchanan (drums). The band toured the Australian pub circuit with some success. Cotton issued three more singles on EMI, "Here Comes Another Heartache" / "Dance" (June 1980), a cover of the Bacharach-David standard "My Little Red Book", backed by a cover of the Small Faces' "Rollin' Over" (May 1981) and "Nice Girls" / "All Nite" / "Break Out Tonight" (November). Cotton's 1981 touring band, The Divers, comprised Amenta, Davidson, Spiro Philipas (bass) and Robert Ross (drums).
In July 1983, Daryl issued a duet single with Heather Favell on CBS, "Baby You're Changing" / "No One Wants to Dance", and in 1984 he cut an album of rock'n'roll standards for the Hammard label called Rockin' Good Fun. After this, Daryl retired from live performances for almost a decade, returning to television to host the Ten Network's Saturday morning children's show The Early Bird Show, with puppet partner 'Marty the Monster'. Since 1996, Cotton has toured with his old '60s pals Russell Morris and Ronnie Burns, who was replaced by Jim Keays after Ronnie's retirement from music, playing the revival circuit. The three issued a self-titled album during the year, comprising three solo recordings by each, plus three new recordings by the trio.
Discography
Like many on EMI's Australian roster, Zoot has been rather poorly served in terms of reissues. In the late 80s Glenn Baker compiled the Zoot Locker anthology, which was reissued on CD in 1995, but this omitted a couple of fine tracks from the Just Zoot LP ("Shake a Feather" and "Who's Afraid of You") and the excellent "Turn Your Head" (B-side of Eleanor Rigby"). To date there has been no complete commercial reissue of the Zoot catalogue.
Singles
Aug. 1968
"You'd Better Get Going Now" / "3 Jolly Little Dwarfs" ( Columbia DO-8438)
Jan. 1969
"1x2x3x4" / "Sailing" (Columbia DO-8605)
Jun. 1969
"Monty & Me" / "Little Roland Lost" (Columbia DO-8801)
Oct. 1969
"It's About Time" / "Sha La La" (Columbia DO-8930)
Apr. 1970
"Hey Pinky" / "Strange Things" (Columbia DO-9169

Feb. 1970
"Eleanor Rigby" / "Turn Your Head" (Columbia DO-9317)
Apr. 1971
"Evil Child" / "The Freak" (Columbia DO-9434)

1979
"Eleanor Rigby" / "Turn Your Head" (Columbia DO 11929)
EPs
1969
4 Shades Of Pink (Columbia SEGO 70191)

Albums
Jul. 1970
Just Zoot (Columbia SCXO-7916)


"It's About Time" (Brian Cadd-Don Mudie)
"Feelings"
"Flying" (Springfield)
"Hey Mr Songwriter" (Springfield)
"Monty & Me" (Poulsen-Woodley)
"1 x 2 x 3 x 4" (Britten)
"Sailing" (Britten)
"Sha La La" (Springfield)
"Shake a Feather"
"She's Alright" (Britten)
"Who's Afraid of You"
"Yes I'm Glad" (Britten)
---
1971
Zoot Out (Columbia SOEX 9842) LP


"Eleanor Rigby" (Lennon-McCartney)
"Evil Child"" (Springfield)
"Flying" (Springfield)
"The Freak" (Springfield)
"Hey Pinky" (Springfield)
"Monty & Me" (Hans Poulsen-Bruce Woodley)
"It's About Time" (Brian Cadd-Don Mudie)
"Mr Songwriter" (Springfield)
"1 x 2 x 3 x 4" (Terry Britten)
"Strange Things" (Springfield)
"Turn Your Head" (Springfield)
"You Better Get Going Now" (Jackie Lomax)
---
1980
Zoot Locker (EMI EMY 502) LP; (814832) CD


"You Better Get Going Now" (Jackie Lomax)
"1 x 2 x 3 x 4 "(Terry Britten)
"Monty & Me" (Hans Poulsen-Bruce Woodley)
"It's About Time" (Brian Cadd-Don Mudie)
"Sailing" (Terry Britten)
"Yes I'm Glad" (Terry Britten)
"Little Roland Lost" (Cotton-Birtles)
"She's Alright "(Terry Britten)
"Sha La La" (Springfield)
"Flying" (Springfield)
"Mr Songwriter" (Springfield)
"Strange Things "(Springfield)
"Hey Pinky" (Springfield)
"The Freak" (Springfield)
"Evil Child" (Springfield)
"Eleanor Rigby" (Lennon-McCartney)
References/Links
Glenn A. Baker
liner notes to Zoot Locker (EMI, 1980)
Beeb Birtles
interview with David Kilby, 2CN Canberra, October 1999
Noel McGrath
Encyclopedia of Australian Rock (Outback Press, 1978)
Ian McFarlane
Australian Encyclopedia of Rock & Pop (Allen & Unwin, 1999)
Rate Your Music - Zoot
http://rateyourmusic.com/artist/zoot
Beeb Birtles official website
Rick Springfield
There are heaps of Rick sites on the web, including:
www.rickspringfield.com - the official site
Still Crazy For Rick - the Rick's Loyal Supporters Fan Club page
Okielady's Rick Springfield Site