THE CAPTAIN MATCHBOX WHOOPEE BAND
Melbourne, 1969-1980



Jim Conway (harmonica,kazoo, vocals)
Mic Conway (vocals, washboard, ukelele)
with:
Tony Burkys (guitar) 1978-79
Stephen Cooney (guitar) 1978-80?
Chris Coyne (sax, flute) 1979-80
Mick Fleming (banjo, mandolin, guitar, vocals) 1969-73
Dave Flett (electric bass, slide dobro, backing vocals, ukelele) Nov 1973 Nov? 1976
Geoff Hales (drums, washboard) Nov 1973 - 1975
Dave Hubbard (guitar) 1969-73
Peter Inglis (guitar, vocals) 1969-73
Graeme Isaac (drums, washboard) 1976-77
Rick Ludbrook (guitar, sax) 1976-78
Eric McCusker (guitar) 1979-80
Gordon McLean (banjo, mandolin, guitar, vocals) 1976-
Louis McManus (guitars, fiddle,mandolin, banjo etc ) 1978-80
Peter Martin (guitar) 1980
Peter Muhleisen (bass) 1976-1980
Jim Niven (piano, pedal organ) 1969-76
Fred Olbrei (violin, vocals) Nov 1973-1976
Manny Paterakis (drums, washboard) 1974-76
Robert Ross (drums) 1979-80
Jack Sara (violin, vocals) 1976
Peter Scott (tea chest bass) 1969-73
Jon Snyder (guitar) Jan? 1974-?
Colin Stevens (mandolin, blues harp) 1976-7
Chris Worral (banjo, mandolin, guitar, vocals) 1975-76
History
If asked to name the most entertaining and best-loved Australian band of the early '70s, it's a fair bet that most young people who lived through that period would nominate The Captain Matchbox Whoopee Band. This crazily brilliant Melbourne-based ensemble played a uniquely Aussie brand of jug-band blues, spiced with jazz, swing, popular standards, cabaret, sideshow alley schtick and vaudeville routines including slapstick, tap dancing, juggling, magic and even fire-eating.
An obvious and common comparison would be England's Bonzo Dog Doo Dah Band, but it would be quite wrong to label Matchbox as mere copyists -- in fact Mic Conway has said that didn't hear the Bonzos until long after Captain Matchbox had been formed. The Conway brothers were born into a family with strong background in music and popular entertainment, particularly vaudeville theatre and opera -- their grandfather was an original vaudevillean, and their Aunt Lyla was a dancer on the famed Tivoli circuit.
As related in the documentary film The Jim Conway Blues, Mic and Jims father (a wool buyer) tried to dissuade his children from the uncertainty of a musical career, to no avail. The greasepaint obviously ran in the veins of his illustrious scions; as well as Mic and Jims well-known exploits, their sister Janie is also a noted musician whose credits including the late '70s Melbourne new wave band Stiletto with Jane Clifton.
As teenagers at Melbournes Camberwell High School, Mic and Jim formed the forerunner to Matchbox, The Jellybean Jug Band and entered the school's annual talent quest "for a laugh" but they annihilated the competition, as this former CHS student recalls:
"I remember standing in the packed gym, watching the Jelly Bean Jug Band -- with Mic on ukelele, washboard and the whisky keg (filled with jelly beans which were thrown at the audience after the performance! Jim played the kazoo and harmonica (and later became Australia's best proponent of that instrument) The whole gym erupted into cheers when they won the event ... we all knew they were talented and SO different. Jug band music in 1969 was a new sound to us. When they evolved later into Captain Matchbox, their first album, Wangaratta Wahine was the most popular LP around. It was everywhere. I still treasure my copy.
After high school Mic and Jim founded their first professional band, The Captain Matchbox Whoopee Band, which centred throughout its life on the Conway brothers. Their inspirations came from their family background in vaudeville, and in particular from Mics fascination with the family collection of vintage 78rpm records of music by Fats Waller, Jelly Roll Morton and other classics of jazz, swing and hot music. In a recent interview with the Sydney Morning Herald, Mic also named American satirical composer Tom Lehrer as one of his musical idols.
Probably the very first film of the band's in its earliest days (which was featured in the Jim Conway documentary) was captured on film by their neighbour and fellow CHS student Chris Lofven, who went on to be a pioneer of Australian music video. Chris is well known for the classic film-clips he made for Spectrums "I'll Be Gone" and Daddy Cool's "Eagle Rock " in 1971, and directed the cult road 1976 movie Oz. These wonderful images of the original Captain Matchbox were taken from Chris Lofven's experimental short film 806, which also includes priceless footage of Sons of the Vegetal Mother, Myriad and Quinn. Happily, this long-unseen short is now available as a bonus feature on the DVD edition of Oz.
Captain Matchbox emerged at a time when there was a vogue for these styles and they were contemporary with similar local acts such as The 69-ers, Starving Wild Dogs, The Original Battersea Heroes, The Gutbucket Blues Band, The Stovepipe Spasm Band and The Moonshine Jug and String Band (which later evolved into The Angels). Billed as Australias loudest jug band, the unique, irreverent Matchbox style was a hit on the theatrically inclined Melbourne underground scene and they became a regular attraction at venues like the TF Much Ballroom and the Thumpin' Tum, alongside acts such as Spectrum, Daddy Cool and Jeff Crozier.
Their popularity with so-called head audiences was doubtless enhanced by their repertoire, which was liberally spiked with covers of classic jazz and blues numbers that contained thinly-veiled dope references -- songs like "Smoke Dreams", "If Youse A Viper", "That Cat Is High" and "My Canary Has Circles Under His Eyes".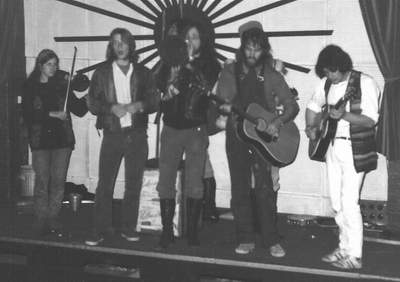 Their first mainstream exposure came through an appearance in Tim Burstall's 1971 film Stork, starring Bruce Spence and Jackie Weaver. During the year they also performed in Sydney at The Yellow House, the famous multimedia gallery/performance space set up by artist Martin Sharp, which operated during 1970-71.
The band signed to Image Records in 1972 and issued their debut single "My Canary Has Circles Under His Eyes", which was a Top 40 hit in Melbourne in November. During the year a brief snippet of their TF Much Ballroom act (performing "Who Walks Out When I Walk In") was captured (in colour) by film maker Peter Weir in his short documentary Three Directions In Australian Pop Music, which also featured performances by Spectrum and Wendy Saddington & Teardrop. Matchbox also featured in an episode of GTK, where they were interviewed by reporter Jeune Pritchard and gave a live-in-the-studio performance of "Mobile Line".
In June-July of 1972 Captain Matchbox supported folk legend Phil Ochs on his first tour of Australia. Their next single "I Can't Dance (Got Ants in My Pants)" / "Jungle Dance" was released in April 1973 and their debut album Smoke Dreams was released in June. The album was comprised entirely of 1930s and 1940s jazz, blues and jug-band standards. The lineup for these recordings was Mic (vocals, washboard, ukelele), Jim (harmonica, kazoo, vocals), Dave Hubbard (guitar), Peter Inglis (guitar, vocals), Peter Scott (tea chest bass), Mick Fleming (banjo, mandolin, guitar, vocals) and Jim Niven (piano, pedal organ).
Image also arranged a reciprocal deal with the American ESP label, whereby ESP released Smoke Dreams in the USA, while Image released the LP Godzundheit by American band The Godz. The ESP version of Smoke Dreams was also remixed and released in the then newfangled Quadraphonic audio format, and this version of this LP is evidently now something of a collector's item for Quad fanatics.
Sometime during 1973 Image also released an Captain Matchbox EP, entitled Matchbox Madness. By this time the EP had all but died out as a viable format for pop-rock releases, and the paucity of information about it suggests that it is now quite rare, and probably a valuable collector's item. If anyone can tell us more about it, or provide a tracklisting and/or a photo of the cover, we'd love to hear from you!
By November 1973 the line-up had changed to the Conway brothers, Jimmy Niven and Mick Fleming with new members Geoff Hales, Fred Olbrei and Dave Flett (ex-Lipp and The Double Dekker Brothers, Armadillo). Jon Snyder (guitar) joined at the beginning of 1974, and their next single, a cove of the Fats Waller classic "Your Feets Too Big" came out in February 1974, followed in July by their inimitable reading of the tango classic "Hernando's Hideaway", a tribute to another of Mic's idols, Spike Jones . The B-side "Wait For Me Juanita", written by Mic and Dave Flett, was one of the first original Matchbox compositions to be released.
Another Conway-Flett original, "Wangaratta Wahine", became the title track to and first single from the band's breakthrough second album, which came out at the end of 1974. The LP featured the classic cover design by cartoonist Michael Leunig which won the award for Album Cover of the Year in 1974. Assisted by their memorable first appearance on Countdown, performing "Wangaratta Wahine", the album became their biggest success, peaking at #4 on the national charts by August 1975.
During 1975, Fleming and Hales left to be replaced by Chris Worral (ex-Pelaco Brothers) and Manny Paterakis (a former member of Armadillo with Dave Flett and The Ferrets Bill Miller). Mushroom signed the band after their Image contract expired and issued the satirical single "Australia" in October 1975 and the album Australia. Another entertaining mix of originals and covers the album included songs like "Cocaine Habit", "Sweeny Todd the Barber", Noel Coward's classic "20th Century Blues" and the Matchbox fan favourite "Masochism Tango". In keeping with the band's loopy sense of humour, the album credits listed Mic as "Microphone" Conway and Worral as "Christmas" Worral.
There were more line-up changes in 1976 with Jack Sara replacing Olbrei, Graeme Isaac replacing Paterakis, Gordon McLean replacing Worral, and Jimmy Niven leaving to join the newly formed Sports. The band's old label, Image, issued the perennial compilation album Making Whoopee (October 1976), which featured alternate versions of some of the best tracks from the first two LPs.
Captain Matchbox had a long association with Melbourne's alternative theatrical scene, notably Melbournes La Mama and Pram Factory theatres, and in late 1976 this led to the creation of a new performing entity dubbed Soapbox Circus, which combined the talents of Matchbox and the Australian Performing Group. By this time Flett had left (he went on to a stint in Redgum in 1980s) and two new members, Peter Mulheisen (bass) and Rick Ludbrook (guitar, sax) had joined. The new group recorded the live album The Great Stumble Forward at the Pram Factory, the single "If I Can't Hav-Anna in Cuba" / "Chiropodist Shop", and appeared in the play Smackin' The Dacks. In 1978 Soapbox Circus evolved into the now world-famous Circus Oz, of which Mic was a founding member.
By 1978 the band was known simply as Matchbox with the line-up now comprising Mic, Jim, Ludbrook, Mulheisen, McLean, Tony Burkys (guitar, ex-Original Battersea Heroes) and Stephen Cooney (guitar, later of Redgum), who was replaced by Louis McManus (ex-Bushwackers). Matchbox released the Slightly Troppo album, and the delightful single "Sleep" (June 1978), followed by "Love Is Like A Rainbow" (January 1979), as well as making an appearance in Tim Burstall's 1979 feature film version of the Jack Hibberd play Dimboola.
By mid-1979, the line-up of the Conways, McManus and Mulheissen had been augmented by Robert Ross (drums, ex-Manning), Eric McCusker (guitar) and Chris Coyne (sax, flute). That version of the band introduced a more rock-oriented sound, but it lasted only about a year; McCusker left to join Ross Wilson's Mondo Rock and was replaced briefly by Peter Martin. IN itsw final incarnation as The Matchbox Band, the group released one last recording, an independent single, "Juggling Time" / "Dirty Money", before breaking up in September 1980.
After Matchbox ...
The Conway brothers next project was The Hotsie Totsie Band in 1981, Carnival in 1983 and The Conway Brothers Hiccups Orchestra in 1984. Carnival comprised Mic, Jim, Palz (lead vocals), the erstwhile Jimmy Niven (ex-Sports), Kim Cook (guitar), Kim Constable (bass; ex-Ratbags of Rhythm) and Warwick Kent (drums; ex-Ratbags of Rhythm). The Hiccups Orchestra issued a self-titled album on Larrikin in 1987 mixed Thirties and Forties standards with contemporary satire, and they released the Louis Jordan song "Choo Choo Ch' Boogie" as a single. After the Hiccups Orchestra folded in 1988, the Conway brothers pursued separate careers, Jim with The Backsliders and Mic with Mic Conway's Whoopee Band in 1989.
Although reportedly "ordered" to learn harmonica by Mic in the founding days of Matchbox, Jim soon developed into one of the most accomplished and respected blues harmonica players this country has ever produced, and his stature influence is openly acknowledged by younger players like Chris Wilson. Over the years he has toured with blues legends like Brownie McGhee and he is recognised worldwide as one of the masters of his craft. In the late 80s Jim was diagnosed with Multiple Sclerosis (MS). As documented in Victor Carsons superb documentary The Jim Conway Blues (1999) Jim manages the disease with grace and good humour, and despite being largely wheelchair-bound these days, he continues to play, notably with his longtime colleagues The Backsliders, and with Tim Gaze & The Blues Doctors.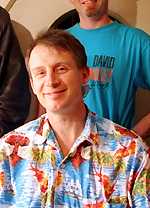 The Backsliders comprises Jim (harmonica), Peter Burgess (drums, ex-Stumblers) and Dom Turner (guitar, vocals, ex-Stumblers), and in recent years the band has featured guest players including Midnight Oils Rob Hirst. The groups hardcore acoustic blues and R&B style has a strong following; they are regulars at music festivals around the country and have released seven Albums to date: Preachin' Blues (1988), Sittin' on a Million (1989), Hellhound (1991), Live at the Royal (1992), Wide Open (1995) and the ten-year collection Downtime (1998). Their most recent CD Poverty Deluxe features performances by American blues artist Roy Bookbinder and Cold Chisels Don Walker and cover art by the legendary Martin Sharp. The Backsliders music gained considerable national exposure when three tracks were featured on the soundtrack of the ABCs hit series Sea Change and the subsequent compilation CD of music from the series. Jim has also cut one excellent CD with the Blues Doctors, Blues Licence.
Mic Conway is one of Australia's finest performers and continues to delight Australians with his inimitable brand of musical lunacy. He performs for both adult and child audiences and has appeared widely on TV and film, with credits including The Coca Cola Kid, Molly, Vietnam, Play School, True Stories, Mr Squiggle, House of Fun, Vaudeville, Come In Spinner, The Wiggles Movie and Humphrey Bear. His theatre credits include The Threepenny Opera for The Sydney Theatre Company and Blossoms and Wrinkles for the One Extra Dance Company. Mic won an ARIA award for his ABC album Whoopee, and he has recorded and co-written numerous CDs, radio shows, TV scripts and children's theatre productions.
Mic has twice organised the First National Jug Orchestra where some fifty players from different bands were organized into sections (jug section, washboard section), each on its own big band-style rostrum, which played en masse, with Mic doing his famous fire eating act as part of every performance. Most recently Mic formed The National Junk Band, successfully touring their unique mixture of "juggling, tap-dancing, highly infectious music, hilarious jokes, dazzling magic tricks, fire-eating and much clowning around and they have recorded two CDs to date: Kitchen Sink Music and 21st Century Sink.
Matchbox has numerous links to political folk-rock band Redgum. Four ex-Matchbox members -- Stephen Cooney, Dave Flett, Louis McManus and Gordon McLean -- served in that band at various times in the late '70s and early '80s.
Louis McManus was also a member of Noels Cowards, the 1988 novelty project put together by Split Enz/Schnell Fenster percussionist Noel Crombie but sadly his performing career has been curtailed by illness.
Eric McCusker (a one-time student of Blackfeather guitarist John Robinson) went on to enormous success as guitarist and songwriter in Ross Wilson's Mondo Rock, penning their 1981 hit "State Of The Heart", which was also successfully covered in the U.S. by Rick Springfield. In 2001 the Long Way to The Top web forum carried this communique from Eric:
"I'm alive and well and living in Melbourne still enthused and productive and up to my ears in music. In the last decade I've been parental as anything with two kids Mike and Molly aged 8 and 5. Among other things I taught music business at the Northern TAFE and worked for the Board of Studies here as a music examiner for 3 or 4 weeks of the year. I have also been a director of APRA for 10 years. But my main thing remains writing songs and playing guitars and doing gigs. I'm in a fantastic band at the moment called "Wolfgram" with 3 Wolfgramm sisters currently playing Tuesday nights at the Evelyn Hotel in Fitzroy. We are madly writing and rehearsing songs for an album we are hoping to record early next year. I've also been doing a few gigs with Ross Wilson this year and there are more of those coming up between now and the end of the year to promote his new retrospective album "Now Listen". This year has been really productive, I've written 9 or 10 songs already, some for other people, others for an album I would like to record next year. There have been a few mutterings amongst the Mondo Rock band members about us getting together and doing something next year too. We'll see what happens. - Cheers, Eric McCusker
Recently, Eric was part of the reformed Mondo Rock, which got back together for the "Countdown Spectacular" concert tour.
Peter Muhleisen contacted Milesago and passed on some invaluable extra information about the Matchbox lineups, and an update on what some of the members did later:
"Graeme Isaac (1976-7) went on to make the movie Wrong Side Of The Road. After the 1980 breakup Peter Martin, Chris Coyne and I went off to form the Nighthawks with Sam Linton-Smith and Chris Pascoe from the Honeydrippers, Paul Hitchens from the Sports and Jane Clifton for a year or two. I also later played with the Rock Doctors, the 'rock and roll' Falcons retrenched by Joe Camilleri in his disco phase (he took Coyne and Clifton)."

"Robert Ross joined the Goanna band and had some success there, Coyne eventually went overseas and became locally famous in a skiffle band in Barcelona and now lives in Edinburgh. Louis McManus is not well after a series of strokes ended his playing career. Steve Cooney went to Ireland and became quite famous ... the Irish loving their eccentrics. Jack Sara left in 1976 (his next gig was apparently the Hari Krishnas)."

"Rick Ludbrooke retired to the north coast of NSW and more latterly the fleshpots of Paris. I have no knowledge of any song to do with Rainbows (1979 or any other time). The band's last single was "Juggling Time" / "Dirty Money", of which I have about forty mint copies, and there is a brilliant live tape recorded by 3RRR in 1979 which may be released soon as part of a boxed set for Louis. I returned to my previous life as a mild-mannered pharmacist specialising in methadone (trying to undo the damage ... nah, only gaggin')."
Discography
Singles
as Captain Matchbox Whoopee Band:
Nov. 1972
"My Canary Has Circles Under His Eyes" / "Nagasaki" (Image IS-119)
Apr. 1973
"I Can't Dance (Got Ants in My Pants)" / "Jungle Dance" (Image IS-129)
Feb. 1974
"Your Feets Too Big" / "Wait for Me Juanita" (Image IS-144)
Jul. 1974
"Hernando's Hideaway" / "Down Undergroundsville" (Image IS-153)
1974
"Wangaratta Wahine" / (unknown) (Image)
Oct. 1975
"Australia" / "Christopher Columbus" (Mushroom K-6158)
as Soapbox Circus:
1977
"If I Can't Hav-Anna in Cuba" / "Chiropodist Shop" (Mushroom)
as Matchbox
Jun. 1978
"Sleep" / "Victims of Circumstance" (Mushroom)
Jan. 1979
"Love is Like a Rainbow" / (unknown)
(Mushroom)
1980 (as The Matchbox Band)
"Juggling Time" / "Dirty Money" (Independent release, no catalogue number)
Lineup: Mic Conway, Jim Conway, Chris Coyne, Eric McCusker, Louis McManus, Peter Muhleisen and Robert Ross.
EPs
1973
Matchbox Madness (Image LEP 4)
(no track listing available)
Albums
as The Captain Matchbox Whoopee Band:
1973
Smoke Dreams (Image ILP 724)
Also released on the ESP label (ESP-3009) in the USA in "Dynaquad" quadraphonic sound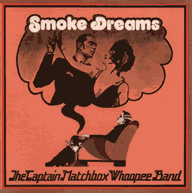 Side1:
"I Can't Dance (I Got Ants In My Pants)"
"My Canary Has Circles Under His Eyes"
"Nagasaki"
"Sophisticated Mama"
"Mobile Line"
"France Blues
Side 2:
"Hotsy Totsy (Everything Is)"
"Who Walks In When I Walk Out"
"I'm Gonna Sit Right Down and Write Myself a Letter"
"After You've Gone"
"That Cat Is High"
"Smoke Dreams Of You"
---
1974
Wangaratta Wahine (Image ILP-744) gatefold cover;
Reissued on LP 1983; re-issued on CD by Sony Music Australia July 2002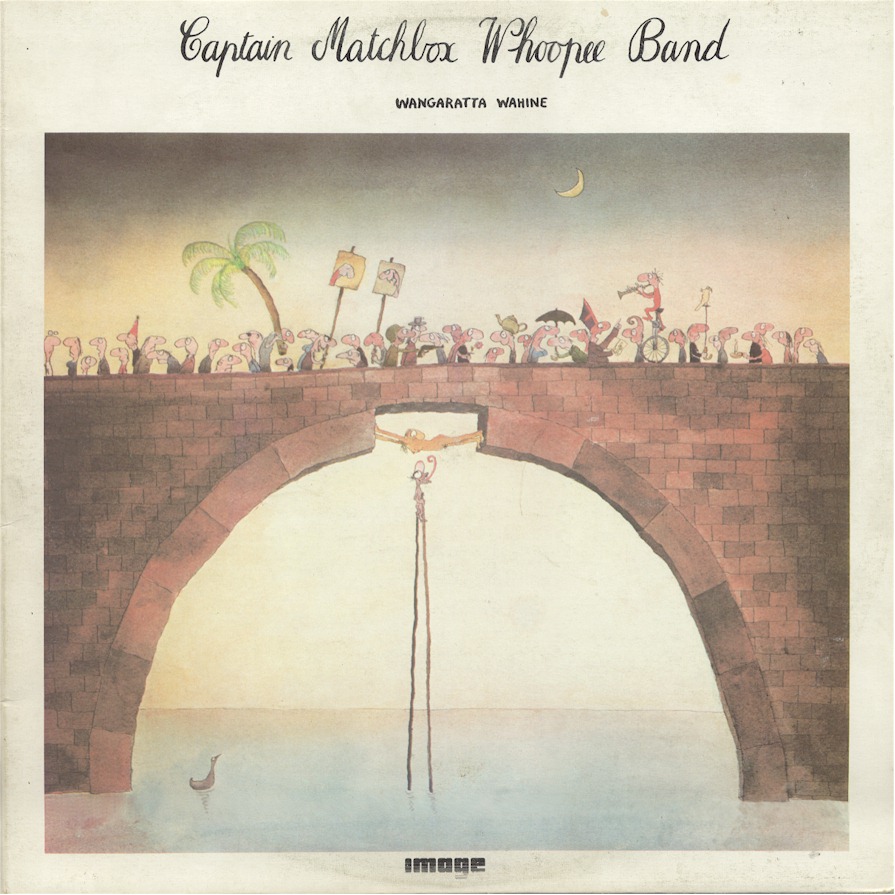 (front cover) (back cover) (inside left) (inside right)
Side 1:
"Blues My Naughty Sweetie Gives To Me"
"Lovesick Blues"
"Half A Moon Is Better Than No Moon"
"Jug Band Music"
"Wait For Me Juanita"
"Top Hat"
Side 2:
"If Youse A Viper"
"That's What The Bird Sang To Me"
"Wangaratta Wahine"
"Flamin' May"
"Your Feet's Too Big"
"Hernando's Hideaway"

Tony Dunn: 2nd jug on "Jug Band Music"
Uncle Bob's Band: bird noises
Producer: Ern Rose
Engineer: Robin Gray
Photography: Sue Wood
Cover: Michael Leunig

---
1975
Australia (Mushroom L 35723) gatefold cover
Side 1:
"Australia"
"Out In The Suburbs"
"Unna"
"Masochism Tango"
"Christopher Columbus"
"I Miss My Swiss Miss (My Swiss Miss Misses Me)"
Side 2:
"Forever"
"20th Century Blues"
"From Monday On"
"A Beard Is Like A Lawn On A Bald Man"
"Cocaine Habit"
"Sweeney Todd The Barber"
---
1976
Making Whoopee (Image ILP 4915) compilation LP
Side 1:
"Wait For Me Juanita"
"Sophisticated Mama"
"Nagasaki"
"Jungle Love"
Side 2:
"Hernando's Hideaway"
"Hotsy Totsy"
"Down Undergroundsville"
"Your Feet's Too Big"
"That Cat Is High"
"Viper Sequence"

All tracks except "Hernando's Hideaway" are alternate takes, with some studio dialogue left in.
---
1976 (as Soapbox Circus)
The Great Stumble Forward: Matchbox and the APG Live At The Pram (APG/Festival L 36245) gatefold cover
Side 1:
"Entry Of The Gladiators - Fanfare"
"If I Can't Hav-Anna In Cuba (I Think I'll Si-Esta In Spain)"
"Chiropodist Shop (Shoe, Shoe)"
"Happy And Dinga"
"No Worries"
"Stand Strong Together"
Side 2:
"Ti Romiosini"
"Same Old Game"
"The Bunyip's Song"
"Penitentiary"
"Ken And Ken"
"Malcolm The Prefect"
---
1978 (as Matchbox)
Slightly Troppo (Festival L 36579)
Side 1:
"Gearshift Shuffle"
"Lowest Common Denominator"
"Sleep"
"Automaton" (called 'Automation' on the sleeve)
"Home"
"The Joint Is Jumping"
Side 2
"Chiropodist Shop (Shoe, Shoe)"
"Victim Of Circumstance"
"Airmail Special"
"Slumming (On Park Avenue)"
"Sloppy Drunk"
"Never Mind The Scallops"
CDs
The Mushroom Story: The Hits Of The Seventies (Mushroom 33092.2) CD
- various artists compilation including one Captain Matchbox track, "Australia"
Aussie Come On: Australian Essential Classics Vol. 1 (Dan Rose Music)
- various artists compilation including one Captain Matchbox track, "Wangaratta Wahine"
1996
Making Whoopee (Avenue / EMI 7243 814858 2 8) 2CD
1. "Blues My Naughty Sweetie Gives To Me"
2. "Lovesick Blues"
3. "Half A Moon (Is Better Than No Moon)"
4. "Jug Band Music"
5. "Wait For Me Juanita"
6. "Top Hat"
7. "If Youse A Viper"
8. "That's What The Bird Sang To Me"
9. "Wangaratta Wahine"
10. "Flamin' May"
11. "Your Feet's To Big"
12. "Hernando's Hideaway"
13. "I Can't Dance (I've Got Ants In My Pants)"
14. "My Canary Has Circles Under His Eyes"
15. "Nagasaki"
16. "Sophisticated Mama"
17. "Mobile Line (France Blues)"
18. "Hotsy Totsy (Everything Is)"
19. "Who Walks In When I Walk Out"
20. "I'm Gonna Sit Right Down And Write Myself A Letter"
21. "After You've Gone"
22. "That Cat Is High"
23. Smoke Dreams (Of You)
2CD compilation of Smoke Dreams and Wangaratta Wahine
2002
Wangaratta Wahine (Sony Music R0087) CD
- re-release of Image ILP-744
References / Links
Thanks to Michael Hunter for additional discographical information and many thanks Peter Mulheisen for his invaluable additional information and dates for the members of the later lineups, and their post-Matchbox exploits.
Jim Conway official website
http://www.jimconway.com.au
MySpace.com - Jim Conway
Mic Conways National Junk Band
http://www.nationaljunkband.com/
MySpace.com - National Junk Band
Mic Conway official website
http://www.micconway.com
Chessmoves - Camberwell High School Ex-Students Society
http://www.chessmoves.com/index.htm
ABC website
http://www.abc.net.au/arts/adlib/sounds/11.htm
Jim Conway article
"Refusing to Brake"
The Age, Melbourne, 8 June 2000
Ian McFarlane
Encyclopedia of Australian Rock & Pop (Allen & Unwin, 1999)
Australian Rock Database
http://hem.passagen.se/honga/database/r/redgum.html
http://hem.passagen.se/honga/database/n/noelscowards.html
Backsliders official website
http://www.backsliders.com.au
Tim Gaze: Tims Music Shack
http://www.hermes.net.au/timgaze/
Jug Band Rag: Making Whoopee review
http://home.nyc.rr.com/jugband/current/news2.htm
Manny Paterakis website
http://www.mannysmusic.com.au/bio.html
Jonathan Pearlman
" A vaudevillian kind of doom"
Sydney Morning Herald, November 16 2002
http://www.smh.com.au/articles/2002/11/15/1037080905326.html
music.blinkenlights.org
Real audio clip of "Who Walks In When I Walk Out" from Smoke Dreams
http://music.blinkenlights.org/Albums/artist_ra/default.php
Skyhooks website
http://www.aswas.com/skyhooks/bandmembers.html
The Films of Peter Weir - Three Directions In Australian Pop Music
http://www.peterweircave.com/films.html
Vernon Joyson
Dreams Fantasies & Nightmares: Australia (Borderline Books, 1999)
Nancy Street - Music - Album Covers Collection
http://www.orthogonal.com.au/music/covers/
'Captain Matchbox' poster by Chips Mackinolty
NGA Prints & Printmaking wesbite
The Pram Factory website
http://www.pramfactory.com/