ASTOR RECORDS



Category: Australian-owned independent label

Location: Melbourne, Vic.

Date: 1950s-1980s

Owner/s: Radio Corporation P/L (Vic.) / Electronic Industries / Phillips (1970s)

House labels: Astor

Distributor for: Autumn (UK, 1960s), Blue Cat (UK, 1960s),
Buddah (USA, 1960s-70s), Charger (USA, 1960s), Colpix (USA, 1960s),
Crusader (USA 1960s), Dawn, (UK, 1960s), Elektra (USA, 1960s),
Go!! (Aust. 1960s), HBR (USA, 1960s), Image (Aust. 1970s),
Kama Sutra (USA 1960s), Mercury (USA, 1960s), MCA (USA 1960s-70s),
MGM/Verve (USA, until 1967), MTA(USA, 1960s), Much (Canada, 1960s),
Parkway (USA, 1960s), Picadilly (UK, 1960s), Pure Soul Music (USA, 1960s),
Pye (UK, 1960s-70s) Scope!! (Aust., 1960s), Sweet Plum (Canada, 1960s),
Vanguard (USA, 1960s), Young Blood (UK, 1960s).
History
Astor Records was the recording division of manufacturing group The Radio Corporation of Australia. This company was later bought out by Electronic Industries, which in turn was absorbed into the multinational Philips conglomerate in the early 1970s. Radio Corporation produced consumer electronic goods under the Astor brand from the mid-1920s until the mid-1970s. It was one of a number of prominent Australian companies including Radiola, AWA and Kriesler that produced a electronic and consumer goods, including radios, record players and televisions.
Astor was one of the first electrical goods companies established in Victoria. From its original premises at 126-130 Grant St, South Melbourne it became one of the state's most prominent manufacturers. Although Astor products were sold all over Australia, the Sydney-based Kriesler and AWA brands originally dominated the market outside Victoria, but during the 1950s the company was chosen to supply radios for GMH's Melbourne-made Holden cars, and as a result Astor became a nationally known brand; their 'Diamond Dot' and 'Airchief' car radios are well-known to Holden owners and aficionados.
Astor's parent company The Radio Corporation was founded in 1923 as Clark & Hagblom, a company making fixed condensers and radios for the Louis Cohen Wireless company, which Clark & Hagblom took over later the same year. In 1926 the company merged with two other small firms to create The Radio Corporation, which quickly became a major player in the Australasian domestic radio industry with its Astor brand. The firm had close links with US companies such as Hazeltine and Jansen; it was a technologically innovative company that actively promoted its expertise. It was prolific in terms of the models it produced and unlike its more conservative rival AWA, Astor made a huge range of colourful radios with unique designs and innovations, such as magnified dial lenses and state specific dials, and they pioneered the small portable radio set in Australia. Surviving Astor valve radios are now highly collectible and keenly sought after by overseas collectors.
Astor produced a wide range of domestic whitegoods, and made the natural progression into the design and manufacture of black and white TV receivers after television broadcasting was introduced in Australia in 1956 and in the 1960's. Among Astor's string of technical and commercial successes, there was a famous dispute over copyright with the Disney organisation. Astor had appropriated the 'Micky Mouse' name, which appeared on many of their early products, but after a challenge from Disney, Astor simply dropped the 'Mouse' part rather than pay for the rights. Their 'Mickey' radios sold strongly for many years.
Radio Corporation was eventually taken over and became a division of Electronic Industries, run by Sir Arthur Warner. EI acquired several other well-known companies and brand names, including General Accessories (which bought Malvern Star in 1958) and Eclipse Radio, which owned the Peter Pan and Monarch brands. Other brands established by Astor were its 'Anodeon' picture tubes, 'Anocap' polyester capacitors and the 'Ferrocart' vibrator units used in its accumulator-powered radios.
In the early 1970's, Electronic Industries was taken over by the Netherlands-based multinational Philips, then headquartered at Rhodes in Sydney. With the takeover, the Astor brand name disappeared from the consumer electronics market, although Astor Records continued in business until the early 1980s. Ironically, one of Astor's very last single releases -- Joe Dolce's "Shaddupa You Face" -- turned out to be one of the biggest-selling singles in the history of the Australian record industry.
Astor's surviving Australian competitors were eventually wiped out by the effects of globalisation. The first and heavist blow came in 1974 when the Whitlam Lbor government cut the protective tariffs on imported electronic goods by 25%, and by the mid-1970s the Australian market was being flooded with cheap, high-quality TVs, radios and stereo systems from the USA, Japan, Taiwan and Hong Kong. The tariff reduction and the resultant increase in competition from multi-national electronics corporations were exacerbated by the lingering effects of the old trade protection system, which had lulled some local companies into complacency and rendered them relatively inefficient and unwilling to innovate. Many well-established Australian companies folded, while others were simply taken over by overseas interests, and Pye and Kriesler were also both absorbed by Philips in the late Seventies. The effects of the tariff reductions were exacerbated by the Whitlam government's approval for the long-delayed introduction of FM radio and colour television broadcasting; faced with the massive costs of re-tooling to make the new colour TV and FM radio sets that woulod have had to compete with proven high-quality products from their overseas competitors, companies like Kriesler simply opted out of the race after 1975 and by the end of the 1980s most local electrical maufacturing companies had either been absorbed by multinational companies like Philips of simply went out of business.
Astor Records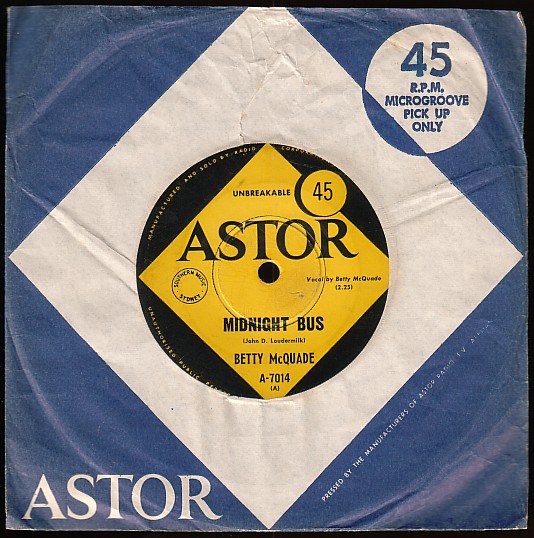 Because they already produced radios and TVs, it was logical for Radio Corporation to move into content production, so they established their own recording division and distribution network, which was launched around 1960. The company's HQ was in Melbourne and the main pressing plant was located at Clayton, but it established branch offices and/or distribution warehouses in other capital cities including Sydney and Brisbane.
Astor's inaugural releases were the single "Speak Low" and the LP Pilita Tells The Story Of Love by Pilita with Arthur Young & His Orchestra. Pilita Corrales was a Filipina singer whose original notoriety in Australia came from the fact that she was shipwrecked while en route to Australia with a circus troupe in 1958 and had to be rescued by the Australian Navy. She became popular on Melbourne TV and was the first female artist to score a hit on the newly-established Top 40 chart, with the song "Come Closer to Me". She recorded at least three LPs for Astor while she was living in Australia. After returning to the Phillippines in the mid-1960s she became a star of nightclubs and cabaret in S.E. Asia, with over 135 albums to her credit and many appearances in Asia and the USA. Now widely known as "Asia's Queen of Songs", she still enjoys a reputation as a "singing icon and living legend" in the Phillipines, promotes new talent, and in late 2003 completed a series of shows in Manila with her daughter, Jackie Lou Blanco. To honour her pioneering role on Australian TV, Pilita now has a street named after her in an outer Melbourne suburb.
Other early local signings included singer Betty McQuade whose "Midnight Bus" was an early hit for the label, harmonica virtuoso Horrie Dargie (who later established the Go!! label), Bobby Cookson, The Hi-Fi's and The Marksmen. There seems to have been a short hiatus in the company's local recording activities during 1965, which may have been due to Astor's takeover by the Electonics Industries group. The company's discography indicates that there were no locally-recorded singles issued in the label's A-7000 series during this period, although licenced overseas releases in its A-1000 series were apparently not affected. Local recording resumed in 1966 with the single "Pearl Diver" / "The Rip" by surf band The 4 Strangers (which later became Tamam Shud).
One of Astor's most successful pop acts of the mid-1960s was The Masters Apprentices, who were signed in late 1965 on the recommendation of singer Bobby Bright. Astor released the Masters' first six singles, including their classics "Undecided", "Wars or Hands Of Time", "Living In A Child's Dream" and "Elevator Driver", and their superb self-titled debut LP. All the Masters' single except "Undecided" (which was recorded in Adelaide) were cut at Armstrong's Studios in Melbourne, and were nominally produced by the late Dick Heming, Astor's A&R manager / house producer. Lead singer Jim Keays states in his memoirs that the credit for most of these productions really belongs to engineer Roger Savage, with some input (notably on "Living In A Child's Dream") from Ian "Molly" Meldrum.
Other popular local acts Astor signed in the mid-Sixties include Peter Doyle, The 4 Strangers, The Brigade, The City Stompers, The Colours, The Gathering, Grandma's Tonic and The Perfection. Ascot scored big hits The Town Criers' "Everlasting Love" (1968) and Ron Tudor discovery Matt Flinders who scored a big hit with "Picking Up Pebbles" (#4, 1969).
Former W&G house producer Ron Tudor worked as a Promotions Manager at Astor for two years from 1966-68. A number of acts who had previously recorded for W&G released singles on Astor during Ron's tenure with the label, and it seems likely that Ron brought these performers to Astor. Ron left Astor in 1968 to found his own independent production company, June Productions, and in 1969 he established the Fable Records label, which was launched in April 1970. A number of former Astor artists including The Paul McKay Sound, Matt Flinders and The Strangers, recorded for Fable in the early 1970s.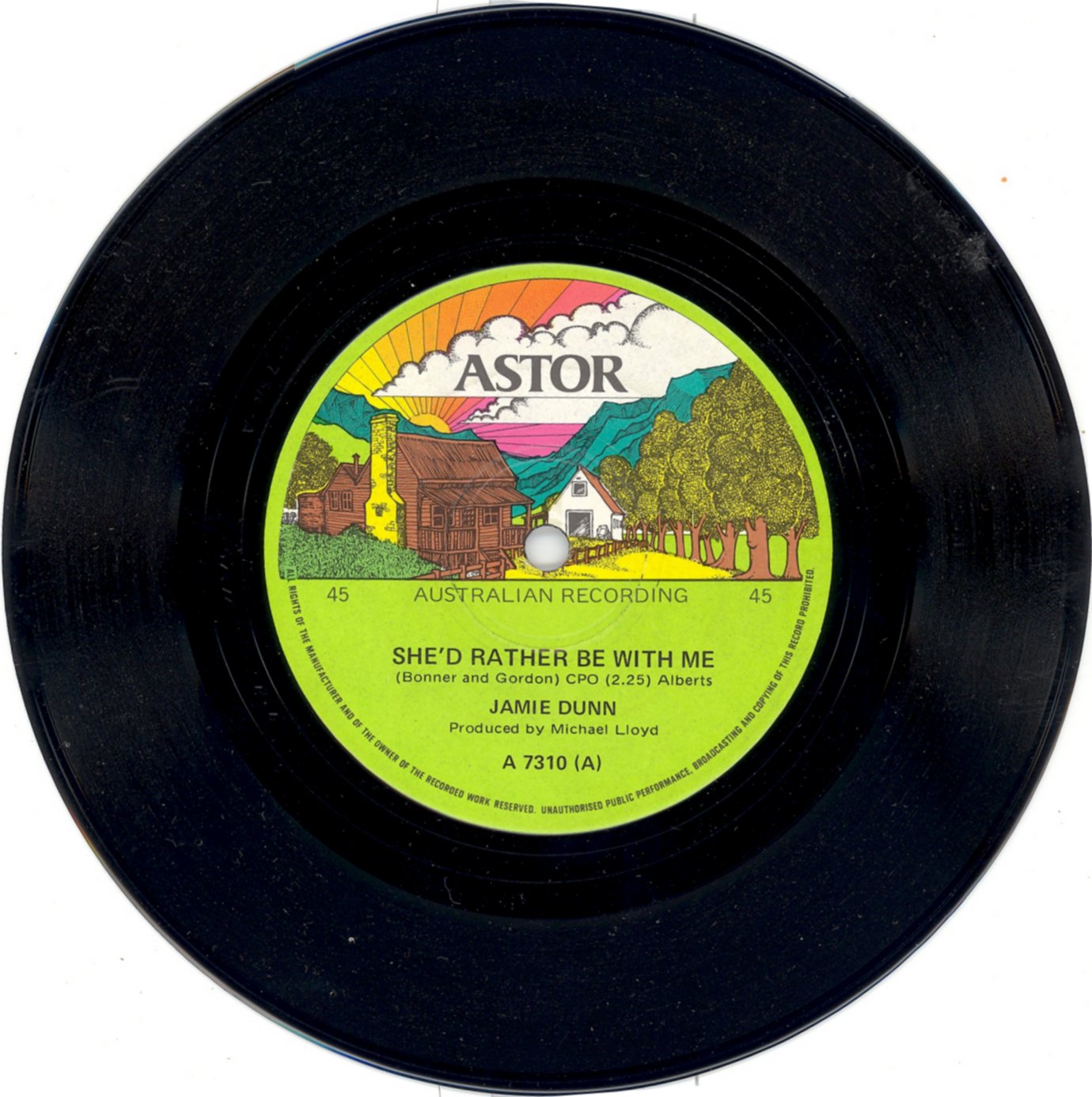 Astor continued to sign local acts in the 1970s and early 1980s, inlcuding Perth progressive rock band Bakery -- their classic second single "No Dying In The Dark" and their two albums Rock Mass For Love and the superb Momento -- and Normie Rowe signed with the label in 1975 and recorded several singles for them and ca. 1980 they signed the reformed lineup of The Seekers with Lisa Wisselling and Buddy England.

Astor was also an important distributor of local independent labels. In the '60s it distributed Melbourne's Go!! and Scope labels, owned by DYT, the company co-founded by former Astor recoridng artist Horrie Dargie, which also produced the famous Go!! Show pop music TV series. In the early 1970s, Astor distributed the Sweet Peach and Image labels.

The original Astor yellow-and-black 'diamond' label design was phased out sometime around 1970 and replaced with an eye-catching full-colour design featuring an idealised rural scene, but the familiar serif font of the Astor brand name was retained. Locally-produced music was prominently identified with the words "Australian Recording" just beneath the logo.

Recordings licenced from overseas labels (see below) were a significant part of Astor's business, and as a result Astor's locally-recorded releases are not consecutively numbered. Astor held the Australian distribution rights to a number of important international labels including Elektra (USA), Pye (UK), MCA (USA), MGM/Verve (USA) -- which included the rights to the Kama Sutra/Buddah labels -- and Casablanca (USA) after 1974.

Astor was one of the original shareholders in The Phonographic Performance Company of Australia Ltd. The PPCA, incorporated in 1969, was established to administer broadcast and public performance rights and licences for sound recordings and (later) music videos for radio, television and public venues.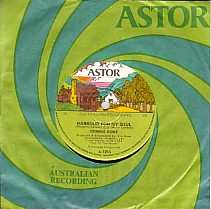 In the early '70s, following the unfortunate collapse of his own Air label, singer-songwriter Buddy England (a latter-day member of The Seekers) joined Astor as an Artists and Repertoire Manager; Around 1972 Bruce Woodley, Keith Potger and Athol Guy began planning a new incarnation of the band. England was an old friend of the group and became closely involved in the reformation, as he recalled for Milesago:
"When they planned to reform in 1972-73, I was asked by Athol to help find a suitable female vocalist to replace Judith. After some time looking and listening I came across Louisa Wisseling at a restaurant/club called The Swagman ... took Athol to have a listen ... made Louisa an offer and there you are. I was also asked to vet material for the group to record their return CD and also to write the charts for the vocals as well as the charts for the orchestrations. I signed them to the Astor label, then went to England to work on the production with the rest of the guys. The album was a success. Bruce left a year later and I joined the group. I stayed with them until 1981. This was about the time the group folded ...again until they reformed a few years later."
The "Mark II" Seekers jumped straight back into the Australian charts with Woodley's "Sparrow Song", which went to #2 in June 1975, and their reunion album The Seekers went Top 20, peaking at #17 in July. In September 1975 they undertook a national tour and released three more singles: "Reunion" (October), "Where in the World?" (April 1976) and "Giving and Taking" (June '76). Woodley left in June 1977 to concentrate on songwriting and production, at which point Buddy took over, remaining with them until the groups split again. Athol quit in 1978, to be replaced by another legendary veteran of the Melbourne '60s scene, Peter Robinson (ex The Thunderbirds, The Strangers). This third version of The Seekers released two more albums, All Over the World (Nov. 1978) and Giving And Taking (1979) and continued to perform in Australia and overseas until the group's eventual dissolution in 1981.
Writer and satirist Brian Dawe is also known to have worked for Astor as a promotions/marketing manager around the same time and, according to rock historian Ed Nimmervol, Brian was instrumental in breaking Neil Diamond's Hot August Night, which became a huge major success for Astor and MCA in Australia.
In late 1974 Astor made a distribution deal with the American Casablanca label and Australia became one of the first overseas territories to which Casablanca's major rock act of the time, KISS, were distributed, and the band was (and remains) very successful here. Founded in 1973 by former Buddah executive Neil Bogart, Casablanca Records enjoyed great success with KISS in the mid-70s and then became one of the most successful labels of the disco era -- thanks in no small measure to Countdown and Sounds -- with Donna Summer, The Village People, Brooklyn Dreams, Cher, Love & Kisses and Parliament/Funkadelic.
In 1976 Astor inadvertently earned a place in Oz punk rock history as the manufacturer of the first single by The Saints. Guitarist Ed Kuepper was working in Astor's Brisbane warehouse when the band decided to make their first record. He approached the company to see if they could press it for him, and was told that they could -- in fact, like EMI and Festival, Astor offered a custom pressing service that was often used by country artists and pop-rock artists, as well as by individuals, or by other private, corporate and commercial clients. With Mark Moffatt producing, The Saints recorded their classic debut single "I'm Stranded" / "No Time" on their own Fatal Records label, which was custom pressed for them by Astor.
One of Astor's last single releases -- which, ironically, was its most successful -- was Joe Dolce's "Shaddap You Face" which has held the record for the most successful song in Australian music history for more than 20 years.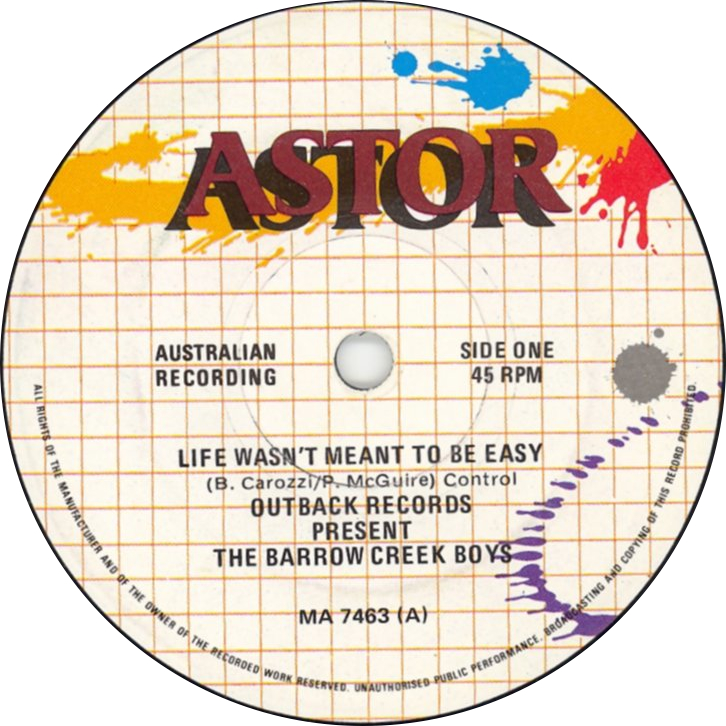 According to collector Frank Driscoll, one of the rarest and most valuable recordings ever pressed by Astor is the track "You Gotta Let Go" by Marcia Hines. Originally thought to have been an album-only track, it was in fact also pressed in very limited numbers as a 7" single. Whilst the album from which it was taken went platinum in Australia, less than 10 copies of the single are known to exist and these are currently valued at over AU$700!
Right: Astor's last single design, ca. 1980.
Overseas labels distributed by Astor
Like its Sydney rival Festival Records, the distribution of recordings sourced from overseas labels was an important part of Astor's business, and the company enjoyed considerable success with records licenced from American and British labels. The best known of these are the British label Pye and the American labels Vanguard, Kama Sutra, Buddah and Elektra.
Pye
The British Pye label was, like Astor, the recording division of an electrical goods manufacturer, Pye of Cambridge, who established their own recording division in the 1950s. According to the history of the company by Dario Western, Pye established its own Australian subsidiary in the 1950s, but this folded in the early '60s and the Australian distribution rights were picked up by Astor. Pye recordings comprised the majority of Astor's international catalogue; most of the Pye singles were issued under Astor's long-running 'AP-1000' series.
Pye's leading acts included Lonnie Donegan, The Searchers, Max Bygraves, Donovan, Petula Clark, Sandie Shaw, Jackie Trent and Tony Hatch, The Kinks (from 1964 until their move to RCA in 1971), the early recordings by Status Quo (including "Pictures of Matchstick Men") and UK-based Australian jazzer Kenny Ball. Petula Clark was one of Pye's most popular and successful artists and according to a review from Go-Set in 1967 she was heavily promoted by Astor in Australia, scoring many national hits. Other notable Sixties acts released through Astor included The Dixie Cups, The Honeycombs, The Beau Brummels and The Ivy League.
Pye's subsidiary imprint Pye International held the British rights to a number of important U.S. independent labels including Vanguard, A&M, Colpix and King, and they released artists including Herb Alpert, The Marcels, James Brown, Dionne Warwick and Chris Montez in the U.K. It is probable that the Australian rights to most of these labels were included in Astor's deal with Pye; one notable exception was the fledgling American label A&M, which was picked up by Festival Records in the early 1960s.
Vanguard
The Vanguard label was established in 1950 by brothers Maynard and Seymour Solomon in New York. It started as a classical label, but is best known for its recordings by pivotal folk and blues artists of the 1950s and early 1960s, including Paul Robeson, The Weavers, Joan Baez, Buffy Saint-Marie, Ian and Sylvia, and Mimi and Richard Fariña. Unlike its other licenced international recordings, Astor issued many Vanguard singles in its 'A-7000 series', which was otherwise used for Australian recordings.
Pye set up a subsidiary label, Dawn, which had some success in the early '70s with The Brotherhood Of Man and Mungo Jerry, whose version of "In The Summertime" competed with a rival version by Australia's The Mixtures, released on Fable. Pye also had links with the BBC, Satril, Fly, and Disco Demand labels but their most successful affiliate label was DJM (Dick James Music), the label to which Elton John was signed in the early '70s. Pye also had success with their "Golden Hour" compilations (The Kinks, The Searchers et al) and with their budget imprint Marble Arch.
Elektra
Renowned US label Elektra was founded by Jac Holzman in 1950. From its origins as a small independent specialising in contemporary American popular folk and "ethnic" field recordings (including the famed Nonesuch Explorer series), Elektra grew rapidly in the mid-1960s with the assistance of A&R manager and house producer Paul A. Rothchild, who helped Elektra to snag several of the hottest new 'West Coast' acts of the period including The Doors, The Butterfield Blues Band, Judy Collins, Tim Buckley, Love and soft-rock superstars Bread. Astor began distributing Elektra recordings around 1966, and all these titles were issued on its AP-1000 series. The earliest known Elektra single released by Astor is Love's "Little Red Book" / "A Message to Pretty" (1966) and among its releases is a single by the UK-based folk-rock band Eclcetion, led by expatriate Australian folkie Trevor Lucas, and the debut single by The Stooges. Astor released 56 Elektra singles in Australia between 1966 and 1970, when the label was purchased by the Warner Bros group for $10 million and the rights were taken over by Warner's newly-established Australian subsidiary.
Kama Sutra / Buddah
The story of the Kama Sutra and Buddah labels is a fascinating chapter in rock history. Kama Sutra was originally founded as an independent production company in 1964 by American entrepreneur George Goldner. The Kama Sutra label was set up by Goldner's associate Artie Ripp in 1965. It was distributed in the USA by MGM, which Astor distributed in the mid-60s, and this is presumably how Astor originally gained the Australian rights to Kama Sutra, which they retained even after they lost the MGM/Verve rights to Philips/Phonogram in 1967.
Kama Sutra's first big major success was The Loving Spoonful, who scored a major hit in 1966 with "Do You Believe In Magic". In 1967 managing director Art Kass established a sister label, Buddah, to produce acts that fell outside Kama Sutra's agreement with its distributor, MGM. Kass appointed former MGM and Cameo-Parkway executive Neil Bogart as MD of the new label, and during 1968-69 Buddah acts including The Lemon Pipers, Ohio Express and 1910 Fruitgum Company -- studio bands created and produced by the team of Jeff Katz and Jerry Kasenetz -- spearheaded the so-called "bubblegum" craze that soon dominated the charts.
Buddah handled a very diverse range of artists, including many soul and R&B performers. One of their first big R&B successes was with The Five Stairsteps & Cubie, who had a sizeable US hit with the original version of "Something's Missing (In My Life)", a song that was covered very successfully in Australia by Marcia Hines in the late 1970s. Other Buddah artists of the late 60s were soul singer Timothy Wilson, The Lemon Pipers ("Green Tambourine"), Captain Beefheart & His Magic Band (Safe As Milk), the Rhodes Scholars, Le Cirque, The Baskerville Hounds and The Second Story.
In the early 70s Buddah signed Lou Christie and also released records by a range of former '50s idols including Paul Anka, Johnny Tillotson, James Darren, Freddy Cannon, Len Barry, Teddy Randazzo, Trade Martin, Gene Vincent, Chubby Checker and Bill Haley. Another notable Buddah recording from this period was the successful gospel LP by the Edwin Hawkins Singers, who also featured prominently on the classic single and LP Candles In The Rain by labelmate Melanie Safka. Buddah had big success with 50s revivalists Sha Na Na, released the debut recordings by The Flamin' Groovies and Charlie Daniels and signed new wave group NRBQ and future disco king Van McCoy.
Buddah also had distribution deals with influential R&B labels Hot Wax/Invictus (The Honey Cone), Sussex (Bill Withers) and Curtis Mayfield's Curtom label (Mayfield, The Staple Singers, The Stairsteps). Some of these recordings were released in Australia under licence on Astor and they include a number of highly-regarded singles and EPs which are now of great interest to 'rare soul' aficionados. Astor's soul releases have been researched and catalogued by collectors Frank Driscoll and Phil Fare and their listings of soul singles released in Australia on Astor (and many other Aussie labels) can be found on the excellent capitolsoulclub website. Regrettably, few of these releases managed to make it onto commercial radio playlists, due to the racist agenda that pervaded commercial pop radio programming in the Sixties and early Seventies.
In 1973, after Bogart and several other Buddah execs left to form the Casablanca label, Art Kass made an offer Motown hitmakers Gladys knight & The Pips, whose Motown contract had recently expired. After signing with Buddah they scored one the biggest hits of the decade with "Midnight Train To Georgia". The label continued with varying success until the late 70s.
MCA
The American MCA label ... description ... The MCA deal also briefly gave Astor access to the famous Impulse jazz label, which MCA had acquired after it took over ABC Records in 1979.
Astor achieved what was undoubtedly its biggest sales successes with American singer-songwriter Neil Diamond. His live 2-LP set Hot August Night set a new standard for live recordings and its colossal commercial success established Diamond as a bona fide superstar. The album set new sales records in Australia and remains one of the biggest-selling recordings ever released in this country. It entered the Go-Set weekly national Top 20 album listing on 23 January 1973, debuting at #8; it went to #1, and hovered in the Top 10 for more than a year; it was still in the Top 10 eighteen months later, when Go-Set ceased publication. The album's success in Australia was no mean feat -- it faced competition from some of the greatest rock LPs of that period (or any other) including Dark Side of The Moon, Don't Shoot Me I'm The Piano Player, There Goes Rhymin' Simon, Slade Alive, Aladdin Sane, Houses Of The Holy, Made In Japan, Tubular Bells and Innervisions. On 15 December 1973 Hot August Night was joined by Diamond's soundtrack album Jonathan Livingstone Seagull, giving Diamond the rare distinction of having two simultaneous Top 20 albums with consecutive releases. Both albums were still in the chart when Ed Nimmervol drew up his final Go-Set chart, published on 20 July 1974.
MGM/Verve
Astor's shortlived licence to distribute the MGM and Verve labels led to at least one early Australian release for Frank Zappa's group The Mothers, who recorded for Verve from 1966 to 1970. Astor never released the Mothers' debut album in Australia (probably because it was a double-LP full of weird music) and they lost the MGM/Verve rights sometime in 1967, but around March 1966 they did release a very limited quantity of the Mothers' single "How Could I Be Such a Fool?" / "Help, I'm A Rock" (Verve V-5122). It is thought that only about one hundred copies were pressed and this single -- which featured a distinctive orange-and-red label -- is now one of the rarest of all Zappa vinyl collectibles.
Discography
Australian recordings, 1960-75
Note: highlighted titles are overseas recordings released under licence.
Singles -- Astor 'A-7000' series, 1960-1981
Cat. #
Date
Artist
Titles
Notes
A-7001
1960
Pilita
"Speak Low"
"Come Closer To Me"
-
A-7002
1960
Randy Ross
"Does She Know "
"Walkin' And Talkin'
-
A-7003
1960
Barry & The Planets with The Planetones
"Remember You Kissin'! "
"Sittin' On Top Of The World
-
A-7004
1960
The Hi-Fi's
"I Want The World To Know "
"Bing Walla Bang"
-
A-7005
1960
The Hi-Fi's
Step By Step "
"Just Give Me Love
-
A-7006
1960
Randy Ross
"Mountain Of Love "
"Jezebel
-
A-7007
1960
The Horrie Dargie Quintet
"Tie me kangaroo down sport"
"East of the sun"
-
A-7008
1960?
Pilita
"Angelito Negres"
"Brazil"
-
A-7009
1960?
Duo Moreno
"Carina"
"'A Sonnambula"
-
A-7010
1960?
Horrie Dargie Quintet
"Wock And Wobble"
"It Isn't Over"
-
A-7011
1961?
Horrie Dargie Quintet
"Got A Zack In The Back Of My Pocket"
"Mais Oui (But Yes)"
-
A-7012
1961?
Bill Mc Cormack
"She Wears My Ring"
"You're Breaking My Heart"
-
A-7013
1961
Bobby Cookson
"That's All Right "
"Flutter Flutter
-
A-7014
Nov. 1961
Betty McQuade
"Midnight Bus" (John D. Loudermilk)
"Tongue Tied " (Berry-Covay-Lewis)

rare -- current value AU$50
A-7015
1961
Horrie Dargie Quintet
"My boomerang did come back"
"Fish'n'chips"
-
A-7016
1962
Bobby Cookson
"True And Faithful "
"Slow Motion
-
A-7017
1962
Betty Mc Quade
"Blue Train "
"Summer Love
-
A-7018
1962
Bobby Cookson
"Timber "
"Ding-Dong
-
A-7019
1962
Bobby Cookson with The Premiers
"Fourteen Karat Gold "
"I Could Have Loved You So Well
-
A-7020
1962
Betty Mc Quade
"The Doggie In The Window "
"Have You Ever Been Lonely?
-
A-7021
1963
Joan Baez
"Kumbaya"
"Ox Driver Song"
Vanguard
A-7022
1963
The Rooftop Singers
"Walk Right In "
"Cool Water
Vanguard 35017
A-7023
1963
The Premiers
"Mary had a little lamb"
"Song Of India
-
A-7024
1963
Bobby Cookson with The Premiers
"Rona"
"Gone For The Summer
-
A-7025
1963
The Marksmen
"Triangle"
"Gunshot
-
A-7026
-
-
-
-
A-7027
1963
Denis Bugat
"Three's A Crowd"
"Dance"
-
A-7028
1963
The Rooftop Singers
"Tom Cat"
"Shoes"
Vanguard 35019
A-7029
1963
Bobby Cookson with The Premiers
"I'm From New Orleans"
"I've Had My Moments
-
A-7030
1963
The Rooftop Singers
"Mama Don't Allow"
"It don't mean a thing"
Vanguard 35020
A-7031
1963
Ian and Sylvia
"Four Strong Winds"
"C.C. Rider"
Vanguard 35021
A-7032
1963
Frank Johnson's Dixielanders
"The Dick Van Dyke Theme"
"Apex Blues"
-
A-7033
1963
Betty Mc Quade
"Bobby, Bobby, Bobby"
"You Make Me Mad
-
A-7034
1963
Bobby Cookson
"One Last Kiss "
"She's My Southern Belle
-
A-7035
1963
Joan Baez
"We shall oversome"
"What have they done to the rain"
Vanguard 35024
A-7036
1963
The Marksmen
"On The Run"
"Slalom 9"
-
A-7037
1963
John McMahon with The Bruce Clarke Orchestra
"Never Never"
"My Blue Heaven"
A-7038
1963?
The Beachcombers
Sea-Fury "
"High Noon
-
A-7039
1964?
The Rooftop Singers
"Sail Away Ladies"
"Twelve String"
Vanguard 35024
A-7040
1964
Ian and Sylvia
"You Were On My Mind"
"Some Day Soon"
Vanguard 35025
A-7041
1964
Ken Delo with HSV-7 Orchestra
"Mobile "
"Old-Time Religion
-
A-7042
1966
The 4 Strangers
"The Rip"
"Pearl Diver
-
A-7043
1966
B.B. King
"Rock Me Baby"
"I Can't Lose"
Kent 393
A-7044
1966
The Ikettes
"Peaches And Cream"
"Biggest Players"
Modern 1005
A-7045
1966
Buffy Sainte-Marie
Until It's Time For You To Go
The Flower And The Apple Tree
Vanguard 35028
A-7046
1966
The Rooftop Singers
Rainy River
Buddy Won't You Roll
Vanguard 35029
A-7047
1966
Dobie Gray
Mr. Engineer
In Hollywood
Charger 109
A-7048
1966
Joan Baez
"There But For Fortune"
"Stewball"
Vanguard 35031
A-7049
1966
The Dargies
"Strange Rain"
"Nobody Asked Me"
A-7050
-
-
-
-
A-7051
-
Suzy Clark
"Never Gonna Find Another"
"Broken In Two"
Crusader 123
A-7052
-
Project X
"Got No Reason To Cry"
"That Ain't Love"
Vanguard 35033
A-7053
-
Au Go-Go's
"All Over Town"
"Waited For You"
Autumn (US)
A-7054
-
Danny Hutton
"Monster Shindig" Part 2
"Big Bright Eyes"
HBR 453
A-7055
-
The Dargies
"Yesterday"
Love Letters"
-
A-7056
1966
Sandpapers
"Ain't Gonna Kiss Ya "
"My Baby Said
Charger 114
A-7057
-
The Messengers
"Since You've Been Gone"
"You've Got Me Crying"
-
A-7058
-
The Chartbusters
"New Orleans"
"Lonely Surfer Boy"
Crusader 118
A-7059
-
King Charles & The Counts
"I Don't Wanna Cry"
"Up On A Hill"
Crusader 121
A-7060
-
-
-
-
A-7061
-
-
-
-
A-7062
-
-
-
-
A-7063
-
-
-
-
A-7064
-
-
-
-
A-7065
1966
Judy Jacques
"Since You're Gone "
"You're Messin' Up My Mind
-
A-7066
1966
The Hi-Five
"You'll Never Know What's In My Heart "
"Mi Pi Pow"
-
A-7067
-
-
-
-
A-7068
1966
Judy Jacques
"Somewhere In The World"
"A Real Live Fool
-
A-7069
-
-
-
-
A-7071
Oct. 1966
The Masters Apprentices
"Undecided "
"Wars, Or Hands Of Time
-
A-7072
1967
Grandma's Tonic
"Hi Hi Hazel"
"Johnny The Hummer
-
A-7074
1967
Grandma's Tonic
"I Know "
"Lost Girl
-
A-7075
May 1967
The Masters Apprentices
"Buried And Dead"
"She's My Girl
#26 / 8 weeks
A-7078
Apr? 1967
Peter Doyle
"If You Can Put That In A Bottle"
"I'm Not The Boy You're After
-
A-7081
Aug-1967
The Masters Apprentices
"Living In A Child's Dream"
"Tired Of Just Wandering
#9 / 15 weeks
A-7082
Jun. 1967
Peter Doyle
"Plastic Dreams And Toy Balloons"
"You're My Remedy
-
A-7083
1967
The Colours
"It's A Woman"
"Do Wah Diddy Diddy
-
A-7084
1967
Jim and Mike Graham
"How Much Is That Doggie In The Window?"
"Jo-Anne
-
A-7085
1967
Lionel Yorke
"Whisper Low"
"That's The Way It Goes
-
A-7087
Feb-1968
The Masters Apprentices
"Elevator Driver"
"Theme For A Social Climber
-
A-7088
1968
Jim and Mike Graham
"Footsteps"
"I'm Not Your Lover
-
A-7089
1968
The Brigade
"As A Boy"
"Him Or Me, What's It Gonna Be
-
A-7090
-
-
-
-
A-7091
-
-
-
-
A-7092
-
-
-
-
A-7093
-
-
-
-
A-7094
-
-
-
-
A-7095
1968
The Town Criers
"Everlasting Love"
"I Can't Help Myself
-
A-7096
1968
Anne and Johnny Hawker
"Cinderella Rockefella"
"Wiggle Your Toes
-
A-7097
-
-
-
-
A-7098
1968
The Colours
"Super Peculiar Bus"
"I Don't Think You Know Me At All
-
A-7099
1968
The Perfection
"Pretty Girl"
"Three Rooms And Running Water
-
A-7100
1968
The Colours
"Plenty Of Room Up Top"
"To London And Back"
-
A-7101
1968
Johnny Chester
"Heaven Help The Man "
"I'm Gonna Have A Real Good Time
A-7102
June 1968
The Master's Apprentices
"Brigette "
"Four Years Of Five
A-7103
-
-
-
-
A-7104
-
-
-
-
A-7105
1968
Jimmy Hannan with Orchestra
"The Lady Came From Baltimore "
"You Can't Do That
-
A-7106
1968
City Stompers
"Times Like This "
"Half Past Midnight
-
A-7107
1968
The Brigade
"Joan "
"All By Myself
-
A-7108
-
A-7109
1968
Anne and Johnny Hawker
"Lovin' Season "
"Morning Song
-
A-7111
1968
Brass Tacks
"I'll Keep Holding On "
"Let The Sunshine In
-
A-7112
1968
The Dymond
"Anna J."
"Ice Cream Machine
-
A-7113
1968
Anne and Johnny Hawker
"I Got You"
"We Can't Afford The "In" Crowd
-
A-7115
1968
The Town Criers
"Unexpectedly"
"It's Hurting Badly"
-
A-7117
1968
The Paul Mackay Sound
"Strain In My Heart "
"Thin Suit
-
A-7118
1968
Notes From The Underground
"Down In The Basement "
"I Wish I Was A Punk
-
A-7123
1968
The Gathering
"Portobello Road "
"Get Ready For Me
-
A-7124
1968
The Colours
"You Outside "
"Suddenly You Love Me
-
A-7125
1968
Anne Hawker
"Timothy "
"Albert
-
A-7126
Aug. 1968
The Masters Apprentices
"But One Day "
"My Girl
-
A-7127
1969
Ian Crawford
"Linda Said To Say Hello To You "
"Yesterday Is Crowding My World
-
A-7128
1969
Lynn Rogers
"Just Loving You "
"Fresh Start
-
A-7130
1969
Anne and Johnny Hawker
"You're Out Of Your Mind "
"Take A Breath
-
A-7131
1969
City Stompers
"Rainbow River Band "
"?
-
A-7132
1969
Matt Flinders with orchestra
"Something Is Happening "
"Kiss Me... Miss Me
-
A-7133
1969
Anne Hawker
"Boom Bang-A-Bang "
"All Day Long
-
A-7134
1969
Anne and Johnny Hawker
"I Love Your Chin "
"My Lover And I
-
A-7136
1969
Anne and Johnny Hawker
Dear World "
"Emmaline
-
A-7143
1969
The Challenge
"Honey Do "
"Things Get Better
-
A-7144
1969
Johnny Hawker
"My Papa Has Got One (Les Moustaches) "
"Runaround
-
A-7146
1969
Ivan the Great with Orchestra
(Ivan Hutchinson)
"Waddabeauty! "
"Terrapin Walk
-
A-7147
1969
The Indefinite 4
"Images Of Night "
"Four Strong Winds
-
A-7148
1969
Lynn Rogers
"Ask Anyone "
"Troubles I Have
-
A-7149
1969
Anne and Johnny Hawker
"Real True Lovin' "
"Long Gone
-
A-7150
1969
Matt Flinders
"Picking Up Pebbles "
"Susan Walks Away

Go-Set

#4 / 22 Weeks
A-7151
1969
Simon and De Sade
"Girl"
"Green Grass
-
A-7152
1969
Jerry Dorsey
"It Doesn't Mean A Thing "
"Snow
-
A-7153
-
-
-
-
A-7154
-
-
-
-
A-7155
1969
The Challenge
"La-Dee-Doo-Down-Down "
"Time For Love
-
A-7156
1969
Lynn Rogers
"Kiss Of Fire "
"Ode To A Housewife
-
A-7157
-
-
-
-
A-7158
1969
Frankie Howson
"Seventeen Ain't Young "
"Hide And Seek
-
A-7159
-
-
-
-
A-7160
-
-
-
-
A-7161
-
-
-
-
A-7162
-
-
-
-
A-7163
1970
Matt Flinders
"Where Has All The Love Gone "
"Life Is Meant For Living

Go-Set

#35 / 3 weeks
A-7164
-
-
-
-
A-7165
1970?
Mike Morrisey
"Almost persuaded"
"All the world to me"
-
A-7166
-
-
-
-
MA-7167
1970?
Susie Coles
"So Little, So Much "
"What The World Needs Now
-
A-7168
-
-
-
-
A-7169
-
-
-
-
A-7170
-
-
-
-
A-7171
-
-
-
-
A-7172
-
-
-
-
A-7173
-
-
-
-
A-7174
-
-
-
-
A-7175
-
-
-
-
A-7176
-
-
-
-
A-7177
-
-
-
-
A-7178
-
-
-
-
A-7179
-
-
-
-
A-7180
1970?
Candy Apple
"That Same Old Feeling "
"Promises That You Never Keep
-
A-7204
1971
Bakery
"No Dying In The Dark"
"Trust In The Lord"

-

A-7205
1971
Anne Hawker
"This Is Melbourne" "
"Watching Raindrops
-
A-7206
1971
Frais Campbell
"So Like My Love"
"Master Of The Sun
-
A7218
1971
Frais Campbell
"I Know The Reason"
"New World In The Morning
-
A-7233
1974?
Jimmy Payne
"Sold American"
"Please Take Me Back
-
A-7236
1974
The Cherokees
"Minnie The Moocher"
"I've Gone Wild"
reissue of Go!! GO-5051
A-7239
1974
Benjamin Hugg
"Thank God You're Here With Me"
?
-
A-7241
1975
The Strangers
"Home Ain't Home Any More"
"Hitchhike"
-
A-7242
1975
New Dream
"Shlick Shlack Boom Boom"
"Country Y... (?) "
-
A-7243
1975
Buddy England
"Carolina "
"Waiting Game"
-
A-7244
1975
Idris and Evan Jones

"Damn Ya Darlin'"
"Half Hearted"
-
A-7245
1975
Barry Crocker
"Give My Love To Your Folks"
"Pilate's Dream"
-
A-7246
1975
Benjamin Hugg
"Minchinberry Walk"
"My Jenny"
-
A-7247
1975
The Seekers
"Sparrow song"
"Every road leads back to you"
-
A-7248
1975
Strings Unlimited
"Theme from

Hawaii Five-0

"
"Theme from

Kojak

"
-
A-7249
1975
Barry Crocker
"Love Where Are You Now?"
"Begin The Beguine"
-
A-7250
1975
Benny Bell
"Shaving Cream"
"The Girl From Chicago"
Vanguard 35183
A-7251
-
The Strangers
"Sweet Song Of The Century"
"Kentucky Poor Boy"
-
A-7252
-
Jamie Dunn
"Jamie Come Home"
"When You Walk In The Room"
-
A-7253
June 1975
Normie Rowe
"Harbour For My Soul"
"That's The Way I Am"
-
A-7254
-
Dooley Silverspoon
"Bump Me Baby - Part 1"
"Bump Me Baby - Part 2"
Seville 1002
A-7255
-
-
-
-
A-7256
-
-
-
-
A-7257
-
Normie Rowe

"Good Morning, Good Morning"
"If You See Her"
-
A-7258
-
Barry Crocker
"A Special Place In Heaven"
"Annie's Song"
-
A-7259
1976
The Seekers
"Reunion"
"Break These Chains"
-
A-7260
-
John St. Peeters
and The Sharells
"Take Me If You Want Me"
"Romance"
-
A-7261
-
Bert Bryant
Melbourne Cup 1975
Caulfield Cup 1975
-
A-7262
-
Fat Bubbles
"Skateboard Queen"
"Stick With Me (Jeff's Theme)"
-
A-7263
-
Eureka Smith
"V.C. Charlie"
"He Walked That Lonesome Road"
-
A-7264
-
The New
Dream
"I Can't Stop Dancing (Dancing In The Dark)"
"Musical Lovin' Man"
-
A-7265
Dec. 1975
Normie Rowe
"Elizabeth"
"Little Ray Of Sunshine"
-
A-7266
1975
The Seekers
"Where in the world"
"If I could write a fairy tale"
-
A-7267
-
Funk Band Inc.
"Jamaica Lady"
"Get It Off"
-
A-7268
-
Bunny Walters
"Never Too Young To Rock"
"Boogie Woogie Woman"
Impact 1073 (NZ)
A-7269
-
Jamie Dunn
"Mr. Rock And Roll"
"Easy Money"
-
A-7297
1975
The Loved Ones
"Ever Lovin' Man"
"Blueberry Hill"
-
A-7316
1980
Joe Dolce Music Theatre
"Shaddap You Face"
"Ain't In No Hurry"
-
EPs
| | | | |
| --- | --- | --- | --- |
| AEP-4001 | ? | Horrie Dargie Quintet | Dig The Didjeridoo |
| AEP-4004 | 1965 | Bill McCormack | She Wears My Ring |
| AEP-4012 | 1967 | The Masters Apprentices | The Masters Apprentices |
| AEP-4055 | 1968 | Anne & Johnny Hawker | Cinderella Rockefella |
| AEP-4057 | 1968 | The Town Criers | Everlasting Love |
| AEP-4059 | 1968 | The Masters Apprentices | Volume 2 |
| AEP-4061 | 1968 | The Lemon Pipers | Jungle Marmalade |
| AEP-4063 | 1968 | Anne & Johnny Hawker | The Best of Anne Hawker |
| AEP-4064 | 1968 | Anne & Johnny Hawker | The Best of Anne and Johnny Hawker |
| AEP-4068 | 1969 | Lynn Rogers | Just Loving You |
| AEP-4069 | 1969 | Matt Flinders | Picking Up Pebbles |
Albums
ALP-1001
1958
Pilita with Arthur Young & His Orchestra

Pilita Tells The Story Of Love

ALP-1002
-
-
-
ALP-1003
1958
Pilita

I'll Take Romance

ALP-1004
-
-
-
ALP-1005
-
-
-
ALP-1006
-
-
-
ALP-1007
-
-
-
ALP-1008
-
-
-
ALP-1009
-
-
-
ALP-1010
-
-
-
ALP-1011
-
-
-
ALP-1012
-
-
-
ALP-1013
-
-
-
ALP-1014
-
-
-
ALP-1015
-
-
-
ALP-1016
-
-
-
ALP-1017
-
Ken Delo with the HSV-7 Orchestra
conducted by Jimmy Allan

Ken Delo Sings

ALP-1018
-
-
-
ALP-1019
-
-
-
ALP-1020
-
The Dargies

The Dargies Sing The Big Hits

ALP-1021
-
The Dargies

The Dargies Sing Songs Of The Islands: 36 Singalong Hawaiian Hits

ALP-1022
-
-
-
ALP-1023
-
-
-
ALP-1024
-
-
-
ALP-1025
1967
The Masters Apprentices
The Masters Apprentices
ALP-1026
-
-
-
ALP-1027
1967?
Anne & Johnny Hawker

Anne & Johnny Hawker

ALPS-1028
1967?
Anne & Johnny Hawker

The Music Hawkers

ALP-1029
-
-
-
ALP-1030
-
-
-
ALP-1031
-
-
-
ALPS-1032
Aug. 1971
Bakery
Rock Mass For Love
ALPS-1033
-
-
-
AGS-1034
1980
Don Lane

I Need You

ALPS 1035
1972
Bakery
Momento
ALPS-1036
-
-
-
ALPS-1037
-
-
-
ALPS-1038
1974
Benjamin Hugg
Early One Morning
ALPS-1041
1975
The Seekers
(with Louisa Wisselling)

The Seekers

ALPS-1042
-
Barry Crocker

Barry Crocker Sings The Hits

ALPS-1043
-
-
-
ALPS-1044
1979
Normie Rowe
Out of the Norm
ALPS-1045
1979
The Seekers

Giving and Taking

ALPS-1046
1979
Jamie Dunn
Thank You Linesmen, Thank You Ballboys
ALPS-1047
-
-
-
ALPS-1048
-
-
-
ALPS-1049
-
-
-
ALPS-1050
-
-
-
ALPS-1051
-
-
-
ALPS-1052
-
Bernard King

A Man of Style

ALPS-1053
-
-
-
ALPS-1054
-
-
-
ALPS-1055
-
Barry Crocker

No Regrets

ALPS_1056
-
-
-
ALPS-1057
-
-
-
ALPS-1058
-
Dave Pincombe

Sweet Music Man

ALPS-1059
-
-
-
ALPS-1060
1980?
Chad Morgan

You Can't Keep A Good Man Down

ALPS-1061
ALPS-1062
1980
Bobby & Laurie
The Very Best of Bobby & Laurie
ALPS-1063
1980
Various Artists
Australian Rock Heritage Volume 1
ALPS-1069
1981
Peter Cupples

Fear Of Thunder

GGS-939
?
Pilita

This Is Pilita
References / Links
Thanks to Andy of Globaldog Productions for data and David Tresize for images.
Globaldog Productions
Astor 7000 series discography
Astor 1000 serires discography
Ross Laird / Screensound
The First Wave: Australian Rock & Pop Recordings 1955-1963
The Sixties: Australian Rock & Pop Recordings 1964-1969
John Hunter
Astor SJ Series Vintage Australian TV sets
http://203.44.53.131/TV/Astor-SJ.htm
capitolsoulclub - Australian Listings (compiled by Frank Driscoll)
http://capitolsoulclub.homestead.com/AustralianListings.html
Hank B. Facer
Museum of Indigenous Recording Labels
http://mirl.hypermart.net/Images/05%20Astor%20Small.jpg
http://mirl.hypermart.net/mirl_page_2.htm
Caslon Analytics profile: copyright collecting societies
http://www.caslon.com.au/colsocietiesprofile2.htm
Casablanca Records @ Disco.Disco.com
http://www.disco-disco.com/labels/casablanca.html
Dario Western
"Tasty Fresh Pyes" -- A History of the music division of Pye Of Cambridge
http://www.ean.co.uk/Data/Bygones/History/Article/Radio_and_Television/html/body_pye_records.htm
Petula Clark.net - discography
http://www.petulaclark.net/discography/albums/pinkalbum.html
ABC Books
Love Is I The Air - Selected biographies
http://www.abc.net.au/love/episodes/s968647.htm
Dave Kimball
The Saints Homepage - Biography
http://saints.binke.com.au/bio-2.html
Collecting Frank Zappa In Australia
http://w1.858.telia.com/~u85821131/misc/australia.html
The affz FAQ - vinyl singles
http://fzsinglesfaq.w-i-s.net/Vinyl_Singles.html
Bob Hyde + Mike Callahan
The Kama Sutra/Buddah Story
http://www.bsnpubs.com/buddah/index.html
Oz Radio
http://www.bestnet.com.au/ASTOR%20TITLE.htm
NoNightSweats - Re-Release Critical Responses
http://www.users.bigpond.com/pturnbul/nns_reissue_responses.htm
Exotica mailing list
http://mailman.xmission.com/pipermail/exotica/2003-December/013623.html